As expats and travel writers living near Auckland for the past 20 years, we are frequently asked, "What are the NZ North Island must-sees?" And, while many people who have lived here all their lives tend to stay put, one of the biggest advantages of being an expat is that we seek out all the amazing things to do in North Island New Zealand. In fact, we take nothing for granted.
Jeff and I have taken full advantage of our incredible opportunity to traverse this picturesque island extensively. From the dramatic landscapes to the cultural landmarks, the North Island boasts an array of activities that cater to every kind of traveller.
Whether you're a family with young children like we were when we arrived, a couple seeking romance (like we are now), an adventurer, or on a tight schedule, the North Island has something remarkable to offer.
But don't just take our word for it. We are also the owners of Explore New Zealand, NZ's largest Facebook travel group, with nearly 300K members sharing their experiences. So, if you are wondering what are the NZ North Island must-see destinations, know that the list below was gathered from loads of experience.
Top things to do in North Island New Zealand
The map above will help you break it down geographically, while here, we categorized them by NZ North Island must-do activities.
Experience geothermal activity
Immerse yourself in a Māori cultural experience
Enter a fantasy at Hobbiton Movie Set
Stand in awe of our towering ancient trees
Be mesmerised by glow worms
Fall in love with Wellington
Don't miss Cape Reinga
Discover the vibrancy of our largest city, Auckland
Visit the Bay of Islands or Coromandel Peninsula
Map of the best things to do in NZ North Island
Click the expand / collapse icon in the upper left corner of the map for the details. Our top recommended things to do in the North Island are marked in red. The yellow identifies attractions on the North Island we also recommend, but if time permits.
First, be inspired …
Experience geothermal wonders in Rotorua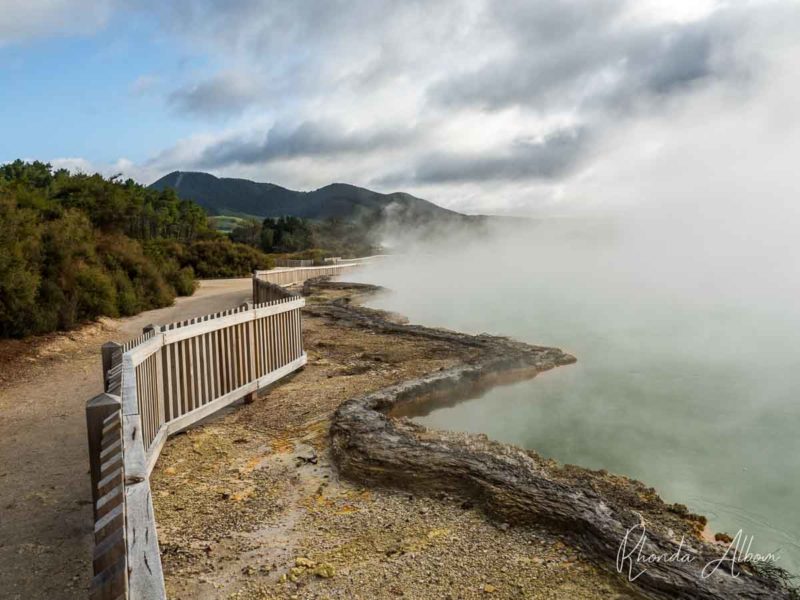 Exploring the geothermal wonders of Rotorua tops our list of things to do in the North Island for several reasons. First, it's somewhat unique, with geysers and other natural phenomena found in only a few parts of the world. Secondly, this otherworldly realm is colourful and captivating.
The landscape is a symphony of hissing steam, bubbling mud pools, and vibrant mineral terraces. It's a testament to the Earth's unrivalled power.
In addition to the geothermal landscape, there are so many things to see and do in Rotorua that we have written pages on it. From our Rotorua guide for first-time visitors to lists of free things to do, we have you covered. However, we want to point you towards three must-do geothermal experiences:
Wai-O-Tapu Thermal Wonderland
If you have time for only one of the things to do in the North Island, I believe that a visit to Wai-O-Tapu should be it. Walking the boardwalks of this living testament to the Earth's fiery forces, we explored a vivid, colourful, surreal landscape. It's a mix of technicolour pools, bubbling mud, and geysers that create an experience like stepping onto another planet. Entry also includes the Lady Knox geyser, which activates at 10:15 am daily. Reserve your entrance to Wai-O-Tapu here.
Waimangu Volcanic Valley
The Waimangu Volcanic Valley is a virtually untouched, ever-changing landscape that allowed us to step into a world shaped in four hours by volcanic activity in 1886. Walking among steaming lakes and vibrant geothermal features felt like entering another realm. Reserve your entrance to Waimangu here. Or, do like we did and get an entry that also includes a boat cruise on Lake Rotomahana.
Pohutu Geyser
Located inside Te Puhia, Pohutu is the largest geyser in the southern hemisphere. This famous geyser regularly erupts, shooting out boiling water and steam once or twice each hour. It is both thrilling and a reminder of the Earth's raw power. Reserve your entrance to Te Puhia Geothermal Valley here.
Immerse yourself in a Māori cultural experience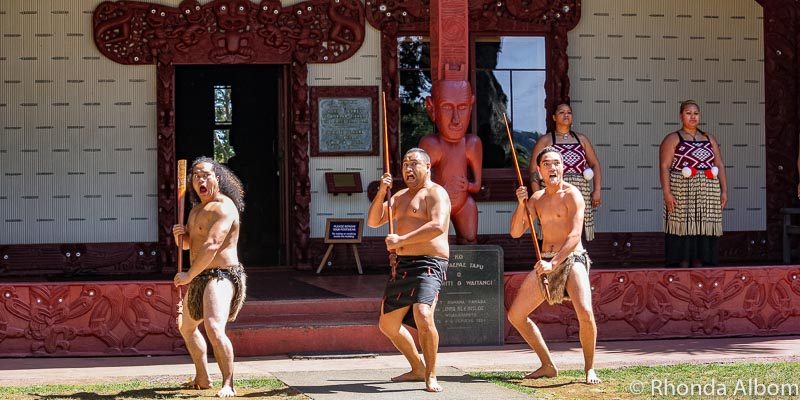 For us, travelling anywhere new always includes a bit of history and culture, and there is no better way to do this in New Zealand than with a Māori cultural experience. As expats, we often find ourselves the only locals at experiences, and we have done them all around the country. Our two favourites are the Waitangi Treaty Grounds in the Bay of Islands and Mitai Maori Village in Rotorua.
Waitangi Treaty Grounds
If you are heading north for any reason, we recommend including the treaty grounds on your list of places to visit in the North Island. It is here that Maori and European settlers signed the Treaty of Waitangi, establishing New Zealand.
Each time we visit, stepping onto this sacred site, we are enveloped in an atmosphere of significance and reverence. As we explore the beautifully landscaped grounds, the iconic Treaty House stands as a silent witness to the momentous events that transpired here. We always make time to enjoy the powerful cultural performance in the carved marae (meeting house). Reserve your entrance to Waitangi Treaty Grounds here.
Mitai Maori Village
Honestly, there are several fabulous options for cultural experiences in Rotorua, and it was difficult for us to pick a favourite. Mitai was our most recent experience. Like the others, it started with a warm welcome and included mesmerizing performances of traditional songs, dances, and a powerful haka. We also enjoyed sharing in a traditional hangi feast. A unique feature was the sacred freshwater spring. Standing nearby, we felt a profound connection to the land and its ancestral stories. Reserve your Mitai Maori Village evening experience here.
However, if you are visiting Te Puia to see Pōhutu Geyser, you can include a cultural experience there.
Feel the power of some of our waterfalls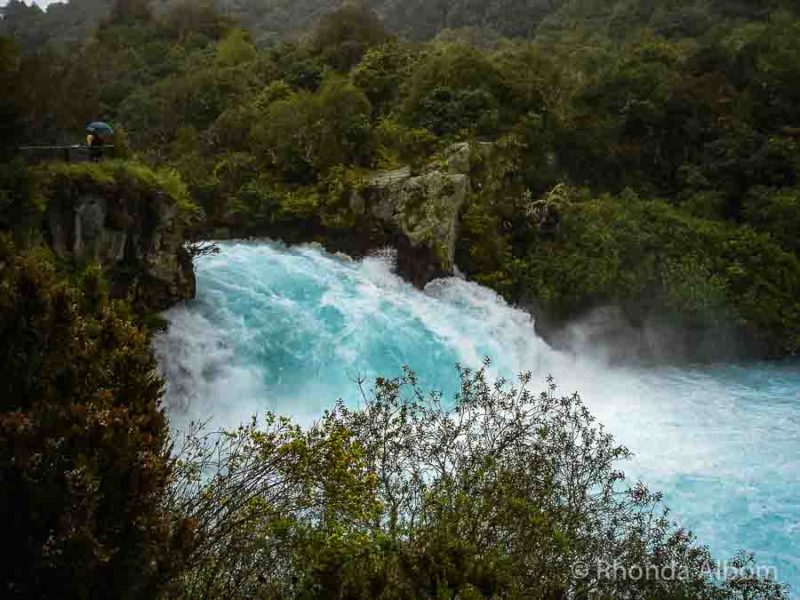 Don't let the reputation of the South Island's beauty confuse you; there are plenty of stunning waterfalls on the North Island too. You just need to know where to look. We share all our favourite NZ waterfalls here, but our top NZ North Island must-see waterfalls are Whangarei Falls and Huka Falls.
Whangarei Falls, Whangarei
Serene and stunning, the Whangarei Falls drops approximately 26 metres (85ft) and are fed by the Hatea River. While we can enjoy the view I photoed right there, just a few metres from the carpark, we usually walk the easy 30-minute loop track to the base. In fact, we stop here nearly every time we are headed north, either to Whangarei or the Bay of Islands.
Huka Falls, Taupo
The raw power of nature is on full display at Huka Falls. Watching the vivid turquoise waters of the Waikato River surge through a narrow chasm, I could feel the power in my core. It's a must-do in Taupo.
Enter a fantasy at Hobbiton Movie Set in Matamata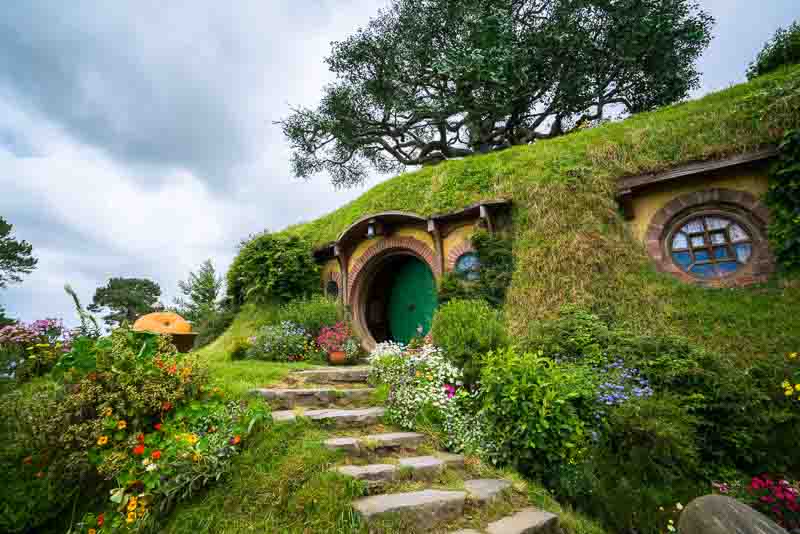 From one breathtaking landscape to another, the Hobbiton Movie Set in Matamata beckoned. To fans of J.R.R. Tolkien's world, this is a dream come true near the top of the list of things to do in the North Island. My daughter described it best, "Stepping into the shire, we felt like hobbits ourselves."
The charming village of Hobbiton is the only Lord of the Rings film location in NZ that still has the movie sets intact. Throughout the country, other sets have been removed, returning the landscape to its natural beauty.
It's an NZ North Island must-see for film enthusiasts, families, and anyone seeking a magical escape from reality. Importantly, entrance is by tour only. Reserve your Hobbiton tour here.
Stand in awe of our towering ancient trees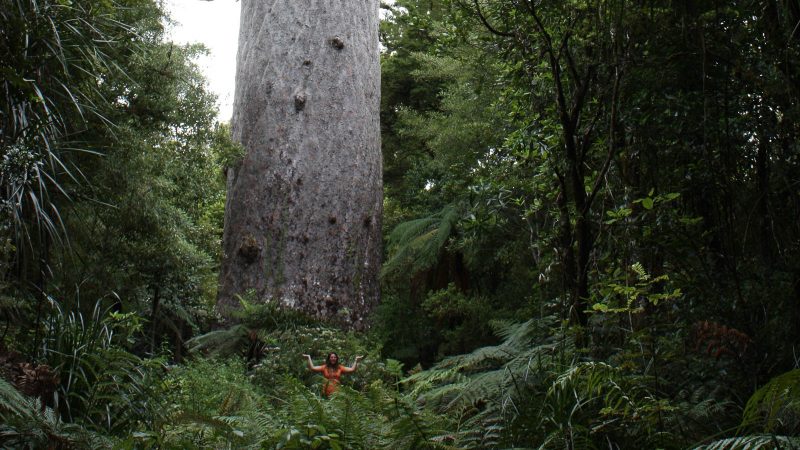 New Zealand is home to some of the world's most towering and ancient trees, known as kauri trees. These majestic giants can reach heights of over 50 meters (160 feet) and have girths that span several meters, making them one of the largest tree species on the planet.
Tāne Mahuta and other ancient Kauri trees
One of the most famous kauri trees is Tāne Mahuta, located in the Waipoua Forest in Northland. Estimated to be around 2,500 years old, Tāne Mahuta is not only a natural wonder but also a living connection to New Zealand's ancient past. We stop at the Waipoua Forest whenever we are road-tripping to the top of the island.
But if you can't make it there, you can see some pretty huge (and also famous) Kauri trees at Parry Kauri Park in Warkworth or on the 309 Road on the Coromandel Peninsula.
Whakarewarewa Forest – Californian coastal redwoods
Rotorua's Whakarewarewa Forest offers a change of pace with its serene beauty. While not native, the forest is primarily known for its stunning groves of Californian coastal redwoods (Sequoia sempervirens), which were introduced to the area in the early 20th century. While hiking and mountain biking at ground level are popular, we opted to rise above the trees with a night tree walk. Reserve your tree walk here.
Be mesmerised by glow worms
If you haven't stood in a cave or other damp place and witnessed the bioluminescent light glowing on the natural walls, you are missing out on a New Zealand treat. Technically, a glowworm refers to the larval stage of a specific type of insect known as the fungus gnat. But the experience is less scientific and more mesmerizing.
The most well-known and popular place to see glowworms in NZ is the Waitomo Glowworm Caves. Here, we drifted through the caves on a boat, gazing in wonder at the blue lights emitted by thousands of glowworms. Reserve your Waitomo Caves adventure here.
As much as we enjoy the caves, my personal favourite glowworm experience was an evening kayak adventure out of Tauranga. It combines a bit of exercise with an impressive display of nature as 1000s of glowworms light up a canyon wall. Reserve your Waimarino Kayak adventure here.
There are also plenty of places to discover glowworms on your own, but none even remotely compare to the grandeur of Waitomo or Waimarino. We have personally seen glowworms inside Waipu caves and even seen a few at the waterfall at Shakespear Park.
Fall in love with Wellington, our capital city
Often overlooked by visitors seeking only natural scenery, our capital city, Wellington, is a treasure trove of history and culture and one of the significant places to visit in the North Island. Aside from the unusually shaped Parliament building aptly nicknamed the Beehive, there are plenty of interesting Wellington activities, with a few of our favourites being:
Te Papa, the National Museum
With interactive exhibits and immersive displays, Te Papa is an ideal destination for families with curious children, as well as any visitors to New Zealand. We marvelled at the Maori artifacts, learned about the country's geological past, and gained a deeper appreciation for our vibrant nation.
Cable Car and Botanic Garden
On every visit to the capital, I try to ride the iconic cable car to the top, enjoy the panoramic views of the city, and then stroll back down through the Botanic Garden.
Zealandia
Nature lovers won't be disappointed in this city if they include a visit to Zealandia Eco-Sanctuary. We have enjoyed Zealandia both day and night, each time encountering different New Zealand's native wildlife.
Don't miss Cape Reinga, the top of the island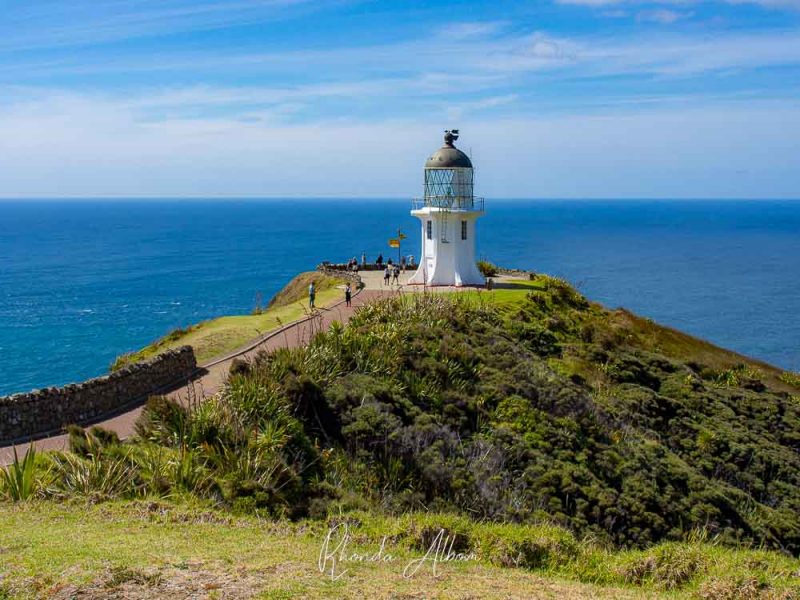 We have journeyed to Cape Reinga, the northernmost tip of the country, several times with visitors.
Here, the Tasman Sea and Pacific Ocean meet in an often dramatic collision of waves. This sacred site offers not only stunning views but also a glimpse into Maori spiritual beliefs. We recommend a visit here be on your list of things to do in the North Island.
Discover the vibrancy of our largest city, Auckland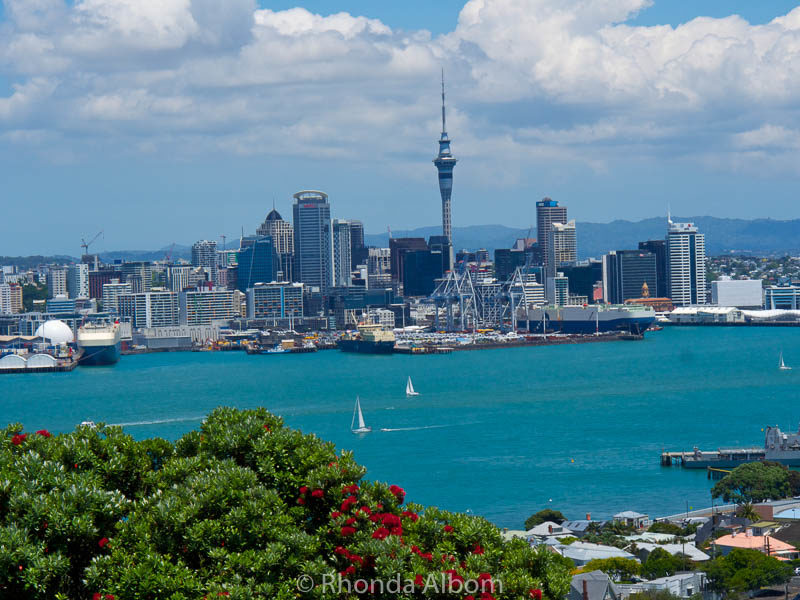 Spending a day or more in our largest city is definitely one of the key things to do in the North Island, with plenty of both outdoor and indoor options.
Our favourite outdoor highlights involve either trail walking, heading to one of the west coast black sand/surf beaches, enjoying the city view while overlooking the massive crater atop Mount Eden, or taking a whale and dolphin watching cruise.
Indoor Auckland can be just as exciting, with several fabulous museums, an impressive theatre district, shopping, going up in the tallest structure in the southern hemisphere or enjoying the city's nightlife.
As a major port of entry, Auckland is a starting point for many visitors. If you are arriving via a long haul, at minimum, we recommend spending a night or two to catch up on sleep before you set off on the roads. As locals, we have written tons about Auckland activities.
Two more NZ North Island must-see destinations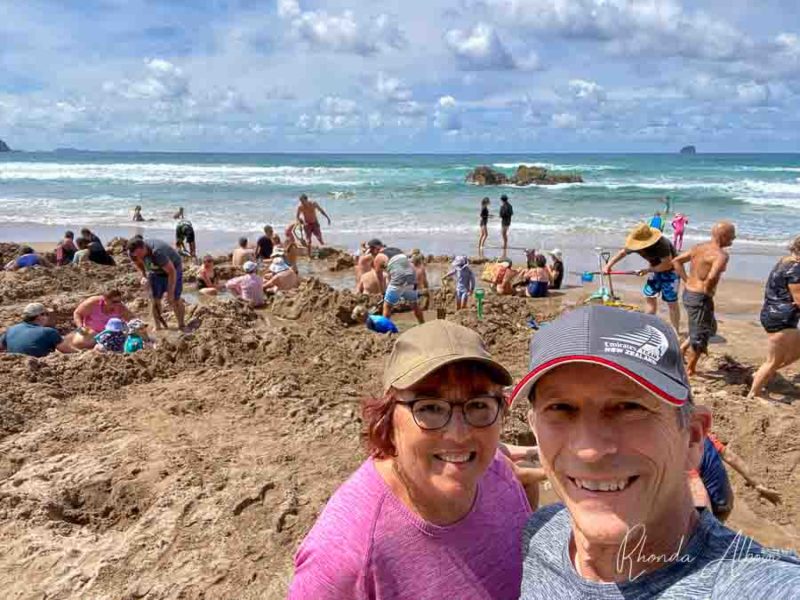 Bay of Islands, Northland
Up in Northland, the Bay of Islands beckoned with its stunning coastline and marine life. On our last visit, we took a fast boat out to the hole in the rock, spotting dolphins and admiring the secluded bays. We also took the ferry from Paihia to Russel, New Zealand's first capital, for a bit of a historic walk. With the Waitangi Treaty Grounds in the area, the Bay of Islands really is a NZ North Island must-see.
Cathedral Cove and Hot Water Beach, Coromandel Peninsula
More laid back than possibly anywhere on the island, the Coromandel Peninsula is a paradise with a few fascinating and unique things to see.
First, Cathedral Cove (photoed at the top of this article) captivates visitors with its ethereal beauty. Accessed by foot or kayak, this secluded cove boasts a stunning natural rock arch and golden sands.
But even more intriguing is the opportunity to dig our own "spa" or warm water soak at Hot Water Beach.
Pull it together with our top North Island road trips
Save on your NZ trip with these resources
These are our go-to companies when we travel. We believe this list to be the best in each category. You can't go wrong using them on your trip too.
Check out our travel resources page for more companies that we use when you travel.
Save for later
If you enjoyed this article on the must-sees in New Zealand North Island, please share it on social media and save it for later on Pinterest.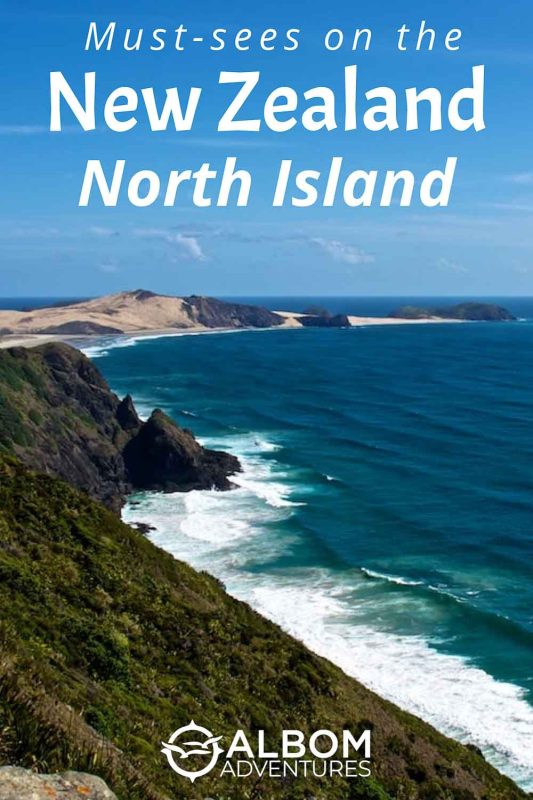 What's on your must-see in North Island New Zealand list?
Photo Credits:
All photos on this page are either shot by our team and watermarked as such or stock images from Depositphotos.