If it's not summer in New Zealand, it's probably raining. Kiwis don't get bothered by it. Indoor activities in Auckland range from museums to sports, from animal viewing to laugher. Whatever you are looking for, or even if you don't know, you will find it here. You will never again run out of things to do in Auckland when it's raining.
Despite the beautiful sunny images of Auckland that we all share, the reality is that it rains on average 180 days of the year. That's just more than half. July is typically the rainiest month, January the driest. It's this rain that helps us keep our reputation for being green, both environmentally and visually.
Wondering when the Auckland rain will end?
Of course, it's not always raining in Auckland, but at times it feels like it. And, if you are reading this page, there is a good chance you are looking for indoor activities in Auckland as it's a rainy day today. The most accurate weather forecast is usually found at Metservice. However, when heading out to sea, we check the forecast at Metvuw.
Start with Auckland highlights:
We often have affiliate partnerships with companies that we trust and recommend. We receive a small compensation if you make a purchase using these links. In some cases, the links can save you up to 70%.
Or, ignore the Auckland rain – that's what locals do
Many years ago, I was rehabbing from an injury and walking was my primary exercise. I asked for an alternate exercise for rainy days. With a straight face, my Kiwi trainer replied, "Is there a particular reason you can't walk in the rain?"
With that story in mind, I roll my eyes as I propose the following rainy day Auckland options:
Attend a sporting event
There is no better example of Kiwi's not caring about the rain than at an All Blacks test match. Look how happy my friend's adult children seem to be. It's as if it's a sunny day, but the reality is very little would stop any New Zealander from attending this All Blacks match against Australia. In fact, many would say it is one of the best things to do in Auckland when it's raining.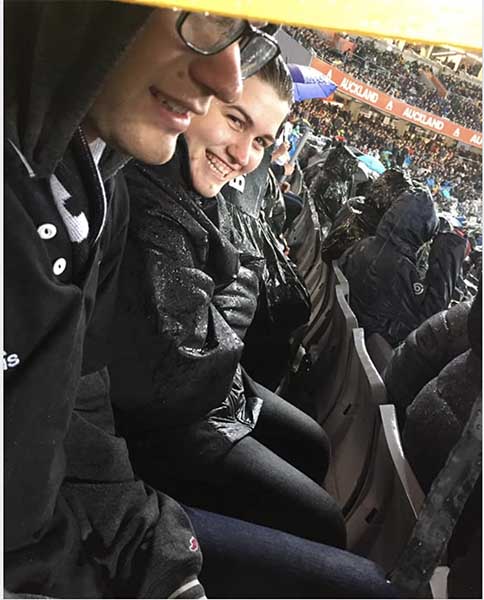 Go for a jog
I am not a runner, but somehow it still surprised me to see this guy donning jogging shorts and running shoes and jogging along Auckland's waterfront on this particularly wet night.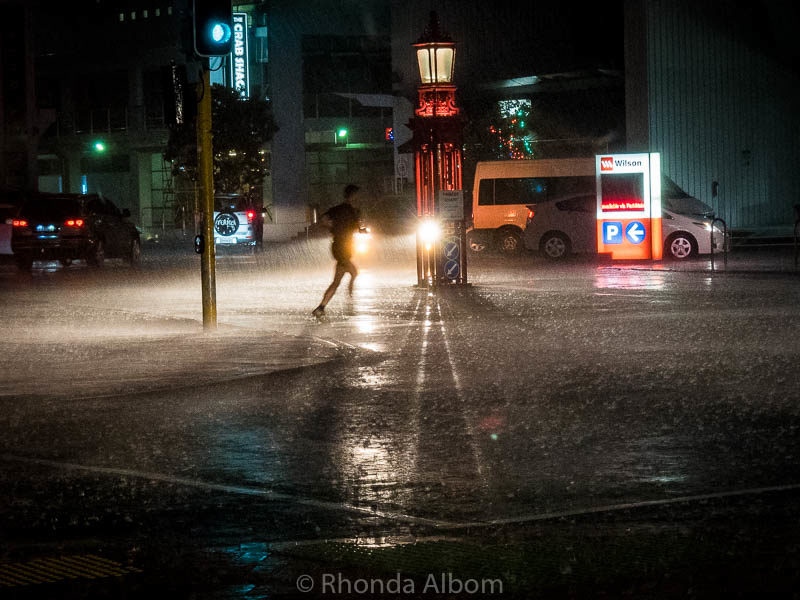 Head to an outdoor market
Every Saturday and Sunday morning, there are a variety of markets throughout Auckland. They take place rain or shine.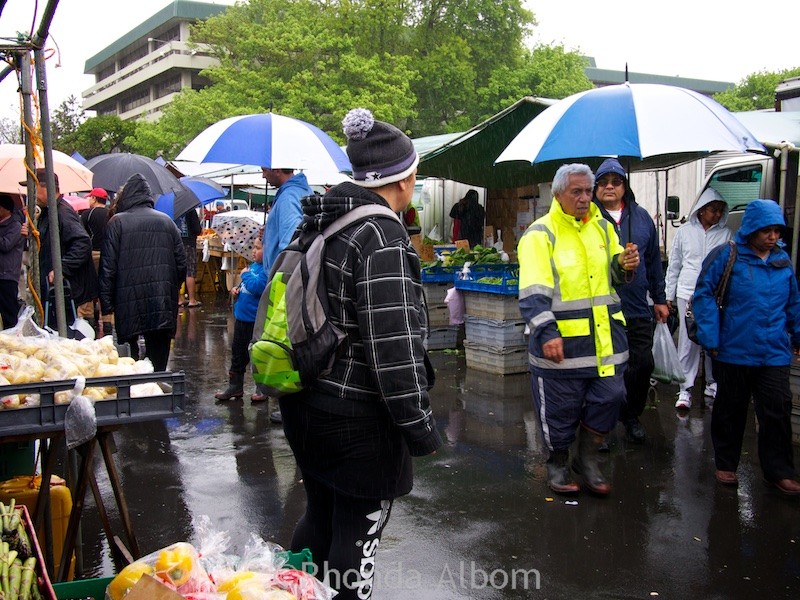 Sailing in the rain
I was on the ferry heading home in the rain when I took this shot. While I was also out on a boat, it was purely for transportation, which, to me is much different than recreation.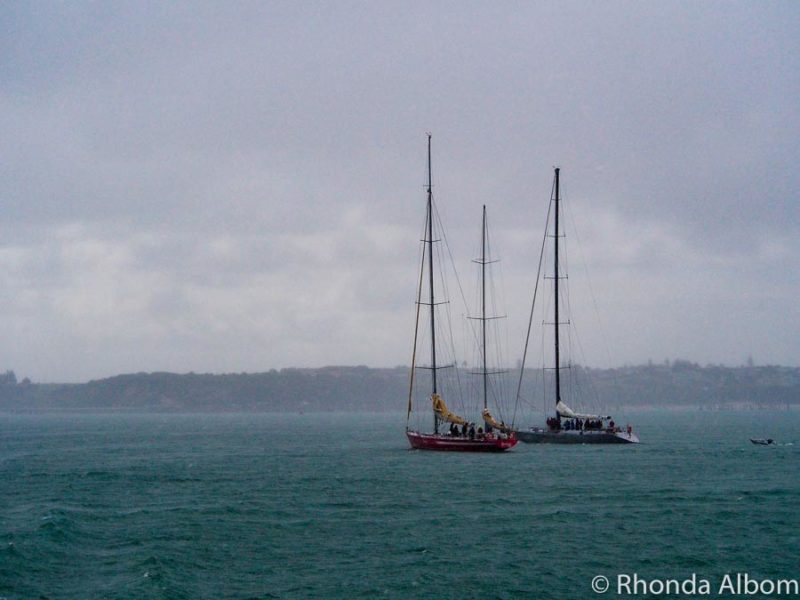 Go on a rainy night photoshoot
The photographer in me can often ignore the weather. Especially as I shoot with a weatherproof Olympus OMD em5 camera. I may get soaked, but the camera will be fine.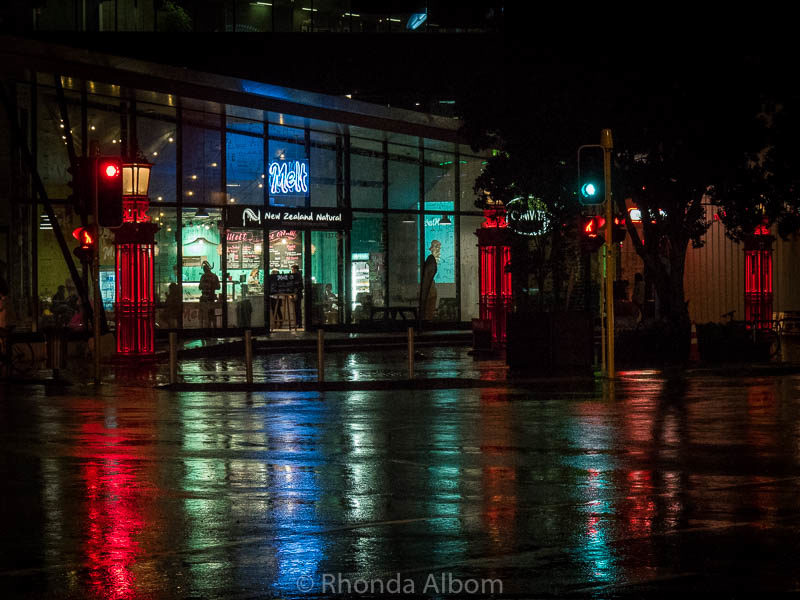 Energetic indoor activities in Auckland: sports with multiple locations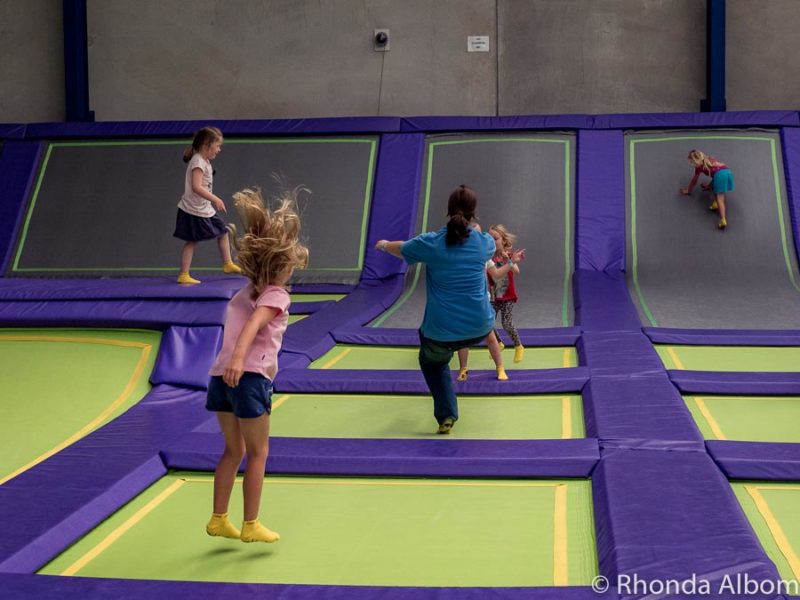 Be sure to check BookMe for possible discounts at the location you choose.
Go karts (Locations in Albany, East Tamaki, and Henderson)
10-Pin bowling (Locations throughout Auckland)
Rock climbing (locations in Albany, Birkenhead, Glen Eden, Mount Eden, and Panmure)
Indoor mini-golf: (Locations in CBD, Parnell, Mount Wellington, New Lynn, Takapuna)
Laser tag (Locations throughout Auckland)
Ice skating (July pop-up rink in Aotea Square, plus all year in Avondale and Botany Downs)
Trampoline centres (Locations in Avondale, Grey Lynn, Manukau, and Mairangi Bay)
Pool and billiard halls (Locations throughout Auckland)
Indoor swimming (Locations throughout Auckland and in Auckland Council Leisure Centres)
Pole dancing or yoga class (Locations throughout Auckland)
Sensory maze (Auckland CBD)
Virtual Reality (Mt Roskill)
Salt Cave Halotherapy (North Shore City)
Less unique indoor activities in Auckland
Shopping at indoor malls like Sylvia Park, or if you don't mind the rain, head in and out of the stores on Queen Street.
Watch a movie at any of the Auckland movie theatres.
Visit a library and read a book.
Beer or wine tasting.
Wait for it . . . a double rainbow
Frequent bright and vivid rainbows are my favourite aspect of the all too often rain. It doesn't always signify the end of a storm, but at least it's a colourful break. This double rainbow was shot from our deck.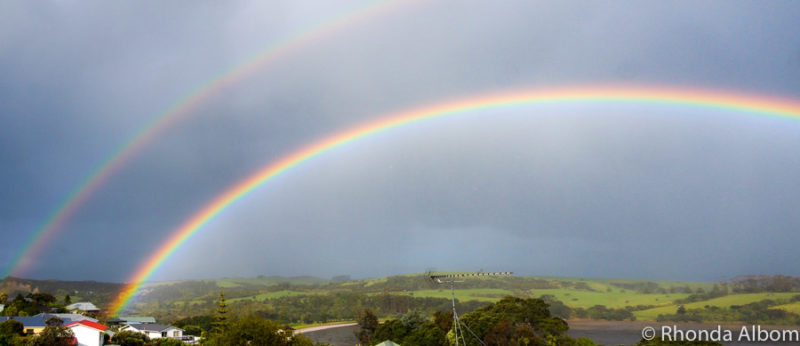 And once the rains are over, don't miss these fun things to do in and around the city.
Visiting New Zealand?
Please share this list of things to do in Auckland on a rainy day
What are your favourite things to do in Auckland when it's raining?
More from Auckland you might like:
Disclaimer: We are frequently provided with complimentary entrances, tour, or sample items to aid in the writing of Albom Adventures. However, the opinions expressed here are strictly our own.