MOTAT Auckland is New Zealand's Museum of Transport and Technology, a shining example of Kiwi ingenuity. It's a family-friendly museum with interesting technological and aviation displays that offer fascinating insights through the 150+ years of NZ history.
For kids, MOTAT offers hands-on, interactive displays that target multiple levels of understanding, making it suitable for all ages.
Younger children have fun while discovering relationships and reactions, while older children can get in-depth knowledge of various technological advances.
Adults can follow the transformation of technology even within our own lifetime, albeit a bit surreal when I saw items that I used as a child on display.
MOTAT Auckland: Transport and Technology Museum
MOTAT focuses on transportation and technology. Hands-on exhibits foster learning, while kids think they are just having fun.
The museum has both indoor and outdoor exhibits. It is located in several buildings spread out around the complex, so keep the weather in mind when you dress for the day.
Many of the exhibits are fixed and there for years, while others, like the special Da Vinci Machines display, were on tour for a limited time. Some of our favourite permanent exhibits include (more on the top three below):
Historic Village of the European settlers.
Original Pumphouse.
Aviation display hall (at a separate location).
Accelerate is a look at NZ's vehicle history, including A tractor to go over the Antarctic ice in "90° South" where visitors explore Sir Edmund Hillary's Antarctic Expedition.
Model Railway: 40 years old and still growing.
Get Smart (see image): an interactive exhibit highlighting the advance of electrical technology since the late 1800s. Here we enjoyed a selfies camera that later projected our images up on this giant display.
Firehouse and fire engines.
Telecommunication: with some hands-on fun.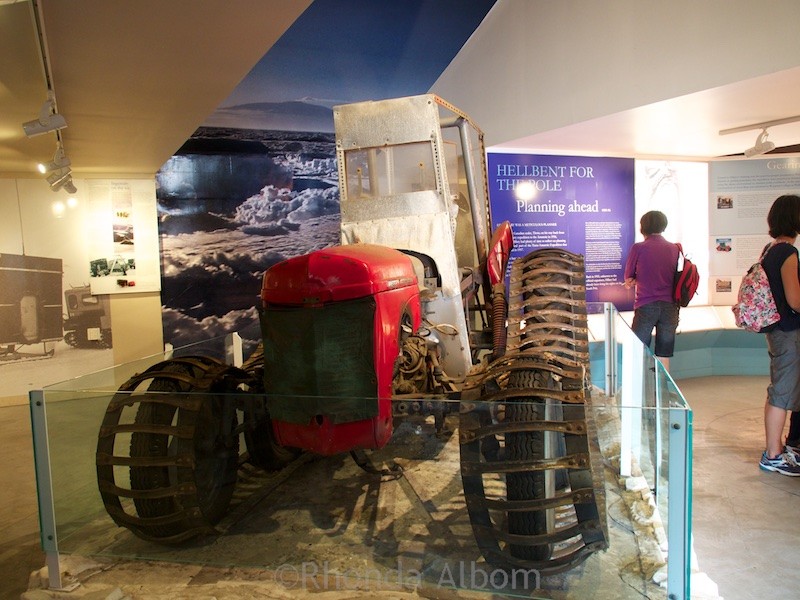 MOTAT Auckland: Historic Village
Wandering through the historic village, I always feel like I have entered a different era. With a church, schoolhouse, jail, and houses that we can enter, it is a historic snapshot of Victorian life in an early European settlement in New Zealand.
Be sure to take time to read the signage, especially in the schoolhouse. Last time we visited, there were three rules written on the chalkboard:
Do not speak in Maori!
Do not write with your left hand!
Speak only when spoken to!
The historic village fits into the museum as it represents the technology of the pre-electric time period.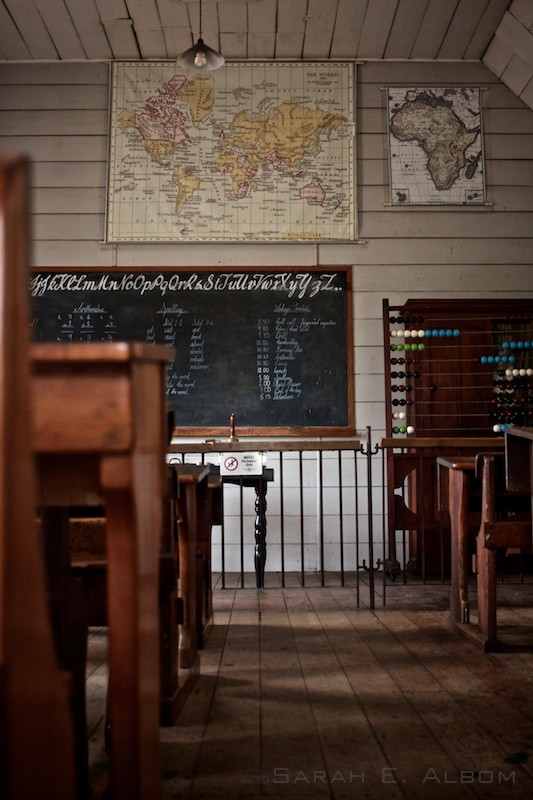 Auckland's Historic Pump House
This is the original 1870s Western Springs pump house. It was the first reliable source of water for the city of Auckland.
On special days, they fire up the steam boiler and run the engines. It is the first pump house in New Zealand to receive a UNESCO award.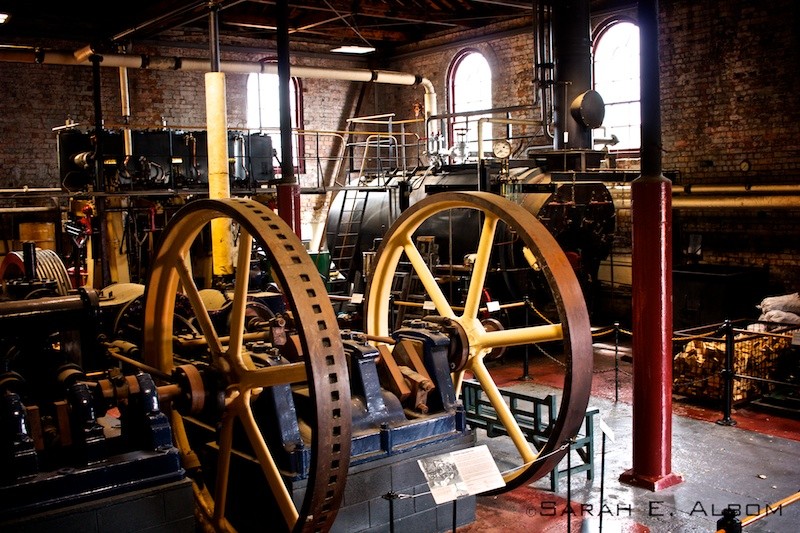 MOTAT 2: Aviation Hall
MOTAT Aviation Hall is about 2.5 km from the main museum and is worth a visit. The entry fee includes both museums and the Western Springs tram that travels between the two.
The aviation display hall brings history alive, often through recorded stories from the actual pilots. The planes are the real thing, refurbished to the point that most can fly. A few have been put on display to allow us to see their inner workings as well as their exterior.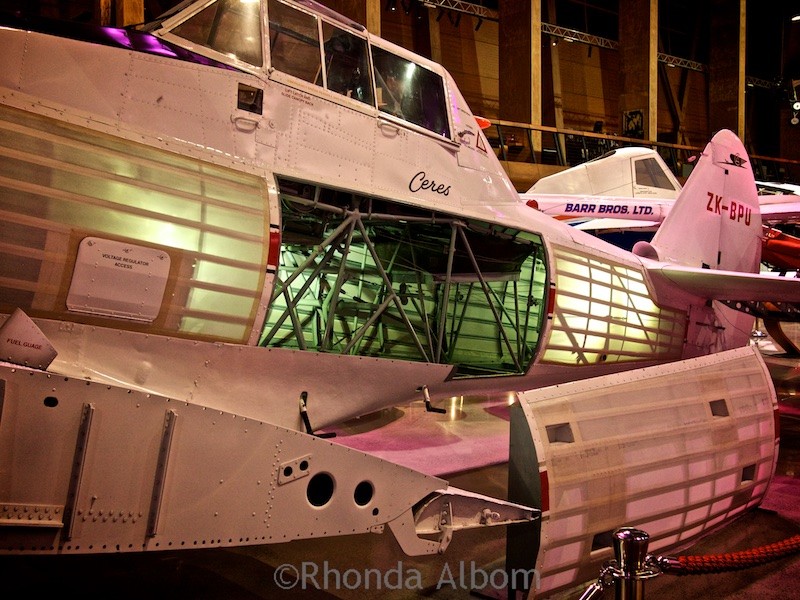 The aviation display hall is educational and first class. Fighter planes, commercial planes, and dioramas built to scale all complimented by passionate volunteers who share stories and answer questions. There is even an area where New Zealanders can look up their family members to learn more about how they served the country.
A few of the highlights include:
Tiger Moth biplane
Interestingly, the wire controls used for steering the Tiger Moth biplane hanging near the entrance, use the same method that was developed by the Wright Brothers. The specific plane is yellow as that colour represents training missions. New Zealand pilots were responsible for training most of the pilots fighting for the Commonwealth.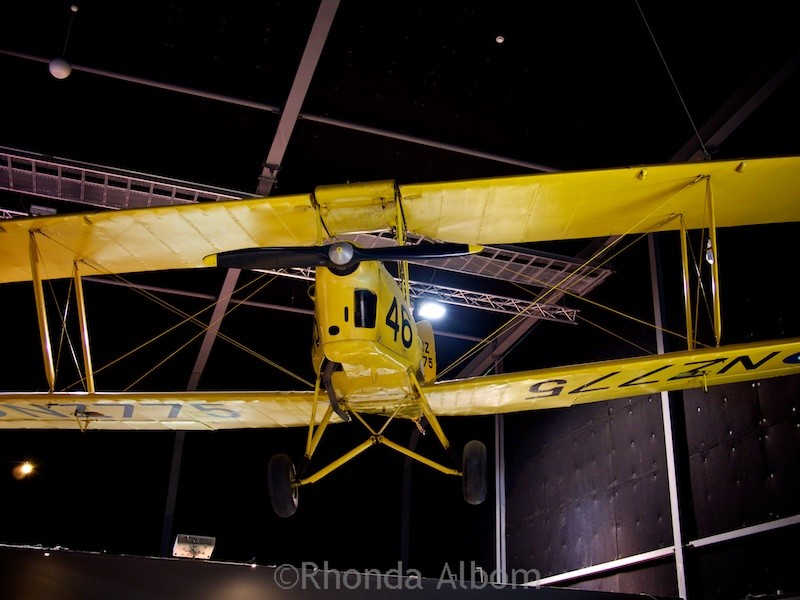 Lancaster Bombers
Next, we looked at one of the world's few remaining Lancaster Bombers, a plane famous for "striking hard and fast." A reliable machine with a reputation for achieving its target. It is bigger and faster than the comparable US B-17. The Lancaster was flown at night and had a groundbreaking radar system. Like many planes on display here, it took 40-50,000 man-hours to restore.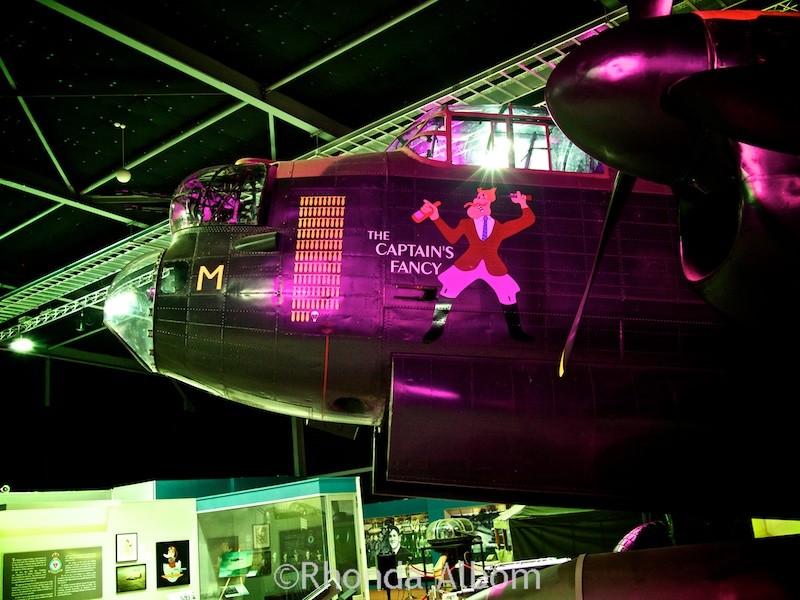 Solent Class Mark IV Flying Boats
Below is one of only three Solent Class Mark IV Flying Boats (no wheels) remaining in the world. A second one is being refurbished in the work area behind this portion of the museum. These Flying Boats were commercial planes used to cross the Tasman Sea.
It's not just the planes, it's the people that make this visit so unique. In the indoor photo of the flying boat, the two men in the foreground are Wally Halliwell and Alan Taylor, both RNZAF bomber veterans from World War II.
The working exhibits are out in the back. Here we found a second Solent Class Mark IV Flying Boat. Norm McKelvie, the last surviving Lancaster squadron commander, is on the team restoring this airframe. Behind it (in the photo just below) is a 1944 RNZAF original hanger.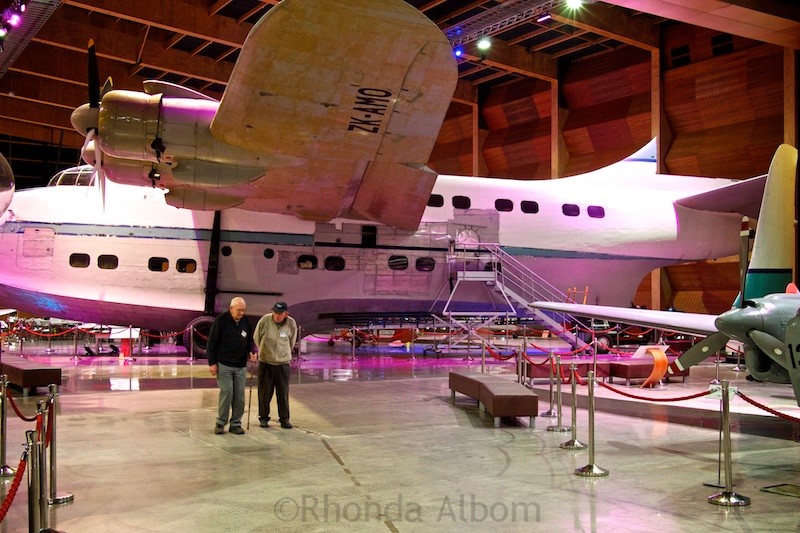 MOTAT Live Day
The third Sunday of most months is MOTAT Live day at both museum locations.
Live Day Activities at the Aviation Hall
Aside from enjoying the aircraft normally on display, we also had Live Day opportunities to ride on a steam train, examine and ride on a military armoured personnel carrier (APC), and peek into the restoration workshops where volunteers restore a wide variety of planes to their original appearance. Restoration viewing is done from outside the hangar, which is generally closed (open for live days and other special events).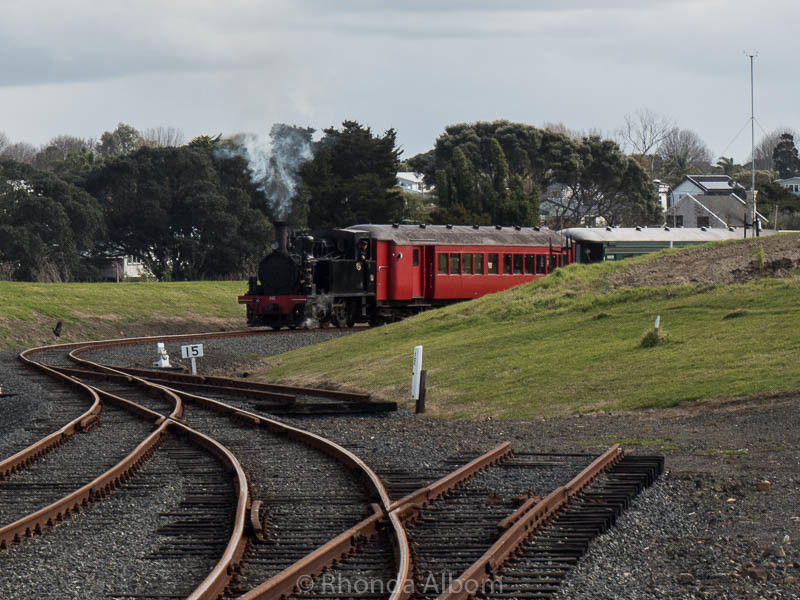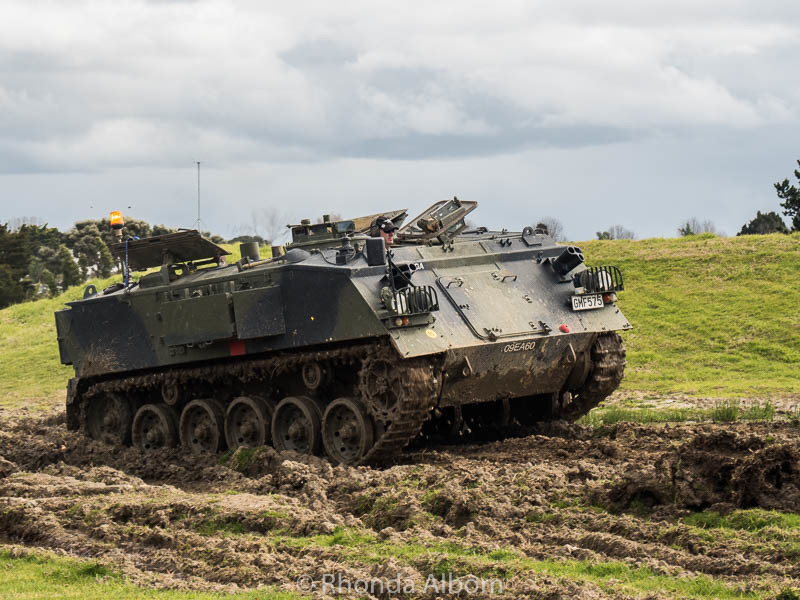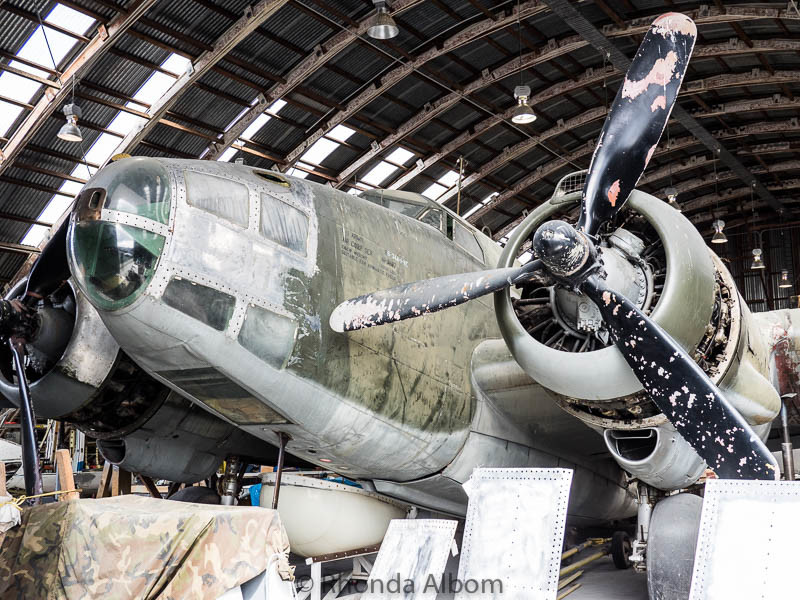 Live Day Activities at the Main MOTAT Museum
We took the tram to the main museum. Some of the live day activities include a horse and carriage ride, candy making demonstration, Penny Farthing rider, printing press workshop demonstrations, road transport and tram workshops, a blacksmith working in the forge, and the pump house was in operation.
There are even opportunities to try things, like making your own candy.
MOTAT Tram
A tram takes visitors between MOTAT's two locations. It also stops at the Auckland Zoo. On Live Day, they bring out the double-decker 'Big Ben' tram, as well as another heritage tram (weather dependent). We rode on both, one in each direction.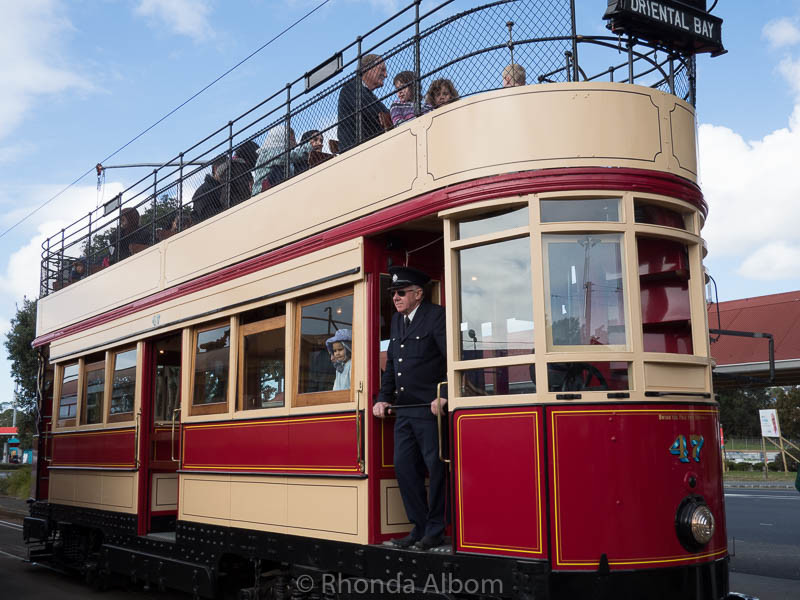 MOTAT Night Special Events
MOTAT has evening events throughout the year. Some on holidays, others just for fun.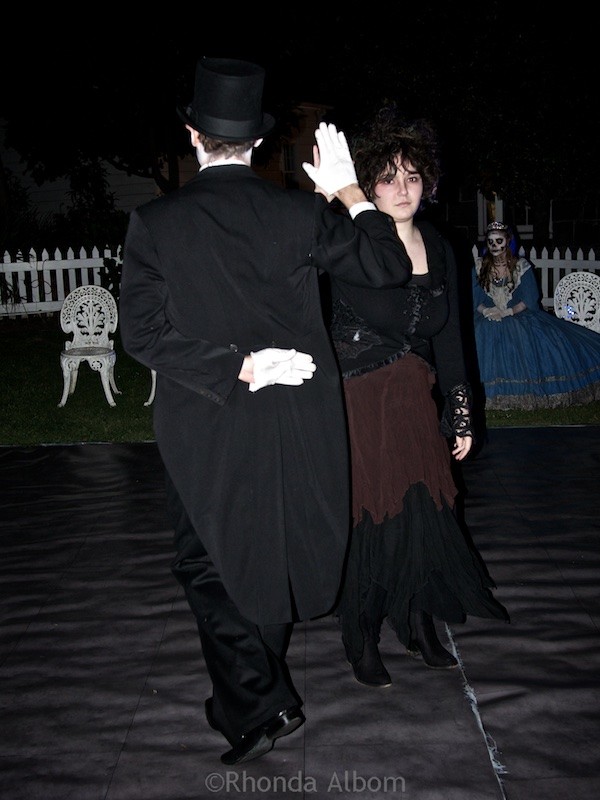 MOTAT Halloween
An annual event loaded with frightful fun, the museum comes to life in a new way, it is the country's largest Halloween event. While it is mostly a family-friendly event, there is generally one building restricted to 18+.
It is well planned out, with attention to detail driving its success. If you haven't been to it before, put it on your calendar for next year. Participant or spectator, it's good fun with something for everyone. The actors (employees) are focused. They do an impressive job of both staying in character and paying attention to their audience, speaking to adults like adults and toning it down for children.
Each year has a different theme. Two of my favourites were the Danse Macabre (the dance of death) and A Twisted Victorian Tale.
MOTAT Christmas Lights
Leading up to Christmas, MOTAT has an annual evening Christmas lights display, with proceeds going to charitieslike Auckland Women's Refuge and Auckland City Mission.
More than just a colourful display of illuminated lights, there are crafts, food, strolling carolers, and a visit from Santa. One of the most popular things to do is to bring a picnic dinner and enjoy an outdoor open-air cinema showing family-friendly Christmas movies.
It's a super popular event, and my best advice is to get there early.
Night Lights
The seven stars of Matariki are the inspiration behind Night Lights, a bright and colourful annual event at MOTAT Auckland. Matariki is the Māori name for the cluster of stars also known as the Pleiades. The seven stars of Matariki rise in late May or early June, marking the start of the Maori New Year. "Night Lights" is more than just a New Year's celebration; it's also a recognition of New Zealand, its artists, and their creativity.
Visiting the Museum of Transport and Technology
The main MOTAT museum is located at 805 Great North Road in Auckland. The MOTAT Aviation Display Hall is about 2.5 km away on Meola Rd. The combination creates one of Auckland's best museums.
They both sit on the edge of the Western Springs Lakeside Park in Auckland New Zealand.
The Western Springs tram transports visitors between the two locations.
Parking is generally easier at the Aviation Hall.
MOTAT hours: Open every day from 10 am – 4 pm (excluding Christmas Day)
There is a cafe offering a nice variety, including gluten-free, vegetarian selections, and a decent cup of coffee.
More information on MOTAT's official website.
Check for discounted MOTAT entry tickets
MOTAT is One of 75 Great Things to Do in Auckland
Save on your NZ trip with these resources
These are our go-to companies when we travel. We believe this list to be the best in each category. You can't go wrong using them on your trip too.
Flights: we use Expedia for the best and cheapest flight options.
Accommodations: we use Booking.com (hotels), Bookabach (self-contained in NZ) or Hostelworld (budget).
Cars (gas or electric): we use RentalCars to search for deals and dealer ratings.
Motorcycles: we have heard good things about BikesBooking.
Campervans or Motorhomes: we use Campstar where Albom Adventures readers get a 3% discount.
Activity discounts: we check Bookme.com for discounts of up to 70% on activities.
Private guides: we love the private guides at Tours by Locals.
Travel Insurance: while not required, we always opt for travel insurance and start at InsureMyTrip to compare coverage plans.
Check out our travel resources page for more companies that we use when you travel.
Please share MOTAT Auckland on social media including Pinterest:
Have you been to MOTAT Auckland? Do you prefer interactive or visual museums?
Disclaimer: I was a guest of MOTAT for all events above. However, the opinions expressed here are strictly my own.