Gumdiggers Park is an authentic piece of New Zealand history. It takes about an hour to explore and is a worthwhile stop if you're driving up the Aupouri Peninsula to the top of the North Island. It is home to the oldest non-fossilized wood found on earth.
I'll be honest, when we first saw Gumdiggers Park on the map, we worried it would be an overpriced tourist trap. But what we found was exactly the opposite. Built up just enough to make it safe for visitors, Gumdiggers Park is fascinating, even to our teens. Walking along lush green forest paths, we found labels explaining just about everything. We saw young and mature kauri trees, an ancient buried forest, an old gum diggers village and rare geckos.
What are gum diggers?
Explained better in the photos below, gum diggers are the people who dig in the ancient forest for the tree gum or resinous sap. From the late 1800s to 1920 gum digging was a principal income source in this part of New Zealand. The fossilised sap, or kauri gum, hardens over thousands of years into beautiful (when polished) New Zealand amber. The gum is also used for making high-quality varnishes.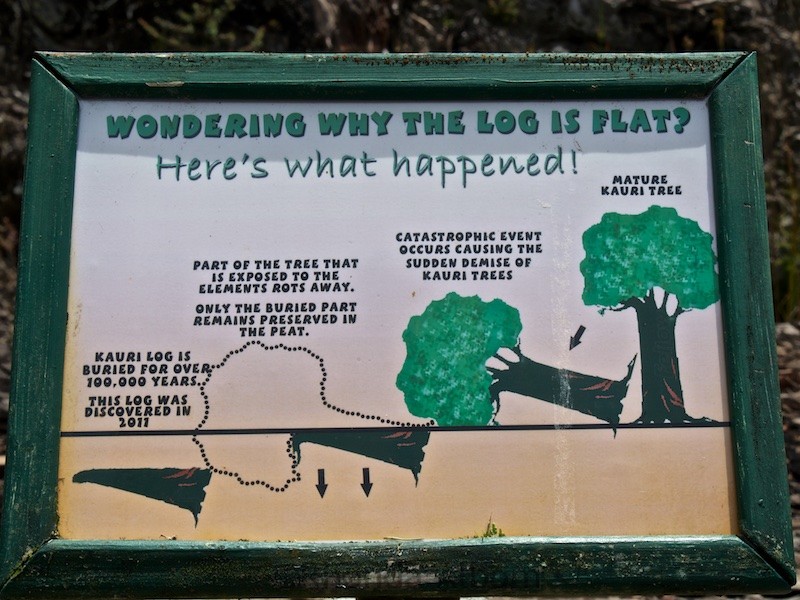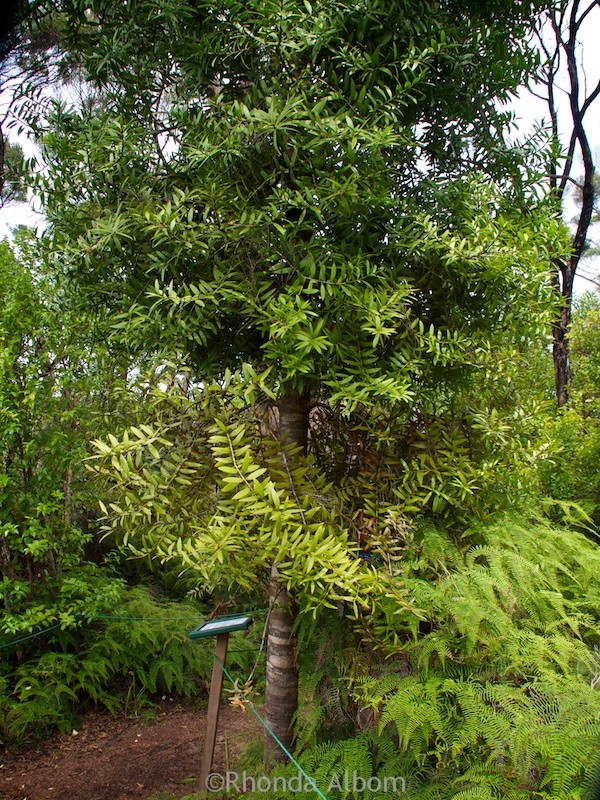 Gum Diggers Village
In the Gumdiggers Village, there is a short (15 minute) loop video of gum digging history. Apparently, the original gum diggers wore leather boots but soon changed to rubber boots to keep their feet dry. The name "gumboots" has stuck in New Zealand. They are Wellingtons, mud boots, or rain boots in other parts of the world.
What Makes Gumdiggers Park Special
~ A quote from John, the owner/caretaker
"All around we see the devastation in the name of progress, so it is a no-brainer for us to keep the habitat here as a sanctuary for the last remaining indigenous plants and animals that live here. Out of just this valley of 4000 acres, this is the last 70 acres left. And also the ancient forests that lay buried here, are truly unique and help scientists worldwide with their study into climate change, and  the history of this once huge industry that helped to found Auckland and Northland."
Practical Information on Gumdiggers Park: 
Walk through Gumdiggers Park with respect, remembering that everything you see is authentic, over 100 years old, and irreplaceable.
Keep a close eye on children. Many of the guide ropes are just on the other side of gum digger holes. Falling in the holes would be dangerous to both the child and the land.
Gumdiggers Park is open daily from 9 am – 5 pm.
Allocate about an hour for a visit, although if you are in a hurry and skip the video, you could see it all in about 30 minutes. It is worth the time and cost.
Located at 171 Heath Road in Awanui, this Park is quite easy to find on the way up to Cape Reinga. From Kaitaia, travel north on SH1 for about 20km. Turn right at the second time the loop road Paparora Road intersects, followed by a left turn onto Heath Road.
This part of our favourite 4-5 day self-drive itinerary around the top of the North Island.
Have you heard of Gumdiggers Park before today? Will you stop there on your next trip up to the top of the North Island?
If you enjoyed this article, please share it on social media, and Pinterest: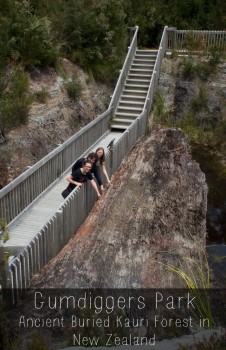 Disclaimer: I was provided entrance to take photos. However, the opinions expressed here are strictly my own.