Sandboarding is a popular adrenaline-pumping adventure on New Zealand's North Island. Sandboarding is wind in your hair and only your toes to slow you down. It's sand surfing on your belly, head-first while you fly to the bottom of the dunes.
The Giant Te Puki Sand Dunes reach up 100 metres, with the longest run nicknamed "Devil's Hook" offering a 350 long metre "surf" down. And it's fast, as some of the slopes exceed 45° (estimated). It certainly was faster than the sand skiing we did in Morocco.
A destination on its own, it's also a frequent stop of travellers heading to Cape Reinga at the northern tip of the island.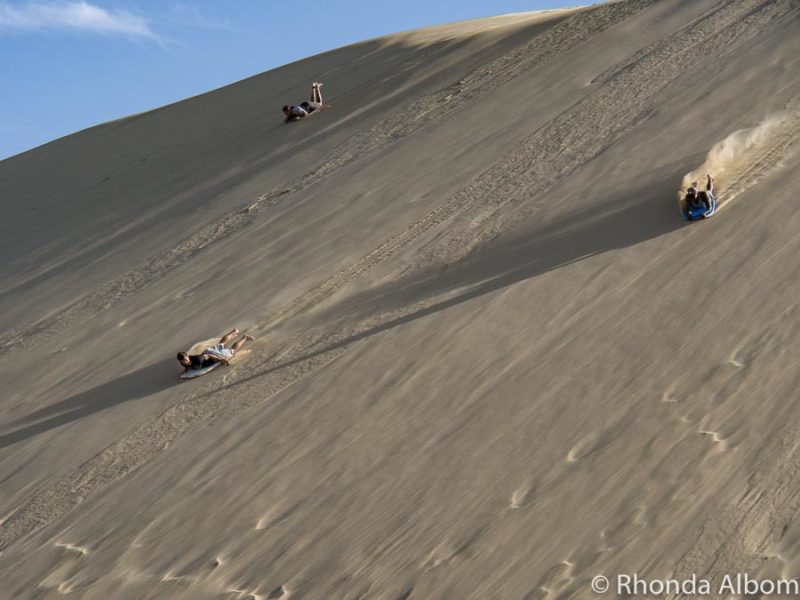 Sandboarding in New Zealand
What can I say about sandboarding? I would have said I am too old, but then I learned about the 89-year-old who gave it a try (and loved it).
Safety is the responsibility of the rider. The basic guidelines are to find a smooth slope with a gentle curve at the base, and good run off with no rocks, plants, or people in the way.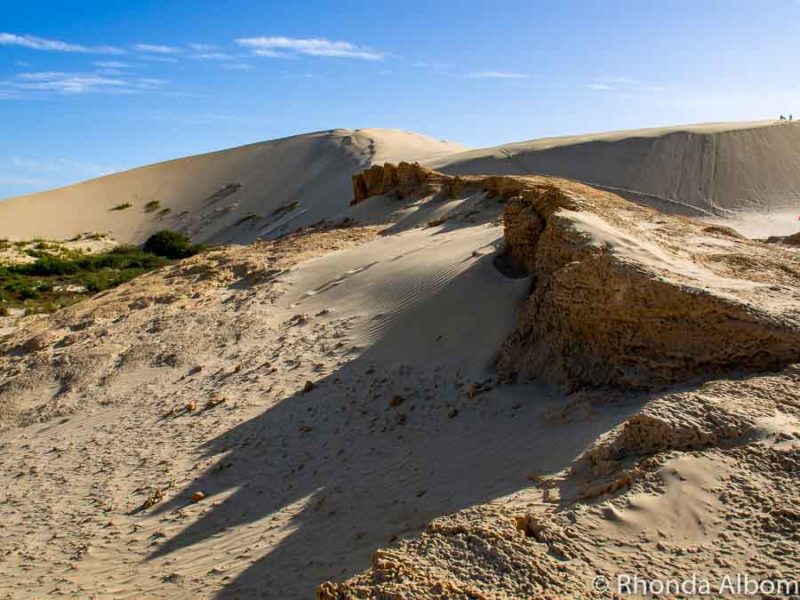 Our girls and their friend had a blast riding down. Our daughter sandboarding New Zealand style, full speed ahead, well her friend used her feet to slow her down a bit. To our surprise, both girls ended up with little sand in their clothing and NO sand burns.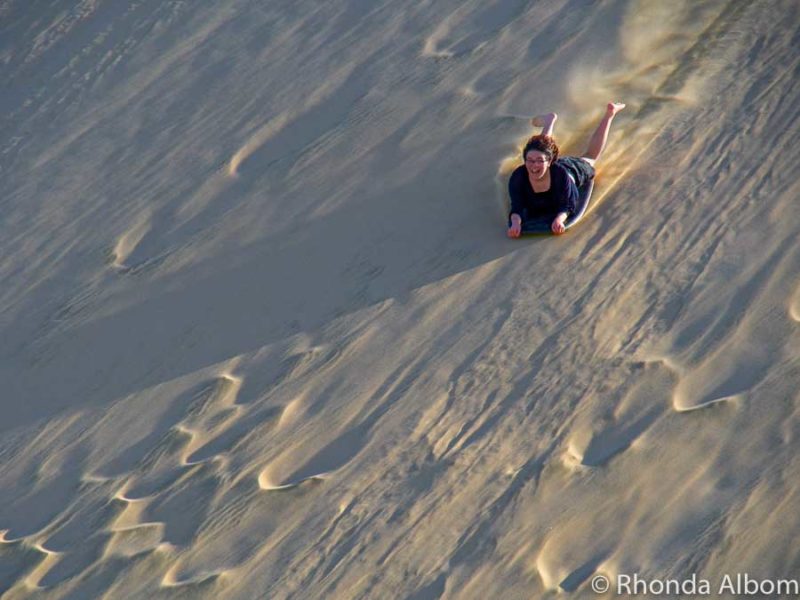 Jeff and I took the conservative approach, enjoying an interesting mix of the sand and the vegetation as we walked up to the best spot for photos.
Where are the dunes?
Te Paki Giant Sand Dunes NZ is located on the Aupouri Peninsula, near the very top of the North Island, about 17 km from Cape Reinga.
Follow the road to the dunes, and you can hire a sandboard right there.
Many people visit as part of a day bus tour that also drives on the 90-mile beach to Cape Reinga.
We drove to the giant sand dunes as part of a loop around the top of the North Island.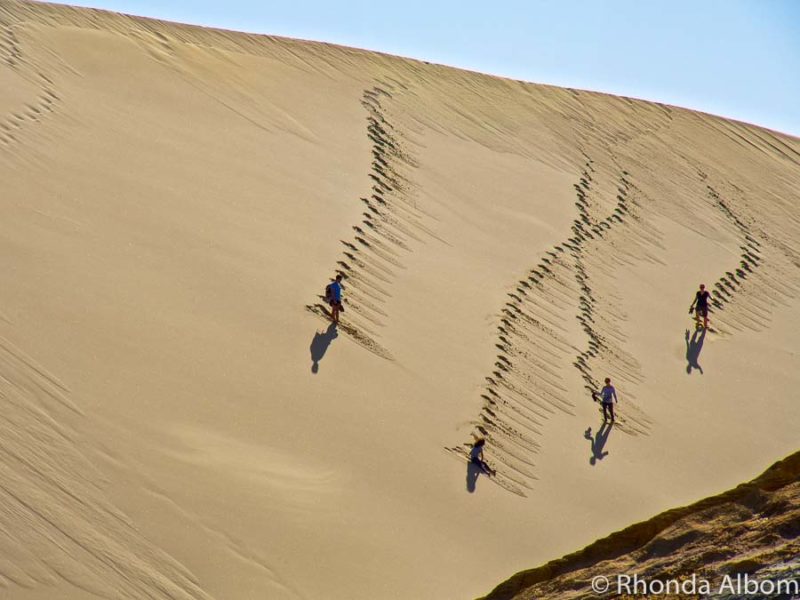 90-Mile Beach, sand dunes, Cape Reinga tour from the Bay of Islands
This site contains affiliate links to products and/or services. We may receive a commission for purchases made through these links at no additional cost to you.
Seems like the most popular way to see the top of the island is on an all-day tour to Cape Reinga from the Bay of Islands. Our favourite tour drives along 90-mile beach, visits Cape Reinga and its lighthouse, talks about local Maori legends, wanders among 2,000-year-old Kauri trees, and of course, includes a sandboarding adventure.

While we could do it all on our own, it feels safer, smarter, and more fun to be on the bus for the beach drive. Check reviews and price.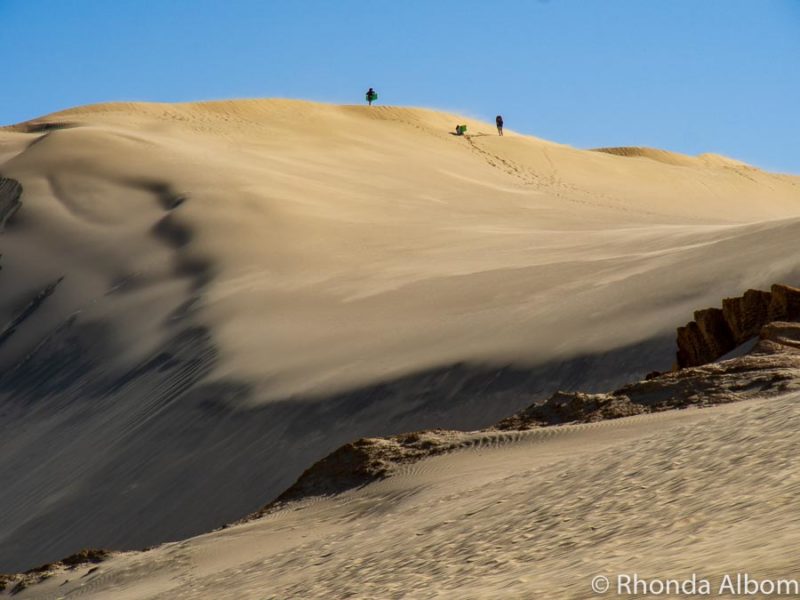 Rent a sandboard when you arrive
You can hire (rent) a board from Ahikaa Adventures, who have a small trailer overflowing with boards right at the parking area for the dunes. I don't think they ever run out.
They even have toboggans for little ones. (Minimum age is up to the parents). Board hire is available in the summer from 9.30 am until at least 6 pm and in winter from 10.30 am until at least 4 pm. The owner stays later if people keep showing up.
Sandboarding needs smooth, sleek boards, and the average beach boogie board just won't get the speed you want, nor will it hold up to the coarse sand.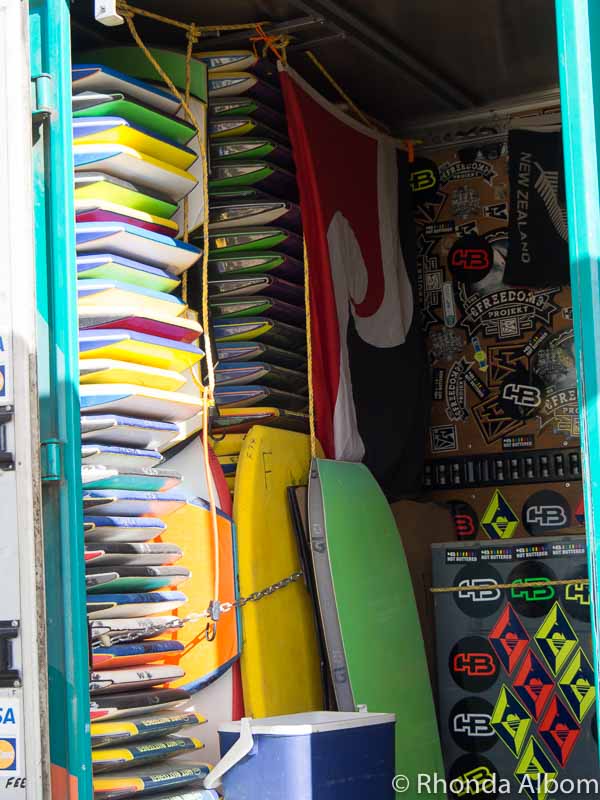 Practical information about the Te Paki dunes:
Entering these New Zealand sand dunes is free.
The general advice is to be sure to lock your car here.
There is no time limit for the board rental, but most people only last about an hour as the walk up is quite tiring.
Sandboarding is generally done barefoot, which works out well, as you need to cross an ankle-deep stream to get to the dunes.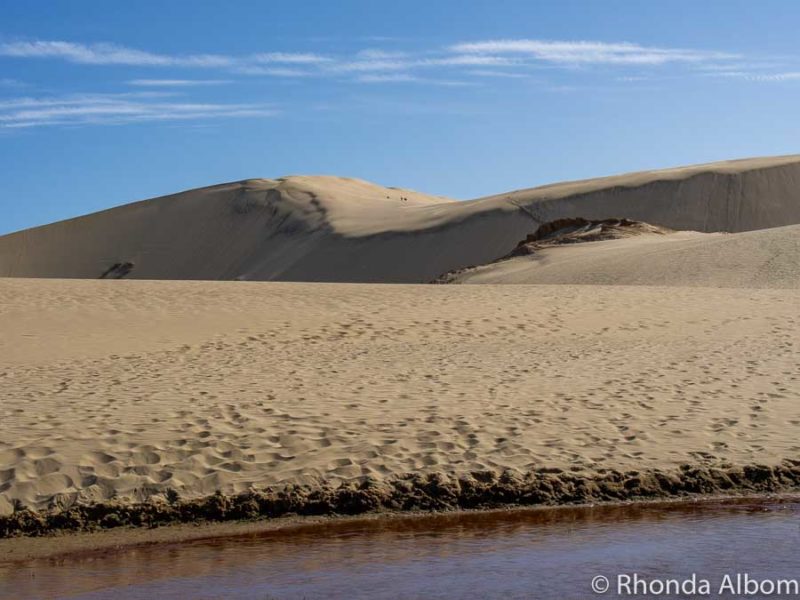 Booking tips for your New Zealand travel planning
First-time visitors start here: New Zealand travel guide.

Flights: We use Skyscanner to find all the available flight options at the best prices.

Rental Vehicles: For cars, we always use RentalCars.com, a rental car search engine with no hidden costs. However, we recommend Spaceships Rentals NZ for campervans.

Accommodations: We use Booking.com to find all levels of accommodations in most NZ cities.

Activity Discounts: We use Bookme.co.nz to find discounts on entry tickets and tours in New Zealand.

Travel Insurance: We purchase insurance that covers medical and travel emergencies when we head overseas. We start with World Nomads.

Packing Tips: Get a free copy of our New Zealand packing list when you sign up for our mailing list.

**Find more money-saving resources on our Travel Resources page.
Join our virtual community and explore New Zealand with us!
At Explore New Zealand, a Facebook group, members share photos, stories, itineraries, and more.
Save for later
If you enjoyed this article, please share it on social media and save it for later on Pinterest.
Are you ready for some sandboarding?