Raglan is not just a surfer's paradise – there are plenty of things to do in Raglan for everyone, even people like me who think they are too old to surf.
Whether you're looking to catch some waves or simply take in the stunning natural scenery, this charming coastal town on New Zealand's North Island is the perfect destination for adventure seekers and relaxation enthusiasts alike.
I instantly felt at home in Raglan. A strong sense of déjà vu, it reminded me of a surfing town I lived in long ago. A laid-back bohemian lifestyle and an artistic vibe were encapsulated by steep rolling hills, sparkling waters, and crashing waves. Raglan is one of New Zealand's famous surfing spots. Yet, we found plenty of other things to do in Raglan.
As for being too old to surf, I know that you are going to say old is a state of mind.
Ask any surfer in this town, and they will tell you that one is never too old to surf. But if surfing's not your passion, I want to assure you there are plenty of other things to do in Raglan, New Zealand.
This town deserves a visit.
And, if you are gluten-free like me, you will be in paradise. There were so many options everywhere we went. See our top recommendations below.
Things to do in Raglan – how we spent our time
We spent our time strolling along on the beach, hiking, enjoying several of the walks in Raglan, dining, and drinking coffee.
Stroll along a Raglan beach
Wainamu Beach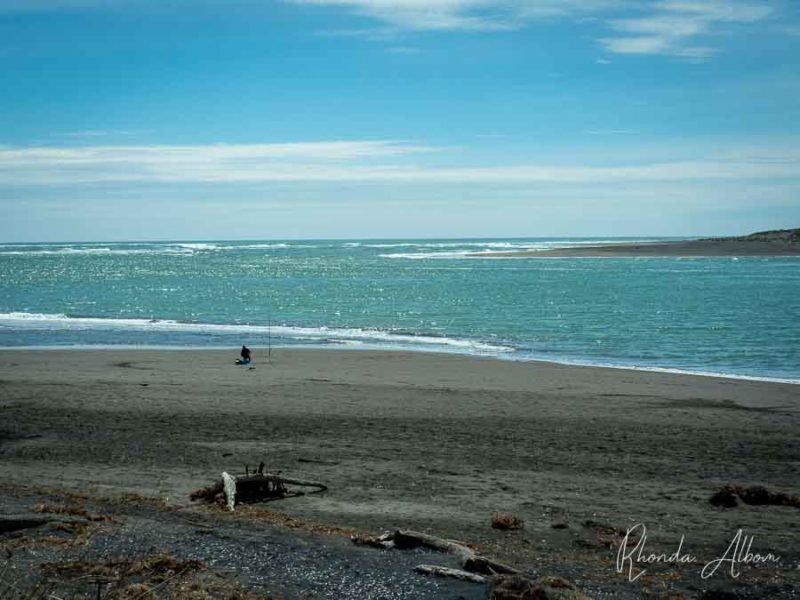 Our first stop was Wainamu Beach, where I quickly removed my shoes and headed for the water's edge. A somewhat calm day; the waves gently washed over my ankles as we strolled along the black sand. It was so peaceful and relaxing, and I could feel the stress of daily life melting away.
Importantly, this is not a swimming beach; it is generally too dangerous. Therefore, it's rarely crowded and is popular for fishing or dog walking.
Ngaranui Beach (locally called Ocean Beach)
The main beach in town, Ngaranui Beach, spans 1600 metres and is home to the Raglan Surf Lifesaving Club. Despite being mid-week, there were plenty of surfers enjoying the day.
It's a great beach for learning to surf. In fact, Ngaranui Beach is home to Raglan Surf School, NZ's first sanctioned surf school offering year-round lessons. And, while we may think we are too old to surf, we were not the oldest on the beach, nor would we have been the oldest to ever take surf lessons here.
Manu Bay, Whale Bay, and Indicators
These three beaches are where the big kids play. Home to some of New Zealand's biggest, best, and most consistent surf breaks, these beaches are not the place to learn but are sought after by experienced surfers.

Manu Bay was featured and thus made famous in the 1966 movie Endless Summer.
Enjoy a cliff-top view from the Ngarunui Lookout Track
This track runs from the car park to the beach. We started from the beach and found it be a somewhat steeper walk than we had anticipated. We weren't looking forward to the downhill return and laughed when we discovered the path is practically level as it continues to the car park after the lookout.
If you are not headed down to the beach, you can start in the car park to enjoy the lookout from a short and easy trail.
Find peace at the Four Directions Sculptures at Wainui Reserve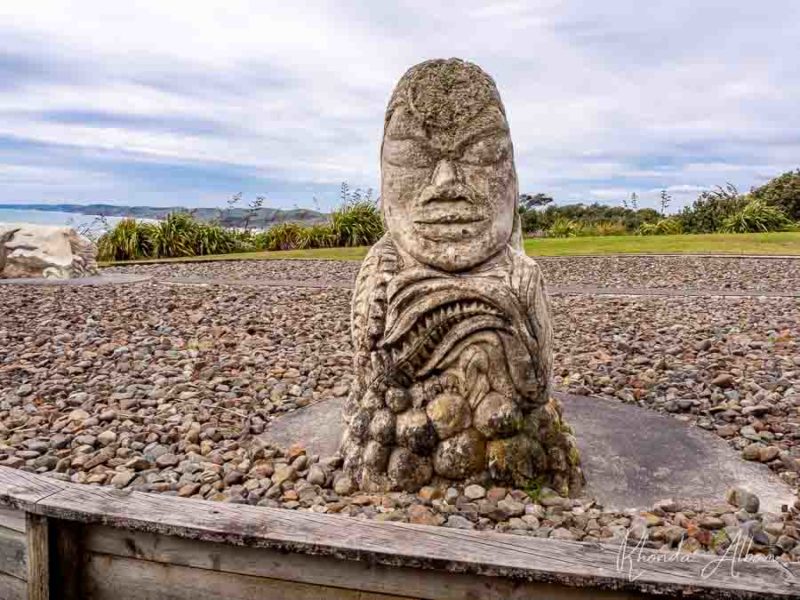 Overlooking the ocean in the Wainui reserve, four carvings stand, each representing a different wind direction. Also called the Whaingaroa Creative Sculptures, they were carved in 2001 and placed in their current location in 2002. Under each is a buried crystal.
It's a peaceful spot, encouraging quiet reflection and thought. While the woman in the centre of the sculptures appears to be meditating, on closer inspection, she was on her phone. Oh well. The option for peace is there if taken.
The sculptures represent:
West – Water
The setting sun, Hector dolphins, surf, waves, Tangaroa (the son of the earth mother and the sky father), stingray, fishing hook, and shellfish
South – Earth
Tane Mahuta (God of the forest), weaving, Papatūānuku (the earth mother), nature, cold weather, growth, and isobars
North – Fire
Mahuika (fire goddess), Wairua (spirit of a person), heart, music, passion, soul, and heat
East – Air
The rising sun, Tawhiri (god of wind), Ranginui (the sky father), life, growth, Celtic genealogy, Celtic knots, birds, flight, and also past, present, and future
Hike to the bottom of Bridal Veil Falls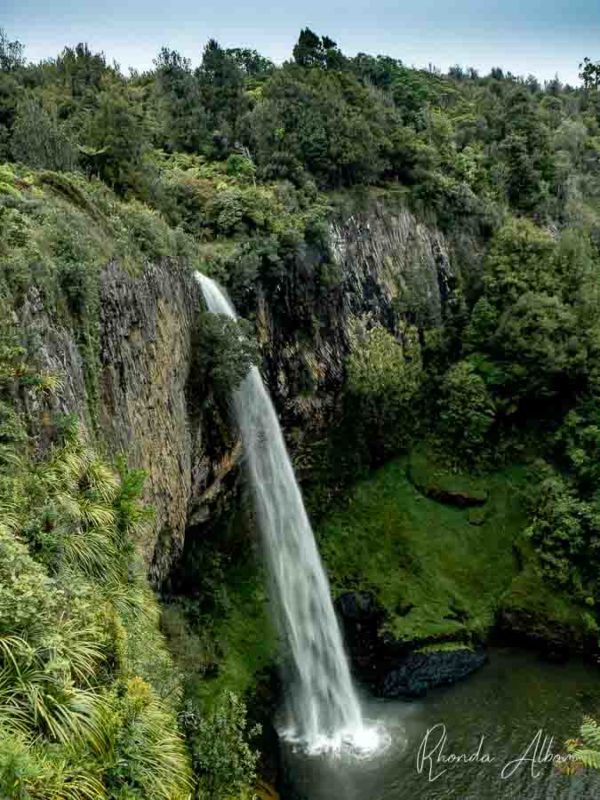 Bridal Veil Falls (Waireinga Falls) is one of the highlights of our time in Raglan, and we believe one of the best waterfalls in NZ. We reached the top of the 55-metre-high waterfall with an easy 10-minute hike from the car park area.
The trailhead is about a 15-minute drive out of town and well worth the effort to get there. While the walk to the top is easy, there are 261 steps down to the bottom. Although not difficult, I can assure you that going down was easier than the return walk.
Take an estuary walk or cross one of the pedestrian bridges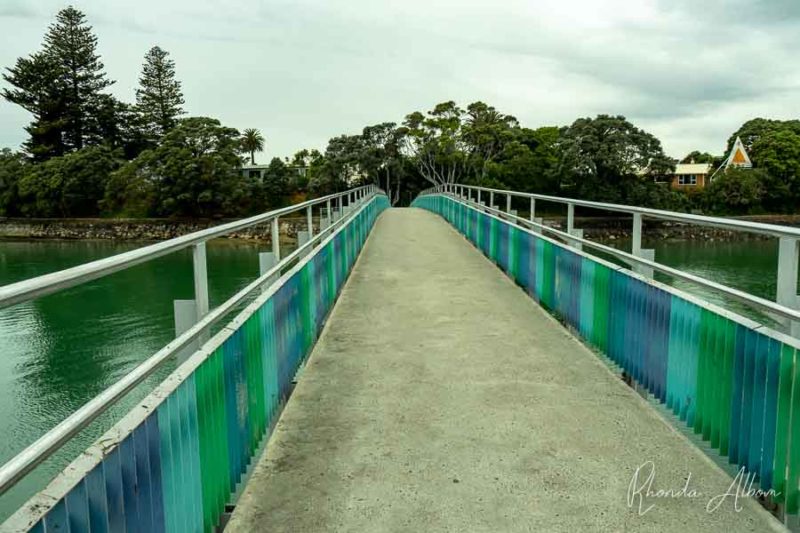 Welcoming calm waters make the estuary the ideal spot for a gentle swim, kayaking, stand-up paddle-boarding (SUP), or just a stroll through native bush and along slightly hilly terrain.
Or, cross the bridge for one of the most impressive skate parks we have seen or the start of a beach walk that will take you all the way out to the main beach (check the tide times as full access is not available at high tide).
Be impressed at local art galleries and artisan shops
It's easy to understand why Raglan's light and friendly bohemian atmosphere and surrounding natural beauty is inspirational to artists. As a result, there is an enormous amount of talent to be discovered in the local galleries.
Don't miss the Old School Arts Centre, run by the Raglan Community Arts Council. It is housed in a charming 19th-century heritage building. We also visited the Kanuka design gallery, Moz-art, and the Artists At Work studios in town, and several galleries on the wharf (Tony Sly Ceramics, Soul Shoes, and the Wharf Gallery.)
Search for street art
In a bohemian town like Raglan, we didn't have to search for long. As artists flock to this community, we easily found impressive street art.
An interesting note from Ava in the comments below:
"You know the mural of the girl in one of the pictures, well that person is me! My stepdad is a tattoo artist who works next to the mural, and his friend (also a tattoo artist) decided that he wanted to do a mural of me"
Visit the wind farm
Having visited other wind farms in the past, we opted to just snap a shot of the Te Uku wind farm from the roadside lookout leading into town.
Sporty things to do in Raglan
Climb to the summit of Mt. Karioi
Time and rain forecast prevented us from tackling this challenging 3-hour (each way) hike to the summit of Mt. Karioi. Perhaps on another visit. The trailhead starts at the car park for Te Toto Gorge. Rated by DOC as an advanced track, you might want to read this before you go.
Hike to Te Toto Gorge
We are embarrassed to admit we gave up too early and never found the car park for the trailhead. We knew it was beyond the end of the paved portion of the road but just didn't realise how far. On the bright side, we enjoyed the scenery.
Mountain bike at Te Ara Kākāriki
Starting from the final car park at Wainamu Beach, we walked up the hill only to find Te Ara Kākāriki mountain bike-only trail at the top. To be honest, we thought we were somewhere else when we started our climb.
Karioi canyoning
If jumping, climbing, abseiling down waterfalls, and navigating downstream in the ancient lava flow of Mount Karioi is your thing, Reserve your canyoning adventure here.
Take a surfing lesson
I know that this page was about non-surfing things to do in Raglan, but when in Rome . . . If you have ever thought about taking a surf lesson, Raglan is an ideal spot to give it a try. Reserve your lessons at Raglan Surfing School.

Where is Raglan, New Zealand?
Raglan is a charming beach town located along the west coast of the Waikato region on the North Island. Driving distances:
Accommodation in Raglan
We opted to stay at a small B&B located outside of town. While it was quiet and relaxing, it would have been nice to be within walking distance of everything in town.
There are several accommodation options in Raglan that we will explore on our next visit. However, singles might want to check out the popular Raglan Backpackers.
Places to eat in Raglan (with gluten-free options)
(all of our recommendations offer gluten-free options):
The Shack, Raglan – 19 Bow Street
Healthy and delicious, we opted to have breakfast here, as the chia, coconut, and raspberry pudding was calling to me, and boy, was it good.
Rock-it Kitchen – 248 Wainui Road
Open for breakfast or lunch, this is another restaurant not to miss. I had the Lamb Mezze Platter. Made gluten and dairy-free for me, it is one of the best meals I have had since my dietary restrictions. Jeff (who can eat everything) enjoyed some fish tacos and a caramel slice. We left with full tummies and big smiles.
Orca Eatery & Bar – 2 Wallis Street
So pleased that salmon was the market fish, with papaya and lime, on the night we had dinner at Orca. It was fabulous as well as being gluten and dairy-free. Jeff indulged in some classic fish and chips. There is a lovely sun porch in the back, the perfect place for a glass of wine and sunset before dinner.
Ulo's Kitchen – 6 Wallis Street
Another restaurant that was highly recommended, but unfortunately, they are closed on Sunday, Monday, and Thursday. Offering plenty of alternative options and providing a DJ on Friday and Saturday nights, we will be sure to get to Ulo's Kitchen on our next visit.
Raglan Roast Coffee – Volcom Lane
The classic. Down an alleyway, there seemed to always be a quick-moving queue when we passed. The first sip and we knew why. It is great coffee at affordable prices, just like they promote. Over the past 16 years, it grew from an old coffee machine in a kite surfing shop to a local's favourite.
Save on your NZ trip with these resources
These are our go-to companies when we travel. We believe this list to be the best in each category. You can't go wrong using them on your trip too.
Flights: we use Expedia for the best and cheapest flight options.
Accommodations: we use Booking.com (hotels), Bookabach (self-contained in NZ) or Hostelworld (budget).
Cars (gas or electric): we use RentalCars to search for deals and dealer ratings.
Motorcycles: we have heard good things about BikesBooking.
Campervans or Motorhomes: we use Campstar where Albom Adventures readers get a 3% discount.
Activity discounts: we check Bookme.com for discounts of up to 70% on activities.
Private guides: we love the private guides at Tours by Locals.
Travel Insurance: while not required, we always opt for travel insurance and start at InsureMyTrip to compare coverage plans.
Check out our travel resources page for more companies that we use when you travel.
Save for later
If you enjoyed this article, please share it on social media and save it for later on Pinterest.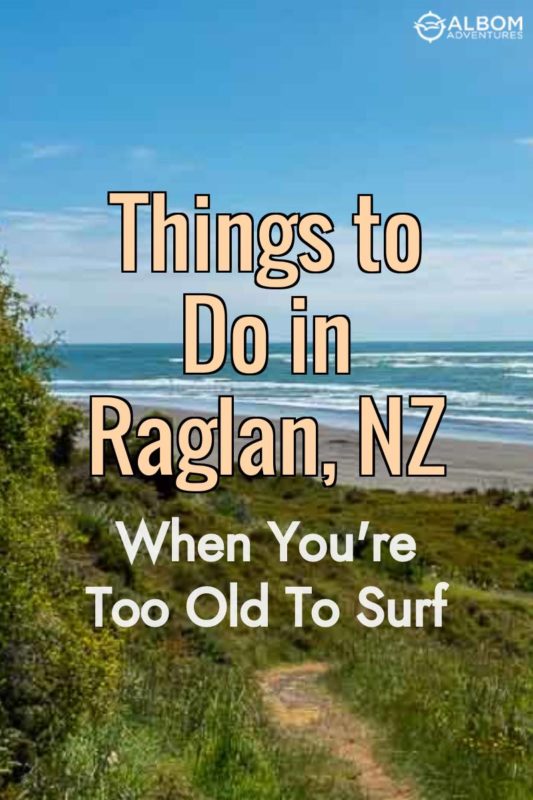 Which of these things to do in Raglan will you try?
More on New Zealand you might enjoy:
Disclaimer: Thanks to Hamilton and Waikato Tourism for offering assistance in our Raglan adventure to aid in the writing of this destination article. However, the opinions expressed here are strictly our own.