The west coast of New Zealand's South Island from Queenstown to Nelson is nothing short of spectacular. Imagine a paradise dotted with huge glaciers, beaches, windswept dunes, forests, and an array of marine and birdlife. Add the opportunity for relaxation, adventure, and creativity, and you have begun to define the Glacier Highway.
We travel slowly; hence, we enjoy the details, try new adventures, and simply breathe the crisp fresh air. Here, you will find the highlights so you can join us as we travel from Queenstown to Nelson via a New Zealand west coast drive.
We spent five winter seasons living in Wanaka. Each year, we alternated our driving route from Auckland, spending weeks exploring the country. We love the west coast drive and have done it more than once, typically spending about 11 days to travel from Queenstown to Nelson.
New Zealand West Coast South Island Road Trip: Queenstown to Nelson
We divided our Queenstown to Nelson trip into seven segments. All highlights listed below are on the interactive South Island road trip map.
Queenstown to Wanaka
Wanaka to Haast
Haast to Franz Josef
Franz Josef to Hokitika
Hokitika to Motueka
Motueka to Takaka
Takaka to Golden Bay to Nelson
Queenstown to Wanaka
Segment 1 of our Queenstown to Nelson road trip
Queenstown and Wanaka are both strikingly beautiful cities in the Southern Lakes District. While each has its own personality, both attract outdoor enthusiasts, adventure seekers, photographers, and families.
If time permits, you will want to spend several nights in each location. We frequently visited Queenstown as a day trip whilst living in Wanaka. That said, we have always had our eye on the pure luxury offered by the Rees, or the familiar comfort of the QT-Queenstown. In Wanaka, we recommended that our guests stay on the waterfront at the Edgewater.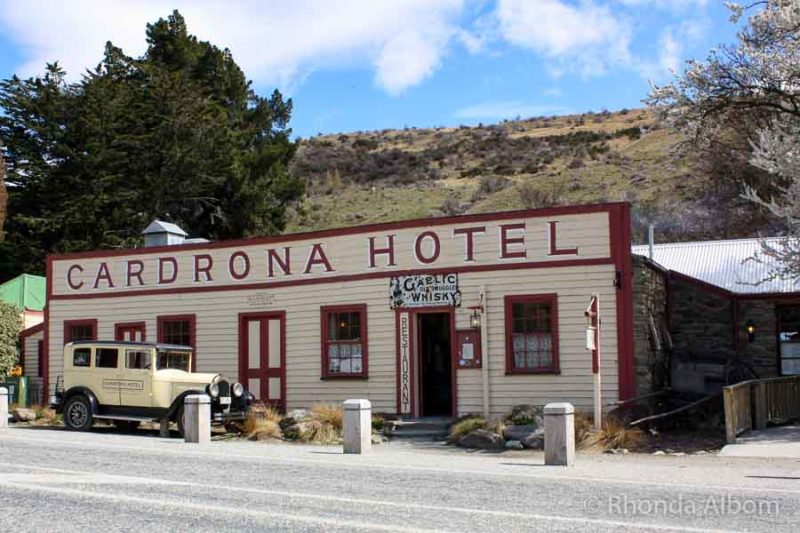 Queenstown
The adventure capital of New Zealand and possibly the world, Queenstown is situated alongside Lake Wakatipu in a picturesque alpine setting. The city offers it all both in the winter and in the summer, from relaxing to an extreme adrenaline adventure. It's home to the first commercial bungy jump, canyoning, hiking, watersports, winter skiing, world-class golf courses, and vibrant nightlife.
Crown Range
A steep and windy road offering expansive views from the top, crossing the Crown Range is the shortest distance between Queenstown and Wanaka. Snow chains are often required in the winter. Don't miss the Cardrona Hotel, a goldrush-era property featuring an award-winning restaurant and beer garden.
Wanaka
With stunning lake views surrounded by the majestic Southern Alps and Mount Aspiring National Park, Wanaka was my second home for years. Not-to-be-missed highlights include hiking to Roys Peak, wine tasting at Rippon Winery, summer cycling, winter skiing, and tackling the giant maze at Puzzling World (check for discounts.) Adrenaline junkies will also want to do the world's highest waterfall cable climb.
Fiordland side trips
Fiordland National Park is NZ's largest national park, covering 1.2 million hectares, as well as being a World Heritage Area.
Hiking: Fiordland National Park is home to three of NZ's nine Great Walks: Milford Track (4-5 days), Kepler Track (3-4 days), and Routeburn Track (2-3 days). Click here to book a Great Walk.
Milford Sound: It's the most accessible of the sounds; therefore, the most famous of the glacially carved fiords. Rather than the long drive with an overnight adventure, we opted for a fly-cruise-fly option to Milford Sound from Queenstown. Another option for those who don't want to drive bus tours from Queenstown is a long day filled with beautiful sites.
Doubtful Sound: The deepest of the sounds is surrounded by ancient rainforests and plenty of wildlife. Booking a Doubtful Sound day cruise is top on our list for our next visit. Although we may be tempted by an overnight cruise.
Wanaka to Haast
Segment 2 of our Queenstown to Nelson road trip
It's an easy drive from Wanaka to Haast, and we often stop to enjoy several waterfall walks. We like to spend the night in Haast.
At the northern end of Lake Wanaka, in Makarora, is the start of several multi-day Mount Aspiring hikes. However, we have always driven on to Haast, enjoying short hikes to several waterfalls along the way. Our key stops are:
Blue Pools (easy 60-minute return forest walk)
Fantail Falls (less than a 5-minute return walk)
Thunder Creek Falls (10-minute return walk) – 28-metre tall waterfall
Roaring Billy Falls (easy 25-minute return walk)
Gates of Haast Gorge (5-minute return walk)
Haast to Franz Josef
Segment 3 of our Queenstown to Nelson road trip
Haast is a World Heritage area with impressive panoramic coastal views and dense coastal scrub. The drive from Haast to Franz Josef is one of my favourites. Once in Franz Josef, stay at the Rainforest Retreat, a top-rated accommodation with options ranging from luxury treehouses to shared backpacker rooms.
Jackson Bay (side trip)
Located about 20 km south of Haast, Jackson's Bay is a working fishing port. Be sure to try the whitebait or crayfish here.
Ship Creek – Kahikatea Swamp Forest
First, we strolled through the ancient kahikatea (white pine) swamp forest. Next, we walked a second trail past a windswept dune, a lake, through a forested area, and out to a beach. Allow about 30 minutes for each walk.
Knights Point lookout
The huge boulders at Arnott Point, expansive views of the wild coastline, and marine life can easily be photographed from Knights Point, a quick and easy turn off of the road.
Monro Beach walk
A truly special place; we were lucky enough to see rare Fiordland crested penguins at Monro Beach. They nest here between July and December. While Hector's dolphins can also be spotted here, we didn't see any.
Westland Salmon Farm Cafe
Delicious fresh or smoked salmon caught at the farm. We watched and fed salmon before we enjoyed lunch (they are only open in the daytime).
Copland track
We opted to skip this 18km 1-way 7-hour tramp, even though it offers fabulous views and climbs past waterfalls.
West Coast Wildlife Centre
This conservation facility rearing and releasing endangered Kiwi birds (Rowi and Haast Tokoeka) is in Franz Josef township.
Photographer's highlights: the glaciers and Lake Matheson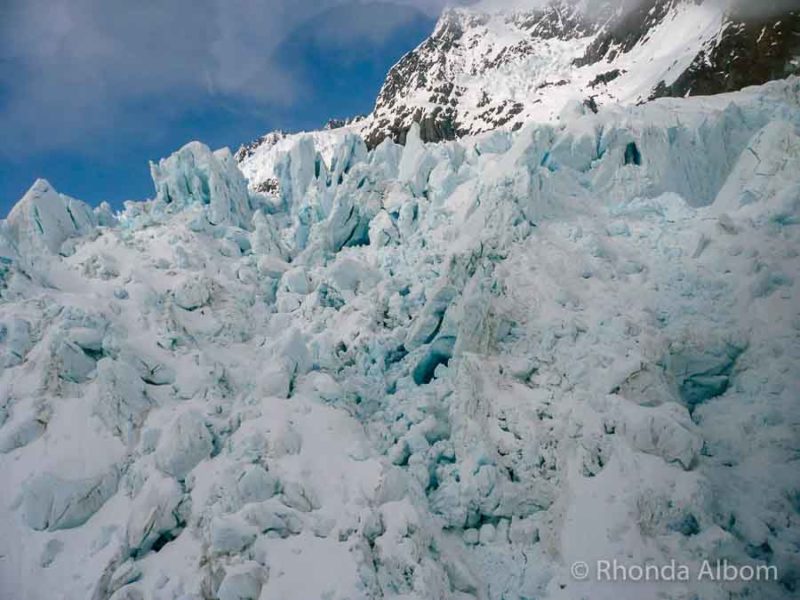 Fox and Franz Josef glaciers (one of the highlights of our Queenstown to Nelson road trip)
About halfway up the coast, there are two temperate maritime glaciers expanding from the Southern Alps towards the Tasman Sea. While there are many ways to enjoy them, we opted for and recommend a sightseeing helicopter tour with a glacier landing. For the more adventurous, there is a glacier heli-hiking option.
Lake Matheson
A mirror lake reflecting Aoraki/Mt Cook and Mt. Tasman, it is New Zealand's most photographed lake. For the best shots, take a photo at dawn.
Franz Josef to Hokitika
Segment 4 of our Queenstown to Nelson road trip
The stunning drive continues from Franz Josef. We like to stay in Hokitika, a creative artist community best known for its annual Wild Food Festival (March). Many years ago, we stumbled upon the beachfront Shining Star, an accommodation catering to everyone from beachfront chalets (we love these) to economy rooms.
White Heron Sanctuary in Whataroa
NZ's only nesting colony of white herons can be spotted from September to March. As a result of its remote location, it is only accessible via boat tour.
The historic site of Guy Menzies' aeroplane crash
After completing the first solo trans-Tasman flight (Australia to New Zealand) in 1931, Guy Menzies crash-landed in La Fontaine swamp. There is a kiosk telling his story, but no plane on display.
Ross goldfields
Next, we stopped in Ross, a small former gold mining town originally settled in 1865 and made famous in 1909 when a 3.1kg gold nugget was discovered. It remains the largest nugget found in New Zealand.
Hokitika Gorge
The vivid turquoise waters of the Hokitika River, spanned by a swing bridge, create the classic photo. There is a short forest walk beyond the bridge.
Dorothy Falls
Dorothy Falls is a 64-metre high (209 feet) multi-level waterfall spotted from one of the Lake Kaniere short walking tracks.
Shantytown
A recreated pioneer town showcasing the gold rush era of the 1880s. Great for families. Click here to check for entry ticket discounts.
Jade carving Hokitika
Amongst other things, Hokitika is known for its Pounamu (greenstone or jade). One of the more unique things we did was to carve our own jewellery at Bonz N Stonz. Check out this page for more things to do in Hokitika.
Hokitika to Motueka
Segment 5 of our Queenstown to Nelson road trip
Continuing north along the coast, we tend to turn inland just before Westport; however, we have included the remainder of the Glacier Highway highlights in the options below. After crossing out of the South Island west coast at Buller Gorge, we stayed in Motueka.
Greymouth
We picked up a car one year and started our South Island west coast drive in Greymouth. It's the west-coast end of a crossing over the Lewis or Aurthur's Pass from Christchurch. That year, we enjoyed the scenic TransAlpine rail trip from Christchurch, one of the world's top-rated rail experiences.
Punakaiki Pancake Rocks and blowholes
One of the iconic New Zealand South Island road trip stops, Punakaiki's eroded limestone layers give it the popular moniker, 'pancake rocks.' The blowhole here is best seen at high tide.
Punakaiki Cavern
This free-to-enter 130-metre cave features stalactites and glowworms. Be sure to bring a torch (flashlight) and take caution, as the ground can be slippery.
Glowworms in the Nile River Caves
Starting with a short dedicated train ride from Charleston, you will enter and walk through limestone caves filled with stalactites, stalagmites, and glowworms. Click here to check for discount options.
Buller Gorge swing bridge
New Zealand's longest swing bridge spans 110 metres across the Buller River, suspended 19 metres above the water. Adventure options on the other side include panning for gold, a jet boat ride, or high-speed zip lines.
Kawtiri historic railway walk
This is an easy 20-minute walk along a section of the historic railway line that once ran from Murchison to Nelson. Not the most exciting, but we did this one when our girls were younger, and they enjoyed the somewhat dark tunnel. Warning: There can be wasps from December to April.
Side trip to Westport and Karamea
Cape Foulwind Lighthouse and Fur Seal Colony: One can drive to the lighthouse or enjoy the 3-hour return walk, where you will pass a colony of fur seals in the first 10 minutes.
Oparara Arches: Another photographer's paradise, we didn't get up as far north on the west coast to see these three limestone arches, the fossils, the cave, the whiskey-coloured river, or the lake.
Motueka to Takaka
Segment 6 of our Queenstown to Nelson road trip
Sometimes more driving and fewer accommodation changes feel right, so while we wrote this recommending a stay in Takaka, we, in fact, spent many nights in Motueka doing longer than necessary day trips. One of the many accommodations in the Takaka area might have been a better base option.
Riuwaka Resurgence
At Te Puna o Riuwaka, a sacred place to the Māori, the Riuwaka River emerges from the Takaka Hill. The moss-covered rocks and cerulean blue water reflect an enchanting quality. Don't be surprised to find people bathing in the (shockingly cold) healing waters.
Ngarua Caves
The skeletal remains of a now-extinct moa found inside Ngarua cave distinguish it from other cave tours we have enjoyed. This family-friendly cave, filled with a variety of stalactites and stalagmites, was used as a film location in Lord of the Rings (south of Bree).
Harwoods Hole
It's not the hole but the walk through the moss-covered forest that captivated our imagination. In fact, the hole itself is a 176-metre drop open only to experienced cavers. In contrast, the rest of us kept our distance from the edge. Nearby Canaan Downs was the Chetwood Forest in LOTR.
Read next: New Zealand Lord of the Rings Filming Locations You Can Visit
Day trip to Golden Bay and Farewell Spit
The top of the South Island is another example of nature at its finest. We recommend this as a day trip.
Labyrinth Rocks
If you are travelling with kids, plan to spend about an hour at this family-friendly natural maze of limestone rocks. Our girls loved it when they were in primary school.
Te Waikoropupu Springs
A sacred treasure to the local Māori, Te Waikoropupu Springs boasts the largest cold springs in the southern hemisphere. Even more impressive, it contains some of the clearest water ever measured. Enjoy it from the shore, as contact with the water is forbidden.
Wharariki Beach and Farewell Spit
Farewell Spit, the northern tip of the South Island, hosts a protected bird sanctuary accessible only via tour. However, there are amazing rock formations and wildlife on the nearby beach and at Golden Bay.
Takaka to Nelson
Segment 7 of our Queenstown to Nelson road trip
This is the home stretch of our South Island journey as we enjoy Abel Tasman before heading to sunny Nelson for a couple of days. There are plenty of accommodation options in the Nelson region. Next, we will drive to Picton and take the car ferry across to the North Island. From there, we drive from Wellington to Auckland.
Abel Tasman
Golden sands, coastal forest hikes, and granite cliffs mark Abel Tasman, a national park named for the first European to discover New Zealand in 1642. We opted for a coastal cruise into Tonga Island Marine Reserve with the option (which we took) for a coastal walk in sections, meeting back up with the boat later. Click here to check for deals.
Nelson
A different type of relaxation, as we enter Nelson, we return to a more urban lifestyle in an artist community. Famous for great seafood and smooth wines, Nelson is one of the sunniest cities in New Zealand. Highlights include:
Hoglund Art Glass: glass blowing, museum, and gallery.
Classic Car Museum: houses 150 classic and antique cars in immaculate condition.
Getting to the west coast
With massive mountain ranges dividing the island and limited road crossing, there are only a few ways to get to the west coast. The good news is that each offers a spectacular journey.
Driving options include crossing the Haast Pass (in the south from Wanaka), the Lewis Pass or Arthur's Pass (centre from Christchurch), or Buller Gorge (north from Nelson).
The TranzAlpine train runs from Christchurch to Greymouth.
One can fly domestically into airports at either Westport or Hokitika.
To complete the loop around the South Island, check out our Christchurch to Queenstown road trip itinerary. Or, if in a hurry, one could take a Queenstown to Nelson flight or drive up the east coast. Be sure to check out all our New Zealand road trips: itineraries for North or South Island adventures.
Read next: 18 Extraordinary Things to Do in the South Island NZ
Extra things to bring on a Queenstown to Nelson road trip
Normally, our New Zealand packing list is more than sufficient, but for this South Island road trip, there are a few things we want to emphasize.
Bring a torch (flashlight) for each person. I had a headlamp while Jeff simply used his phone's light. We needed them for caves and tunnels.
Make sure your insect repellent works on sandflies.
Carry a towel with you in your car.
Bring a windproof jacket, even in the summer.
Download your map and driving directions, as the internet will be spotty in areas.
Save on your NZ trip with these resources
These are our go-to companies when we travel. We believe this list to be the best in each category. You can't go wrong using them on your trip too.
Check out our travel resources page for more companies that we use when you travel.
Save for later
If you enjoyed this article highlighting the best stops on a Queenstown to Nelson road trip, please share it on social media and save it for later on Pinterest.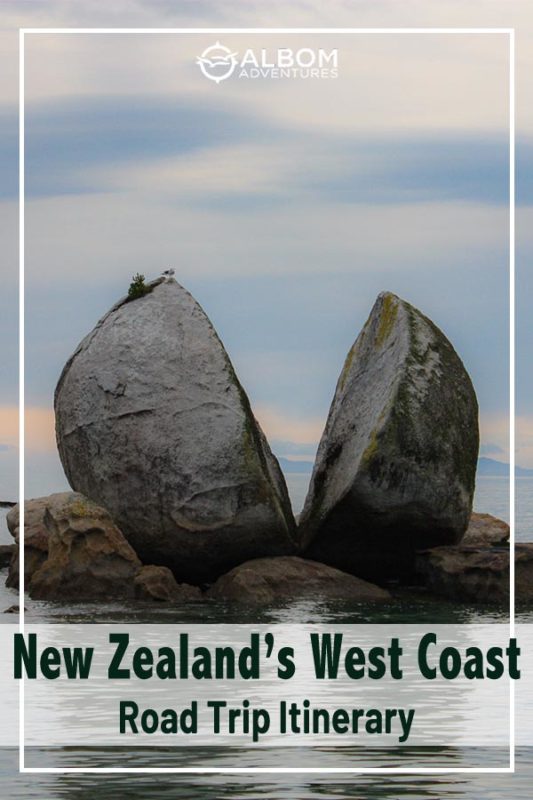 What's your favourite stop along a Queenstown to Nelson Drive?
Disclaimer: We frequently work with local tourism boards and are often provided with entrances, tours, sample items, or media rates to assist in the writing of Albom Adventures. However, our recommendations are from the heart, and the opinions expressed here are strictly our own.
The original version of this article was published by Rhonda Albom in 2010 on the Squidoo platform. It has been updated many times to reflect current conditions and more recent travel.