Stepping out of the helicopter onto one of the New Zealand glaciers, I instantly knew this was one of my life's magical moments. Although the first breath of crisp, clean air invigorated me, it was the silence that made it truly unique. That, and the seemingly endless expanse of white against a rich blue sky, interrupted by turquoise glacial ice.
Getting here is half the fun. In total, there are more than 3,000 glaciers in New Zealand, but based on size and accessibility, three stand out. These are Fox, Franz Josef, and the Tasman glaciers.
The majority of New Zealand glaciers are near the Main Divide in the Southern Alps in the South Island. The entire region offers some of the most incredible landscapes in the world.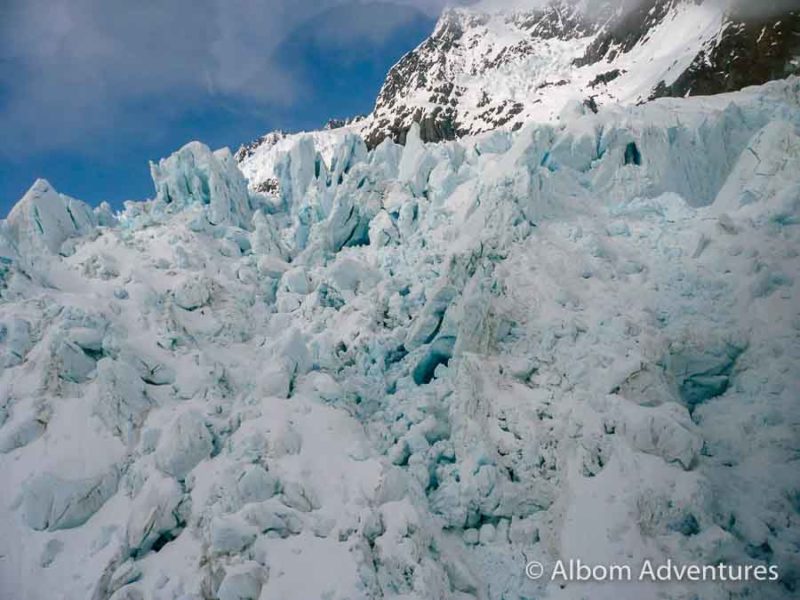 About New Zealand glaciers: Franz Josef, Fox, and Tasman
A glacier is a river of ice that is slowly moving downhill. It's formed by the accumulation and compaction of snow on mountains or near the poles. Both Frans Josef and Fox glaciers flow from the Southern Alps towards the Tasman Sea and can be accessed from the west coast. In contrast, the Tasman Glacier flows towards the Mackenzie Basin; therefore, it is more often accessed from the east side of Mount Cook.
New Zealand's tallest mountain, Mount Cook (Aoraki in Māori), peaks at 3,754 metres. It's part of Te Wahipounamu, the UNESCO World Heritage site that covers 26,000 km².
Te Wahipounamu's Māori meaning is "the place of greenstone".
Both the Tasman and Franz Josef glaciers are located inside Te Wahipounamu National Park, while Fox Glacier is just outside.
Fox Glacier is fed by four alpine glaciers, overflows into the Fox River, and travels into the lush rainforest, with an ice flow moving in areas at up to 3 metres per day. It is about 13km long and ends only 300 metres from the sea.
In contrast, Franz Josef Glacier is 12 km long and descends from the Southern Alps ending 19 km from the Tasman Sea. It is one of the few glaciers in New Zealand that is still growing.
At 23 km long and up to 4 km wide, New Zealand's largest glacier, the Tasman Glacier, is in the Mount Cook National Park and flows out and east towards the Mackenzie Basin. It contains nearly one-third of New Zealand's glacial ice. However, in total, there are 72 named glaciers on Mount Cook.
Check out the webcams for Fox and Franz Josef glaciers.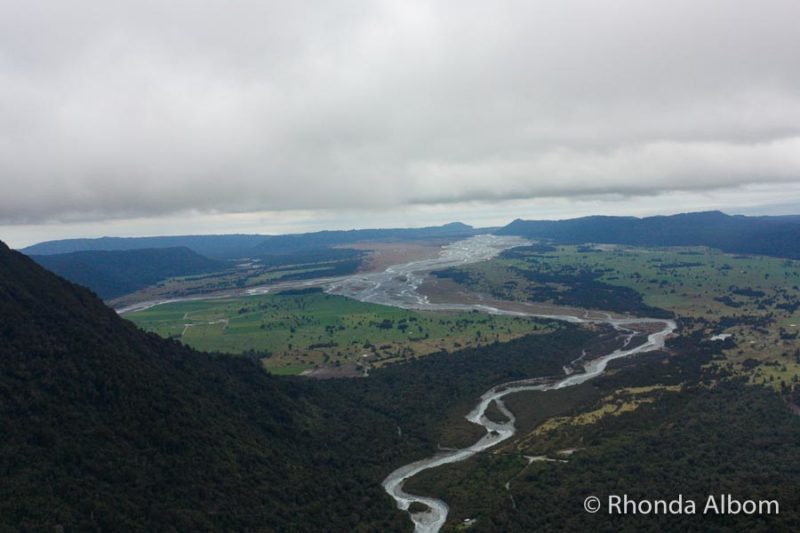 Which type of New Zealand glacier viewing is right for you?
There are multiple ways to see the glaciers, with different options appealing to everyone. The main options include:
Guided glacier hikes (Heli-hiking)
A popular option ideal for energetic adventure seekers with a moderate level of fitness, although not open for children under age 8. Heli-hiking begins with a helicopter viewing, followed by a glacial landing, then a 3-hour guided hike through ice caves, arches, or other ancient glacial formations. Note that the provided safety gear can weigh up to 5kgs. Check for discount heli-hiking on Franz Josef Glacier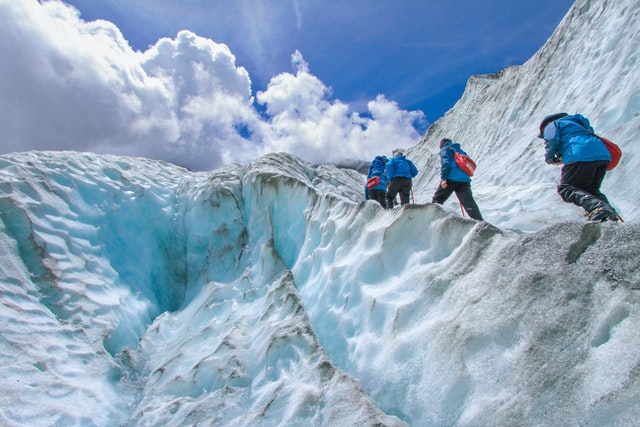 Self-guided walks and hikes
This is the option for budget-conscious visitors or experienced hikers. The hiking options range from shorter walks with glacier views to several day hikes that recommend campers include a personal locator beacon in their gear. Check out these hiking trail options.
Glacier landing and walking on a glacier
Physically, this option is suitable for most people, although the tour description states a moderate level of fitness. Like all helicopter flights, it's not cheap. This is the option we chose, and we loved it. From the fabulous views during our helicopter ride to the opportunity to walk on the glacier at our leisure, this was an ideal family activity.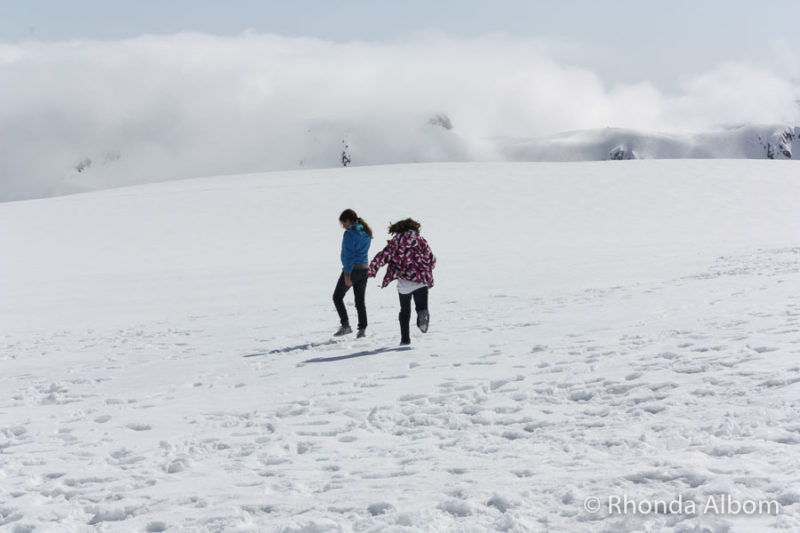 Kayaking on a glacial lake
Ideal for energetic people with a moderate level of fitness and comfort around water. Experience the New Zealand glaciers while kayaking on a glass-calm glacial lake surrounded by massive mountains.
Viewing areas
A no-cost first stop for any visitors; just remember to respect the safety partitions that are in place for a reason. A short stroll from the car park will allow views of the glacier terminus (the lower end) from the ground. While you can touch glacial ice, you are missing out on quite a bit if this is your entire glacial experience.
We added a helicopter tour of Aoraki/Mount Cook
We initially selected a mid-priced adventure over both Fox and Franz Josef glaciers that included the walk on the glacier. The flyover Mount Cook was only in the highest-level package option.
However, we got lucky. The other couple on our tour booked at the same time slot wanted to see Mount Cook, so the four of us were upgraded to the top package. In retrospect, it would have been worth the extra money, especially if you are travelling up the west coast and not visiting Mount Cook any other way.
The views are incredible, although I lost a bit of perspective from the air. As we stared down at the snow-covered peaks and occasional rocky surfaces, it became difficult to comprehend the mountain's size until the pilot pointed out two cabins. Look closely in the second shot, and you should see two cabins at about one-third of the way up this photo.
Before booking a helicopter tour
Some commonly asked questions:
Should I book in advance?
If it is the school holidays or summer, and you don't want to miss out, I would book ahead. We went in October, during swing season, and were lucky that our schedule was flexible when we arrived without pre-booking a flight. While there were no flights on the day, we were able to find a place to spend the night and fly in the morning. If your schedule is fixed, or you want to be sure not to miss out, we recommend booking your Fox or Franz Josef helicopter tour in advance.
What do I need to bring (is it cold)?
Dress warm and in layers for the snow and cold temperatures. Wear sensible footwear. If you're bringing younger kids who like to touch the snow, they might want gloves. If you choose the heli-hike, all gear is provided, including glacier boots, socks, ice crampons, and a waterproof jacket and pants.
Is there a weight limit for helicopters?
Most of the tour companies require participants, fully geared up (this includes the safety gear), to weigh under 120 kg.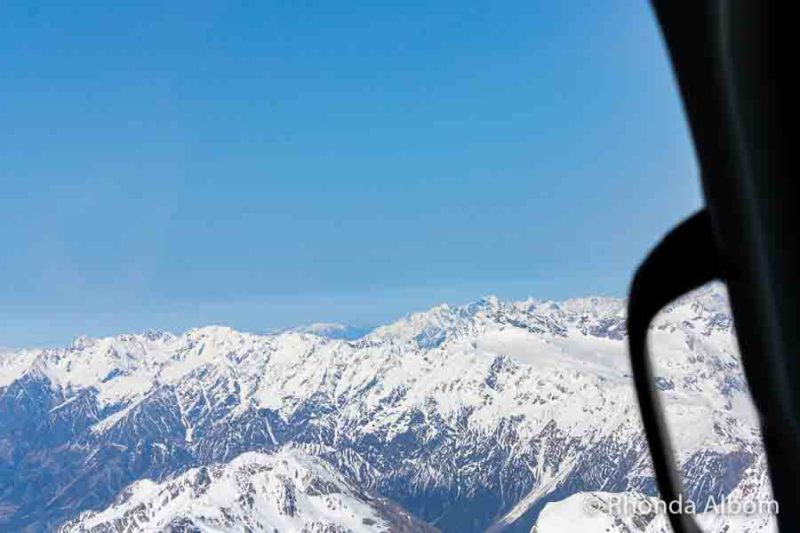 Specific options for seeing New Zealand glaciers
Franz Josef Glacier Heli Hike
This 3-hour experience includes a breathtaking helicopter flight to Franz Joseph, a glacier landing, and approximately 2-hours of guided glacier hiking with an expert guide. All safety gear is provided including boots, crampons, and waterproof outerwear. See reviews and check for discounts
Franz Josef Mountain Scenic Helicopter Flight
Like our tour, this 40-minute adventure offers pilot commentary as it flies over glaciers, towering peaks, and crevasses in the Southern Alps and the Murchison Glacier Valley. Next, fly over Aoraki/Mt Cook. Then, a remote snow landing on Franz Josef glacier is at around 2,100 metres (7,000 feet). Includes optional hotel pick-up. Check price and reviews
Helicopter Fox Snow Landing
This 20-minute excursion tours Fox Glacier from the air and then lands above Fox Glacier. See reviews and check for discounts
Twin Glacier – 30 Minute Helicopter Flight
Perfect for families that want to get in the air and land in the snow. This 30-minute flight over Franz Joseph and Fox Glaciers includes a snow landing at the head of either glacier. Discount prices for children and no minimum age. See reviews and check for discounts
Helicopter & Ski Plane Flight + Glacier Landing
They call this the ultimate alpine combo. It does it all in just 45 minutes. You will fly in both a ski plane and helicopter and pass through the Tasman Valley. At the snow landing, you will change aircraft. This is perfect for anyone who wants it all. See reviews and check for discounts
Franz Josef – 3 Hour Kayak Classic
Imagine gliding across a mirror-like lake surrounded by panoramic views of the Southern Alps and its glaciers. This 3-hour guided kayak tour will bring you into the Okarito Kiwi Sanctuary and past 900-year-old Kahikatea (white pine) trees. See reviews and check for discounts
Where is Franz Josef?
The township of Franz Josef is located along State Hwy 6, between Haast and Hokitika. It is one of many key stops on any South Island west coast itinerary and the starting point for most of the tours above.
Franz Josef accommodations
While there are lots of options, one stands out to us. Once in Franz Josef, stay at the Rainforest Retreat, a top-rated accommodation with options ranging from luxury treehouses to shared backpacker rooms.
Save on your NZ trip with these resources
These are our go-to companies when we travel. We believe this list to be the best in each category. You can't go wrong using them on your trip too.
Flights: we use Expedia for the best and cheapest flight options.
Accommodations: we use Booking.com (hotels), Bookabach (self-contained in NZ) or Hostelworld (budget).
Cars (gas or electric): we use RentalCars to search for deals and dealer ratings.
Motorcycles: we have heard good things about BikesBooking.
Campervans or Motorhomes: we use Campstar where Albom Adventures readers get a 3% discount.
Activity discounts: we check Bookme.com for discounts of up to 70% on activities.
Private guides: we love the private guides at Tours by Locals.
Travel Insurance: while not required, we always opt for travel insurance and start at InsureMyTrip to compare coverage plans.
Check out our travel resources page for more companies that we use when you travel.
Save for later
If you enjoyed this article on New Zealand glaciers, please share it on social media and save it for later on Pinterest.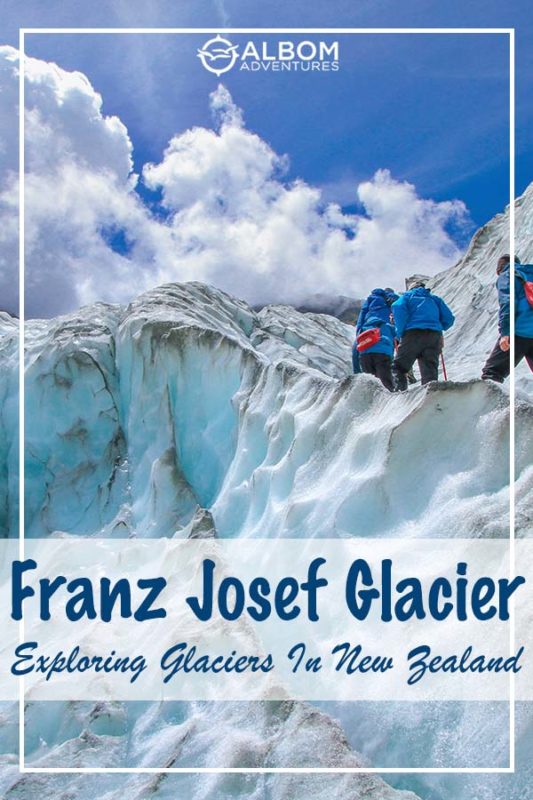 Have you walked on any of the New Zealand glaciers?