Hokitika is a west coast super stop on New Zealand's South Island that captured my imagination. Driftwood-covered beaches, greenstone, wild foods, and the azure Hokitika Gorge are just the beginning. If you haven't been, it's time to start planning. If you have, you know there are plenty of unique things to do in Hokitika.
An artist community and beach town, Hokitika is famous for pounamu (NZ jade) and Maori carvings. There are even opportunities to try carving for yourself.
There is something here to appeal to everyone. From enjoying or creating art to adventures, there are plenty of things to do in Hokitika, NZ. You will be surprised at how much there is waiting to be discovered.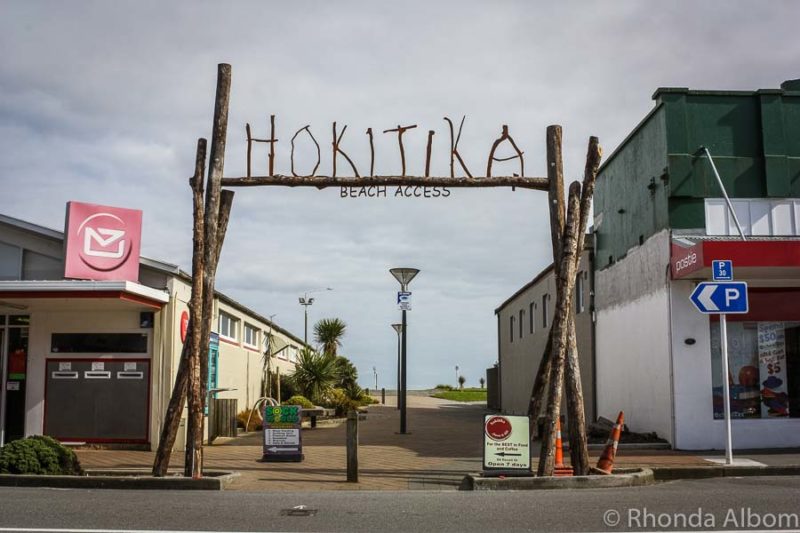 Things to Do in Hokitika
Our best advice if you are headed here – plan to stay a while.
Hokitika Gorge
Check out the driftwood on Hokitika Beach
Visit the National Kiwi Centre
Carve your own pounamu
Kayak on the Mahinapua waterways
Stroll to Dorothy waterfall
Hike at Lake Kaniere
Take a Treetop Walk
Stroll through the town
Watch the sunset
Night walk to see the glow worm dell
First, let New Zealand inspire you …
Hokitika Gorge – a must-see
If you think you have time for only one activity, my first advice would be to reschedule. But either way, be sure to include a visit to the cerulean blue waters of the Hokitika Gorge. From the initial view of the swing bridge, I was entranced.
This suspension bridge offers a gentle bounce that kids seem to enjoy more than adults.
It's a short walk from the car park to the first surreal view, but you will want to go farther, cross the bridge, and enter the forest. The Hokitika Gorge walk is an easy, upgraded 2km loop trail.
It takes you first through dense rimu and podocarp forest to a viewing platform that will take your breath away. The depth of the cyan colour is so vibrant that it looks fake. Next, a swing bridge, then the path continues down to the water.
Tips for visiting Hokitika Gorge
Hokitika Gorge is about 33km outside of town. To get to the gorge, drive east from town, turning right at the intersection into Kokatahi. From here, follow the yellow signposts to find the Hokitika Gorge walk trailhead.
The road turns, twists and crosses a one-lane bridge before arriving at the car park, now complete with a remodelled toilet block.
The portion of the gorge trail leading to the viewing platform is wheelchair accessible.
Other things to do in Hokitika New Zealand
Check out the driftwood on Hokitika Beach
Driftwood regularly comes in with the tide, making Hokitika beach a bit unique. As a result, driftwood artwork abounds, the most famous being the Hokitika sign on the beach. And, there is an annual driftwood creation competition resulting in many newer driftwood art examples.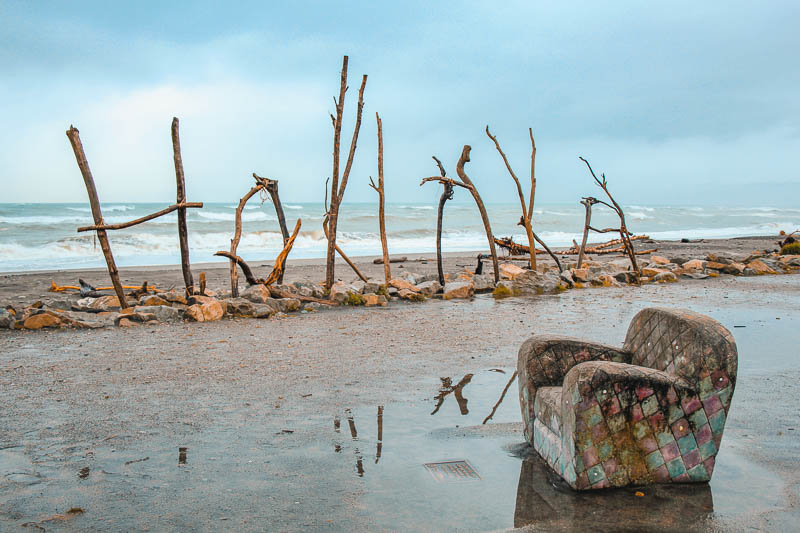 Visit the National Kiwi Centre
Kiwi bird sightings in the wild are rare, so places like the National Kiwi Centre offer a great opportunity to see this endangered bird, a national icon.
Nocturnal, you will need to allow a few minutes for your eyes to adjust, then prepare to discover these flightless creatures. There are wildlife keepers around to answer questions and help you learn more.
And that's not all. If you time it right, you can feed longfin eels (the world's largest eel species) at 10 am, 12 pm, or 3 pm daily. The National Kiwi Centre in Hokitika is also home to tuatara, crayfish, and whitebait.
While you can rock up, pay, and enter, you might be able to get discounted entry tickets with this link, even with less than an hour's notice.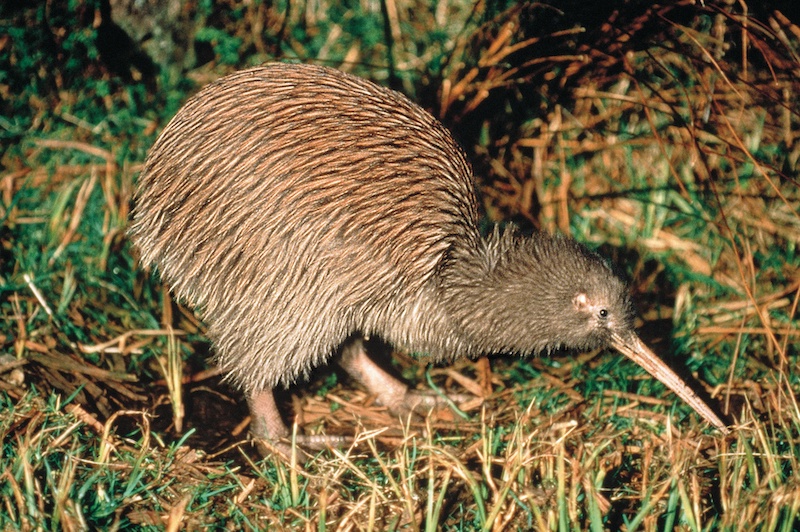 Carve your own pounamu (greenstone) pendant
How cool is this unique opportunity? You can design a pounamu (also called New Zealand jade or greenstone) pendant, learn how to create it, and have some fun carving (with guidance as needed).
About 10 years ago, our girls opted to carve Māori designs out of bone, and their pendants are now kept amongst their treasures. We did our carvings at Bonz and Stonz, which still operates today. It's an activity for all ages, although I think most often done by adults.
The stones are added to the cost of your pendant, or you can bring your own.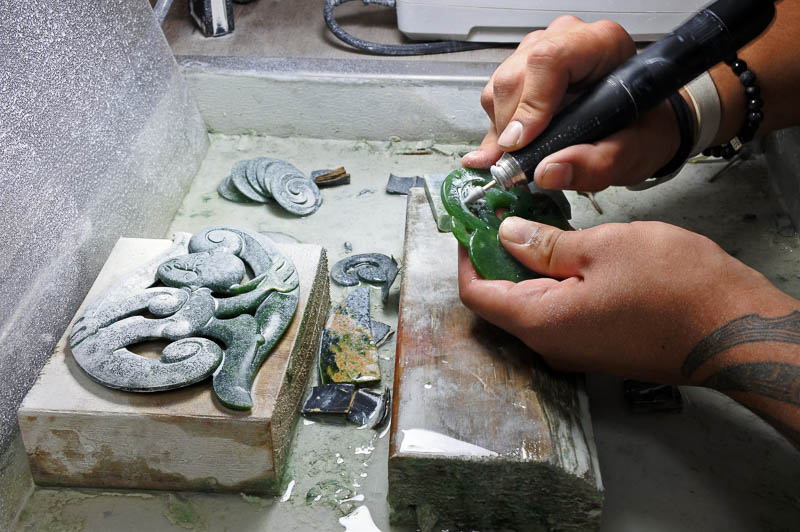 Kayak on the Mahinapua waterways
If you are looking for a pleasant way to enjoy the peace of the area as well as the incredible scenery, kayaking on the gentle waters of Mahinapua Creek might be a perfect adventure.
You can choose from single or tandem kayaks, and everything else is provided including lifejackets, paddle, area map, dry bag, and a safety briefing. Click here for kayak discount options depending on the time and day you choose.
Stroll to Dorothy waterfall or take a longer hike at Lake Kaniere
Well known for its stunning reflections, Lake Kaniere was even beautiful on an extremely cloudy and overcast day. Here one can relax, hike, or camp, but whichever you choose, don't forget your camera.
The hiking options are varied, ranging from 4 hours one way to a quick and easy 2-minute walk to Dorothy Falls. Access this multi-step waterfall from the car park on the eastern side of Lake Kaniere. We stopped here on our way back to town from Hokitika Gorge.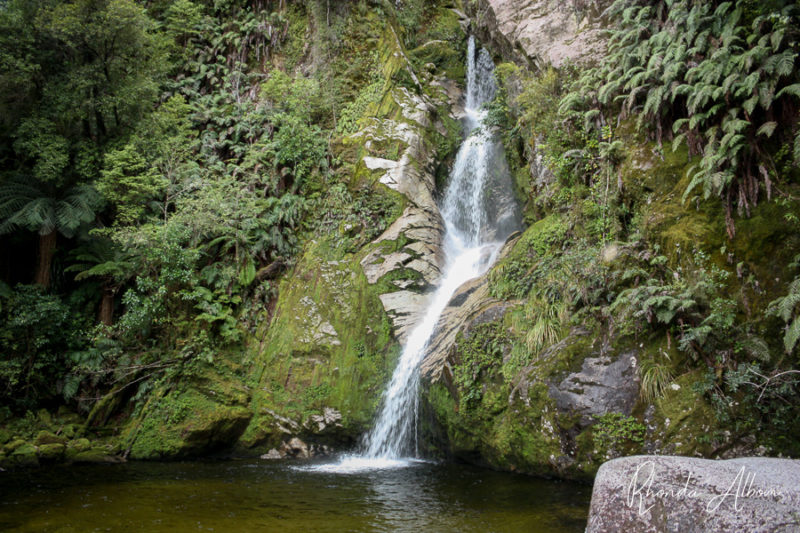 Take a Treetop Walk and enjoy the rainforest canopy
Honestly, we haven't done this on the South Island yet, but we did to a tree canopy walk in Rotorua, and it was amazing. With similar specs and great reviews, I am sure this one is just as cool. The Hokitika Tree Top Walk is set in the local temperate rainforest.
Walking long steel platforms 20 metres above the ground, you get a fabulous perspective from above while surrounded by the quiet sounds of the forest. Best of all, with this link, there are often discounts available (depending on the day you choose).
Stroll through the town
Art galleries and cafes left us spoilt for choice, and best of all they were intermixed or often built within classic buildings. And, even if shopping isn't your thing, be sure to stop into some of the pounamu (greenstone) shops.
Wild Foods Festival – One of the truly unique things to do in Hokitika
Hokitika is a town made world-famous for its annual Hokitika Wild Food Festival, which takes place each March. It's an opportunity to try unexpected wild treats like game meats, huhu grubs, fish eyes, duck heads, crocodile bites, scorpions, worms, deep-fried pigs ears, and more.
End the day with a beautiful Hokitika sunset and glow worms
Some say the best sunsets in all of New Zealand are found on Hokitika beach. What we found was while each night offered a different show, each had rich, vivid colours that were beyond anything we had seen before.
You be the judge.
The colours of the sky were so vivid that my images almost felt over-processed, while in reality they accurately reflect the sky we saw.
Free night walk to see the glow worm dell
A five-minute walk from the well-marked signpost along State Hwy 7 at the northern entrance to the town, and you will be in the glow worm dell. As it must be dark to see the glow worms, we used a torch (flashlight) to follow the path, but then stood in darkness at the dell.
This is one of the best free things to do in Hokitika at night. If you have never seen glow worms before, this is a great opportunity.
Where is Hokitika New Zealand?
Hokitika is found along one of my favourite road trips, the west coast of the South Island. More specifically, it is north of the glaciers and south of Greymouth. Here are a few key drive times:
Hokitika to Greymouth is a 35-minute drive
Hokitika to Punakaiki is a 1 hour, 10-minute drive
The glaciers: Hokitika to Fox Glacier (2 hours) or to Franz Josef Glacier (1 hour, 45 minutes).
Hokitika is also about 3 hours north of the west coast's Munro Beach, where we saw the Fiordland Crested Penguins.
And some of the longer drives: from Christchurch 3 ½ hours; from Nelson 4 hours 20 min; and from Queenstown 6 ½ hours.
Accommodation in Hokitika New Zealand
While we opted to be sure not to miss the sunset by staying at a beachfront hotel, there is a full range of accommodation options.
We stayed in one of the chalets at the Shining Star Beachfront Accommodation and loved the easy access to Hokitika beach, as well as the nearby path to see the Hokitika glow worms.
Our chalet gave us privacy and a great night's sleep. And you can't beat the sunset.
Save on your NZ trip with these resources
These are our go-to companies when we travel. We believe this list to be the best in each category. You can't go wrong using them on your trip too.
Flights: we use Expedia for the best and cheapest flight options.
Accommodations: we use Booking.com (hotels), Bookabach (self-contained in NZ) or Hostelworld (budget).
Cars (gas or electric): we use RentalCars to search for deals and dealer ratings.
Motorcycles: we have heard good things about BikesBooking.
Campervans or Motorhomes: we use Campstar where Albom Adventures readers get a 3% discount.
Activity discounts: we check Bookme.com for discounts of up to 70% on activities.
Private guides: we love the private guides at Tours by Locals.
Travel Insurance: while not required, we always opt for travel insurance and start at InsureMyTrip to compare coverage plans.
Check out our travel resources page for more companies that we use when you travel.
Save for later
If you enjoyed this article, please share it on social media and save it for later on Pinterest.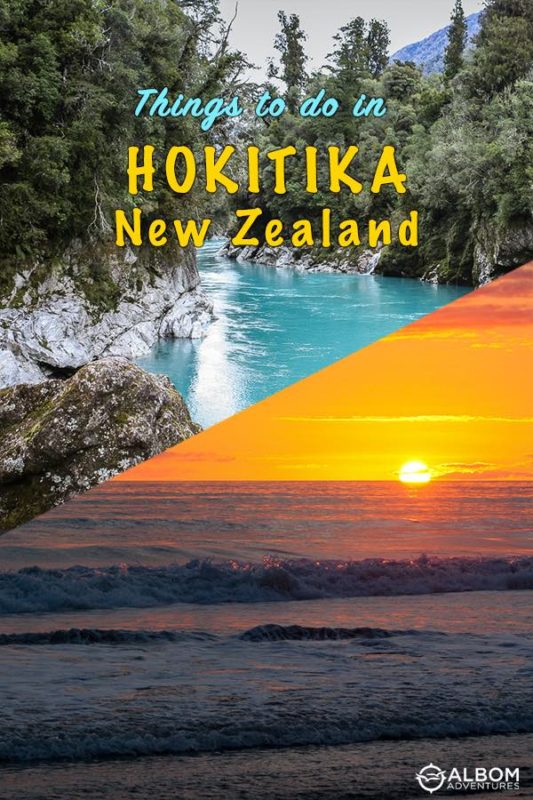 Have you been to Hokitika Gorge?
Photo Credits:
All photos on this page are either shot by our team and watermarked as such or stock images from Depositphotos.