Hokitika Gorge, on the West Coast of the South Island of New Zealand, is one of those magical places I will remember forever.
Hokitika Gorge
The turquoise waters of the gorge is a must-see if you are on the West Coast of New Zealand's South Island. The Hokitika Gorge walk is an easy trail that is scheduled for an upgrade. A 15-minute walking path each way, the completed renovation will add a 30-40 minute loop track.
It takes you first through dense rimu and podocarp forest to a viewing platform that will take your breath away. The depth of azure colour is so vibrant that it looks fake. Next, a swing bridge, then the path continues down to the water.
On the day we were there, we opted not to go to the end of the path as we could see ahead what looked like a very private ceremony releasing ashes into the river. I can see why someone would want this for a final resting place.
Other Things to Do in Hokitika New Zealand
The township is located at the base of the Hokitika River, about 30 kilometres from the gorge. It's a town made world-famous for its annual Hokitika Wildfoods Festival that takes place each March. It's an opportunity to try unexpected wild treats like game meats, huhu grubs, fish eyes, duck heads, crocodile bites, scorpions, worms, deep-fried pigs ears, and more. We haven't been yet, but it reminds me of the strange foods we saw on Wangfujing Street in Bejing China.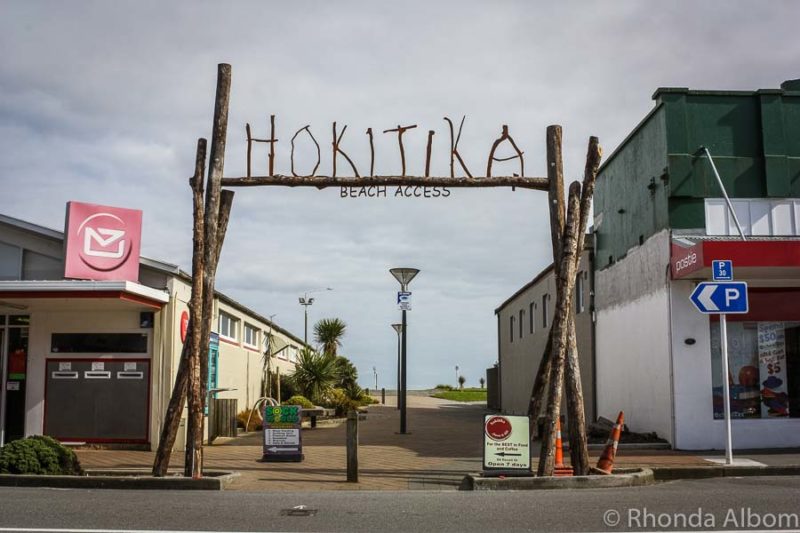 Also, nearby is a trailhead to Dorothy Falls and farther on to the lake.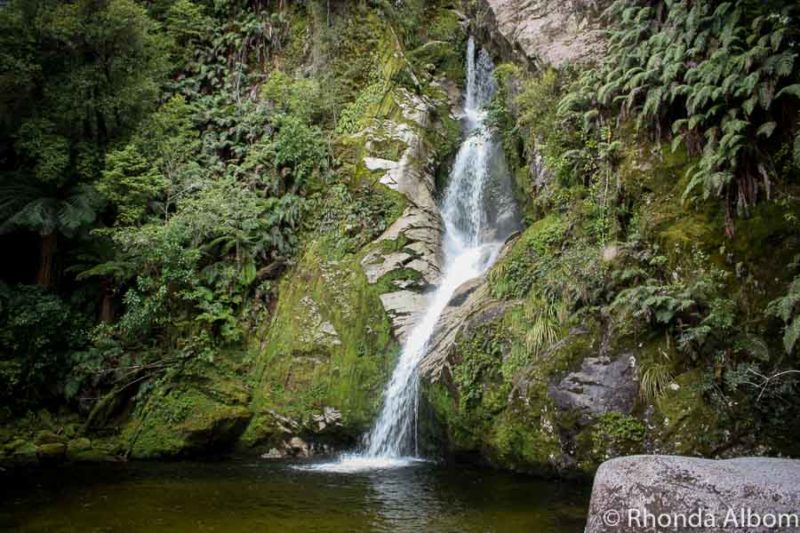 An Artist Community
Also well known as an artist community, the town is famous for greenstone and Maori carvings. We opted to give carving a try. Bonz and Stonz teach visitors how to design and carve a Maori design out of either bone, greenstone, or shell. It's an activity for all ages, although I think most often done by adults.
If you want to create a necklace from a piece of greenstone that you found, check out this tour from Viator (a TripAdvisor Company). It offers a unique opportunity of a walk along the sacred Arahura River with a local Maori guide who is an expert in finding greenstone (Pounamu) in the area. The guides will help you find small pieces of the stone, and learn to carve it and create a necklace to take home.
⇒ Check price on the Greenstone Tour on the Sacred Arahura River
Hokitika Sunset
My understanding is that this town's sunset is magical every night and what we saw didn't disappoint. The colours of the sky were so vivid that my images almost felt over-processed, while in reality they accurately reflect the sky we saw.
Accommodation in Hokitika New Zealand
While we opted to be sure not to miss sunset by staying at a beachfront hotel, there is a full range of hotel options. We stayed in one of the chalets at the Shining Star Beachfront Accommodation and loved the easy access to the beach as well as the nearby path to see the Hokitika glow worms. Our chalet gave us privacy and a great nights sleep.
⇒ Check availability at the Shining Star Beachfront Accommodation
While we loved it, if you prefer a different accommodation option:
⇒ Explore other Hokitika Accommodations
Practical Information
Hokitika was a multiday stop on our west coast road trip.

The Hokitika Gorge walk carpark is at the end of the Kowhitirangi and Whitcombe Road, about 30 km from the township sharing its name.

The portion of the gorge trail leading to the viewing platform is wheelchair accessible.
To get to the gorge, drive east from town turning right at the intersection into Kokatahi. From here, follow the yellow signposts to find the Hokitika Gorge walk trailhead. The road turns, twists and crosses a one-lane bridge before arriving at the recently upgraded carpark, now complete with a remodelled toilet block.
Hokitika is often used as a base for day trips to Greymouth (35-minute drive), Punakaiki (1.25-hour drive) or Franz Josef Glacier (1.75-hour drive).
If you are based on the east coast, the drive from Christchurch to Hokitika will take you 3.5 hours.
Hokitika is also about 3 hours north of the west coast's Munro Beach where we saw the Fiordland Crested Penguins.
If you don't want to drive yourself, there are plenty of tour options ranging from 2-day trips from Queenstown to Christchurch along the west coast to a 9-day adventure through the South Island.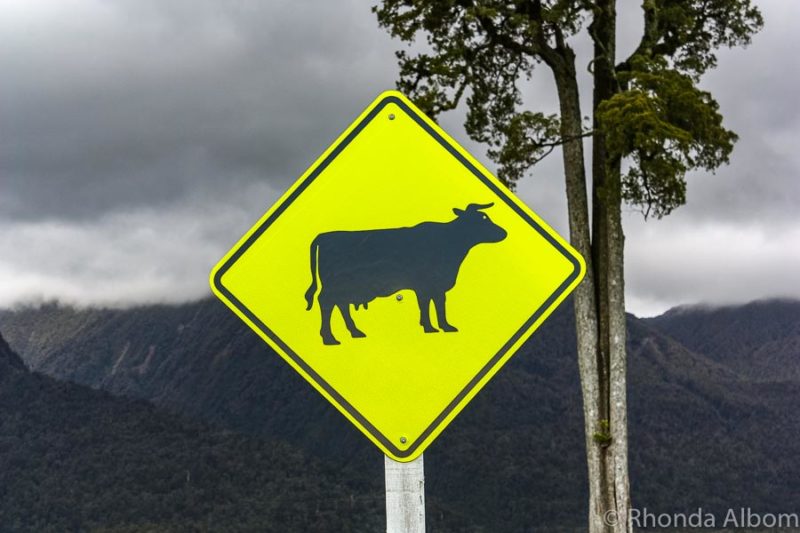 Save for later
If you enjoyed this article, please share it on social media and save it for later on Pinterest.
Want more?
Sign up for our email newsletter and we will send you a free copy of our New Zealand packing light checklist
We invite you to join our New Zealand Facebook group at Explore NZ to ask questions, share photos, and discover tips.
First-time visitors to New Zealand: don't miss these New Zealand travel tips.
Have you been to Hokitika Gorge? Have you seen inland water this colour anywhere else?