The Monro beach walk is only half the fun of this adventure. The gentle downhill sloping walk through a dense moss-covered forest leads to a beautiful beach. Bookended with huge boulders, the waves roll over the coarse sand.
However, the real magic happens while looking out to sea. While Hector's dolphins are known to play in the surf, it is the rare Fiordland Crested penguins that nest in beach scrub that brought us here.
And nature did not disappoint. We brought our girls and our patience, put down a blanket, and waited. We enjoy the birdlife and watching the surf as it crashed into the rocks or rolled up the beach. Finally, our perseverance was rewarded. Down the beach, a single penguin swam ashore and waddled across the sand.
Important: If you do see Fiordland Crested Penguins on the beach, keep your distance and do not disturb these rare birds.
Monro Beach walk
The walk itself is flat and easy, and there were few people around when we were there. The moss-covered trees add an air of mystery, while the suspension bridge that crosses the river adds some fun.
Spotting penguins on the beach
When we noticed the penguin in the distance, we moved quickly and quietly and were able to get a few shots while keeping well clear of the bird as per the guideline provided by the Department of Conservation. Clearly, not bringing my strongest zoom lens to the beach was a bad choice.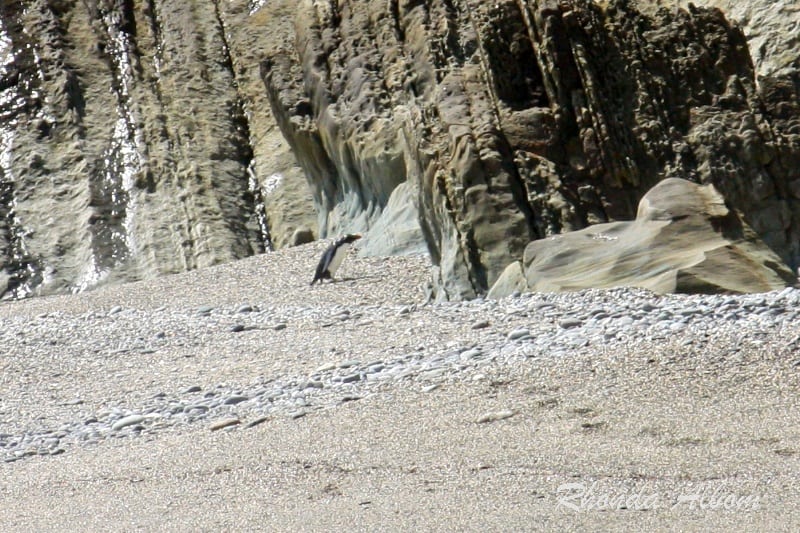 By the time I was close enough to get a decent photo with the lens I had, the penguin was already making its way to a hidden nest in the bush.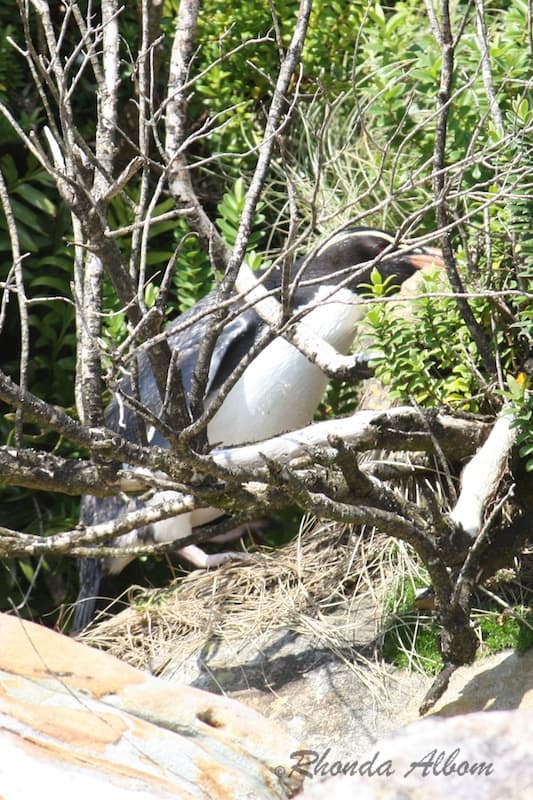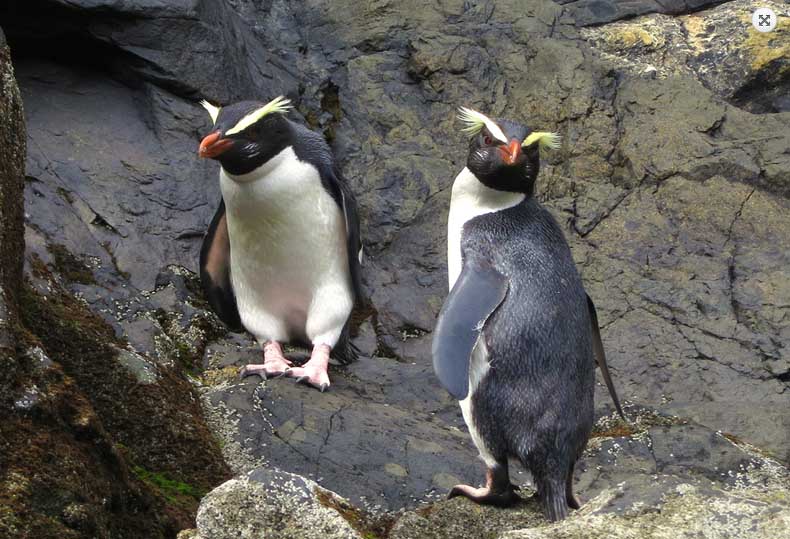 Getting to the Monro Beach walk
Located between Haast and Franz Josef on the South Island, you will spot the Monro Beach trailhead about 5 km north of Knights Point Lookout, just after you cross the Moeraki River.
From here, it's a nearly 5km return walk through a coastal forest. The walk is easy, although slightly downhill leading to the beach; therefore, uphill on the way back. Allocate about 90 minutes for walking, plus beach time. We waited about 2 hours before a penguin to emerged from the water and waddle across the beach.
The Monro Beach walk is one of many recommended stops on any west coast South Island road trip.
What you want to know before doing the Monro Beach walk
The dense forest leaves little room for the warm sun, so you may want to bring a jacket, regardless of the weather.
Bring insect repellent.
Leave only footprints. Be sure to carry out any rubbish with you.
I can't say this enough times; these are rare and vulnerable birds, and humans are one of their biggest threats. If you see the penguins, keep your distance. Walk away with only a great story to tell if don't have a zoom lens.
Fiordland Crested penguin facts
Endemic to New Zealand, the Fiordland Crested penguin (Māori name Tawaki) is one of the world's rarest penguins according to the NZ Department of Conservation.
Although Fiordland penguins mate for life, the mating pairs separate for most of the year. The females return to Monro Beach annually and seek out their mate from the prior years.
Interestingly, the females lay two white eggs then the male incubates them for 30-35 days. Sadly, the Fiordland Crested penguin will only raise one chick each season, so if both hatch, one of the chicks dies of starvation.
The best time of year to see these penguins is nesting season from July to November. In addition to the Monro Beach walk, Fiordland Crested penguins can be spotted at Milford Sound and Jackson Bay.
Tawaki are one of nine species of penguin that breed in New Zealand, although only three breeds on the South Island: Tawaki, Yellow-eyed penguin (hoiho) and Little Blue penguin (kororā).
We often have affiliate partnerships with companies that we trust and recommend. We receive a small compensation if you make a purchase using these links. In some cases, the links can save you up to 70%.
Booking tips for New Zealand travel planning
We often have affiliate partnerships with companies that we trust and recommend. We receive a small compensation if you make a purchase using these links. In some cases, the links can save you up to 70%.
First-time visitors start here: New Zealand travel guide or with our favourite New Zealand road trips.

Flights: We use Skyscanner to find all the available flight options at the best prices.

Rental Vehicles: For cars, we always use RentalCars.com, a rental car search engine with no hidden costs. For campervans (and larger cars), note that Spaceships Rentals NZ offers free one-way drop-off between Auckland and Christchurch.
**Albom Adventures readers can check for discounts off Spaceships campervans.**

Accommodations: We use Tripadvisor to find ratings and reserve accommodations in most NZ cities.

Activity Discounts: We use Bookme.co.nz to find discounts on entry tickets and tours in New Zealand.

Travel Insurance: We purchase insurance that covers medical and travel emergencies when we head overseas. We start with Travel Insurance Master, an aggregator that gives us a free and easy-to-read comparison of the inclusions of each policy.

Packing Tips: Get a free copy of our New Zealand packing list when you sign up for our mailing list.

**Find more money-saving resources on our Travel Resources page.
Save for later
If you enjoyed this article, please share it on social media and save it for later on Pinterest.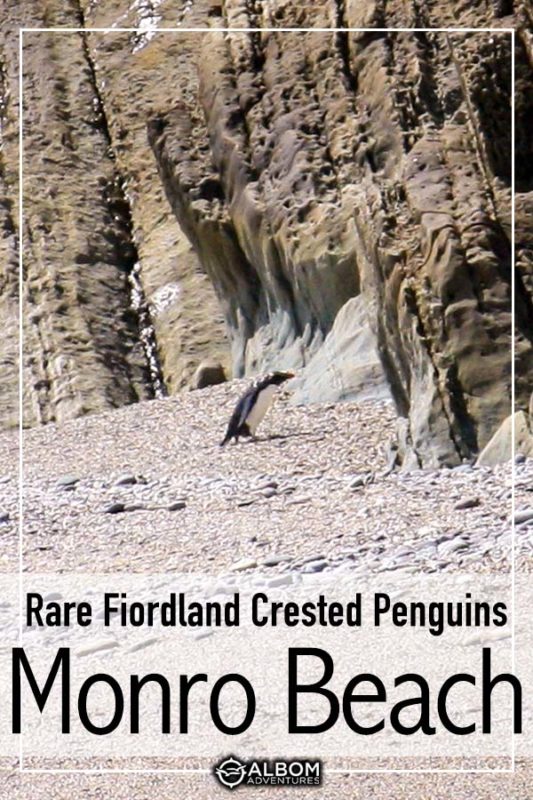 Have you done the Monro Beach walk?
More on New Zealand you might enjoy: