There are only a handful of spots remaining where one can see endangered yellow-eyed penguins in their natural habitat. Katiki Point Lighthouse, about an hour north of Dunedin on the South Island, is one of them. Binoculars in hand we began our walk. Turning a corner, these beautiful New Zealand penguins caught us off guard by their close proximity to the fence.
Yellow-eyed penguins are aptly named for the bright yellow "headband" and their yellow iris. They are considered the world's rarest penguin. They are one of three penguin species that live in New Zealand, the other two being the Fiordland Crested Penguin (which we saw on Monro Beach several years ago) and Little Blue Penguins (which we saw in Dunedin at the Royal Albatross Centre and in Australia).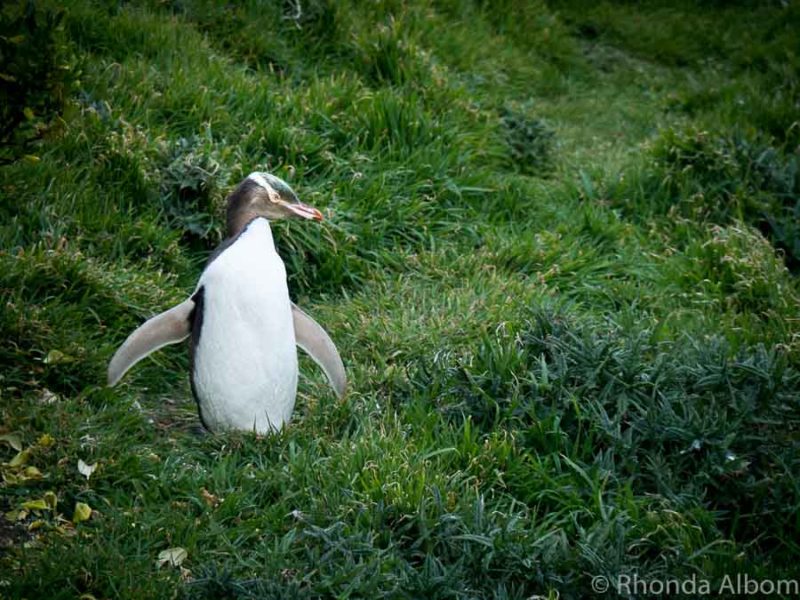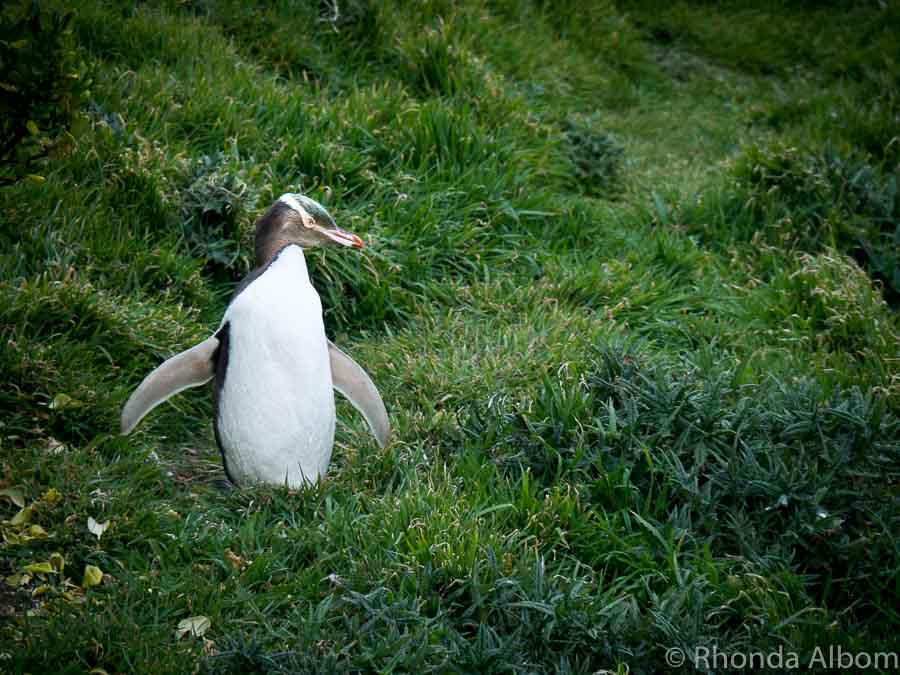 We had been driving from Dunedin to Oamaru (and then to Christchurch). Our first stop was Koekohe beach to see the Moeraki boulders. From here, we headed to Katiki Point Lighthouse, more commonly called the Moeraki Lighthouse. The 15-minute drive is mostly on an isolated dirt path. It had us wondering if we were lost. The lighthouse construction began in the late 1800s after far too many shipwrecks. According to legend, this includes the ancestral waka atua, whose lost cargo became the famous boulders.
Katiki Point lighthouse and hike
From the car park, the coastal path leads first to the Katiki Point Lighthouse.
About 5-10 minutes down the path we came to this stile: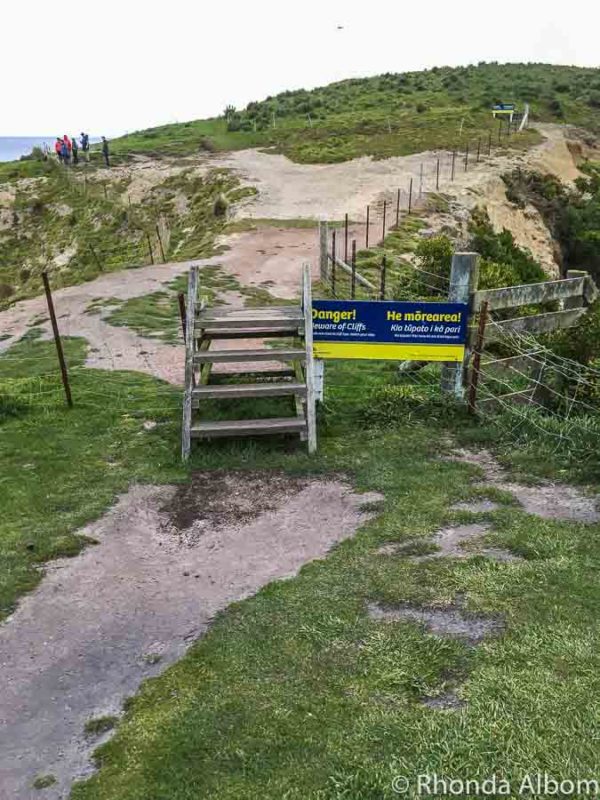 Climbing over, the landscape became more rugged. We began to see more wildlife. It was right at this point that we spotted our first couple of yellow-eyed penguins in the distance. Then we noticed the one sitting closer to the fence.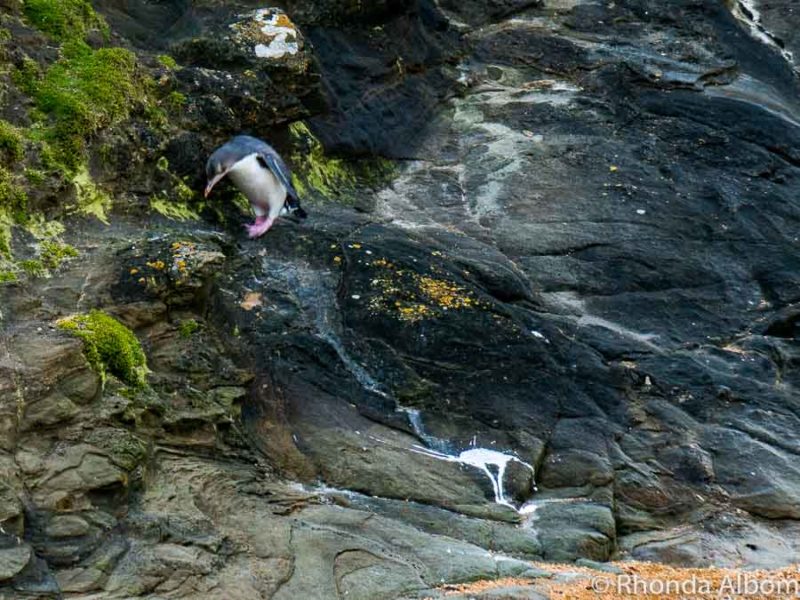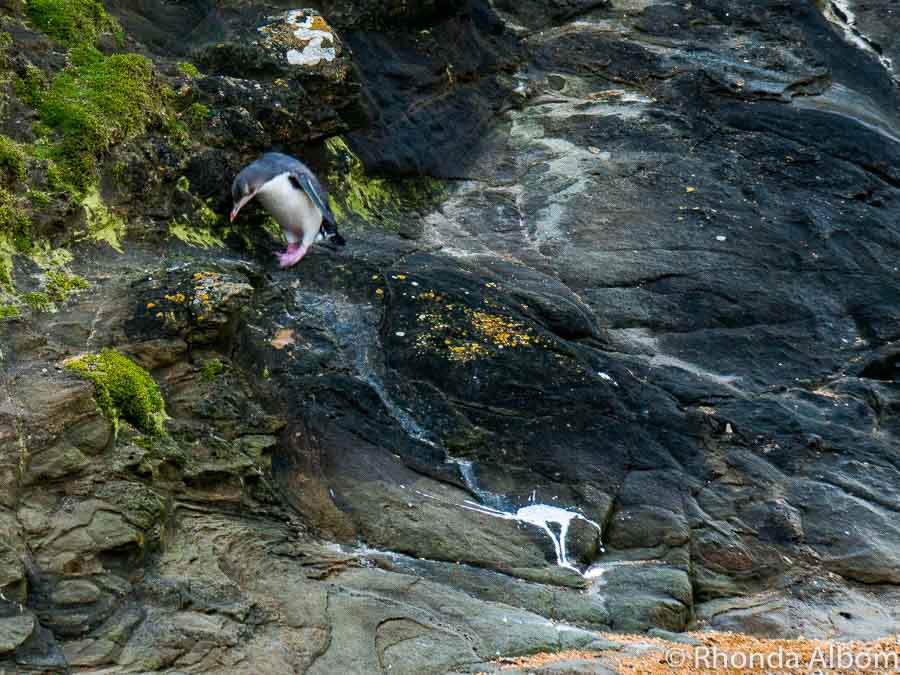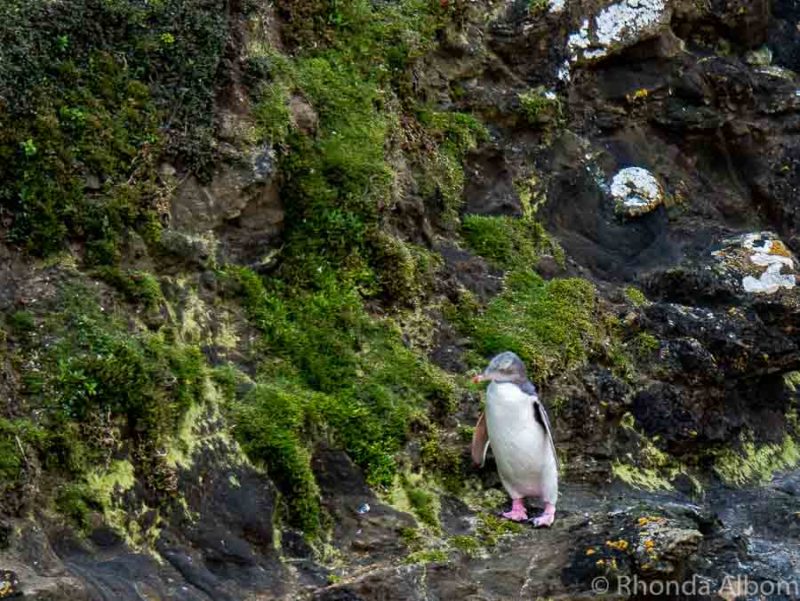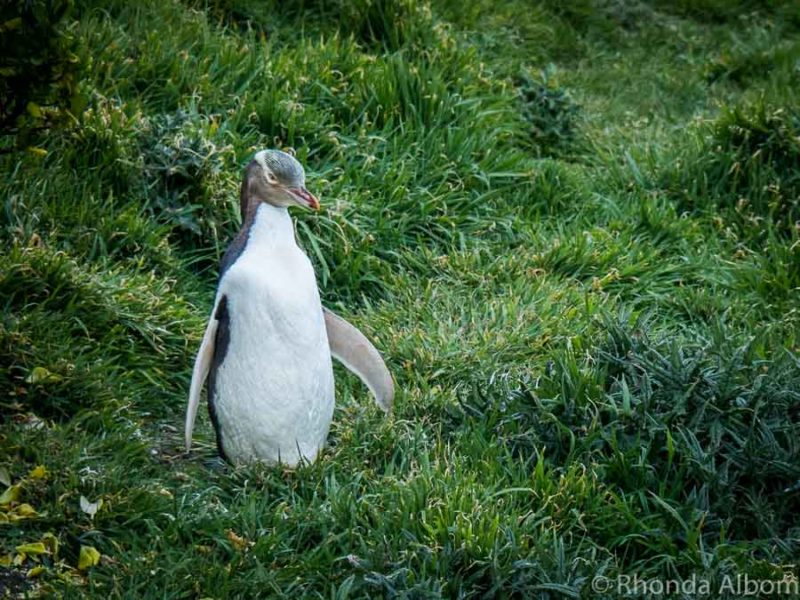 We continued walking for another 10-15 minutes to the end of the peninsula. Here, we overlooked Katiki Beach.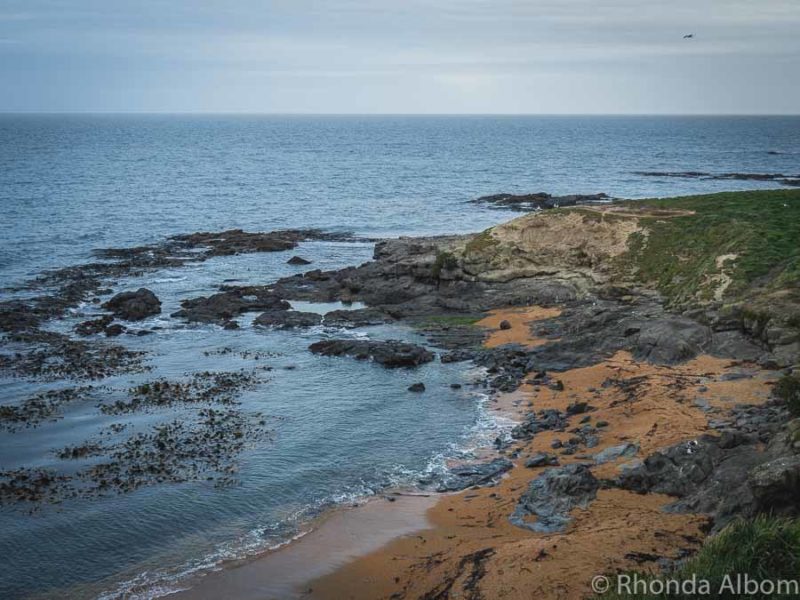 First, we spotted a New Zealand fur seal (Kekeno), then a pup swimming in the water.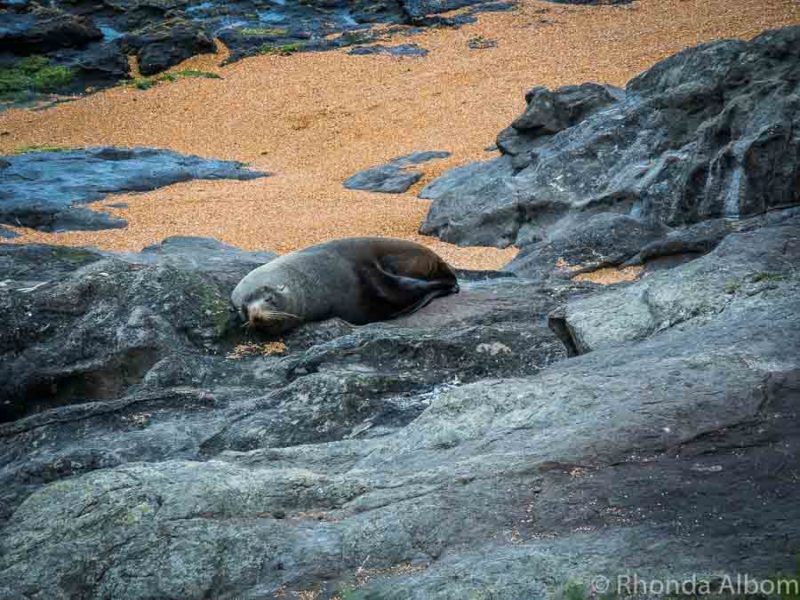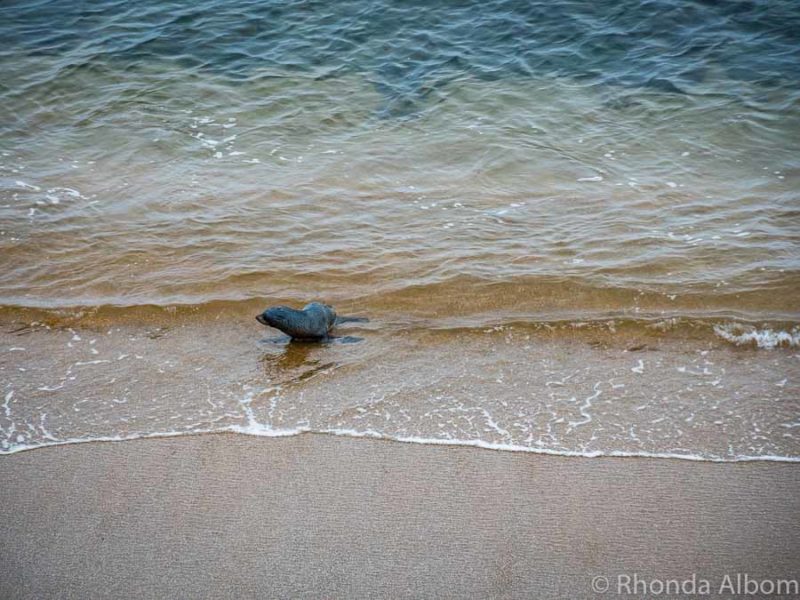 Other yellow-eyed penguin spottings
This is not the first time we have seen yellow-eyed penguins. About ten years ago we visited the region. We spotted them in the distance on Curio Bay in the Catlins. Back then we also opted for a tour at Penguin Place in Dunedin. Here we stood quietly in a purpose-built trench, a hiding hut for humans. We watched these New Zealand penguins head to nesting boxes that seemed strategically placed for our viewing.
More About Yellow-eyed Penguins:
Yellow-eyed penguins live only on the south-east coast of New Zealand's South Island and on a few of the nearby smaller islands. These include Stewart Island, Auckland Islands, and Campbell Island.
Their Maori name is Hoiho, meaning "noise shouter" as its piercing calls can be heard over the crashing waves. → Click here to hear a sound recording.
Yellow-eyed penguins are a declining endangered population. New Zealand's Department of Conservation's current estimate is fewer than 250 breeding pairs on the South Island, down from 261 last year (read the article here). Importantly, due to conservation efforts, this number is up considerably from 127 breeding pairs in the early 90s.
Penguin Viewing
The best time to view yellow-eyed penguins is from 3 pm to sunset, while they return from the sea, or at sunrise when they head out.
Always stay out of view. Stay off beaches that they frequent after 3 pm, or anytime that penguins are present. All my shots at Katiki Point were taken at a distance using an Olympus OMD em5 camera with an Olympus 14-150 mm lens (equivalent to 28-300 mm on a full-frame DSLR).
There are several free viewing locations along the east coast. Yellow-eyed penguins live at Bushy Beach, Katiki Point, Nugget Point Reserve, and Sandfly Bay. The first three are each within 5-10 minute walks from their car park. Sandfly Bay is a 30-minute walk.
→ Check prices on this wildlife tour of Dunedin's Otago Peninsula
We stopped in Moeraki on our way from Dunedin to Oamaru. The total drive is only 1.5 hours, with Moeraki closer to Oamaru.
→ Regardless of where you choose to stay, click here to find the best hotel prices at Booking.com
Learn more about these endangered birds from the Department of Conservation: Yellow-eyed penguin / hoiho.
Save this article for later by pinning either of these pins onto Pinterest:

Want more?
Sign up for our email newsletter and we will send you a free copy of our New Zealand packing light checklist
We invite you to join our New Zealand Facebook group at Explore NZ to ask questions, share photos, and discover tips.
First-time visitors to New Zealand: don't miss these New Zealand travel tips.
Have you seen any of the New Zealand penguins?