Close your eyes and imagine a paradise with impressive waterfalls hidden in a vivid New Zealand rainforest edged by sweeping seas. Add to that endangered penguins, endemic Hector's dolphins, and native birds, and you have the Catlins. Covering a section of the southern coast of the South Island, the Catlins is one of my favourite places to photograph.
They call this drive the Southern Scenic Driving Route for a good reason. While always picturesque, each visit is unique. Our first visit was a while ago, as evident by the ages of our children in the Slope Point image below. Yet, nature remains pristine and the Catlins coast continues to be a paradise worth exploring year after year.
Our hikes through the rainforest were spectacular, despite the on-and-off drizzle. After all, it is the rain that amplifies the vibrancy of the rainforest colours. As a bonus, the cool, humid weather kept us comfortable as we hiked. Each stop along the road was different, each hike dramatic in its own way.
Where is the Catlins?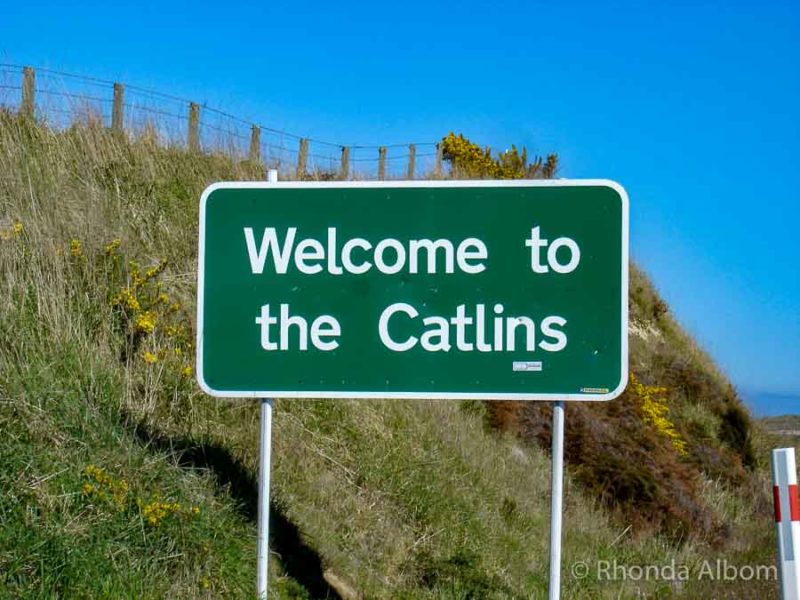 The Catlins is the area along New Zealand's southern coast between Fortrose and Kaka Point in the Southland region of the South Island. Entering the area takes you off the beaten path and into an unspoiled, subtropical paradise. It's an area to be savoured and enjoyed.
If in a hurry, one could drive through the region in less than 3 hours. We took three days and enjoyed the wild, rugged coastline; dense, temperate rainforests, dramatic waterfalls; 160 million-year-old petrified wood; and, endangered species. Being a distance from the typical tourist routes, many visitors to New Zealand skip the Catlins, but we love it.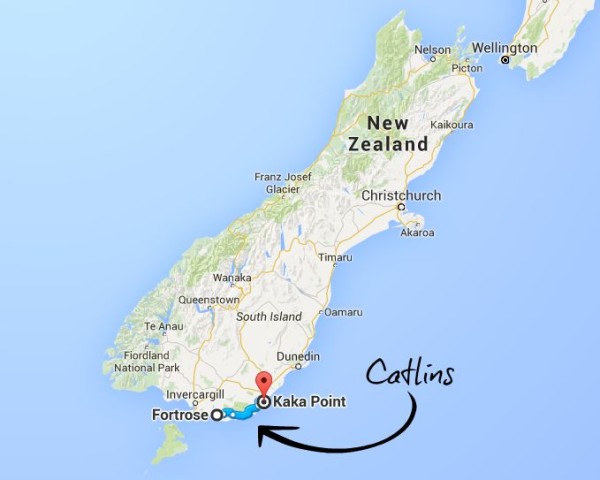 Things to do in the Catlins
Nature honoured the region, thus providing plenty of things to do in the Catlins. Here, we highlight some of the waterfalls, lookout points, and nature at its best.
Waterfalls
What struck me first about the region's waterfalls was the way they cascade over boulders, powerfully rolling down hills, rather than one massive drop like many of the North Island waterfalls. Here are our two favourites:
Purakaunui Falls: A stunning waterfall in its own right, it is also the easiest one to access. As a result, Purakaunui Falls is the most photographed waterfall in the area.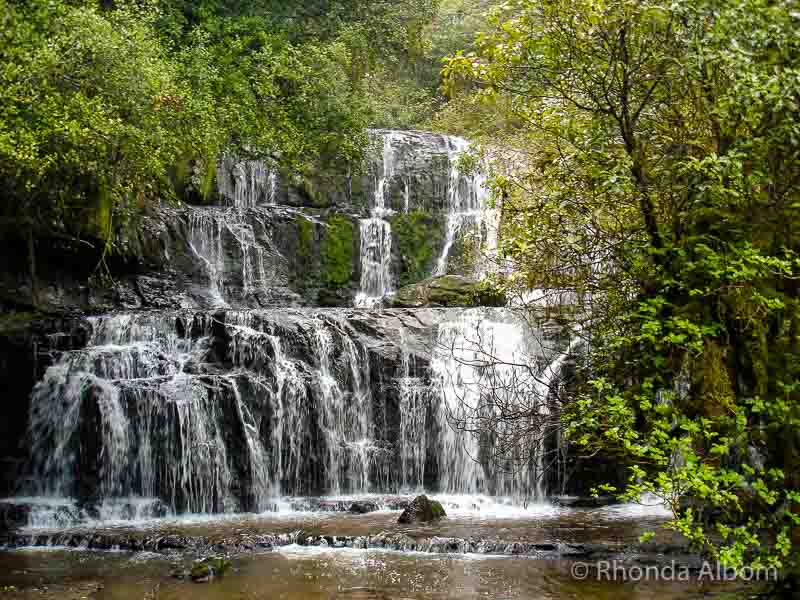 McLean Falls: A 20-minute hike brought us to McLean Falls, the highest of the Catlin waterfalls. This one is nature's masterpiece, and possibly my favourite waterfall in New Zealand.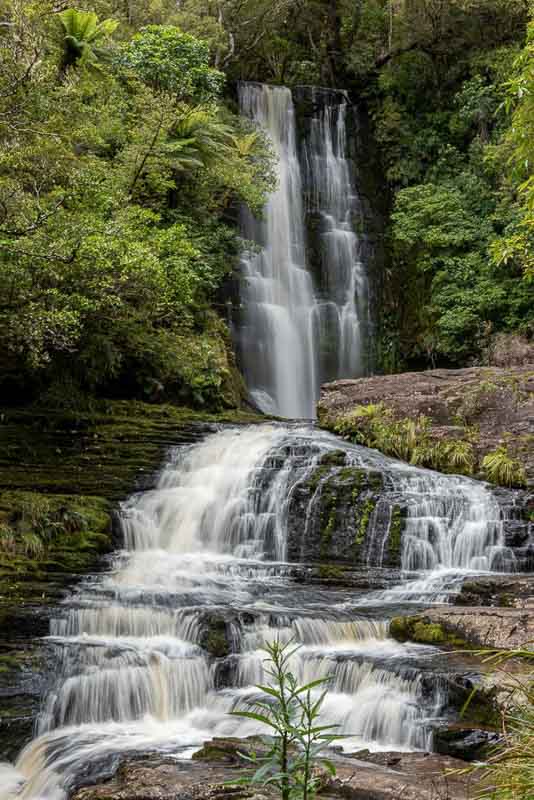 Read next if you love waterfalls: 18 Amazing Waterfalls in New Zealand: Embrace Nature's Beauty
Natural wonders
Cathedral Caves
Who can resist a visit to the world's largest sea cave? It takes a bit of planning but is worth the effort. It's accessible only four hours out of every twelve (the two hours either side of low tide) and only from October to May.
Petrified Forest at Curio Bay
It's not often we get to see 160 million-year-old petrified logs dating back to Jurassic times, just hanging out amongst the rocks. However, that's what we found at Curio Bay. There is a viewing platform if you don't want to walk down to the beach for a closer look.
Pro tip: Be sure to check the tides, and visit near low tide to see the petrified forest. If you are lucky enough that low tide falls early morning or at dusk, you might even see yellow eyed penguins, the world's rarest penguin.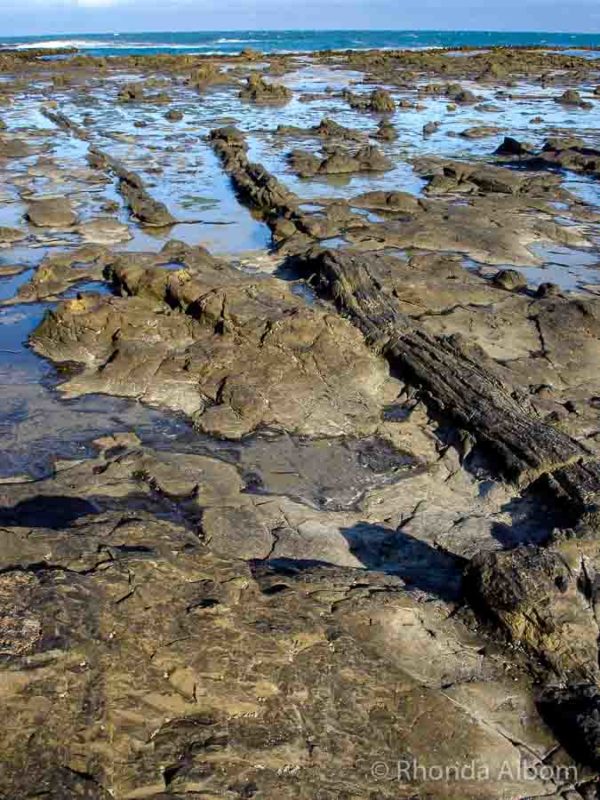 Nugget Point: Catlins lighthouse
Often simply called the Catlins lighthouse, the spot where it stands at the end of Nugget Point is well known as a destination to spot sea lions and fur seals basking on the rocks, as well as a breeding colony of gannets. Nugget Point is named for the rocky nuggets that dot the sea at end of the point. The lighthouse is an easy 10-minute walk from the car park.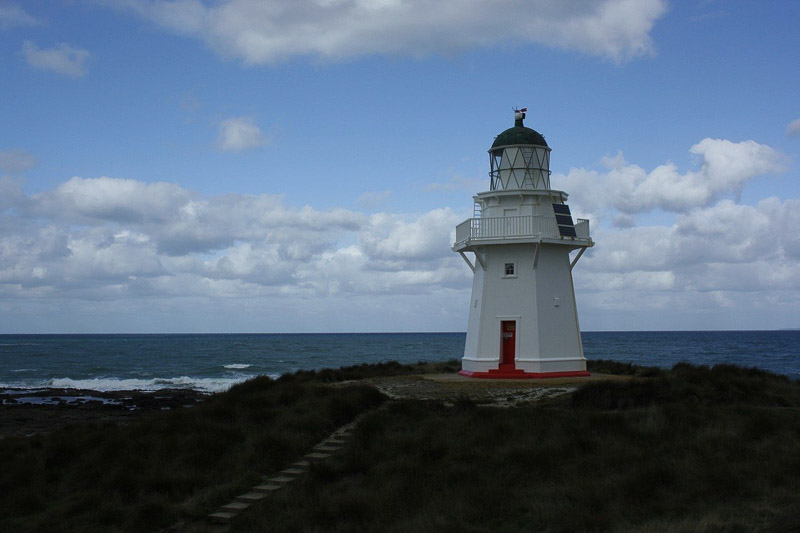 Catlins River Walk
Another fabulous place for a hike, the Catlins River Walk (also called River-Wisp Loop Track) rewards visitors with waterfalls and hidden lakes. Be sure to keep an eye out for native birds as you stroll through the beech forest.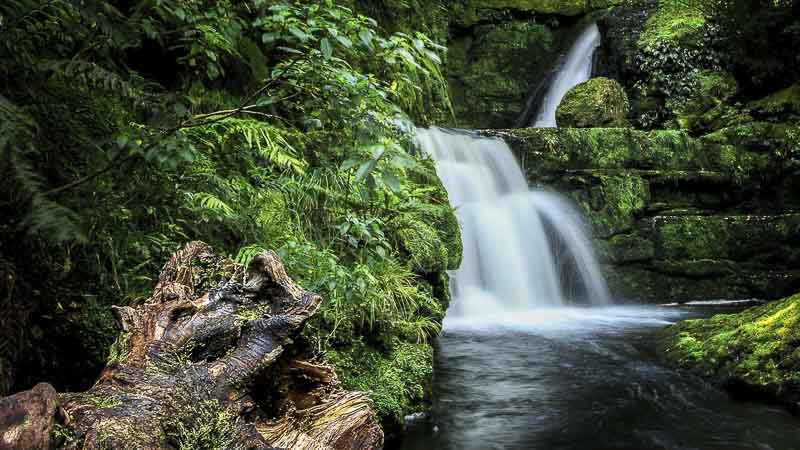 Slope Point
Marking the southernmost point in the mainland (South Island), Slope Point is a key photo spot, although access is closed during spring lambing season (September to November). They say it's an easy 20-minute walk. We can't verify this as we always visit in the spring. Be warned, Slope Point is well known for being very windy.
More cool things to do in the Catlins
Jack's Blowhole: A one-hour return walk rewards visitors with a huge blowhole 55m deep that is oddly located 200m inland from the sea.
Lake Wilkie: A 30-minute return walk brings you to a stunning mirror lake surrounded by forest.
Owaka's Teapot Land: Starting with one, the private collection has grown to over 1,000 teapots.
Porpoise Bay: Near Curio Bay, this is a great beach for swimming, surfing, or spotting Hector's dolphins (in summer).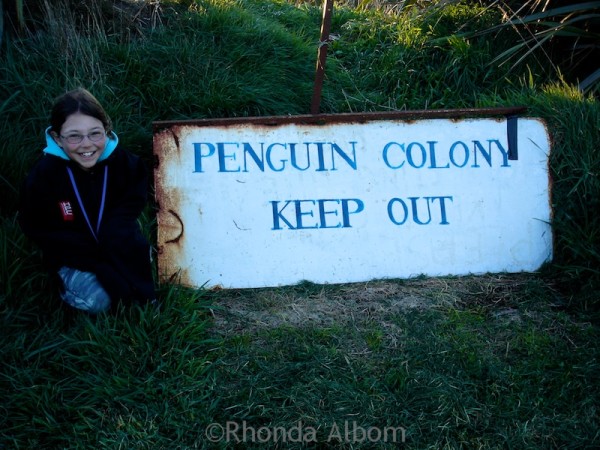 Catlins accommodation options
Many people will tell you that the Catlins are ideally suited for camping, either tent camping or with a camper van. And, the Department of Conservation makes it easy with a few free Catlin camping grounds. However, while the freedom might be nice, we prefer a certain level of comfort.
While there are plenty of accommodation options as you drive through the region, if you are visiting in peak season, it's recommended to book in advance.
Several lovely four-star accommodations can be found in the Catlins, which is always our preference.
More on the Catlins New Zealand
The total population of the region is about 1,300 (as of 2018), and the landmass is approximately 1900 km² (730 sq mi).
Expect slower-than-average drive times, and be aware that many of the side roads are still unpaved.
While the drive from end to end is only 170 km, you will want to fill up before you get started, as there are no petrol stations in the Catlins.
We generally drive to the Catlins from Invercargill, continuing on to Dunedin and if heading north, take a slow ride up the east coast from Dunedin to Christchurch.
It's easy to drive the rainforest area on your own, but if you prefer a tour with a company you know, Viator offers a private tour of the Catlins from Dunedin that sounds amazing. Check availability for the Private Tour: Dunedin to the Catlins
About 30 km south of the mainland, is Stewart Island, a fabulous ecotourism add-on to any adventure.
Read next: 18 Extraordinary Things to Do in the South Island NZ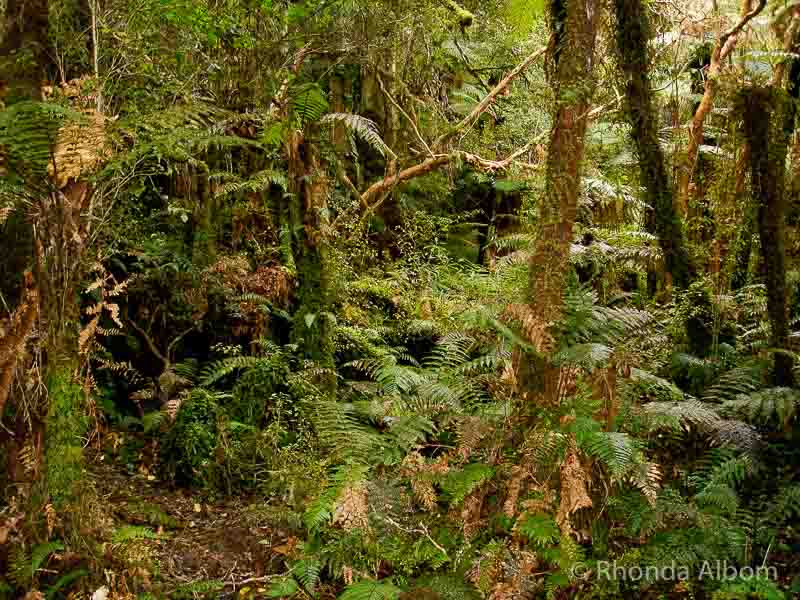 Catlins Weather
The climate is temperate and cooler than other parts of New Zealand.
Be sure to wear layers. The winds kick up and feel quite cold, contrasting the warmer calm areas.
As the Catlins is largely rainforest, you should expect some drizzle at a minimum. It rains more than half of the days spread throughout the year.
Typical summer temperatures are 18-20 °C (64-68 °F), while average winter temperatures are 10-13 °C (50-55 °F).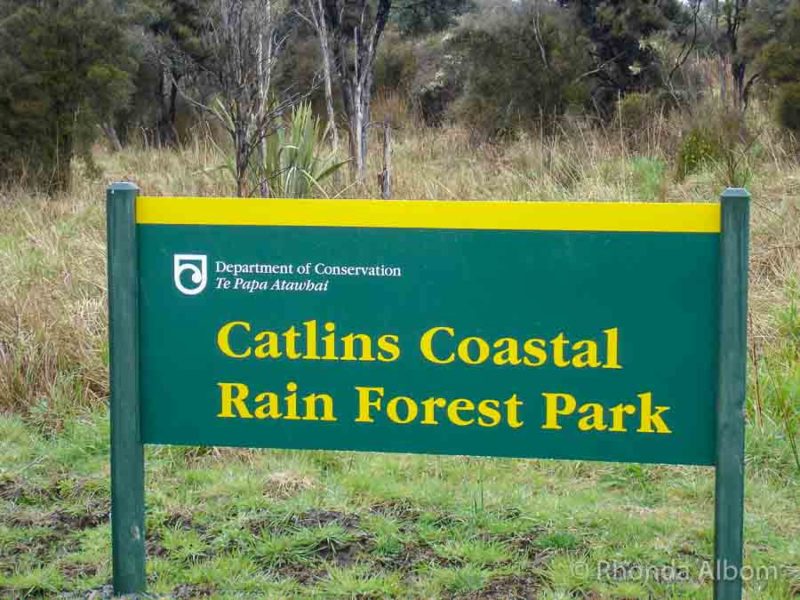 Save on your NZ trip with these resources
These are our go-to companies when we travel. We believe this list to be the best in each category. You can't go wrong using them on your trip too.
Check out our travel resources page for more companies that we use when you travel.
Save for later
If you enjoyed this article, please share it on social media and save it for later on Pinterest.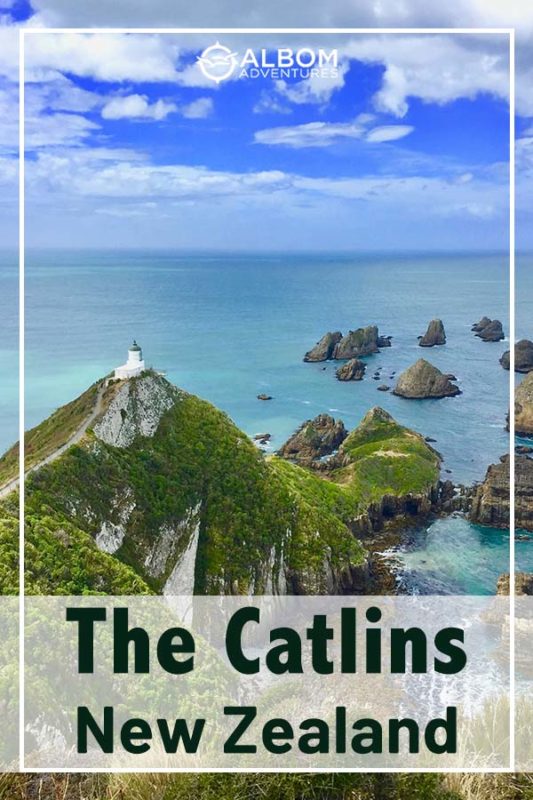 What are your favourite things to do in the Catlins?