Nestled in the heart of Fiordland National Park on New Zealand's South Island, Milford Sound is a place of unrivalled natural beauty that captivates the senses. Getting there is often half the fun, even on day trips from Queenstown to Milford Sound.
For us, its towering peaks, cascading waterfalls, and serene fiords left an indelible mark on our hearts.
There are several ways to get to Milford Sound from Queenstown, and the best way isn't the same for everyone. Below we uncover the options for reaching this awe-inspiring destination.
From the freedom of self-driving to the exhilaration of helicopter tours, each option offers a unique perspective and a chance to immerse oneself in the breathtaking landscapes of Fiordland National Park.
For Jeff and I, the fly-cruise-fly option won out and stole our hearts. The combination of breathtaking aerial views, a leisurely cruise through Milford Sound, and the time efficiency it offered made it an ideal choice for us.
Below we explore five distinct ways to travel from Queenstown to Milford Sound. Whether you're seeking convenience, adventure, or the perfect balance of exploration and relaxation, our comprehensive guide will help you make an informed choice that suits your preferences and ensures an unforgettable experience.
How to get from Queenstown to Milford Sound
Milford Sound is one of the most beautiful places in New Zealand. As a result, it's a must-see for many visitors. Getting there usually starts from Queenstown, with travel options including:
Fly-cruise-fly: our personal favourite
Self-drive: freedom at its finest
Coach tours: sit back and soak in the scenery
Helicopter tours: a bird's eye view of splendour
Hike from Te Anau, the gateway to Milford Sound
Queenstown to Milford Sound map
As you can quickly see, there is no straight-through route between Queenstown and Milford Sound.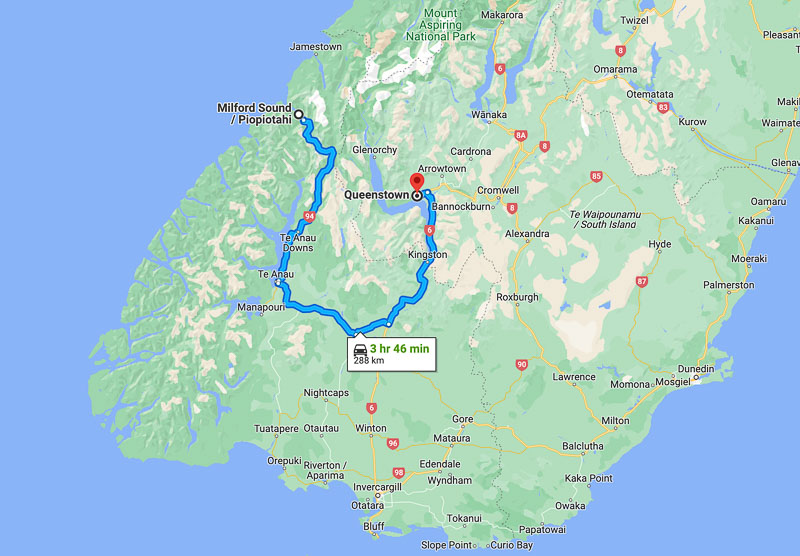 Fly-cruise-fly: an unforgettable day trip from Queenstown to Milford Sound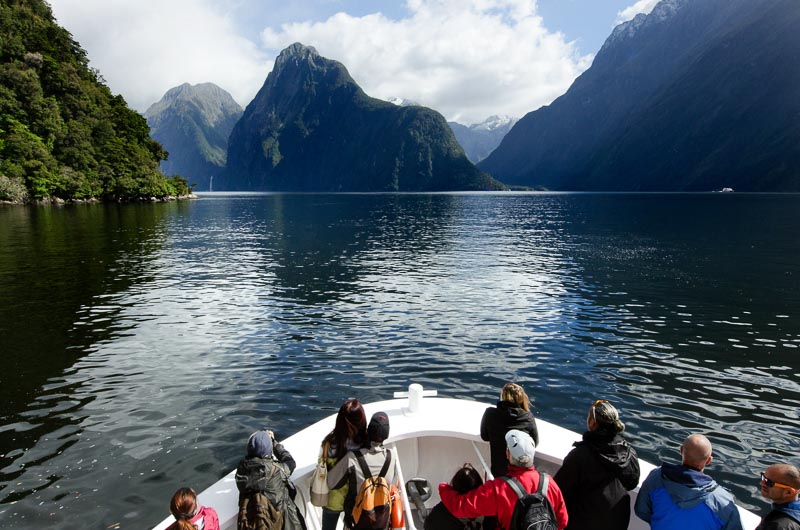 Travel Time: Approximately 4 hours
We listed the fly-cruise-fly option first, as it was our choice, and we never regretted it.
As we took to the skies, our eyes were treated to a visual feast of the Southern Alps, cascading waterfalls, and the vast expanse of Fiordland National Park.
For many people, a key advantage of fly-cruise-fly is the time savings it provides, as the entire adventure takes only about 4 hours. It generally includes a flight from Queenstown to Milford Sound, a two-hour Milford Sound cruise along the fiords, and then a return flight.
For us, however, it was more about avoiding long hours on the road from Queenstown to Milford Sound. At the time, our girls were young, and, to be honest, they were tired of being in the car by the time we got from Christchurch to Queenstown.
The fly-cruise-fly option is ideal for travellers who are short on time but have a reasonable budget, couples seeking a romantic escape, photography enthusiasts who want to capture awe-inspiring scenery from unique perspectives, and families with younger children that don't do well on long road trips.
On the flip side, the fly-cruise-fly option comes with a higher cost compared to some of the other alternatives. But the good news is that you can reserve an often discounted fly-cruise-fly adventure here. This one includes a two-hour cruise.
Self-drive: the freedom of the open road
Travel Time: Approximately 4.5 to 5 hours (one-way drive time only)
If you crave the freedom to explore at your own pace and enjoy the journey as much as the destination, the self-drive option is perfect for you. And while it can be driven in half a day, you will want to allocate at least a day to enjoy all the magical stops along the way.
One of the greatest advantages of self-driving is the flexibility it offers. You can choose to spend more time at specific viewpoints, take spontaneous detours to lesser-known attractions, and fully embrace the magic of the landscape.
Photographer, reader and friend Daniela Constantinescu opted for an overnight cruise and took the self-drive option capturing stunning vistas, embarking on short hikes to hidden gems, and sharing her story and images here.
On the downside, self-driving from Queenstown to Milford Sound takes longer than flying, and you have to drive through windy mountain roads, which is a problem for some people. More importantly, they can be treacherous in the snow and often close for a portion of the winter. Be sure to check NZTA before heading out.
Renting a car
Unless you are using your own vehicle, you will need to hire a car. We always rent from RentalCars. As an aggregator, they offer a comprehensive list of multinational and local rental car agents, ratings on specific car types, and agency ratings. Importantly, they often have lower prices than going direct.
Whether you rent from them or not, it's still the perfect place to begin your search. Plus, if anything goes wrong, we have one central point of contact that to date has provided us with outstanding service. Start your search or reserve your rental car here.
Explore Milford Sound
Another advantage of self-driving is the freedom to choose how you will explore the sound. Some of the popular options include:
Coach tours: sit back and soak in the stunning scenery between Queenstown and Milford Sound
Travel Time: Approximately 12 to 13 hours (return trip)
For a hassle-free experience and the opportunity to soak in the stunning scenery without the worries of driving yourself, a coach (bus) tour is a fantastic choice. I am not sure why the don't call this option bus-cruise-bus, as that would be a better description.
Starting from Queenstown to Milford Sound on the bus, the expert commentary from knowledgeable guides offers a deeper insight into the history, geology, and culture of the region.
One of the main advantages of coach tours is the relaxation factor. You can sit back, enjoy the ride, and fully appreciate the mesmerizing landscapes unfolding before your eyes.
Before you start this day trip, be aware that you will spend the overwhelming majority of your tie on the bus. Despite this, the convenience and comfort of a guided tour make it a popular choice for travellers seeking a stress-free experience.
Coach tours are best suited for those who prefer a guided tour, seniors who appreciate the comfort and convenience, and anyone who wants to relax and let someone else handle the logistics. Reserve your often discounted premium coach-cruise tour here (this one has starting options in either Queenstown or Te Anau).
If you prefer a smaller group, check out this Mercedes minivan option with a maximum of 16 guests that will pick up at your Queenstown hotel. Reserve your small group tour here.
Helicopter tours: aerial thrills above Milford Sound
Time: Varies depending on the tour
If you're an adventure seeker or simply want to experience the unparalleled beauty of Milford Sound from a unique perspective, a helicopter tour is the way to go. Taking to the skies, guests are treated to the same jaw-dropping aerial views of snow-capped mountains, cascading waterfalls, and the sheer magnificence of Fiordland National Park that we saw in our fly-cruise-fly option.
Honestly, the thrill of flying over the dramatic landscapes was an experience we'll never forget.
One of the main advantages of helicopter tours is the unparalleled aerial perspective they offer. From high above, you can witness the grandeur of Milford Sound and its surrounding wonders in a way that few get to experience. The photo opportunities are simply awe-inspiring, allowing you to capture unique angles and breathtaking panoramas.
However, it's important to note that helicopter tours typically come with a higher cost compared to land options.
Helicopter tours are best suited for adventure seekers craving an adrenaline rush, those looking for a truly unique experience, and travellers with a higher budget who want to indulge in the ultimate luxury of aerial exploration. Reserve your helicopter tour here.
Hike the Milford track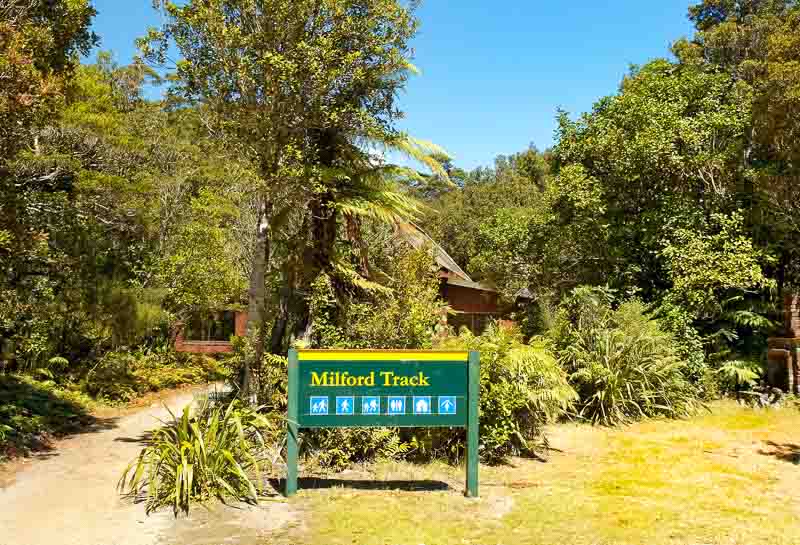 Time: 3-4 days
For those with a love for trekking and a desire to fully immerse themselves in the wilderness, hiking the famous Milford Track from Te Anau is an incredible option. Known as one of New Zealand's 10 Great Walks, the Milford Track offers a multi-day journey through pristine landscapes, leading hikers all the way to the majestic Milford Sound.
The advantage of hiking the Milford Track is the opportunity to truly connect with nature and experience the untamed beauty of the Fiordland region. Walking through ancient forests, alongside gushing rivers, and amidst breathtaking alpine scenery, the trail unveils a sense of serenity and adventure that cannot be replicated by any other mode of transportation.
While the Milford Track is a rewarding and awe-inspiring experience, it's essential to consider a few downsides. Firstly, the hike requires advanced planning and booking, as access to the track is limited to a set number of hikers each day. Additionally, the Milford Track is a multi-day endeavour, typically taking around four days to complete the 53.5 km (33 miles), which may not be feasible for travellers with limited time constraints.
Nevertheless, it's worth mentioning that many of our friends have embarked on this hiking adventure, and every single one of them loved it.
If you are an experienced hiker seeking a unique and immersive experience, the Milford Track from Te Anau is an exceptional choice. Lace up your boots, embrace the challenges of the trail, and be prepared to create memories that will last a lifetime as you make your way to the majestic Milford Sound. Book the Milford track here.
Tips for visiting Milford Sound
Dress in layers and pack a waterproof jacket, as weather conditions can change rapidly, and we got wet from the splash of the falls.
Bring insect repellent to ward off sandflies, especially during the warmer months.
Book your tour in advance, particularly during peak seasons, to secure your preferred option.
Consider staying overnight in Milford Sound to experience its tranquil beauty without the crowds (we recommend the Milford Lodge). Or, even better, consider an overnight cruise that you can reserve here.
Pack some snacks and water for the journey, as there are limited dining options along the way.
Be sure to leave some time in Queenstown for many of the amazing things to do in summer or adventures in the winter.
Final thoughts on getting from Queenstown to Milford Sound
Embarking on a journey from Queenstown to Milford Sound is a truly unforgettable experience that showcases the natural wonders of New Zealand. Whether you choose to take to the skies, hit the open road, or relax on a guided tour, each option offers its own unique advantages and allows you to immerse yourself in the awe-inspiring landscapes of Fiordland National Park.
Remember, no matter which option you choose, take the time to savour every moment and embrace the stunning beauty that surrounds you. From the towering peaks to the cascading waterfalls, Milford Sound is a place of unparalleled magnificence.
Just remember your camera before you embark on an adventure of a lifetime from Queenstown to Milford Sound.
Save on your NZ trip with these resources
These are our go-to companies when we travel. We believe this list to be the best in each category. You can't go wrong using them on your trip too.
Flights: we use Expedia for the best and cheapest flight options.
Accommodations: we use Booking.com (hotels), Bookabach (self-contained in NZ) or Hostelworld (budget).
Cars (gas or electric): we use RentalCars to search for deals and dealer ratings.
Motorcycles: we have heard good things about BikesBooking.
Campervans or Motorhomes: we use Campstar where Albom Adventures readers get a 3% discount.
Activity discounts: we check Bookme.com for discounts of up to 70% on activities.
Private guides: we love the private guides at Tours by Locals.
Travel Insurance: while not required, we always opt for travel insurance and start at InsureMyTrip to compare coverage plans.
Check out our travel resources page for more companies that we use when you travel.
Save for later
If you enjoyed this article, please share it on social media and save it for later on Pinterest.
How will you get from Queenstown to Milford Sound?
Photo Credits:
All photos on this page are either shot by our team and watermarked as such or stock images from Depositphotos.