Jeff and I absolutely love waterfalls, and we often venture off the beaten path to find them. We have actually seen and photographed almost all the stunning waterfalls in New Zealand that we feature here.
Let me tell you, waterfalls in New Zealand are some of the most awe-inspiring natural attractions in the world. Some require a bit of a hike, while others are quick and easy to access. But regardless, we make it a point to seek them out wherever we go because we just can't get enough of them.
Did you know that there are over 700 waterfalls scattered throughout the two main islands of New Zealand? There's even a waterfall within a 30-minute walk from our house! Although we walk by it all the time, it didn't make the cut for our list of the best New Zealand waterfalls below.
From the towering heights of Sutherland Falls to the serene beauty of Tawhai Falls, there is no shortage of breathtaking waterfalls to explore in our beautiful country.
And the best part? Many of these waterfalls are easily accessible from major cities or towns, making them a must-see for anyone visiting New Zealand.
So grab your camera and get ready to experience the awe-inspiring beauty of New Zealand's waterfalls. Trust me, you won't regret it!
18 must-see waterfalls in New Zealand
Haruru Falls, Bay of Islands
Whangarei Falls, Whangarei
Waitakere Ranges: Kitekite and Karekare Falls
McLaren Falls, Tauranga
Bridal Veil Falls, Waikato
Tarawera Falls, Bay of Plenty
Marokopa Falls, Waitomo
Huka Falls, Taupo
Tongariro National Park: Taranaki Falls, Tawhai Falls, and Silica Rapids
Devil's Punchbowl Falls, Arthur's Pass
Milford Sound: Stirling Falls and Bowen Falls
Sutherland Falls, Fiordland National Park
The Catlins: Purakaunui Falls and McLean Falls
Where to find these waterfalls in New Zealand
Click the expand / collapse icon in the upper left corner of the map for the details.
North Island waterfalls in New Zealand
Don't let the reputation of the South Island's beauty fool you; there are plenty of stunning waterfalls on the North Island too. You just need to know where to look.
Haruru Falls, Bay of Islands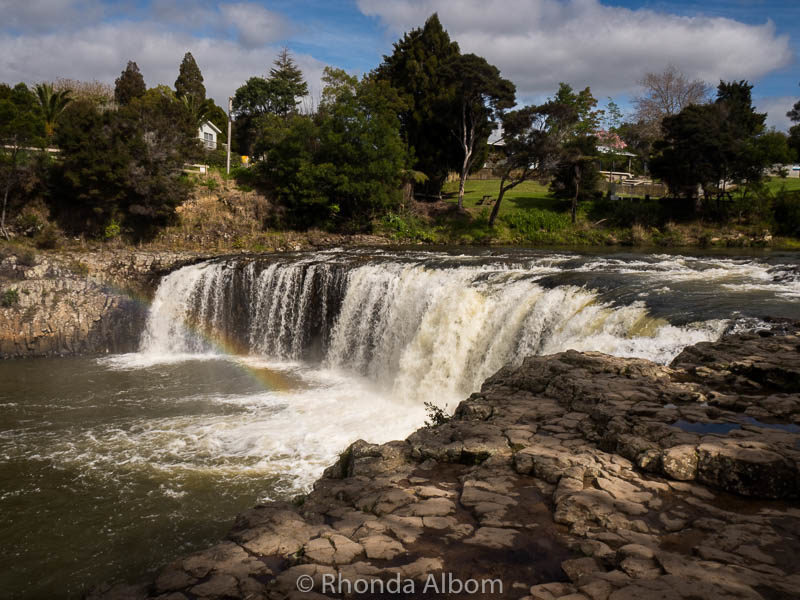 Haruru Falls is a powerful waterfall in the Bay of Islands. While the falls drop only about 5 metres (16ft), it's their roar that makes them so unique. In fact, Haruru translates to "big noise".
Although many locals jump in, there are warning signs against it. My niece, who is far braver than I, is one who gave it a go alongside a group of locals who showed her where it was safe. While I don't recommend it, she had a blast.
The falls are popular for photographs, for kayaking below the falls, and as a swimming hole.
There are two main car park options for Haruru Falls. The main one offers a well-maintained trail that is approximately 20 minutes long and has a viewing platform as you approach the falls. The other is to park alongside the bridge, and then it's just a minute or so walk to the rocks at the top of the falls.
Whangarei Falls, Whangarei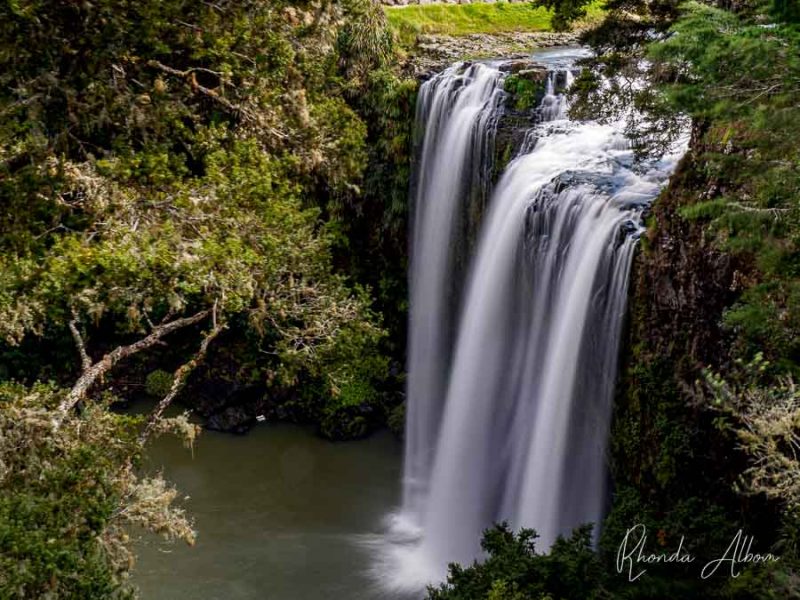 Whangarei Falls is one of the most easily accessible waterfalls in New Zealand, as it's right there, practically at the car park. We stop here every time we are headed north, either to enjoy Whangarei or to road trip to the top of the North Island.
The falls drop approximately 26 metres (85ft) and are fed by the Hatea River. While we can enjoy the view I photoed right there, just a few metres from the carpark, we usually walk the easy 30-minute loop track to the base.
We have read it's a swimming hole at the base, yet we personally haven't been in, nor have we seen anyone swim here.
It's one of our favourite falls between Auckland and the Bay of Islands.
Kitekite and Karekare Falls, Waitakere Ranges
It's a lovely, easy one-hour loop track that brings us to Kitekite Falls in the Waitakere Ranges. Here, we find a tiered waterfall that drops approximately 40 metres (131ft) into a popular swimming hole.
The falls are surrounded by lush forest, which adds to their natural beauty. Take the family-friendly Knutzen Track from the Glen Esk Road car park near Piha Beach.
It's one of several waterfalls in the Waitakere Ranges. If the walk feels too far, or you just don't have the time, the Karekare Falls (15-metre) can be seen from the road. However, we find them to be much more impressive after the 5-minute walk from the trailhead, which is where I took the photo.
McLaren Falls, Tauranga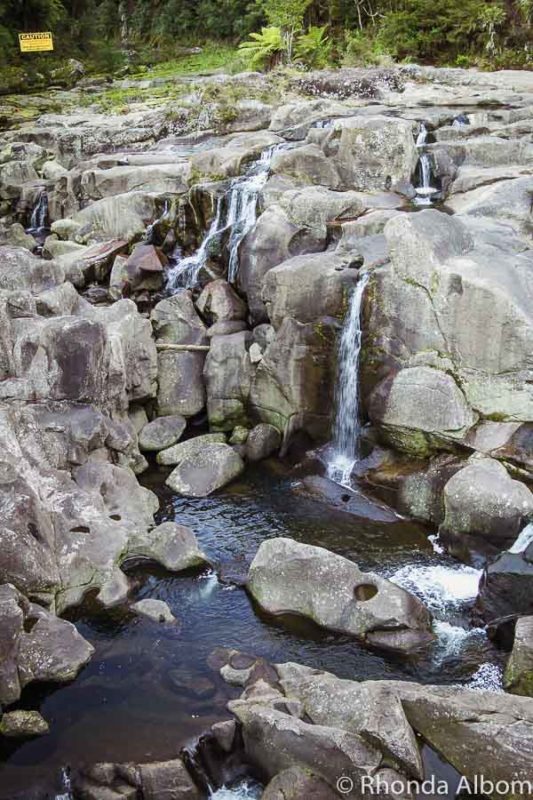 Located in the Bay of Plenty region of the North Island, McLaren Falls is a picturesque waterfall set amidst lush forest and parkland. The first time I visited the falls, I was disappointed to find that it was barely flowing – I couldn't understand what all the fuss was about.
But with the power generation plant upstream, apparently, this limited water is more common than not. However, catch it in the rainy season, and it's a different story.
The falls are easily accessible via a short walk from the car park, and there are plenty of picnic tables and facilities nearby.
In addition to the waterfall, McLaren Falls Park offers a range of activities and attractions, including hiking trails, fishing, a wildlife sanctuary, and we went on a fabulous night kayak tour to see glowworms. The park is home to a variety of native birds and wildlife.
Bridal Veil Falls, Raglan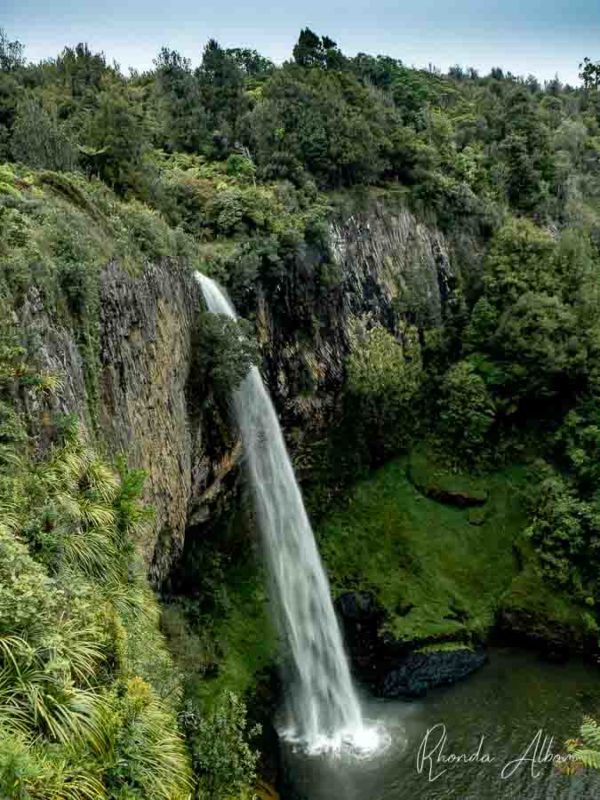 Bridal Veil Falls is a stunning horsetail-type waterfall that drops approximately 55 metres (180ft), and as it cascades down the cliff face it resembles a bridal veil. We think it looks way better live than in the photo. It's nestled in a lush green forest about a 15-minute drive out of Raglan.
Starting at the trailhead marker in the car park, we took an easy 10-minute bush walk that brought us to the first viewing platform. From here, we walked the 261 steps down to the bottom. While it only took us about 30 minutes to walk down to the base, the return walk back up used a lot more energy.
Despite all the steps, it was well worth the effort. While the initial viewing platform offers amazing views, the real magic did come later.
There's a viewing platform in the middle that, to be honest, was my favourite of the three views (top, middle, base) and the one I chose to feature here. But we still encourage you to walk to the bottom.
Tarawera Falls, Bay of Plenty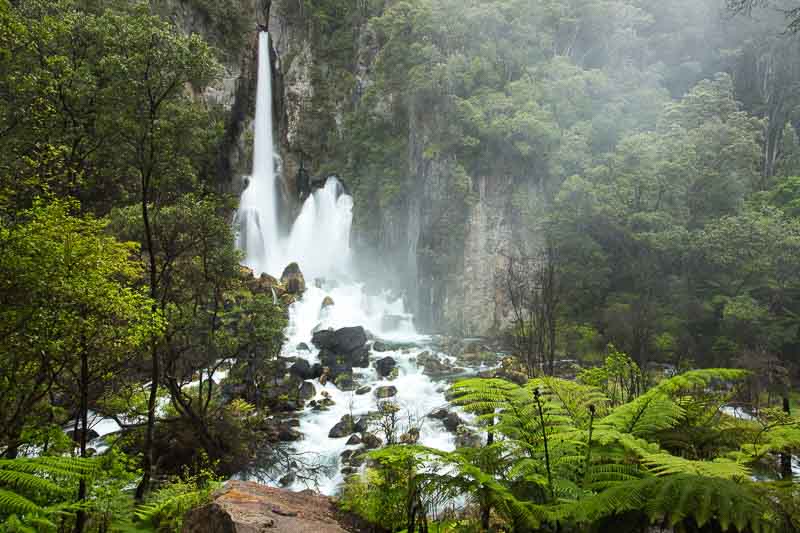 Tarawera Falls is a stunning waterfall near Rotorua. While I haven't had the chance to visit Tarawera Falls yet, it's definitely on my bucket list. The waterfall drops 35 metres (115ft) over a basalt cliff (former lava flow) into a deep pool below, creating a dramatic display of mist and spray.
To access the falls, visitors can take a moderate 2.5-hour hike through the native forest, which offers stunning views of the surrounding valley and lake. My friends who have walked this trail added that they saw several other smaller waterfalls and scenic viewpoints along the way.
According to the Department of Conservation (DOC), there is also a shorter 20-minute easy one-way walk.
Tarawera Falls is a truly breathtaking sight and a must-see destination for any nature lover.
Marokopa Falls, Waitomo
Marokopa Falls is located on the Marokopa River, near Waitomo Caves. The falls drop 35 metres (115ft) into a deep pool, creating a stunning display of mist and spray.
While we found the 20-minute walk through the Tawa and Nikau forests from the car park pretty easy, it does stop at an earlier lookout than before due to a slip. We still had stunning views from there, but took the shot shown from a side path to the right, just before the danger barrier.
(Trail down to the falls is temporarily closed) Or, you can also hike a longer loop trail that takes you down to the base of the falls for a closer look. Along the way, keep an eye out for native birds such as the North Island robin and tui, which can often be seen in the surrounding forest.
Marokopa Falls is a popular spot for swimming and picnicking in the summer, thanks to its picturesque location and clear, refreshing water. However, caution should be exercised when swimming, as the water can be deep and swift-moving.
Huka Falls, Taupo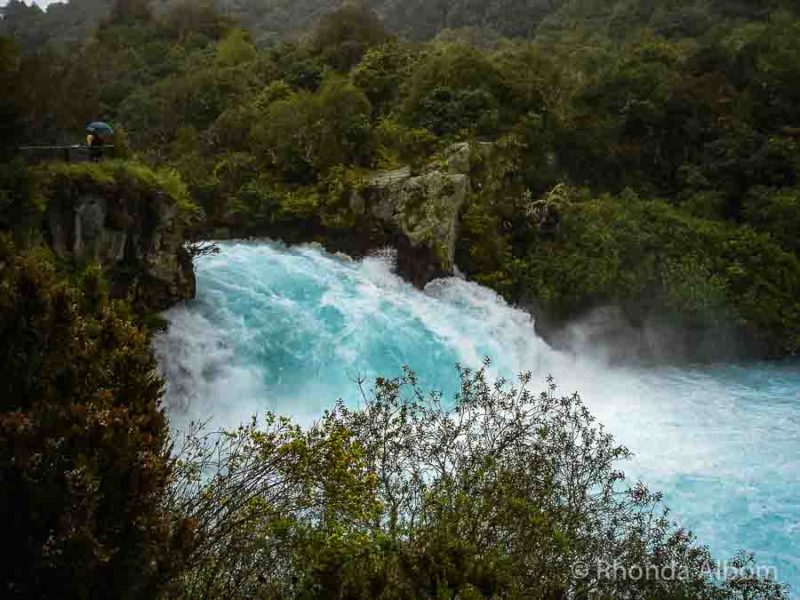 It's the sheer power and force of the Huka Falls that really captured my attention. The turquoise water pounds over the falls with such force that it created a constant roar. It's one of the best free things to do when visiting Lake Taupo.
Huka Falls is a set of waterfalls located on the Waikato River near Taupo. The rapids drop approximately 11 metres (36ft) at more than 200,000 litres per second. The falls are caused by a narrowing of the river as it flows over a volcanic ledge.
Visitors can view the falls from several viewing platforms, including one that is wheelchair accessible. It's a 10-minute walk along a well-maintained trail from the car park, making them easily accessible. But take note, as we discovered first hand, they are serious as to what time they close and lock the gate into the carpark.
While we have seen other visitors take a jet boat ride to the base of the falls, we haven't done it yet. But others have told us they think it's the best way to feel the power. Reserve your jet boat adventure here.
Waterfalls in New Zealand's Tongariro National Park
Located near the centre of the North Island, Tongariro National Park is a UNESCO dual world heritage site. Three of the best waterfalls in New Zealand are located here.
Taranaki Falls
Taranaki Falls is a horsetail-type waterfall that drops approximately 20 metres (66ft) and is fed by the Wairere Stream. Access is via the well-maintained, easy 2-hour return Taranaki Falls track. There is a viewing platform at the top of the falls, which offers a great view of the waterfall and the surrounding area.
Tawhai Falls
Well known as Gollum's Pool among fans looking for Lord of the Rings filming locations, Tawhai Falls drops approximately 13 metres (43ft) and are fed by the Tawhai Stream. We reach the cascade-type waterfall via an easy, well-maintained, 20-minute trail.
Silica Rapids
Silica Rapids are accessed via the Tongariro Alpine Crossing, a challenging 19.4-kilometre hike that takes you through the beautiful volcanic landscape of the Tongariro National Park or via an easy 2.5 hour 7km loop. The falls drop into a series of pools and rapids, creating a beautiful display of white water against the backdrop of the red and black volcanic rocks.
South Island waterfalls in New Zealand
When it comes to any of nature's masterpieces, the South Island of New Zealand won't let you down.
Devil's Punchbowl Falls, Arthur's Pass
Devil's Punchbowl Falls is a stunning waterfall located in Arthur's Pass National Park. The falls drop approximately 131 metres (430ft) and are surrounded by captivating alpine scenery. It's the height that makes these so special.
The approximately 1-hour return trail is well-maintained but still moderately difficult, therefore better suited for experienced hikers. There is a viewing area at the top of the falls, which offers a great view of the waterfall and the surrounding area.
Milford Sound Waterfalls, Fiordland National Park
The waterfalls highlights are Lady Bowen and Stirling, which cascade down towering cliffs. These waterfalls are fed by the heavy rainfall in the area, which can be as much as 6,500 mm per year. It's truly breathtaking, and via boat is an all-senses experience as we sometimes felt the mist on our faces as we approached.
Honestly, I believe the Milford Sound Waterfalls are some of the most impressive waterfalls in New Zealand, although they never seem to photograph that way.
Lady Bowen Falls (aka Bowen Falls)
At approximately 162 metres (531ft) high, Lady Bowen Falls is the highest of the Milford Sound waterfalls. Visitors can best view the waterfalls from a boat tour or via a walking track (currently closed) accessible by a short boat ride. I was struck by the sheer size and power of the falls, and the sound of the water rushing over them was truly mesmerizing. The falls are named after the wife of George Bowen, the fifth governor of New Zealand.
Stirling Falls
Also impressively tall, Stirling Falls drops approximately 151 metres (495ft). Located in the heart of Milford Sound, it can be seen by boat tour.
We loved the option of a fly-cruise-fly visit to Milford Sound from Queenstown, as our kids were young at the time and not that keen on the alternative, a long but lovely drive. It's also great if you are short on time. Reserve your often discounted Milford Sound fly-cruise-fly adventure here.
Sutherland Falls, Fiordland National Park
Sutherland Falls is a truly impressive tiered waterfall that is located in Fiordland National Park. The falls are fed by Lake Quill and drop approximately 580 metres (1903ft), making it one of the tallest waterfalls in New Zealand.
It's not one we can get to on its own, but rather it's a side track of the Milford Track (one of the Great Walks) accessed from the Quintin Lodge backcountry hut adding 1.5 hours to the day's hiking.
Note that the addon to Sutherland Falls is long, relatively challenging, and recommended for experienced hikers only. My friends who have done it say it is well worth the extra effort if you got to the hut with enough time.
Purakaunui Falls, The Catlins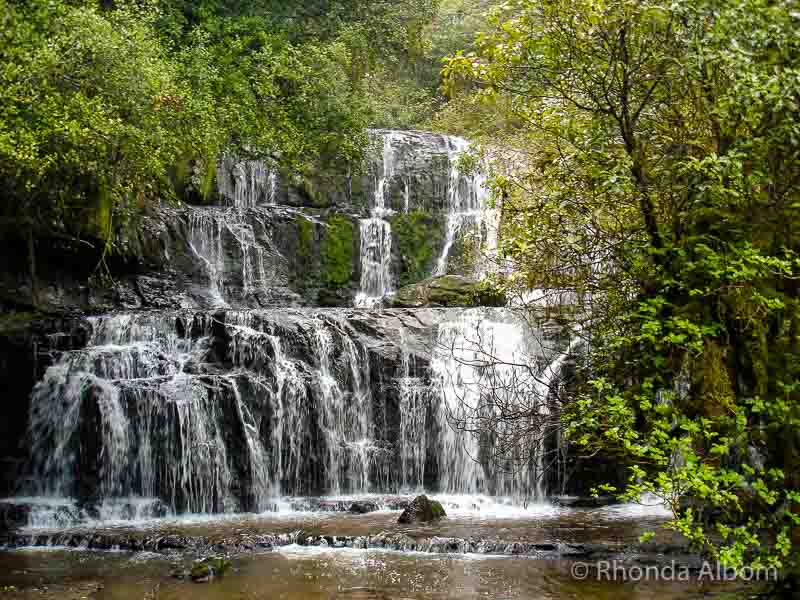 Purakaunui Falls is a picturesque waterfall in the Catlins that is very easy to access from the carpark. As a result, I imagine it is the most photographed waterfall in the area.
The first time we visited, we drove the Catlins from west to east (heading from Invercargill towards Dunedin), so this was the first waterfall we came to, and it instantly became one of my favourite waterfalls in New Zealand.
The waterfall itself is a 3-tiered waterfall that drops approximately 20 metres (66ft) and is surrounded by a lush forest. The well-marked track takes approximately 20 minutes return.
McLean Falls, The Catlins
McLean Falls is another stunning tiered waterfall in the region. I think it's the one that actually impressed me the most. It's spread out over a longer distance, it's a completely different look, despite being close in height to Purakaunui Falls.
McLean Falls drops approximately 22 metres (72ft). The 40-minute trail is mostly uphill with some steps to climb, yet it was still quite easy. We noted the DOC warning to not stop between the rock fall signs in the slip area.
Tips for visiting waterfalls in New Zealand
Dress appropriately: Wear sturdy, waterproof shoes and bring a rain jacket in case of wet weather.
Respect the environment: Stay on designated tracks and follow any rules or guidelines posted at the waterfall site.
Be aware of the weather: Heavy rainfall can cause waterfalls to become dangerous and difficult to access, so check weather conditions before heading out.
Bring a camera: New Zealand's waterfalls offer stunning photo opportunities, so make sure to bring a camera or smartphone to capture the scenery.
Stay safe: Always take care when approaching the edge of a waterfall or swimming in the pool below. Pay attention to any warning signs or advice from park rangers or guides.
Check for closures: Some hiking trails may be closed due to maintenance, seasonal conditions, or recent weather events, so check for any closures or restrictions before visiting.
Take your time: New Zealand's waterfalls are breathtaking natural wonders, so take your time to appreciate the beauty and tranquillity of each location.
Take the Tiaki Promise
Taiki means to care for people and place. The Tiaki Promise is a commitment to care for New Zealand, now and for future generations.
By following the Tiaki Promise, you are committing to New Zealand to act as a guardian, protecting and preserving our home. It is all our responsibility.
Save on your NZ trip with these resources
These are our go-to companies when we travel. We believe this list to be the best in each category. You can't go wrong using them on your trip too.
Flights: we use Expedia for the best and cheapest flight options.
Accommodations: we use Booking.com (hotels), Bookabach (self-contained in NZ) or Hostelworld (budget).
Cars (gas or electric): we use RentalCars to search for deals and dealer ratings.
Motorcycles: we have heard good things about BikesBooking.
Campervans or Motorhomes: we use Campstar where Albom Adventures readers get a 3% discount.
Activity discounts: we check Bookme.com for discounts of up to 70% on activities.
Private guides: we love the private guides at Tours by Locals.
Travel Insurance: while not required, we always opt for travel insurance and start at InsureMyTrip to compare coverage plans.
Check out our travel resources page for more companies that we use when you travel.
Save for later
If you enjoyed this article, please share it on social media and save it for later on Pinterest.
Which are your favourite waterfalls in New Zealand?
Photo Credits:
All photos on this page are either shot by our team and watermarked as such or stock images from Depositphotos.