New Zealand is known for its stunning landscapes and picturesque views, but it should also be known for its unique and fascinating wildlife. Most people are familiar with the kiwi bird, but there are so many other unique animals in New Zealand.
From the endangered Hector's dolphin to the ancient reptile, the tuatara, below we feature 20 unique animals in New Zealand that you've probably never heard of.
We love spotting New Zealand wildlife, have the patience to wait quietly, and have seen most of these unique animals in the wild. Some of them were random spottings; others have ridiculous stories. It's all below.
Importantly, many of these creatures are native and present in the country before the arrival of human settlers. And, possibly as a result of our isolation from other land masses, a significant proportion of these animals are endemic, which means they are unique to New Zealand and found nowhere else in the world.
Due to habitat loss and predation by non-native species, some of New Zealand's native wildlife is currently endangered, making conservation efforts vital to their survival.
20 unique New Zealand animals
Flightless birds: Kiwi, Yellow-eyed penguins, Fiordland Crested penguins, Little Blue penguins, Takahē
Other birds: Morepork, New Zealand wood pigeon, Kea, Tui, New Zealand falcon
Reptiles: Northland green geckos, tuatara
Frogs: Archey's frog
Marine mammals: Maui dolphins and Hector's dolphins, NZ Fur Seal, NZ Sea Lion
Mammals: Lesser short-tailed bat
Insects: Giant weta
Marsupials: Wallaby
Before we get into the details, be inspired…
Birds make up a large portion of the unique animals in New Zealand
New Zealand is home to a variety of unique native bird species, many of which can only be found in the country.
Kiwi bird
A national treasure and a New Zealand icon, the kiwi bird is a unique and fascinating native.
Personally, I find everything about them fascinating, from their tiny wings on a round flightless body covered in shaggy brown feathers to their distinctive long beaks. Nocturnal by nature, they are typically rarely seen in the wild, although commonly spotted on Stewart Island.
Their importance to the country is evident as their image appears on everything from currency to sports team logos.
Impressive conservation efforts have helped some of the species of kiwi thrive. They have brought them back to the main lands and released them in several well-protected parks. I am proud to say that Jeff was part of the ceremony that released Little Spotted kiwi at Shakespear Park many years ago.
Morepork / ruru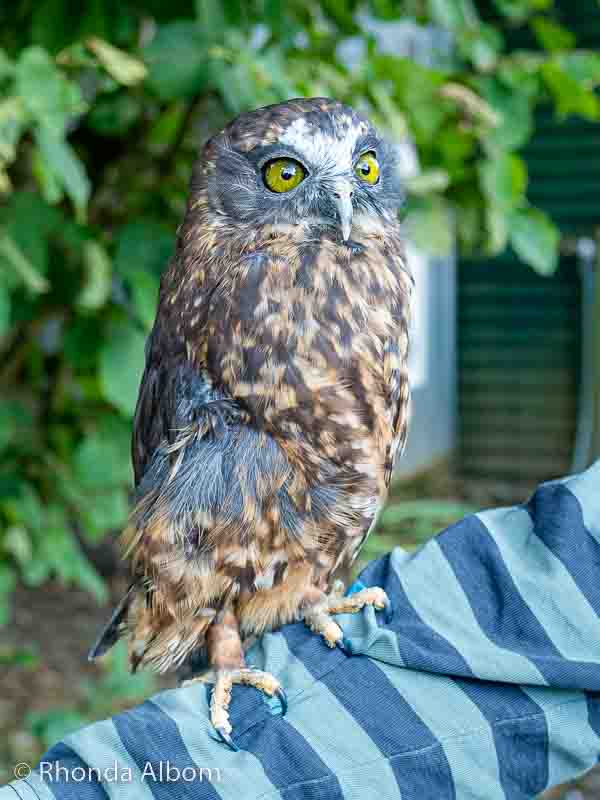 My recent and amazing encounter looking into the eyes of New Zealand's adorable little native owl, the morepork / ruru is the inspiration for writing this today.
This curious bird perched on my arm stared back at me with its big, round eyes. It was an unforgettable moment as I felt a connection with this beautiful creature.
The morepork's call sounds like "more pork" when they vocalize, making it even more endearing. It was a privilege to have this close encounter at Shaw's Bird Park, and it made our day trip to Hamilton even more special.
Penguins
I know what you're thinking; penguins are not unique to New Zealand. Some of them are. In particular, the Fiordland Crested penguin / tawaki and Yellow-eyed penguins / hoiho.
We have been fortunate to see all three species of penguins that nest on the mainland in the wild. If you don't know where to look, check out this guide to where to see penguins in NZ.
Yellow-eyed penguins / hoiho
We saw a yellow-eyed penguin up close and personal just beyond Katiki Point lighthouse on the south island. This unique species, found only in New Zealand, is easily recognizable by the bright yellow band coming from its eyes. These penguins are rare, with only an estimated 4,000 in the wild.
Fiordland Crested penguin / tawaki
Similarly, we hiked out to Monroe Beach on the West Coast and waited quietly and patiently for about two hours before a Fiordland Crested penguin waddled up from the sea, crossed the beach and headed for the bush.
Little Blue pengiun / kororā
The third species found on the land, Little Blue, is the world's smallest penguin species. A native, but not unique to New Zealand. Also known as fairy penguins, these adorable creatures with blue and white feathers stand about 25 cm tall. We have seen them in the wild many times, with my highlight watching a raft of them come home for the evening on the Otago Peninsula.
Takahē
At first glance, the takahē looked like a fat, colourful chicken to me. This flightless bird, once considered extinct, has made a remarkable comeback due to conservation efforts on the islands. Just about every time we head out to Tiritiri Matangi Island, we spot a resident takahē, and we have even seen her with a chick.
They are critically endangered and well protected. We have also been lucky to see takahē at Zealandia in Wellington and Orokonui Ecosanctuary just outside Dunedin.
New Zealand wood pigeon / kererū
With iridescent green and bronze feathers, the kererū is a distinctive bird that is commonly found in the native forested areas of New Zealand. In fact, we see the New Zealand wood pigeon / kererū perched on local trees all the time, yet they always make me smile.
I can't help it. It's their tiny heads on huge bodies that make them one of the unique animals in New Zealand.
Kea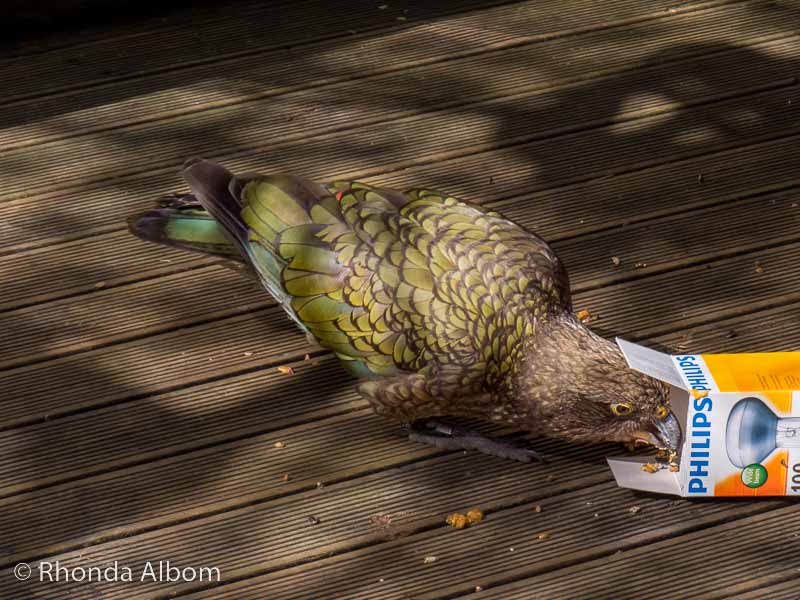 New Zealand's cheekiest bird is also the world's only alpine parrot.
Although beautiful, especially in flight, the kea is well known for attempting to pick the rubber off the car window surrounds, and our car was no exception. Of course, we were too busy shooing it off to stop and take a photo; therefore, I took the photo of the one above at Orana Park in Christchurch.
While they are incredibly intelligent birds, their mischievous behaviour has earned them the title of "clown of the mountains".
Tui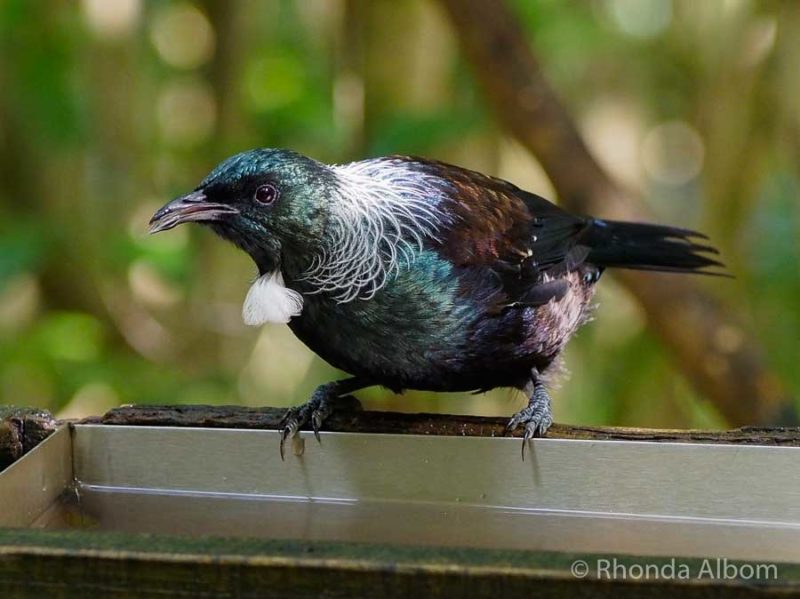 My favourite songbird, the tui, is endemic to New Zealand. With distinctive plumage of iridescent feathers shimmering in a range of greens, purples, and bronze, the bird's most striking feature is a white tuft of feathers just below its head.
Tuis are also known for their acrobatic abilities. They are important pollinators of New Zealand's native flora, and rumour has it that they get drunk from the nectar of the flowers on the Kowhai tree.
New Zealand Falcon / kārearea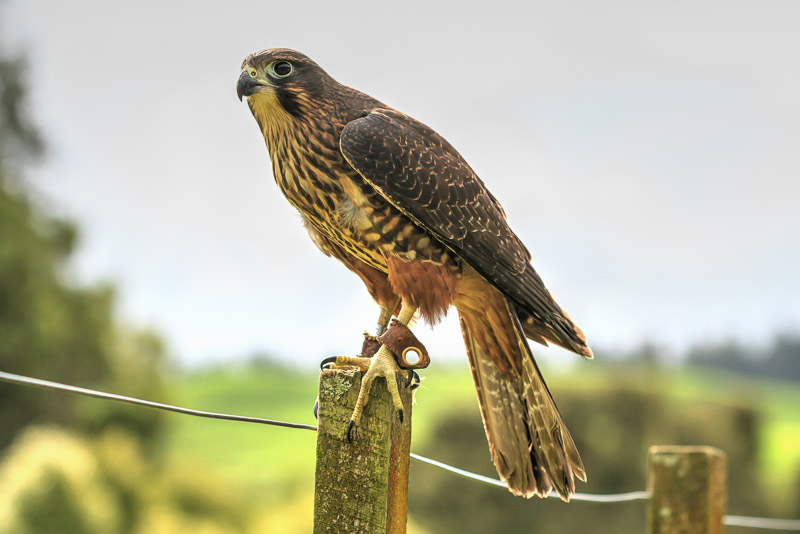 The New Zealand falcon / kārearea is commonly found around the North Island but can also be spotted in some areas of the South Island. A medium-sized bird with a wingspan of up to one metre, they are graceful to watch fly.
These raptors are known for their agility in the air, swooping and diving at remarkable speeds to capture their prey. Despite their active hunting behaviour, the New Zealand falcon is considered to be endangered due to habitat loss and human interference.
Unique animals in New Zealand: Reptiles and frogs
Northland green geckos
These geckos are only found in New Zealand. They have large, triangular-shaped heads, slender bodies, and a striking green colour ranging from light lime green to a darker, almost forest green. Northland green geckos are arboreal, meaning they live in trees, and are typically found in the northern regions of New Zealand's North Island. We believe we have seen them near Driving Creek Railroad in Coromandel.
Tuatara
During our last visit to Zealandia, I had the incredible opportunity to see a tuatara in the wild. An ancient reptile, tuatara has survived for more than 200 million years without major changes. In fact, it's often referred to as the only living relative of the dinosaur. Its spikey appearance and rough texture made it seem almost prehistoric, as does its third eye" on the top of its head, which is used for regulating circadian rhythms.
Archey's frog
The smallest of four frogs endemic to New Zealand, and one that I have yet to see in the wild. However, I have seen one at the Auckland Zoo. This ground-dwelling frog may be the world's rarest and most endangered amphibian.
Unique animals in New Zealand: Marine animals
Māui and Hector's dolphins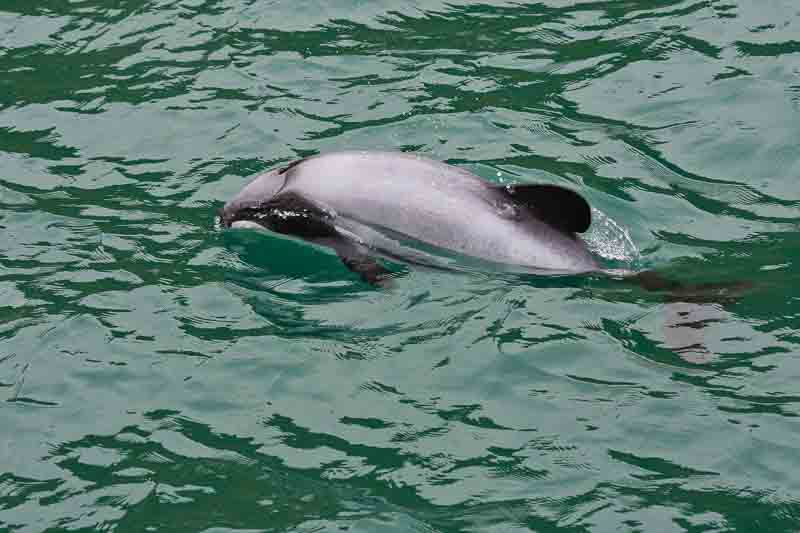 Hector's dolphin
The world's smallest and rarest marine dolphin species are typically found in shallow and turbid waters close to shore on the South Island. These dolphins are characterized by their distinctive black markings around their face and body, with a unique curved dorsal fin. The best way to see these fascinating creatures in their natural habitat is to take a dolphin-watching tour from the Banks Peninsula, Akaroa.
Māui dolphin
Also one of the smallest members of the dolphin family, the Māui dolphin has distinct grey, white, and black markings and significantly shorter snouts compared to other dolphins. Unfortunately, the Maui dolphin is currently an endangered species, and experts predict that less than 60 dolphins are left in the wild. We saw them in the wild in Curio Bay in the Catlins.
New Zealand fur seal / kekeno
Large and beautiful, there is nothing quite like coming around a corner and spotting a New Zealand fur seal basking on the rocks or a pup swimming at the shore. As a former volunteer in a marine mammal hospital, I have worked with many sea lions, yet the thrill of seeing them never goes away. It's always an incredible experience to witness these amazing creatures in their natural habitat.
The New Zealand fur seal is a native species with sleek, black fur and big soulful eyes. We saw the New Zealand native photoed here about 30 minutes after we spotted the yellow-eyed penguins near the Katiki Point lighthouse. It was a great day.
New Zealand sea lion / whakahao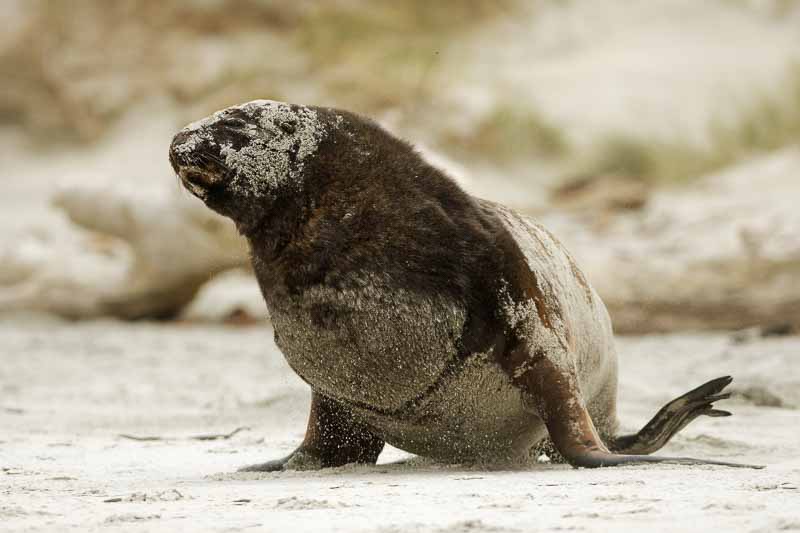 One endemic species that we have yet to see in the wild is the New Zealand sea lion, also known as whakahao. They are the rarest species of sea lion in the world with a total population of only 12,000 individuals.
These seals can be found primarily on the sub-Antarctic Auckland and Campbell Islands and on the south coast of Stewart Island.
They are one of the few species of marine mammals that breed on the New Zealand mainland. However, their breeding colonies are vulnerable to human disturbance and habitat destruction. The New Zealand Government has implemented conservation measures to protect these sea lions, including a fishing exclusion zone around their breeding sites. Despite these efforts, the New Zealand sea lion is still considered one of the most endangered marine mammals in the world.
Three more unique animals in New Zealand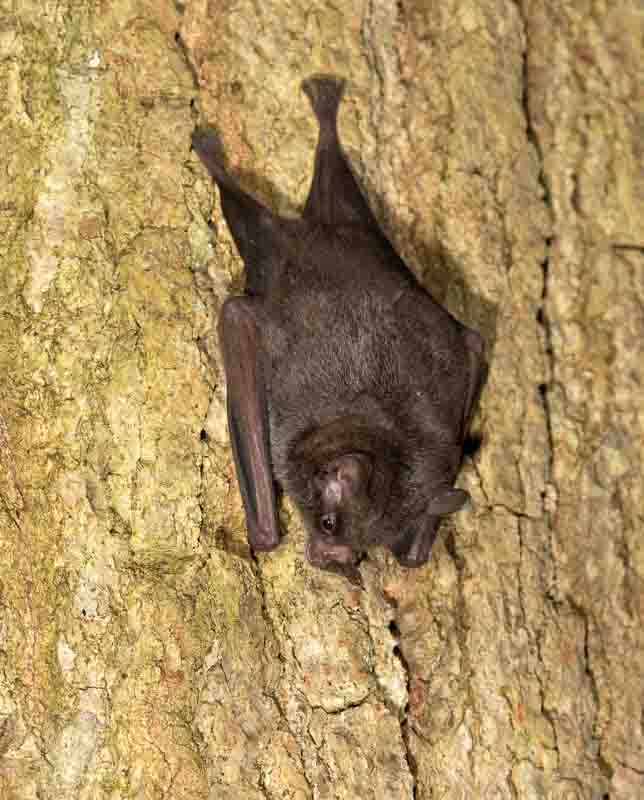 Lesser short-tailed bat
Bats are the only native mammals in New Zealand (excluding marine mammals). Not really a fan, I am pleased to say I rarely see them. However, the native lesser short-tailed bat has earned its place on a list of unique New Zealand animals. Unfortunately, this species has become endangered due to habitat loss, predation, and disease, with only a few populations left.
Giant weta / wētāpunga
I'll admit it, my first encounter with the world's heaviest insect gave me a huge fright. After a few breaths, I took a closer look. At first, I thought it was just a big cricket, but upon closer inspection, I realized it was something entirely different. Its bulging eyes and hairy body made it seem like a creature from another world. Although they have been reintroduced in Shakespear park, the image was in the Waitakere ranges. Despite what I was told, I don't believe it's a giant weta, but rather a smaller variety. I also included a photo of a bunch of cave weta I also came upon unexpectedly, reacting quite similarly.
Wallaby
Wallabies ( look like small kangaroos ), are not New Zealand natives but were brought to Kawau Island by the former Prime Minister, Sir George Grey, in the late 1800s. Today, many people think they shouldn't be here at all. History tells us that Grey also brought zebras and other animals that didn't survive. But these marsupials have made their home on the island. Unfortunately, they move quickly, and by the time I spotted them, they were too far off to get a decent photo. But the memory is imprinted in my mind. I took the image above at the Auckland Zoo.
Report sick, injured or dead wildlife
If you come across sick, injured, or dead wildlife in New Zealand, it is important to take appropriate action while also keeping yourself safe.
Firstly, you should not disturb the animal or attempt to move it. Instead, report it to the Department of Conservation (DOC) as soon as possible. The DOC has a dedicated emergency hotline for such situations, which is available 24/7. Dial the free number 0800 DOC HOT (0800 362 468).
When reporting the situation, make sure to provide your name, location, and a brief description of the animal's condition. Additionally, including your phone number can help the authorities reach you for further information or follow-up. It is crucial to report these sightings to ensure that the DOC can provide the necessary care and support to the affected wildlife.
Importance of conservation efforts
Conservation efforts are crucial to protecting the unique and diverse range of native animals found in New Zealand. The country is home to several iconic species threatened by habitat loss, predation, and other environmental pressures.
These animals play important roles in the ecosystem, acting as pollinators, seed dispersers, and controlling pest populations. Conservation efforts to protect their habitats, reduce threats from introduced predators, and reintroduce them into suitable areas can help prevent these animals from becoming extinct.
Conservation efforts are essential for maintaining the delicate balance of New Zealand's environment and ensuring that future generations can enjoy its natural heritage.
Save on your NZ trip with these resources
These are our go-to companies when we travel. We believe this list to be the best in each category. You can't go wrong using them on your trip too.
Check out our travel resources page for more companies that we use when you travel.
If you enjoyed this article about unique animals in New Zealand, please share it on social media and save it for later on Pinterest.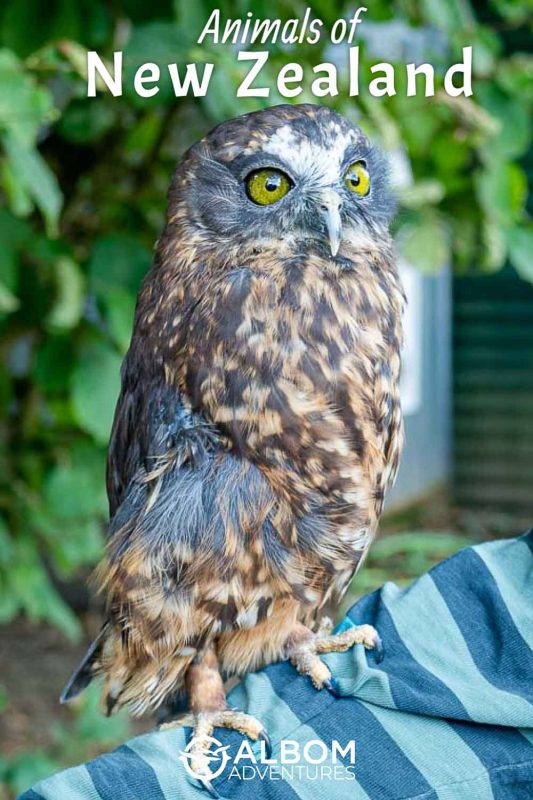 Which of these unique animals in New Zealand are new to you?
Photo Credits:
All photos on this page are either shot by our team and watermarked as such or stock images from Depositphotos.