Tucked up over the city of Wellington is Zealandia, an ecosanctuary reminiscent of the days before humans arrived in New Zealand. A predator-proof fence surrounds the Zealandia sanctuary, creating an "island" within New Zealand's capital city and allowing birds and other native creatures to live wild as nature intended.
Whether you are a nature or history lover, bird watcher, or just a visitor, Zealandia Wellington is a must-see. It is much more than a bird sanctuary, filled with New Zealand flora and fauna (birds, reptiles and insects); it is a paradise a world apart from the city below.
Visitors choose between day and night entry. Each is a unique experience with its own advantages. We have done both and share our thoughts below.
However, you can reserve your ticket now if you already know your choice.
Zealandia day vs night highlights
Before I go into our experiences on each, I thought I would share our summary. First is the bottom line. We loved both options. Zealandia is magical no matter when you visit.
However, if I had to choose only one, I would recommend the night tour for most visitors, as it is one of the most unique things we have ever done.
Zealandia daytime visit
Advantages of a daytime visit
Option for a 2-hour guided tour or general admission pass allowing self-guided walks through the grounds.
Birds you might see during the day: Takahē, tui, Kākā, Kākāriki, Saddleback, Whitehead, Kererū, Hihi, Bellbird
Also, you might see tuatara and wētā
Small groups with a maximum of 12 people per tour.
No minimum age.
There is a free shuttle to Zealandia during the day.
Disadvantages of a daytime visit
You miss the opportunity to see and hear the nocturnal animals
You must leave the park by 5pm in the summer, 4.30 after May 1.
Zealandia night visit
Advantages of a night visit
Guided 2.5-hour tour.
About 80% of night tours see at least one of Zealandia's 150 little spotted kiwi birds.
Other birds you might see include: morepork, Pāteke, Takahē and Kākā
Other night creatures, you might see include: wētā, glow worms, Maud Island Frog, and tuatara
Special lights are provided to each participant.
End the tour with a cup of hot kawakawa (bushman's tea)
Small groups with a maximum of 12 people per tour.
Disadvantages of a night visit
No option for self-guided entry
For families, the minimum age is 12.
No shuttle option at night.
More expensive
Requires more planning and pre-booking as it frequently sells out.
The Zealandia Cafe (Rātā Cafe) is closed at night. However, the gift shop remains open.
Zealandia night tour – our experience
Setting out at dusk, we got to watch the forest transition to nighttime.
As the nocturnal creatures awaken, Zealandia by night becomes a different place. Like walking through an enchanted forest, the sights and sounds of the park at night were intriguing.
Every night is different. Our extremely knowledgeable guide had a keen eye for spotting wildlife, and she could identify bird calls for us, a skill I simply don't possess on my own.
But more important to our wonderful evening was her passion for wildlife, conservation, and the entire ecosystem that surrounded us.
Highlights of our Zealandia night tour
Red light torches are provided to all tour participants. The red light allows us to see without affecting our night vision and does not disturb the animals.
After watching a short film, we headed into the sanctuary with torches (flashlights). Our Zealandia night tour's first stop was a beautiful vantage point looking out over much of the ecosanctuary.
Then we continued our amazing walk. Some of the highlights included spotting Tui, kaka, pied shags, North Island robins, kereru (wood pigeon), and Takahe. We also heard the morepork owl's call and six kiwi birds' calls, although we didn't see any that night.
Our guide also pointed out eels, reptiles, insects like the tree weta, stick insects, several species of spiders, and various native plants.
Zealandia eco-sanctuary by day
Our daytime visit was a few years ago, but little has changed since then as Zealandia's conservation project is a 500-year vision for full regrowth to a self-sustaining ecosystem as it was before human inhabitants.
Zealandia is still one of my favourite places to visit in Wellington.
In addition to the eco-sanctuary, access to the educational exhibition hall (created by the designers of the LOTR Exhibition) is included in your entrance fee.
For me, the guided tour really brought the park to life. Just like at night, without the passionate guide, I wouldn't have seen nearly as much as I did.
Our guide identified both plant and animal life.
She pointed out rare and endangered species as well as more common ones like the Silver Fern, a national symbol of New Zealand that is identified by the green upper and silver underside leaves.
We walked along the gentle sloping tracks. Sometimes she spoke, other times in silence that was frequently interrupted by songbirds.
The crisp, fresh air makes it difficult to remember that this Wellington sanctuary is only 10 minutes from the city centre.
Before we left, she even showed us an entrance into the abandoned mine which is now home to the cave wētā., but I am not sure this is currently included in daytime tours.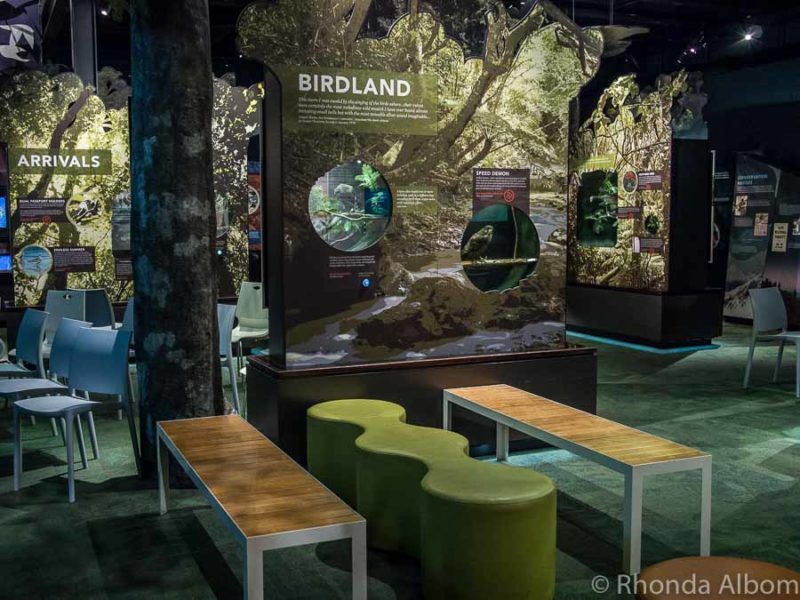 A few of the inhabitants of Zealandia Wildlife Sanctuary
Some of the animals we saw that are photoed below include:
This shag and baby in a nest are some of the many NZ native birds found here.
Reintroduced to Zealandia in 2002, the kākā had effectively been extinct in Wellington since the early 20th century. It is a North Island bird and is related to the alpine parrot, kea. Often heard before seen, kākā makes a somewhat screechy sound which you can hear here.
The critically endangered takahe.
I saw a saddleback at Zealandia, up in the trees. I could see either head or body, but never both, so this photo is from the Zealandia media pack.
This is the first tuatara I have seen outside of an enclosure. I could clearly see the spines on his back without the glass that usually separates us at other locations.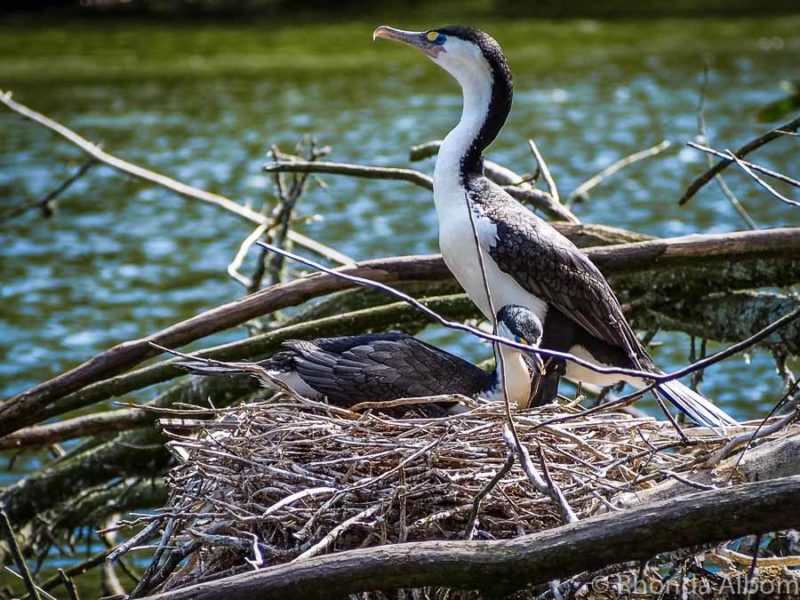 Getting to Zealandia in Wellington
The Zealandia entrance is at 53 Waiapu Road.
There is a small parking lot on site. We found the Zealandia free shuttle very easy to use for our daytime visit. Plus, the cable car stops nearby.
About 500 active volunteers and 50 staff members support this wildlife sanctuary.
Zealandia is formerly known as the Karori Wildlife Sanctuary.
General tips for visiting the ecosanctuary
Allocate a minimum of two hours for your visit. Nature lovers could easily spend the entire day.
Regardless of when you visit, wear comfortable walking shoes. The main trail is a gentle grade and very easy to navigate. However, it is unpaved, so the ground can be uneven. If you are into tramping, there are more difficult trails that recommend walking boots. They also have a wheelchair-accessible path.
Bring a drink bottle and a jumper (jacket) as the Wellington weather is unpredictable. Note that the tours run in all weather
Twilight tours and Kids' night walks (school holidays) are for children as young as 5 years old.
Can't get to Wellington – Check out these options
While Zealandia is truly special, it's not the only fabulous eco-sanctuary in New Zealand. In fact, we have been to two others that remind us of Zealandia while we were there.
Just outside of Dunedin is Orokonui Ecosanctuary a self-sustaining ecosystem supporting many rare and endangered native plants and animals, particularly many of the South Island native species.
In the Auckland region, there is the island of Tiritiri Matangi. Now an open bird sanctuary island, it is home to many of the same native species.
Similarly, two of the Auckland regional parks now have predator-proof fences, thus creating open bird sanctuaries. These are Shakespear Park at the end of Whangaparaoa Peninsula and Tāwharanui Regional Park a bit farther north and east of Warkworth.
Save on your NZ trip with these resources
These are our go-to companies when we travel. We believe this list to be the best in each category. You can't go wrong using them on your trip too.
Check out our travel resources page for more companies that we use when you travel.
Save for later
If you enjoyed this article, please share it on social media and save it for later on Pinterest.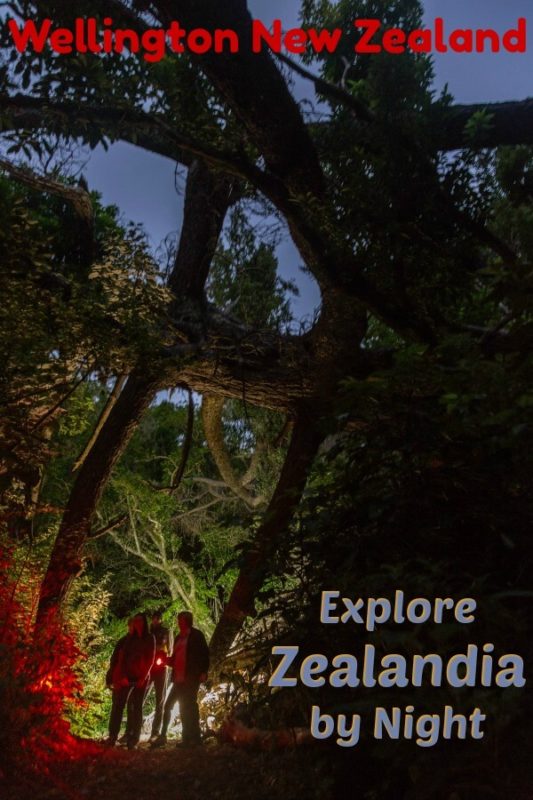 Will you take the Zealandia day or night tour?
Disclaimer: I was a guest of Zealandia for the purposes of writing this article. The opinions expressed here are strictly my own.