Tucked up over the city of Wellington is Zealandia, an ecosanctuary reminiscent of the days before humans arrived in New Zealand. A predator-proof fence surrounds the Zealandia sanctuary, creating an "island" within New Zealand's capital city and allowing birds and other native creatures to live wild as nature intended.
Whether you are a nature or history lover, bird watcher, or just a visitor, Zealandia Wellington is a must see. It is much more than a bird sanctuary, filled with New Zealand flora and fauna (birds, reptiles and insects); it is a paradise a world apart from the city below. Entry options are either daytime or at night, each a unique experience. We have done both, taking a Zealandia night tour earlier this month (April 2018) and a day visit in 2016.
→ Get Tickets for daytime visits or Tickets for a Night Tour at Zealandia
Zealandia Night Tour
As the nocturnal creatures awaken, Zealandia by night becomes a different place. A knowledgeable guide led our tour, and she identified bird calls as well as spotting them. Tui, kaka, pied shags, North Island robins, kereru (wood pigeon), and takahe are amongst the birds we saw. We heard the call of the morepork owl and six calls of kiwi birds.
Our guide also pointed out eels, reptiles, and insects like the tree weta, stick insects, and several species of spiders, as well as the various native plants.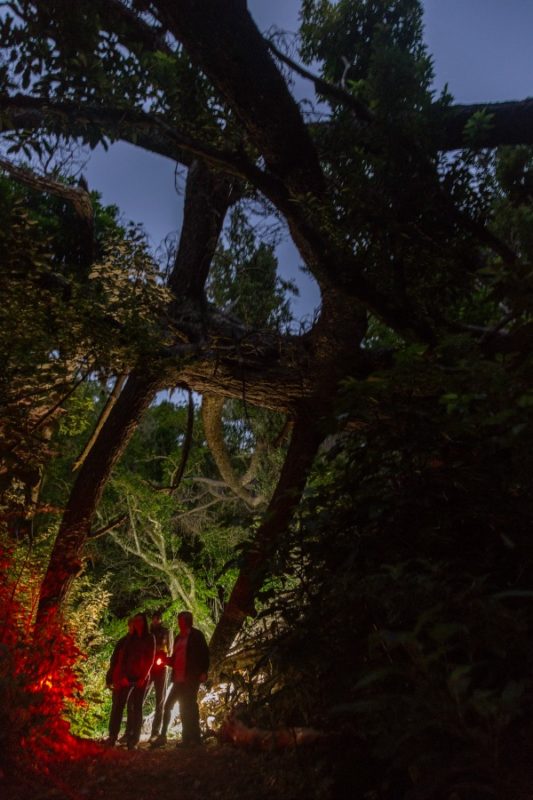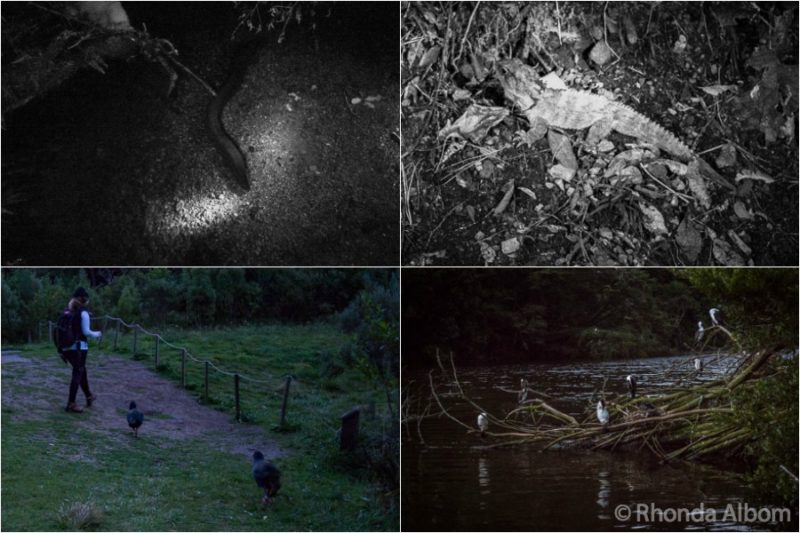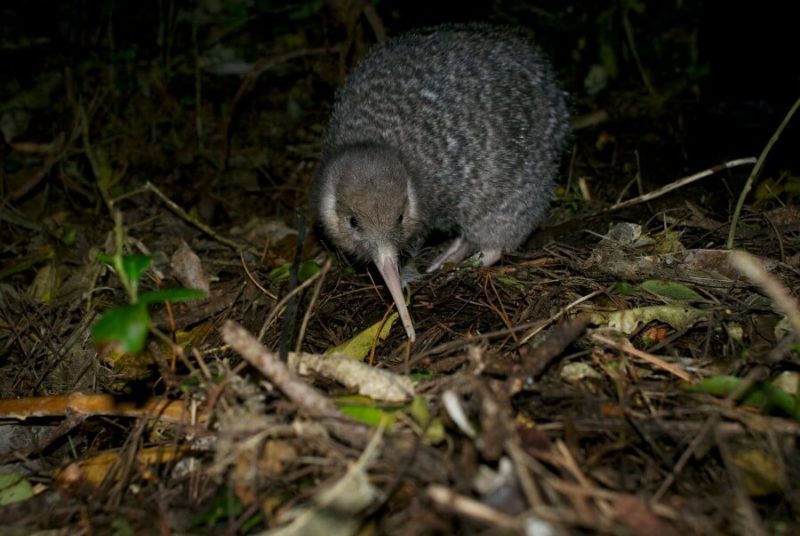 If you want to see kiwi birds foraging around in the scrub, check out the video on this article on Stewart Island.
Practical Information and Tips on Visiting Zealandia by Night
Zealandia by Night tours are small groups of not more than 12 people, and often sell out in advance.
→ Check Pricing and Get Your Night Tour Tickets
The Zealandia night tour is 100% guide led (as opposed to the daytime entry where you can roam around the park at your leisure).
The tours run in all weather, so dress in layers, and remember the weather will cool down as the evening progresses.
Sturdy shoes are a necessity as sections of the trail are unsealed or have gentle slopes. We found the walk to be comfortable (and fascinating).
Our guide was extremely knowledgeable about the wildlife and native plants, as well as the sounds and smells of Zealandia by night. She made the tour fun and exciting, and handled a somewhat difficult situation quite well.
Please note that the minimum age for children on the Zealandia by Night tour is 12 years old. We request that families respect this park rule. Unfortunately, during our time in the ecosanctuary, our tour group included a family insistent on bringing their noisy under-age children, which was distracting for other guests and disruptive to attempts to spot a kiwi bird.
Twilight tours and Kids' night walks (school holidays) are for children as young as 5 years old.
The night tour also includes day entry, which can be used the following day.
The Zealandia Cafe (Rātā Cafe) is closed at night, but the gift shop remains open.
Zealandia Ecosanctuary by Day
Our daytime visit was in 2016, but little has changed since then as Zealandia's conservation project is a 500-year vision for full regrowth to a self-sustaining ecosystem as it was before human inhabitants. It's still one of my favourite places to visit in Wellington
In contrast to the Wellington Zoo where the animal enclosures are created for our viewing, at Zealandia, we follow trails through the bush, and the New Zealand native animals are free. There are no large indigenous mammals in the country. In fact, NZ's only native mammal is the bat.
As we walk along the gentle sloping tracks, the silence is frequently interrupted by songbirds. The crisp, fresh air makes it difficult to remember that this Wellington sanctuary is only 10 minutes from the city centre.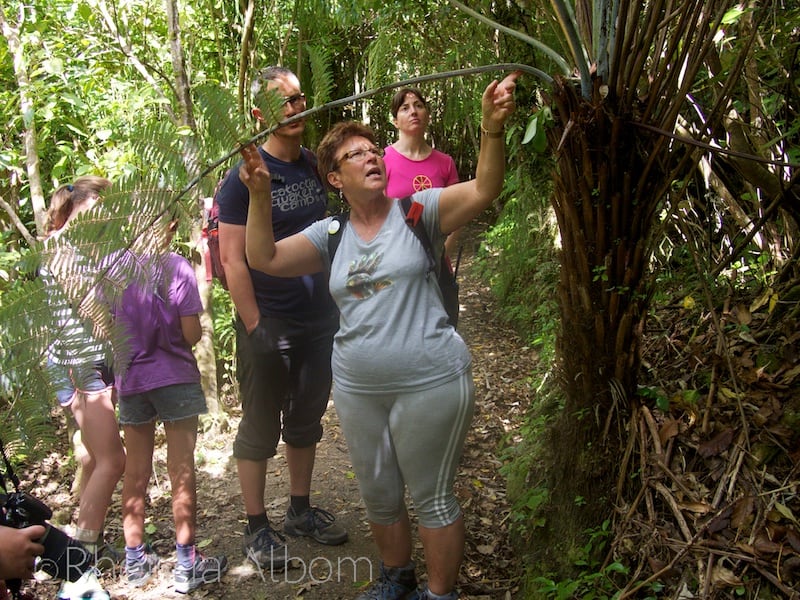 Zealandia reminds me of the Auckland island of Tiritiri Matangi, a sanctuary island close to our home with many of the same native species. However, Zealandia also offers a fascinating and educational exhibition hall (created by the designers of the LOTR Exhibition), an opportunity for a boat ride down the river, or entrance into the abandoned mine which is now home to the cave wētā.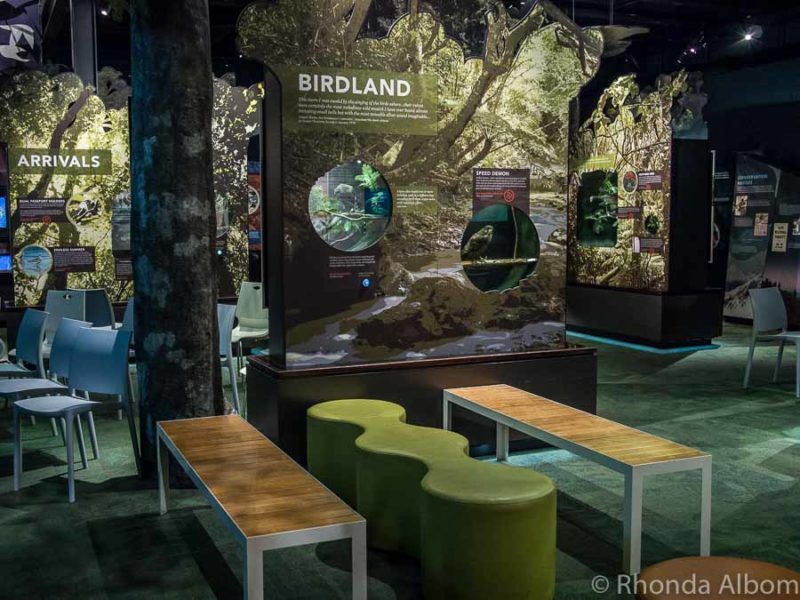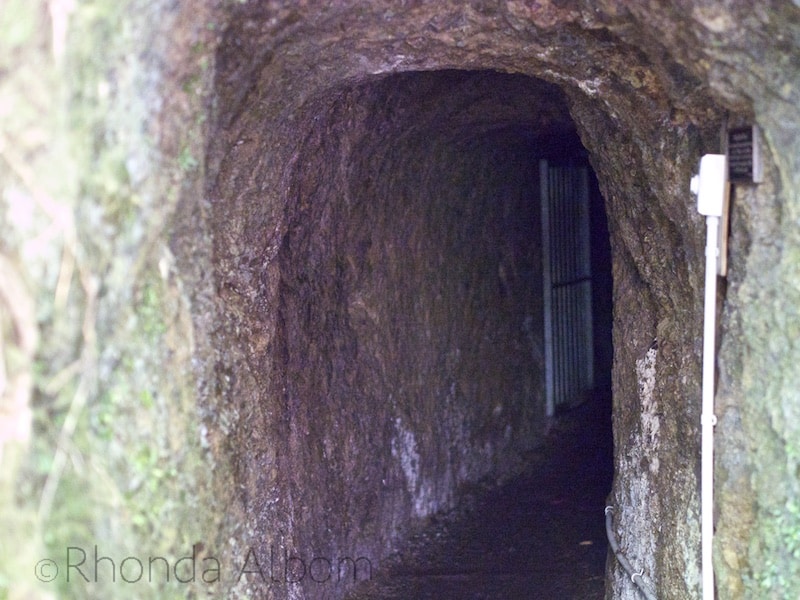 A Few of the Inhabitants of Zealandia Wildlife Sanctuary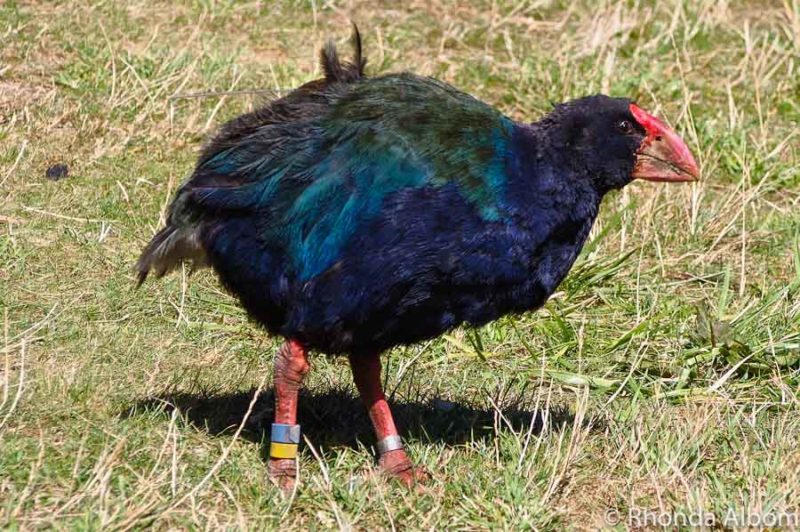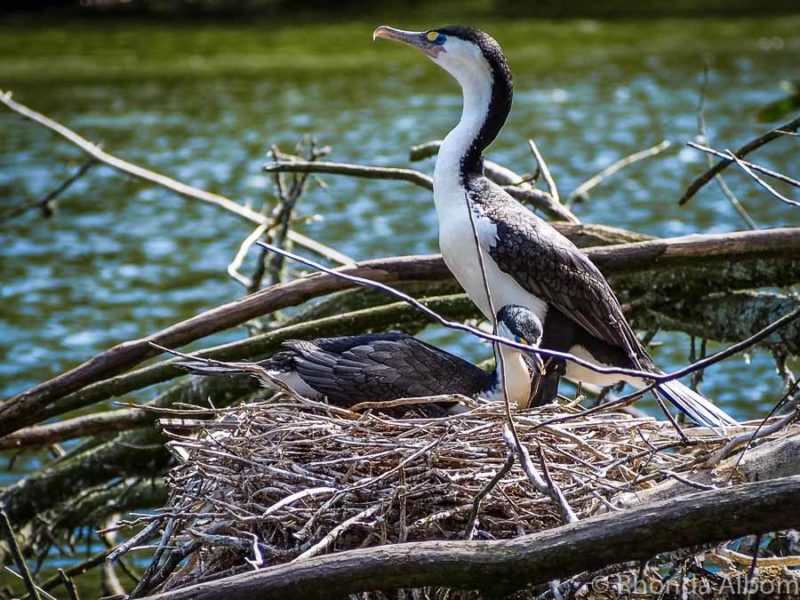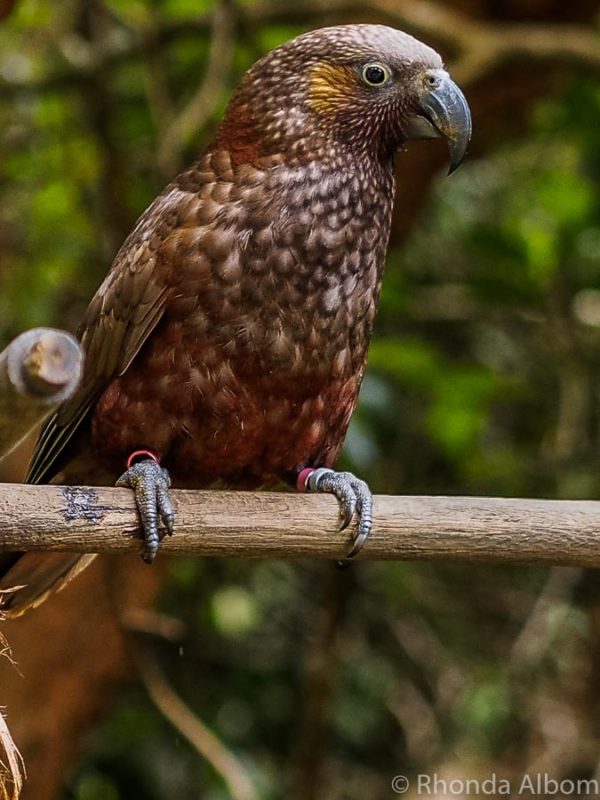 Often heard before seen, Kākā make a somewhat screechy sound which you can hear here.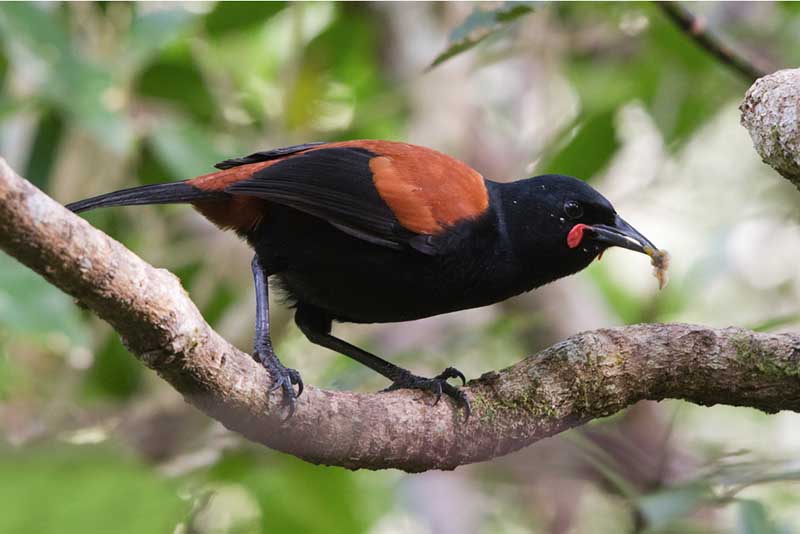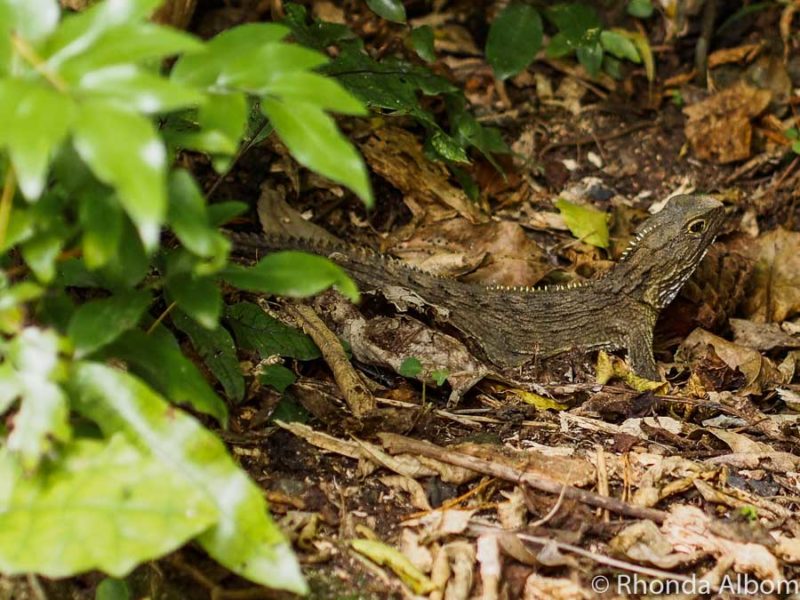 Practical Information and Tips for Visiting the Ecosanctuary by Day
Getting here is easy, as they offer a free Zealandia shuttle from downtown or the top of the cable car during the day.
If you opt for a daytime visit, we highly recommend taking one of the hourly tours.
Allocate a minimum of two hours for your visit. Nature lovers could easily spend the entire day.
Wear comfortable walking shoes. The main trail is a gentle grade and very easy to navigate. However, it is unpaved, so the ground can be uneven. If you are into tramping, there are more difficult trails which recommend walking boots. They also have a wheelchair accessible path.
Bring a drink bottle and a jumper (jacket) as the Wellington weather is unpredictable.
Please Share
If you enjoyed this article, please share it on social media, starting with pinning one of these on Pinterest: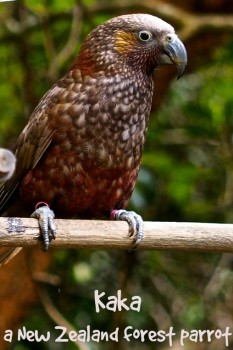 General Information on Zealandia Sanctuary
The Zealandia entrance is at 53 Waiapu Road.
There is a small parking lot on site. For our daytime visit, we found the Zealandia free shuttle very easy to use.
About 500 active volunteers and 50 staff members support this wildlife sanctuary.
Zealandia offers either day or night time entry. The cost is as different as the experience. Night entry includes a guided tour with the high possibility of seeing kiwi birds, eels and other nocturnal creatures.
→ Get Tickets for daytime visits or Tickets for a Night Tour
Zealandia is formerly known as the Karori Wildlife Sanctuary.
Check their official website for current Zealandia prices and hours.
Read Next: Enjoy an Auckland to Wellington Drive with These Stops
Day or Night, when will you visit Zealandia Ecosanctuary in Wellington?
Disclaimer: Jeff and I were guests of Zealandia. The opinions expressed here are strictly my own.