The variety of things to do in Dunedin New Zealand is only surpassed by the city's varying reputations. Depending on who you are, the city's name will conjure up different images. Horticulturists think of the city's many gardens.
University students either know it for exceptional educational opportunities or as the country's party capital. People of Scottish descent think of Dunedin as a far away bit of home. The wildlife fascinates zoologists, while ornithologists know it as a home to many rare and endangered birds. Photographers appreciate the city's overall beauty.
Dunedin's Scottish roots influence education, religion, and local colour, but its natural beauty is what makes this city so special. An ever-changing landscape filled with rare and endangered wildlife kept us enchanted, while we soaked in some of the history and feasted on the culinary excellence.
Dunedin is home to the world's steepest street, rarest penguin, and a plethora of claims to fame. A former gold rush destination, Dunedin was once New Zealand's largest city by population.
Today, it stands at number 5, with Auckland as the largest. Dunedin is worth a visit.
Trending on Albom Adventures
Some links on this page can save you up to 70%. We earn from qualifying purchases through partnerships or affiliate programmes.
Things to Do in Dunedin: Nature
Dunedin Botanic Garden
Beautiful and seemingly endless, the Dunedin Botanic Garden is free to explore. Covering 30 hectares, it offers a variety of flora and fauna in a tranquil and relaxed setting. It is a garden of international significance. Established in 1863, it has been in its current location since 1867.

Claim to Fame: New Zealand's first Botanic Garden.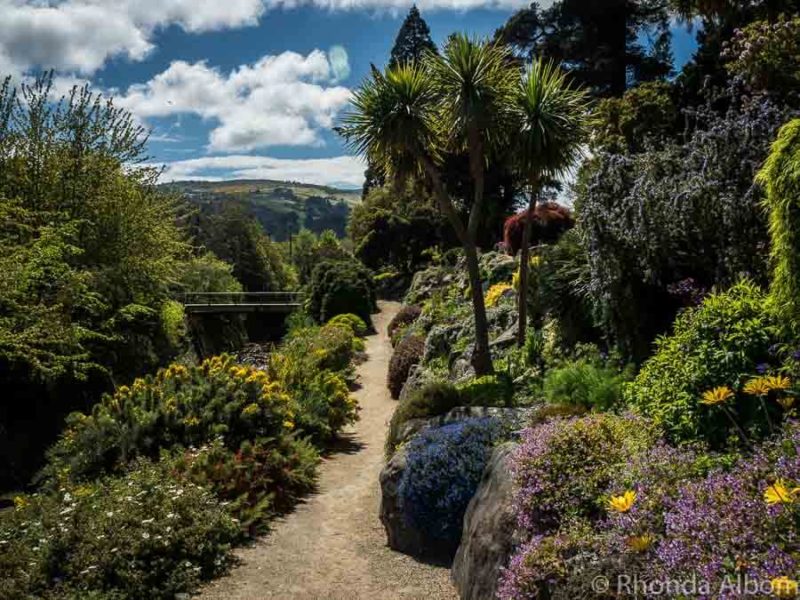 Dunedin Chinese Gardens
Built entirely in Shanghai China, it was carefully deconstructed, transported, and reconstructed in New Zealand. Attention is paid to every detail. It's a true place of tranquillity as well as being one of the city's youngest gardens, opening in 2008. It is the only authentic scholar's garden in the southern hemisphere. Of all the gardens we visited, the Dunedin Chinese Gardens were my favourite.

Claim to Fame: First authentic Chinese Garden in the Southern Hemisphere, and the only one in New Zealand.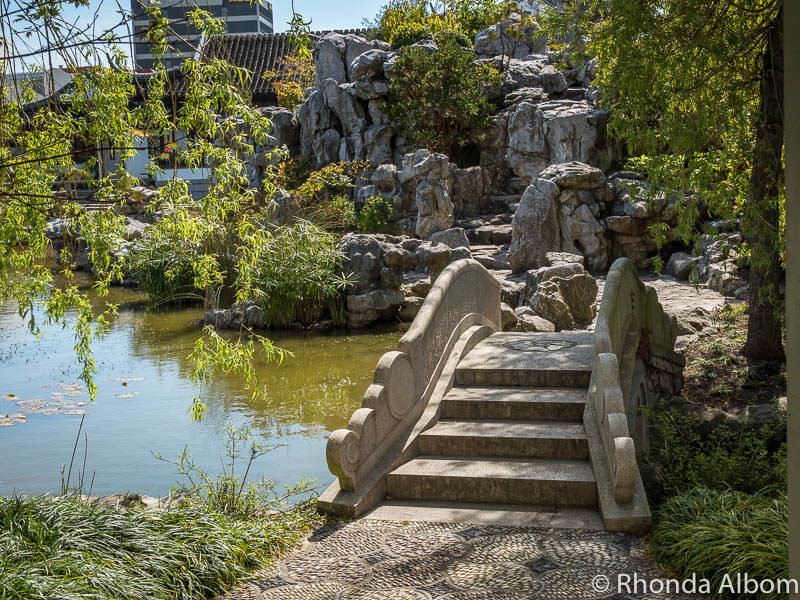 Orokonui Ecosanctuary
Orokonui Ecosanctuary is a self-sustaining ecosystem supporting many rare and endangered native plant and animals. It's a wildlife reserve comprising over 300 hectares of coastal Otago native forest surrounded by a predator-proof fence. Self-guided walking trails allow visitors to explore at their own fitness level. The signposted trail options range from wheelchair-friendly to a steep and uneven loop that takes 3 hours to complete.
We took a guided tour and found it to be the ideal way to learn more about the flora and fauna, and more importantly, to spot things we would have otherwise missed. Orokonui Ecosanctuary is home to many native species. As nature is unpredictable, each visit will be different. We saw several endangered and protected residents including the Otago skink, the tuatara, and the South Island Robin. We didn't see (but know they are there) the Takahe, kea, or kiwi bird. One wouldn't expect nocturnal kiwi birds to be out during the daytime. Several species endemic to New Zealand seemed to be flourishing as we enjoyed watching Bellbirds, Tui, Fantails, blackbirds, and even a Rifleman.
Orokonui Ecosanctuary has succeeded in their vision to create a place where "people can enjoy a peaceful encounter with nature, and from which they may take recreation, refreshment, new knowledge, new skills, and a new commitment to conservation." The ecosanctuary is about 25 minutes north of Dunedin. It reminds me of three North Island locations: Zealandia in Wellington, TiriTiri Matangi Island outside of Auckland, and Shakespear Regional Park in Whangaparaoa.

Claim to Fame: Has New Zealand's largest tree, an 81m tall Eucalyptus regnans (an Australian native).
Taieri Gorge
Spectacular scenery surrounded us as we enjoyed a train trip through the 45 kilometres-long Taieri Gorge. Round trip from Dunedin, we travelled on tracks laid between 1871-1891. The ever-changing scenery held my interest for the entire four-hour adventure, much of which I spent on the outdoor platform with my camera. We passed through 12 tunnels, over countless bridges including the Wingatui Viaduct, the largest wrought iron structure in New Zealand.

Claim to Fame: One of the world's great train trips.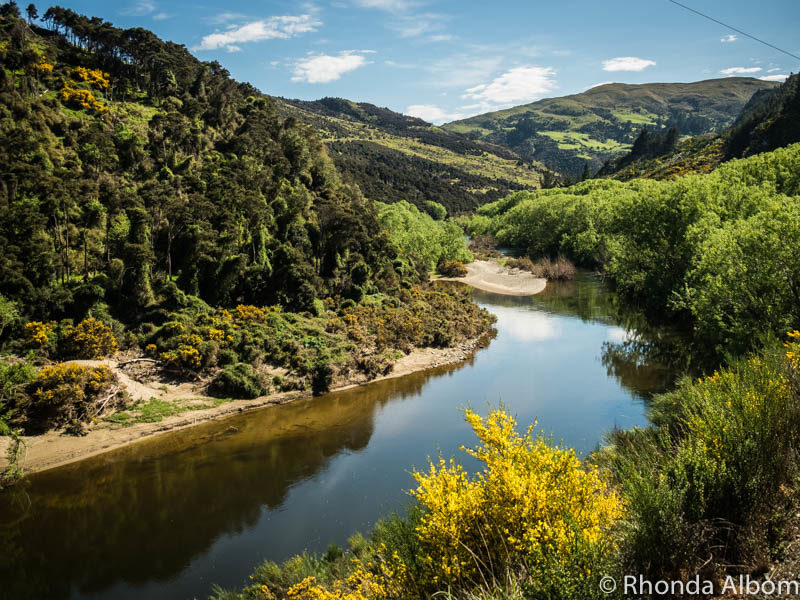 Things to Do in Dunedin: History
Toitū Otago Settlers Museum
This free to enter museum takes you through the social history of the Otago region from the first settlers (Kai Tahu) and their ancestors to the European settlement and then to the present day. The exhibits highlight the changes in the character, culture, technology, art, fashion, and transport of the region.

Claim to Fame: New Zealand's most modern and innovative museum of social history.
Otago Museum
Our quick run through the Otago Museum was not nearly long enough to appreciate all that it has to offer. It is clearly one of the better museums in the country. It covers a broad base of collections from Victorian taxidermy animals to geological history. The top floor is original and intact to tell the story from the beginning. There are several "cabinets of curiosity" filled with a grab bag of things to observe. Allocate at least half a day.

Claim to Fame: One of the largest museum collections in New Zealand.
Perpetual Guardian Planetarium
The planetarium offers six shows daily, including a live show, similar to the one at Stardome in Auckland. Unfortunately, we ran out of time before we had a chance to visit here.

Claim to Fame: World's southernmost planetarium.
New Zealand Sports Hall of Fame
Shh, don't tell anyone, but the truth is I don't follow very many sports (only America's Cup). Therefore, we didn't visit this commemoration of New Zealand's greatest sporting triumphs. But, if you are a sports fan, it should be high on your list. It is located inside the Dunedin Railway Station.

Claim to Fame: New Zealand's only sports Hall of fame.
Things to Do in Dunedin: Wildlife
Royal Albatross Centre
Even if you are not a bird lover, you will be mesmerized watching the Royal Albatross glide through the sky on their three-metre wingspan. Or, visit at dusk and watch a breeding colony of penguins return home for the evening. We opted to do both and seeing one of the world's largest flying birds and the world's smallest penguin within a few hours of each other was magical. Conservation and preservation is the number one goal here, and the tours protect the wildlife while being informative and delightful.
Located on Taiaroa Head at the end of the Otago Peninsula, it is accessible via car or as one of many stops within this tour (check for discounts).

Claim to Fame: Taiaroa Head is home to the world's only mainland breeding colony of the Northern Royal Albatross.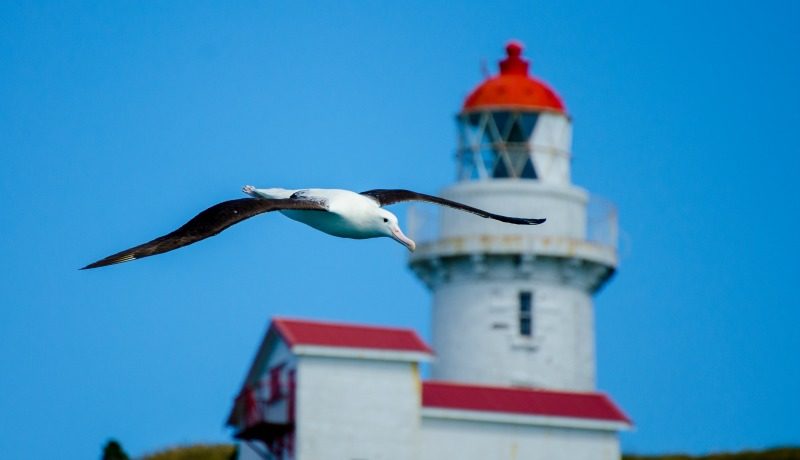 Penguin Place
We can't do it all on a single trip, and we visited Penguin Place ten years ago. It is a private conservation reserve built with a series of covered trenches that allow visitors to remain hidden while observing the endangered yellow-eyed penguin, many in nesting boxes, built in their natural habitat. The money collected from tickets helps the penguins.

Claim to Fame: World's first entirely tourism-funded conservation programme.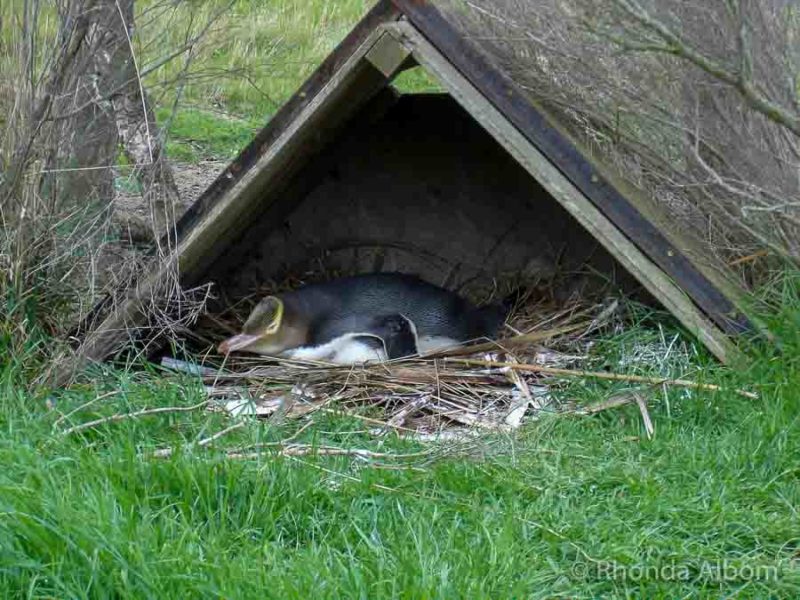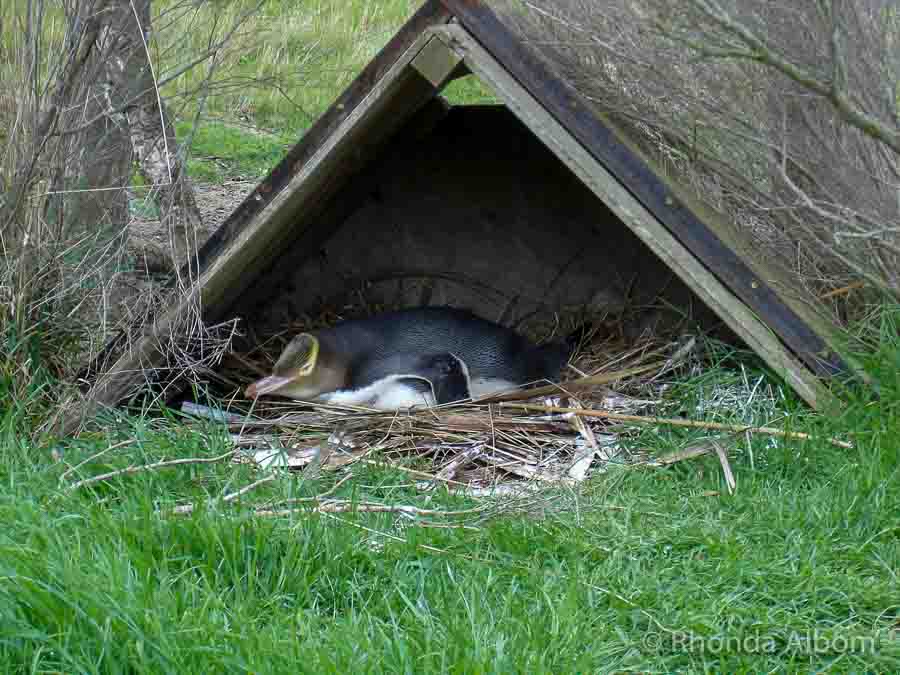 Things to Do in Dunedin: Architecture
Dunedin Railway Station
Built in the Renaissance Revival style and nicknamed the Gingerbread House, the Dunedin Railway Station is aesthetically pleasing from both the inside and the exterior. It is the city's fourth railway station and was designed by George Troup earning him the nickname "Gingerbread George". See more of my photos here.

Claim to Fame: Most photographed building in New Zealand.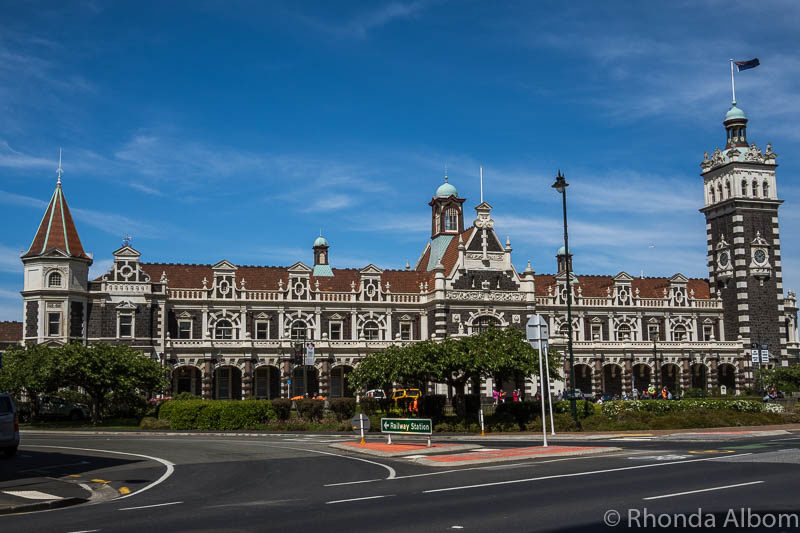 Otago Boys High School
An in-session boy's secondary school, a visit here is just to admire the Gothic revival architectural style of the building. It cost £14.800 to build and opened in 1885.

Claim to Fame: One of New Zealand's oldest boys' secondary schools.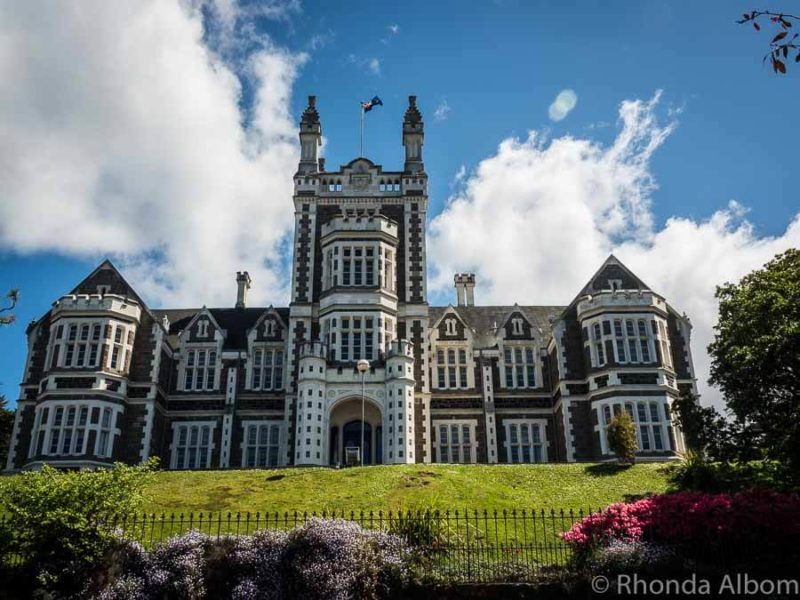 St. Paul's Cathedral
Standing tall and overlooking the Octagon (centre of town), St Paul's Cathedral looks more like a European cathedral than one I would expect to find in New Zealand. Entering, the stained glass and wooden details confirm my deja vu. Construction on this cathedral began in 1919, and it replaced the first parish church of St Paul built in 1862-63.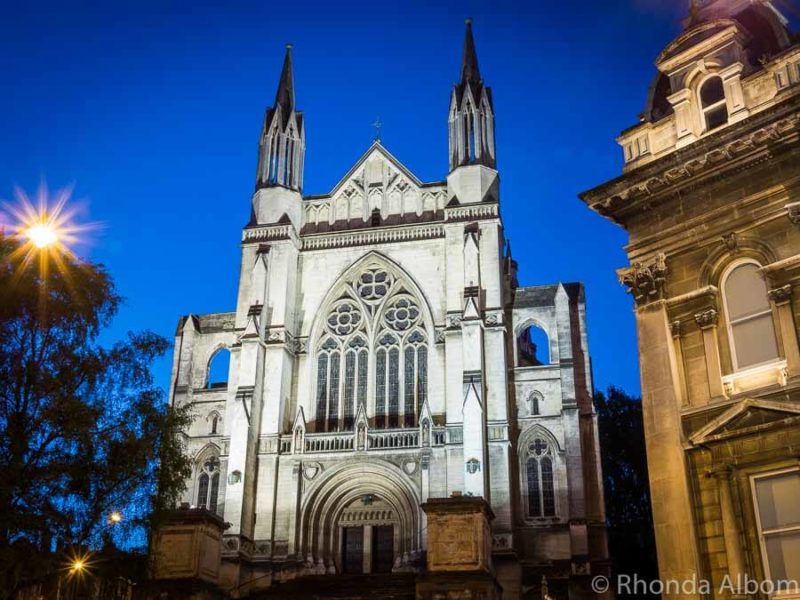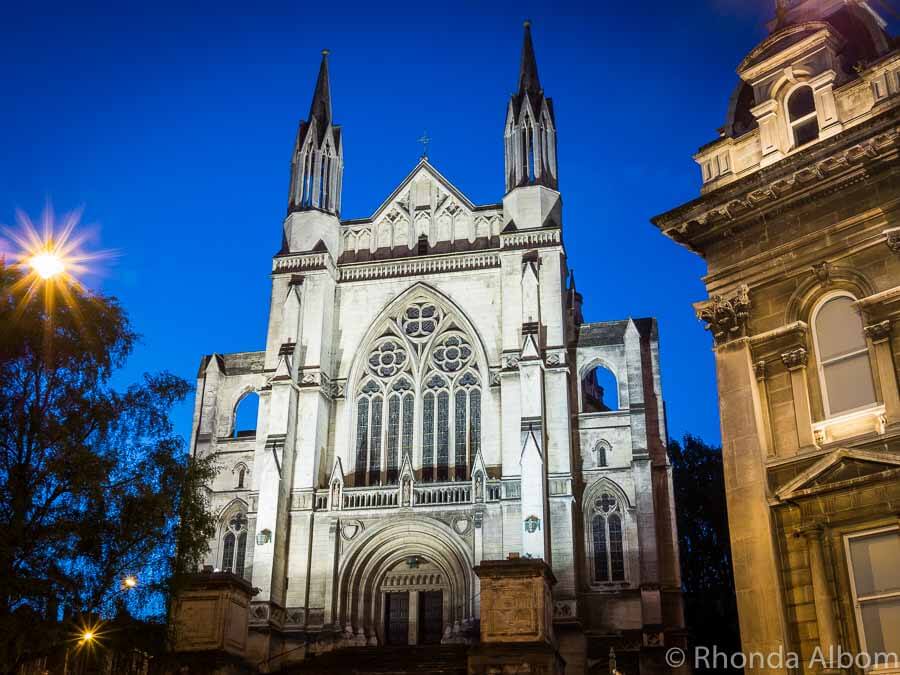 Things to Do in Dunedin: Estate Homes and Gardens
Larnach Castle
This masterpiece on the Otago Peninsula is privately owned by the Barker family who generously share it with New Zealand's citizens and visitors. It is a mock castle (an estate house built after the 16th century), built by William Larnach beginning in 1870. Over 200 workers spent three years building the shell, while the detail took 12 additional years. It was once destined to become the finest home in Australasia. Through a series of events, it was left abandoned. Now, restored to its original glory, Larnach Castle Dunedin is open for self-guided tours. Be sure to climb the steps to the tower to enjoy expansive views. We, unfortunately, had a foggy day.
I think it is the fabulous gardens that are the real draw here. Once overgrown and hidden, it took extensive work to restore them. Now, they are a treasure, a peaceful walking destination with secret surprises around every corner. Segmented into ten garden areas, they range from flowers to rainforest, from open and playful to a shaded elegance. Man's creativity compliments nature's beauty. If you need transportation or prefer a guided tour:⇒ Click for information on a tour of Larnach Castle originating in Dunedin city.

Claim to Fame: New Zealand's only castle.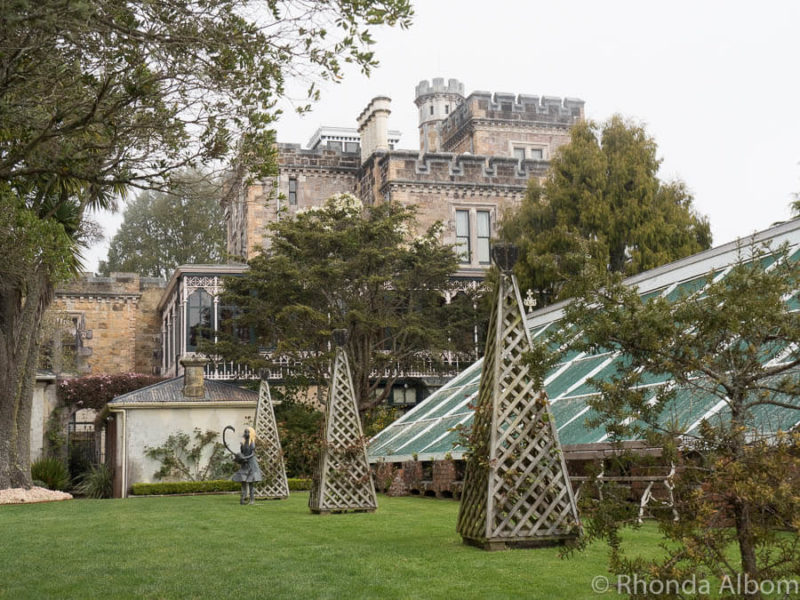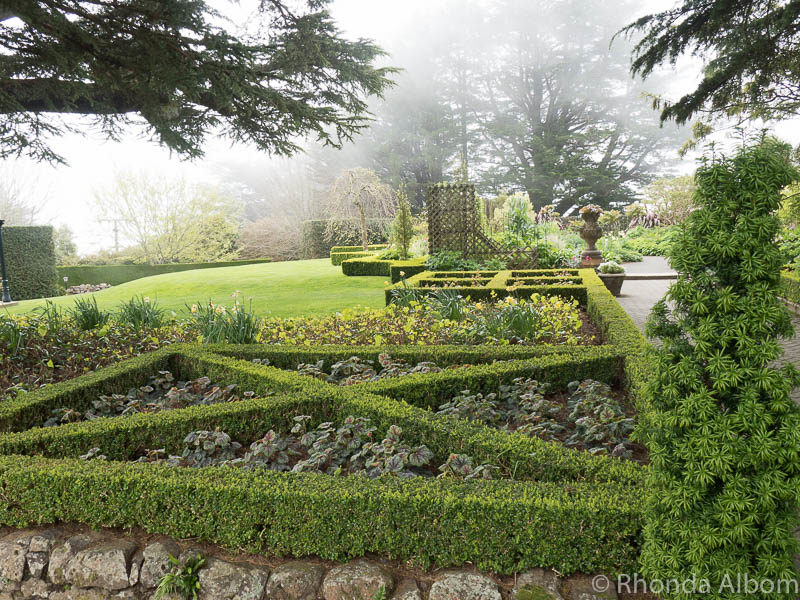 Olveston Historic Home
The Olveston home is a look at the lifestyle of the wealthy in the early 1900s. An original and virtually unchanged home filled with fine art, it is often called an "aesthetic delight". The gardens cover 4 hectares. The heirs of David Theomin (the original owner) gifted the house to the City of Dunedin in 1966. Visits are by guided tour only. Unfortunately, we ran out of time before we had a chance to visit here.
Things to Do in Dunedin: Chocolate
Cadbury World Cafe
UPDATE: Cadbury World and Cadbury World Cafe are Closed
Cadbury World Cafe was home to what has to be the world's best hot chocolate. It was so good that despite our tight schedule we went back a second time. Imagine your favourite Cadbury flavour as a smooth cup of liquid perfection. Think beyond traditional Dairy Milk. I ordered a Pinky hot chocolate, while Sarah had a Turkish Delight, and Jeff enjoyed Jaffa. All that rich creamy goodness was topped off with a syringe of marshmallow and cups of our favourite toppings.
The cafe serves much more than just hot chocolate. Of course, they have cafe mocha, and coffee, plus a full counter of both savoury and sweet options. Sandwich and salad combinations change frequently and are made on-site from fresh ingredients. And, if you can't get to Dunedin, you can treat yourself at home with one of these free Cadbury recipes.

Claim to Fame: New Zealand's only Cadbury themed cafe.
Cadbury World Experience
The Cadbury World Experience takes you on a 60-minute tour of chocolatey goodness culminating in the Sensory Lab. It's here that participants can observe the process, be enchanted by the aromas, sample the flavours, and even participate by creating their own chocolate treat. It's a chocolate lover's paradise compete with a final stop to view the Cadbury World Chocolate Fall.
The tour, in its own purpose-built space, will continue after the factory closes in February 2018. We opted to skip the Experience on this visit as we took the Cadbury World tour when the girls were younger, and photography is not allowed during the current Cadbury World Experience.

Claim to Fame: They make chocolate, isn't that enough?
Things to Do in Dunedin: Art
Dunedin Street Art
I am a huge fan of street art as it helps to define a city and its personality. The city's commissioned art portrays its playful, larger-than-life atmosphere. A street art map can be downloaded here, or get a copy from your hotel. The street art in Dunedin was huge, colourful, and eclectic.
Dunedin Public Art Gallery
Another destination we didn't have time to visit, the gallery holds the main public art collection of Dunedin including old, modern, and contemporary works by New Zealand and overseas artists.

Claim to Fame: New Zealand's first public Art Gallery and the most extensive collection of old master paintings in New Zealand.
Things to Do in Dunedin: Brewery Tour
Speights Brewery
Speights is one of New Zealand's most award-winning beers. It is the "Pride of the South". As a non-beer drinker, the highlight for me was the full range of product tastings at the end. However, to Jeff, a former homebrewer, this Dunedin brewery tour was fascinating. Therefore, he describes the tour here:
The Speights brewery was built in 1876 using the technology of the time. That is gravity. Ingredients started at the top and flowed downward until beer exited at the bottom (and shipped in tankers). The brewery changed many times since being founded by James Speight, Charles Greenslade, and William Dawson, and is now automated with state of the art German brewery technology (most recently, $43 million refurbishments). The engaging tour takes you through the history of the founding of the brewery, the history of the brands, the brewing process, and some of the old feature areas of the brewery such as the milling room and brew tank room. Technology and products have changed, including the development of hop pellets, brew kits, malt products (maltexo), and a "healthier" line of soft drinks. The brewery no longer ships beer in tankers but can produce 1000 kegs of beer per day.
The finale of the tour includes a ½ hour visit to the tasting room for unlimited refreshment. The tour has a selection of all their current beers on tap, as well as ciders, the Hopt range of soda, and other non-alcoholic beverages. Check the Speights Brewery official website for more information.

Claim to Fame: Gold medal winner at the 1877 Brewery awards (winning stars still on their logo today).
More Things to Do in Dunedin
Moana Pools
While we didn't make it here this time, it was a highlight of our last visit. A family-friendly swimming area with six pools, two water slides, waves, a rapid river, and interactive massaging water features.

Claim to Fame: The largest swimming pool in the southern half of New Zealand's South Island.
Whakamana Cannabis Museum
UPDATE: Cannabis Museum is Permanently Closed.
Curious as we were, we ran out of time before we made it to New Zealand's only cannabis museum. Unlike in Oregon (USA) where we visited a marijuana dispensary; cannabis is not legal in New Zealand.

Claim to Fame: Was New Zealand's first and only museum dedicated to the history of cannabis use and culture.
Port Chalmers
Thanks to the Otago gold rush, by the mid-1800s, Port Chalmers was the third-largest port in Australasia. Today, it is a charming artisan community, filled with interesting galleries.

Claim to Fame: It was the last port visited by Robert Falcon Scott before heading south on his final expedition to Antarctica.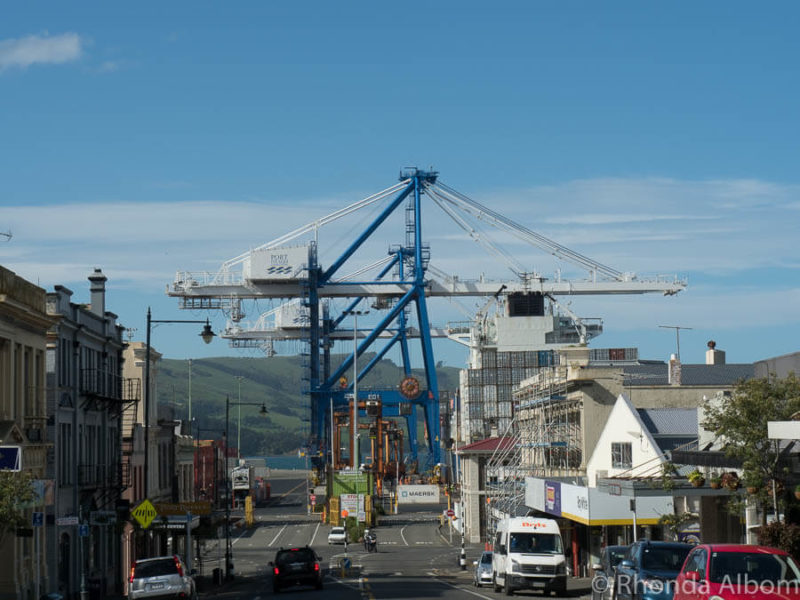 Baldwin Street
Claim to Fame: the Steepest residential street in the world.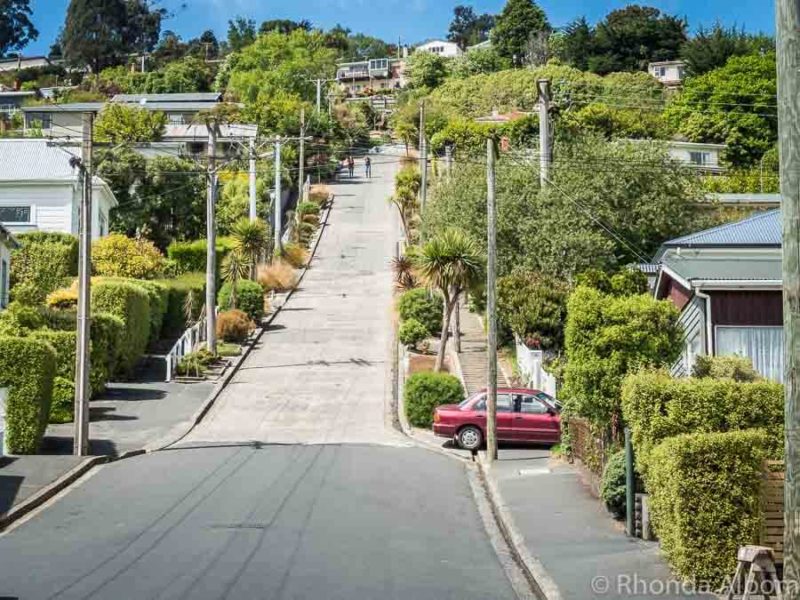 Dunedin City Tours
Our recent visit was our first one in over ten years. The wide variety of engaging things to do in Dunedin caught me by surprise. We allocated only three nights. The visit exhausted us. If don't have a lot of time, or if you prefer to be guided, you might want to consider a tour from Viator, a TripAdvisor Company.
⇒ Check price on a half-day Dunedin City tour
or
⇒ Click for an Otago Peninsula tour
Where to Stay in Dunedin:
We like a central location, and prefer to spend our city time on foot. The beautifully refurbished Distinction Dunedin hotel met all our needs with 4.5-star luxury. Thrilled with our choice, we had one of the best night's sleep I have had in hotels. Don't miss my review of the Distinction. There are a few other options we also recommend:
Book your NZ trip: Logistical tips
Book your flights
Use Expedia, our favourite flight search engine. They search worldwide and find the best and cheapest options.
Book your accommodation
We use Booking.com as they consistently return the best rates and their reviews are from actual guests. For self-contained lodging, we use Bookabach.
Reserve your vehicle
Use RentalCars.com to find the best deals on cars. With no hidden costs and outstanding customer service, we have successfully rented from them worldwide. Use Jucy for small campervans.
Activity discounts
Always check Bookme.com for discounts of up to 70% on selected tours, activities, restaurants and more. Also, our readers get an exclusive 10% discount on New Zealand activities from Klook with code: EXPLORENZ10
(Applies to NZ activity purchases over $50 initiated in NZ or Aus)
Before you book your trip
Check our travel resources page for more of the companies we use when we travel. We believe them to be the best in each category. You can't go wrong using them on your trip too.
What will be your favourite of the things to do in Dunedin?
Disclaimer: We worked with Enterprise Dunedin, the local tourism board. Also, we were provided with many complimentary entrances, tours, sample items, or media rates to assist in the writing of this review. The opinions expressed here are strictly our own.