Stepping across the bridge between the outside world and the tranquil beauty of the inside world, we entered the Dunedin Chinese Garden (official name Lan Yuan). It is a place of peace and reflection.
Somehow, time slows down here. We soak it all in as our guide slowly walks us through. It is one of a handful of authentic Chinese gardens located outside of China. In fact, the Dunedin Chinese Garden is the first in the Southern hemisphere and the only one in New Zealand.
It was built to recognise the efforts and sacrifices of Chinese miners in Otago goldfields, as well as the continued contribution of Chinese people to Dunedin's history, culture, and ongoing prosperity.
The garden is custom designed for this location. Initially assembled in Shanghai (China) it was carefully deconstructed, transported, and reconstructed in New Zealand. In total, there are 380,000 roof tiles in the gardens, each handmade in Shanghai.
The Dunedin Chinese Garden transforms visitors into a different world, one in which the attention to every tiny detail comes together in a spiritual tranquillity. Every path's bend, bridge, walkway, or step leads to a different view. By design, there is no spot where you can see it all.
In addition, using traditional Chinese construction methods, the use of any nails or other corrodible materials was avoided.
"Most cherished in this mundane world is a place without traffic, truly in the midst of a city, there can be a mountain and forest."
~Wen Zhengming (1470-1559)
Elements of Dunedin Chinese Garden
My personal favourite view of the Dunedin Chinese Garden is from its highest viewing point named Climbing Mountain. Here, we can see many elements of a traditional Chinese garden: water, rocks, bridges, pagoda, and plants.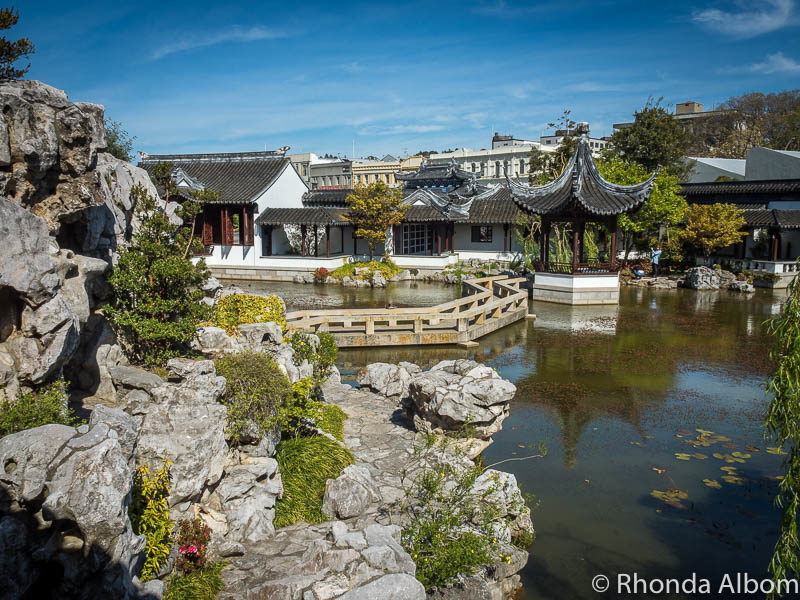 In fact, every detail of these tranquil gardens has significance. Just above, the mosaic pebbles represent the path across the ocean from China to New Zealand, while the bridge represents the waves.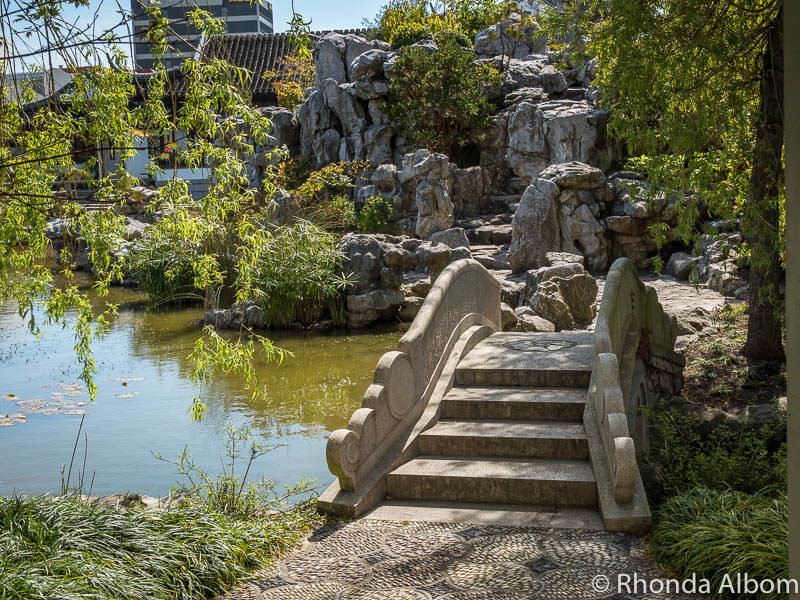 Borrowed scenery
"Borrowed scenery" is another element of a traditional Chinese garden. It incorporates elements outside the gardens into the garden scenery. Here, the hills are visible from the inside by design.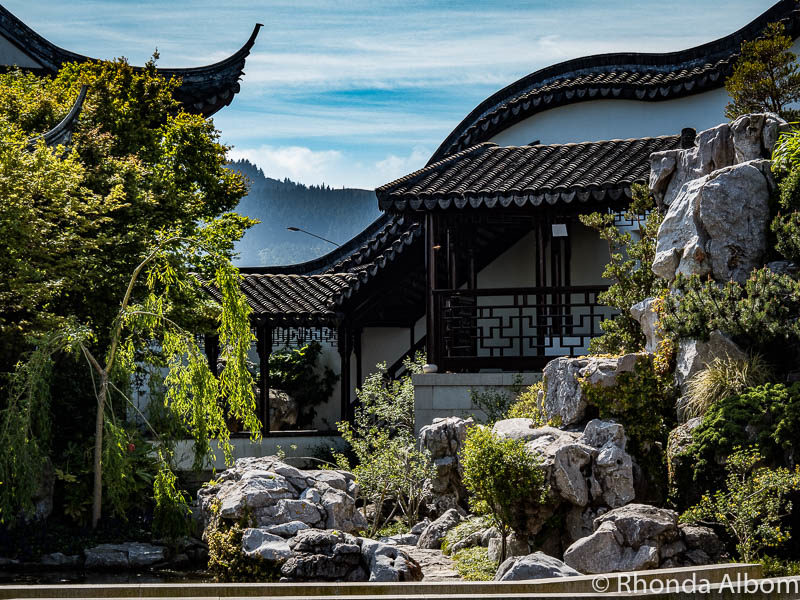 Water
Looking back across the lake, we see the main entrance hall. Water is one of the key Chinese garden elements.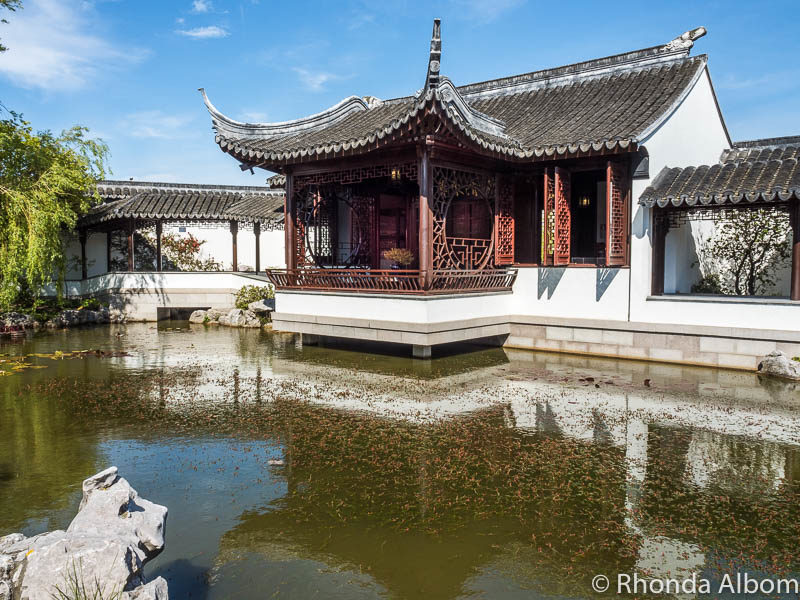 Zigzag bridge
The zigzag bridge is another key element of a Chinese garden. This one divides the lake and gives the appearance of a larger space.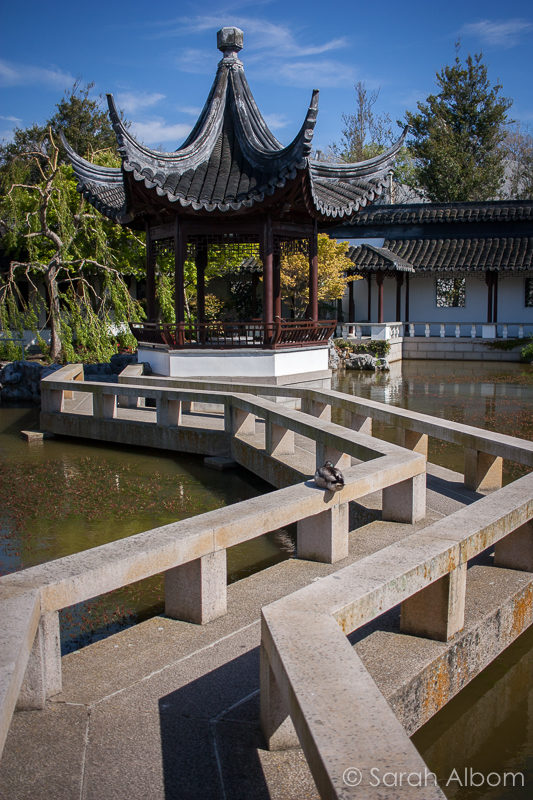 Sister gardens in China
For us, many of the traditional features of the Dunedin Chinese Garden struck us with an air of familiarity. We have been to Suzhou (China), home to the Masters of the Net Garden, used as a basis for the design of the Dunedin Chinese Garden. While we didn't visit that garden, we did explore others.
We also spent several days in Dunedin's sister city, Shanghai (China), including a visit to the sister garden just off of the Yu Yuan Bazaar.
Also at the Dunedin Chinese Garen
In addition to the main gardens, there are Penjing (like bonsai), a tea house, a seating area, and a gift shop.
Penjing
The term Penjing in Chinese translates to "pot scenery" and is similar to Bonsai in Japan. It represents a miniature snapshot of nature in a container with small manicured trees and rocks.
If you want to grow your own Penjing or Bonsai, check out this starter kit from Amazon.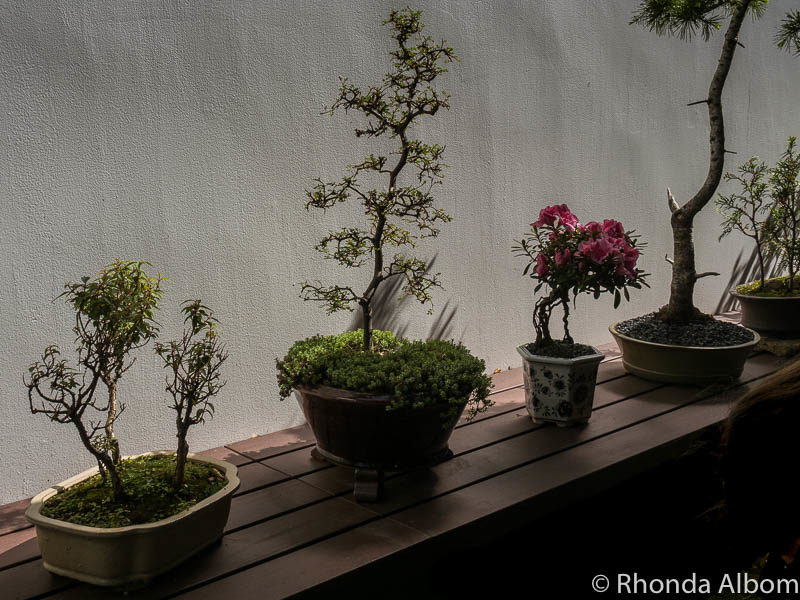 Tea House and courtyard
A classic tea house adds an extra spot to relax and enjoy the day while overlooking the lake and many of the other elements of the tranquil gardens. Traditionally, scholars entertain guests here.
The courtyard contains a seating area, ribbon tree, additional decor, and a gift shop (entrance seen at the back of the photo).
We enjoyed two traditional pots of tea among four people. The menu also includes some finger foods.
Practical Information on the Dunedin Chinese Garden
Located at the corner of Rattray and Cumberland Streets, the Dunedin Chinese Garden is open daily from 10 am to 5 pm.
The tea house and gift shop close daily at 4.30.
Private guides are available for an additional fee, or you can enjoy an audio tour (included with entry).
The gardens are one of many fabulous things to do in Dunedin.
If you're staying in Dunedin, check out our review of the Distinction Dunedin Hotel.
Read next: 9 Best New Zealand Gardens
Save on your NZ trip with these resources
These are our go-to companies when we travel. We believe this list to be the best in each category. You can't go wrong using them on your trip too.
Flights: we use Expedia for the best and cheapest flight options.
Accommodations: we use Booking.com (hotels), Bookabach (self-contained in NZ) or Hostelworld (budget).
Cars (gas or electric): we use RentalCars to search for deals and dealer ratings.
Motorcycles: we have heard good things about BikesBooking.
Campervans or Motorhomes: we use Campstar where Albom Adventures readers get a 3% discount.
Activity discounts: we check Bookme.com for discounts of up to 70% on activities.
Private guides: we love the private guides at Tours by Locals.
Travel Insurance: while not required, we always opt for travel insurance and start at InsureMyTrip to compare coverage plans.
Check out our travel resources page for more companies that we use when you travel.
Save for later
If you enjoyed this article, please share it on social media and save it for later on Pinterest.
Where do you find tranquil beauty in your life?
Disclaimer: As guests of the Dunedin Chinese Garden, our visit included a private tour and tea. However, the opinions expressed here are strictly my own.