Welcome to the enchanting world of New Zealand gardens! Whether meticulously manicured or slightly unkempt, each garden holds its unique charm and beckons us to immerse ourselves in its beauty.
From the themed Hamilton Gardens to the tranquil Christchurch Botanic Gardens and beyond, we have been mesmerized by the lush foliage, vibrant blooms, and serene ambience.
Jeff and I have a passion for discovering the hidden gems that our country has to offer, and the themed and botanic gardens of New Zealand never cease to amaze us. From vibrant floral displays to serene walking trails, these gardens offer an enchanting escape into nature's embrace.
Below, we take you on a delightful journey through some of the most captivating botanical wonders that adorn the beautiful landscapes of Aotearoa. Get ready to be inspired, rejuvenated, and captivated by the magic of New Zealand gardens.
Jeff and I love to stroll through the diverse array of New Zealand gardens.
Best New Zealand botanic gardens
Auckland Botanic Gardens
Wellington Botanic Garden
Christchurch Botanic Gardens
Dunedin Botanic Garden
Hamilton Gardens
Pukekura Park in New Plymouth
Queens Park in Invercargill
Government Gardens in Rotorua
Larnach Castle and Gardens
Map of our favourite New Zealand gardens
The New Zealand gardens featured are in red, while those on the additional list are in yellow. Click the expand / collapse icon in the upper left corner of the map for the details on each New Zealand garden.
Auckland Botanic Gardens
Located in the heart of Manurewa, Auckland Botanic Gardens is a paradise for plant enthusiasts and nature lovers alike. Spread across 64 hectares, this expansive garden showcases an impressive variety of native and exotic flora.
We like to take a leisurely stroll along the pathways lined with vibrant flowerbeds and towering trees, or explore the themed gardens, including the fragrant Rose Garden, the Bog Garden (my personal favourite), or the tranquil Native Forest Garden.
Families with small children will appreciate the Potter Children's Garden, a delightful interactive space designed to engage young minds with nature's wonders. Don't miss the picturesque duck pond, perfect for a picnic or a serene moment of reflection.
Wellington Botanic Garden
Nestled within the green hills of the city, the Wellington Botanic Garden offers a serene retreat from the bustling urban environment. This garden is renowned for its extensive collection of native plants, including unique ferns and towering trees.
One of my favourite things to do on any visit to our capital city is to take a scenic cable car ride up to the garden, enjoy panoramic views of the city, and then follow the path that winds through this wonderful NZ garden, but down to the city.
A few of our must-sees are the enchanting Lady Norwood Rose Garden, bursting with fragrant blooms during the summer months. If we time it right, we will have either morning tea or lunch in the cafe bordering the rose garden.
The Begonia House is another highlight, with its captivating displays of colourful begonias. Even though we like to take guests here, as a couple, we often find it a romantic escape as the garden's charming pathways and secluded benches are perfect for a quiet moment together.
Christchurch Botanic Gardens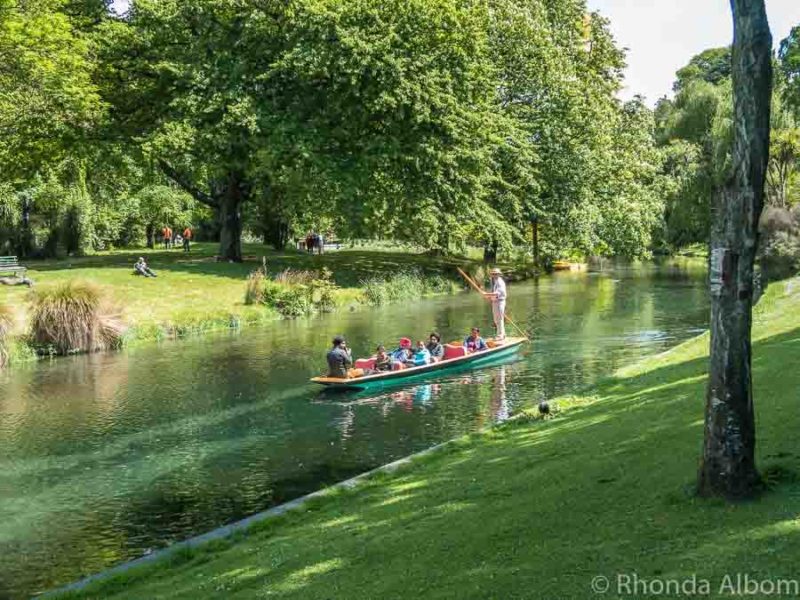 Situated in the heart of Christchurch along the serene Avon River, the Christchurch Botanic Gardens is a true gem in the garden world. It's one of the best things to do in Christchurch.
Normally we like to stroll through the garden enjoying its impressive array of both native and exotic plants, including a stunning rose garden with over 250 varieties. However, on one visit, we treated ourselves to a leisurely punt along the river. This offered us a unique perspective of the garden's beauty.
Families with children will enjoy the fascinating conservatories, such as the Tropical House and the New Zealand Gardens, which provide opportunities to learn about diverse plant species.
Dunedin Botanic Garden
The 155-year-old Dunedin Botanic Garden is renowned for its diverse collection of plants and serene ambience. It's the first of the New Zealand botanic gardens.
We enjoyed a leisurely stroll through the Rhododendron Dell, where vibrant blooms created a picturesque landscape. The Herbaceous Borders offer a stunning display of seasonal flowers, while the Rock Garden showcases unique alpine plants.
We spent a lot of time enjoying nature on our last visit to Dunedin. In addition to the Botanic Gardens, we also enjoyed the Dunedin Chinese Garden as well as Orokonui Ecosanctuary, as well as exploring the wildlife on the peninsula.
Hamilton Gardens
Another favourite spot for us is Hamilton Gardens. Although it's just a bit too far for a day trip from our home, we have done it a few times, as we love these themed gardens that much. We make a day of it, enjoying a few Hamilton activities.
Situated along the banks of the Waikato River, Hamilton Gardens is a captivating blend of history, culture, and natural beauty. While I love some of the long-time gardens, especially the Italian Renaissance Garden and the Japanese Garden of Contemplation, there are a few new ones that really catch my eye, like the Ancient Egyptian or the Surreal Garden.
We love this New Zealand garden so much we have written an entire review on Hamilton Gardens here.
Pukekura Park in New Plymouth
From a water lily lake to a fern gully, there is plenty to do in Pukekura Park.
It's a delightful combination of a public park and a botanic garden. The 52 hectares (128 acres) park features stunning seasonal displays, including vibrant spring blossoms and the enchanting Festival of Lights during summer. Founded in 1876, the park has been here for a while.
Take a stroll around the lake and enjoy the tranquillity of the waterfalls and lush foliage.
It's a great place to bring the family, especially if you all time to visit the Brooklands Zoo located within the park, which houses a range of native and exotic animals.
Queens Park in Invercargill
Situated in Invercargill, Queens Park is a picturesque garden that offers a peaceful retreat.
We haven't been here in quite a while, but we remember that the park boasts beautifully manicured lawns, colourful flowerbeds, and towering trees.
You'll want to allocate enough time to enjoy several, if not all, of the diverse gardens in the 81ha park. Highlights include the Rose Garden, the Suqian Friendship Garden, and the Chinese Garden, where tranquillity and harmony abound.
Families can also enjoy the playground (with water features) and the bird aviary, and the nearby Southland Museum and Art Gallery.
Government Gardens in Rotorua
Situated in Rotorua, Government Gardens is a historic garden with a rich cultural heritage. The garden surrounds the iconic Rotorua Museum (currently closed) and features beautifully manicured lawns, vibrant flower beds, and striking sculptures.
We found it a great spot to just sit, relax, and enjoy the sunshine before we took a leisurely walk through the gardens and discovered the Meditteranean-style Blue Baths, a geothermal wonder.
Families can also enjoy the nearby Kuirau Park, which boasts bubbling mud pools, geothermal springs, and interactive play areas. Both are among the best free things to do in Rotorua.
Larnach Castle and Gardens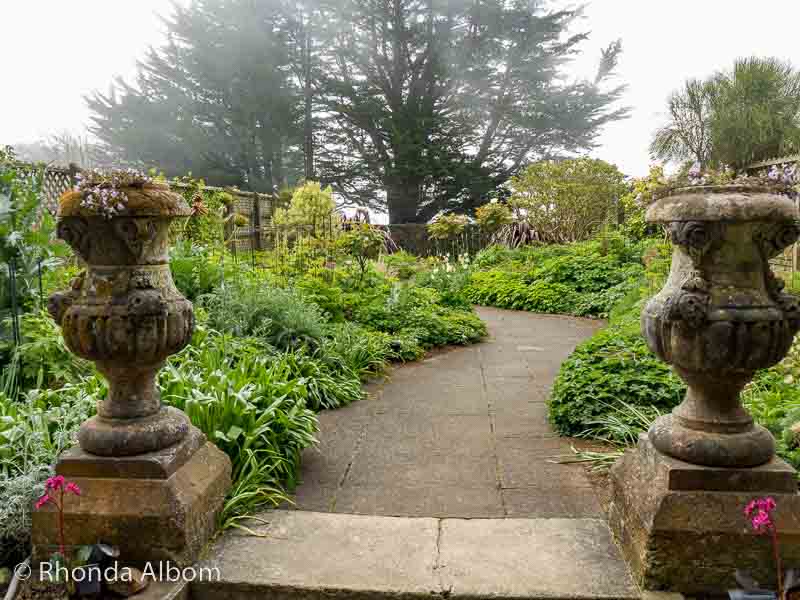 Did you know there is a castle in New Zealand? Nestled on the picturesque Otago Peninsula near Dunedin, Larnach Castle offers a captivating blend of botanical splendour and historical grandeur. It's not majestic like the medieval castles of Europe, but it's lovely.
When we are in Dunedin, we like to stroll through the gardens and enjoy the meticulously manicured lawns, vibrant flower beds, and towering trees. These gardens provide a stunning backdrop to the iconic Larnach Castle.
Best of all, access to the gardens is free, whether or not you choose to self-tour the castle. Reserve your often discounted castle entrance here.
A few more New Zealand Gardens
These are still on our bucket list, and one day we hope to visit them all.
Taranaki Rhododendron & Garden Festival
While not a specific garden, this annual event showcases some of the most stunning gardens in the Taranaki region. During the festival, private gardens open their gates to the public, offering a unique opportunity to explore hidden gems. More on the festival here.
Whangarei Quarry Gardens
A unique blend of restored quarry landscapes and stunning gardens. This community-led project has transformed the disused quarry into a beautiful sanctuary with walking trails, water features, and native plantings.
Ayrlies Garden and Wetlands in Whitford (Auckland)
A hidden gem that showcases the harmony between garden design and nature. Explore the expansive grounds, which include ponds, wetlands, and woodland areas. Ayrlies Garden is known for its well-thought-out use of water features, creating a tranquil atmosphere throughout. Admire the diverse plantings, including native ferns, exotic perennials, and delicate water lilies. Note there is an entrance fee.
Final thoughts on New Zealand gardens
New Zealand gardens are a treasure trove of natural beauty and an escape into captivating landscapes. From the serene and enchanting to the vibrant and lush, these gardens offer a sanctuary, they are a place for us to immerse ourselves in the magic of nature.
Each garden has its own unique charm and highlights to discover. Families, couples, photographersm and nature enthusiasts alike can find solace and inspiration amidst the blooming flora and tranquil surroundings. So, embark on a journey through these botanical wonders and let the beauty of New Zealand's gardens leave an indelible mark on your heart.
Save on your NZ trip with these resources
These are our go-to companies when we travel. We believe this list to be the best in each category. You can't go wrong using them on your trip too.
Check out our travel resources page for more companies that we use when you travel.
Save for later
If you enjoyed this article on New Zealand botanic gardens, please share it on social media and save it for later on Pinterest.
Which are your favourite New Zealand botanic gardens?
Photo Credits:
All photos on this page are either shot by our team and watermarked as such or stock images from Depositphotos.