Strolling through the colourful Wellington Botanic Garden is one of my favourite ways to unwind. It offers a peaceful retreat during any visit to New Zealand's capital city.
We nearly always take the cable car to the top and follow the mosaic tile path down through the garden trails down to the city. We pass through a variety of colourful and often fragrant gardens as well some of the oldest exotic trees in the country.
An ever-changing variety of sights and aromas – from flowers to trees, from common to exotic, there is something magical about these gardens that draws me back during every visit to the capital.
Perhaps, it's simply that the path goes downhill, but I think it's more than that. After all, the Wellington Botanic Garden is now classified as a Garden of National Significance by the Royal New Zealand Institute of Horticulture and is a Historic Places Trust Heritage Area.
The Wellington Botanic Garden was established in 1844 and is one of the country's oldest gardens, with plenty to see.
A few Wellington Botanic Garden photo highlights
Lady Norwood Rose Garden and the Begonia House
A favourite section of many is the Lady Norwood Rose Garden. It blooms bright and colourful in summer featuring 106 formal beds, each containing a different variety.
Adjacent to the rose garden is the Begonia house. Indoors to maintain tropical temperatures and climate, plants thrive.
Bolton Street Cemetery
Bolton Street Cemetery has an interesting history. Wellington's oldest European cemetery is located inside the Wellington Botanic Garden. Although, originally a site of Māori burials, it began European burials in 1841.
It was a new concept for the colonies, to have one shared town cemetery, rather than a graveyard at each church. Although mixed, Anglicans, Jews, and Roman Catholics each kept separate areas.
Then in the 1960s, a motorway was built through a section of the cemetery. Despite protests, between 1968 and 1971 nearly 3700 burials were exhumed and shifted to a large vault that now sits beneath the Early Setters Memorial Lawn. Although, some were moved to other locations, at the request of relatives.
More things to see at the Wellington Botanic Gardens
There are plenty of other things to see and do at the Wellington Botanic Gardens. In fact, there are 26 hectares to explore and include sections of exotic, rare, native, and colourful flora.
If you are looking to walk from top (Kelburn station) to bottom (city), follow the mosaic flowers on the paved path. It's our favourite walking path in the gardens.
Don't miss the stunning views of Wellington from the Kelburn station before starting your walk.
Be sure to stop at the Tree House visitor centre, at a minimum to enjoy the views from the extensive decks.
In addition to nature, there is public art throughout the garden.
There is a play area for kids.
The Space Place at the Carter Observatory is located inside the Wellington Botanic Garden, as is the free to enter Cable Car Museum.
There are many interesting walks including dedicated areas for ferns, camelia, herbs, a rock garden, and even a duck pond.
While we have never seen them (nor have we looked), we have been told there are glow worms in the Main Garden, along the banks of some of the moist and shady areas.
Wellington botanical gardens cafe
Just beyond the rose garden is the lovely Wellington botanic garden cafe, officially named Picnic Cafe. With both outdoor and indoor eating areas, it's the perfect spot to relax and enjoy life.
Equally important, both the food I have found both the coffee to be fabulous. Personally, I prefer to eat outdoors breathing in the aromatic fresh air and enjoying the sunshine, while protected from it under big shade umbrellas.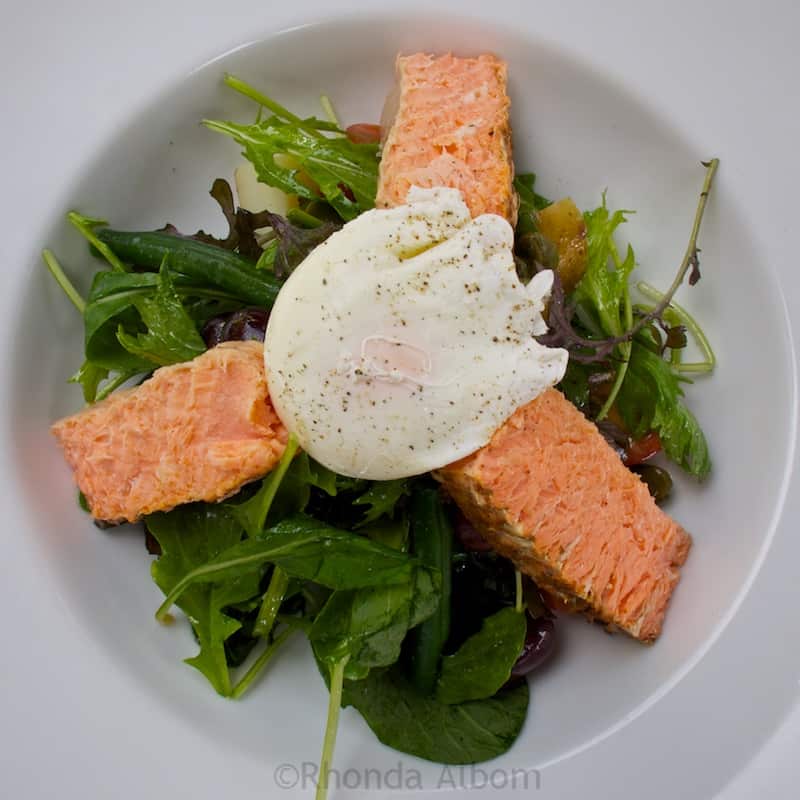 Practical Information on Visiting the Wellington Botanic Garden:
Getting to the Wellington Botanic Garden
As many of the garden paths run downhill from the Kelburn cable car station to the city, one can start at the top or the bottom.
From Lambton Quay, one can go either way. One of the things I like to do when I bring visitors to Wellington is to take the cable to the top (Kelburn station) and walk down to the city through the gardens. Of course, one could just explore a section of the garden, and return via cable car.
Note that the Cable Car operates until 10 pm Monday to Saturday, and until 9 pm on Sunday.
The other option is to enter from the bottom. The entrance is on Glenmore Street.
Booking tips for New Zealand travel planning
We often have affiliate partnerships with companies that we trust and recommend. We receive a small compensation if you make a purchase using these links. In some cases, the links can save you up to 70%.
First-time visitors start here: New Zealand travel guide or with our favourite New Zealand road trips.

Flights: We use Skyscanner to find all the available flight options at the best prices.

Rental Vehicles: For cars, we always use RentalCars.com, a rental car search engine with no hidden costs. For campervans (and larger cars), note that Spaceships Rentals NZ offers free one-way drop-off between Auckland and Christchurch.
**Albom Adventures readers can check for discounts off Spaceships campervans.**

Accommodations: We use Tripadvisor to find ratings and reserve accommodations in most NZ cities.

Activity Discounts: We use Bookme.co.nz to find discounts on entry tickets and tours in New Zealand.

Travel Insurance: We purchase insurance that covers medical and travel emergencies when we head overseas. We start with Travel Insurance Master, an aggregator that gives us a free and easy-to-read comparison of the inclusions of each policy.

Packing Tips: Get a free copy of our New Zealand packing list when you sign up for our mailing list.

**Find more money-saving resources on our Travel Resources page.
Save for later
If you enjoyed this article, please share it on social media, including Pinterest:
Have you been to the Wellington Botanic Garden?
More from things to do in Wellington: