Wellington restaurants have it all. Our favourites are comfortable, somewhat casual, and always serving great food. The city offers traditional, international, and eclectic options.
Wellington may be a city known for its coffee but take a look at some of the food we tried at several Wellington restaurants and see if you agree it is also a city for eating.
Our recent road trip to New Zealand's capital city allowed us enough time to visit a few old favourites and discover a few new Wellington restaurants too.
Be inspired . . .
Our Favourites – the best Wellington Restaurants
The best restaurants in Wellington NZ is a bold and subjective statement. These are our personal favourites, the Wellington restaurants we go to again and again every time we visit the capital city.
Karaka Cafe
2 Taranaki Street Odlins Square Taranaki Wharf
04 916 8369
An iconic waterfront location, huge bean bags, and table seating both indoors and out make Karaka Cafe a great place to relax. If that's not enough, one bite of your food and you will know how this cafe made our list of the best Wellington restaurants.
It features New Zealand flavours surrounded by traditional Maori decor.
Egmont Street Eatery
11 Egmont Street, Te Aro
04 801 6891

Egmont Street Eatery is another alleyway eatery. This Wellington restaurant is located in a former car park – although you would never know it when you were there.
Modern and delicious, the portions are made for sharing, and we just kept on ordering. It wasn't all salads; we had a bit of everything, but this salad made the best photo.
Viva Mexico
161 Riddiford Street, Newtown
04 389 0975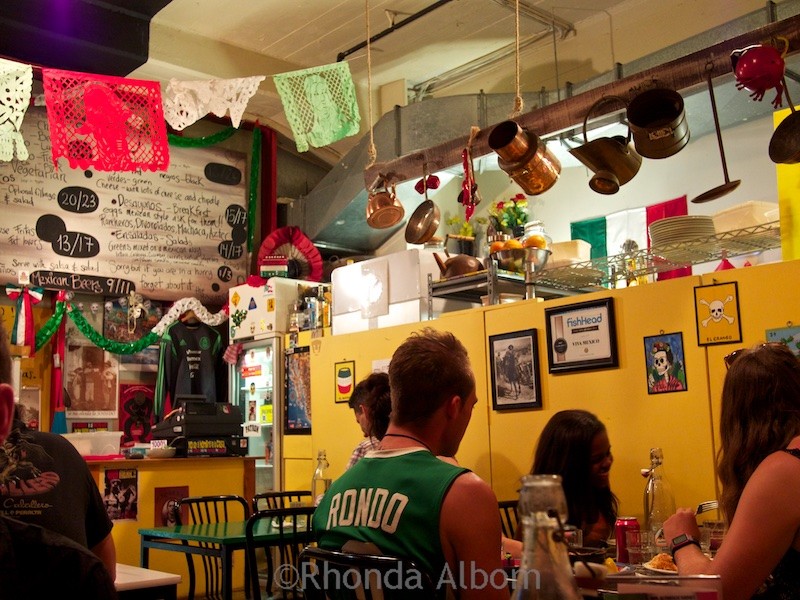 I have been talking about this Mexican taco shop since we discovered it over a year ago. I had eaten here on a mummy/daughter trip with each of my girls. Finally, hubby got to discover what we have been raving about all this time.
Authentic flavours, plates full of food, and a friendly atmosphere, it is no wonder Viva Mexico is my favourite of the Wellington restaurants. It's located down an alley off Cuba Street (and now there is a second location in Petone).
I apologise to the people of Wellington if I am sharing a local's secret with the world.
*Note that we have not been to their new location. We lasted visited while they were on Left Bank.
Picnic Cafe in the Botanic Gardens
Begonia House, Rose Garden 101 Glenmore Street, Thorndon
04 472 6002

We were not planning on eating here, but rather just enjoying the colourful Wellington Botanic Gardens. Then I saw this salmon salad served to someone else. I was hooked.
Kaffee Eis
29 Courtenay Place, Te Aro
04 384 8040

146 Cuba St, Te Aro
04 803 3620

The Kiosk at TSB Bank Arena
04 499 7004

You know a dessert spot had to make my list of the best restaurants in Wellington! What could be better than a place specialising in boutique coffee and gourmet gelato?
We believe Kaffee Eis serves the best ice cream in Wellington – and they make a great cup of coffee.
The last time we remembered to take a photo was years ago. We sat at the counter on that day. Hubby had the best of all worlds – an affogato (coffee and gelato in one cup).
Our former favourite dessert place that has since closed was Strawberry Fare.
Thistle Inn