Giapo. If you have been to New Zealand and tried it, your taste buds probably just came alive. There is no doubt in my mind that Giapo ice cream creations are the best in Auckland and possibly the world. Each creation is a work of art.
I am not just referring to delicious flavours creatively prepared in unique combinations and artistic displays. It's much more than that. I am referring to the entire Giapo experience for the visitor, as well as the creative genius that continually breaks the boundaries of the traditional ice cream cone.
Let's start with what's new:
More recent creations
Never giving it a rest, check out a few other 2019 creations. By now, I am sure you know why I think this is the best ice cream in Auckland.
How will you enjoy your next ice cream? Will you share the 60 cm tall king of cones, wear it encased in chocolate lips, or stick with the traditional?
Photos supplied by Giapo. Used with permission.
The Giapo ice cream experience
Drop by the shop while they are open and you will most likely encounter a queue that goes out the door. There is a good reason people are willing to wait. That is, the ice cream nirvana created by Giapo, short for Gianpaolo Grazioli, the mastermind behind it all, and Annarosa, his wife and partner.
The queue moves quickly. Once at the front, an enthusiastic employee greets our group, treating us like we are the only ones that matter. A brief discussion and they know our food allergies, sensitivities, preferences, and our current desire for savoury or sweet. We still haven't seen the ice cream, yet this feels right.
Now the fun begins with samples, brought out just for us to try. Although we can see into the kitchen, our server has captivated our attention. We each make a selection, not fully knowing what our masterpieces will look like, only that it will exceed our expectations.
Here are a few family favourites from past years. Some contain more traditional New Zealand ice cream flavours, my personal favourite being Giapo Bueno. Whatever your choice from the Giapo ice cream menu, you can't go wrong. Over-delivery is the unwritten motto. We have never been disappointed.
Pro tip: Arrive feeling hungry as Giapo ice cream creations may be a bit larger than you expect.
What Cher said . . . about Giapo ice cream
New Zealand gets excited when superstars visit. And it's a really big deal when divas like Cher announce to the world what this Aucklander already knew. Cher visited in September 2018, and 10 months later (July 2019) she lovingly remembered her Chocolate Evolution Cone (a popular favourite on the Giapo menu) and tweeted this: (See Cher's Tweet on Twitter)
FOR EVERYONE'S INFO …. BEST, MOST ASTONISHING, ASTOUNDING, SUPERCALIFRAGILISTICEXPEALIDOCIOUD BEST [ice cream GIF] IVE HAD IN MY LIFE NEW ZEALAND
More Giapo ice cream masterpieces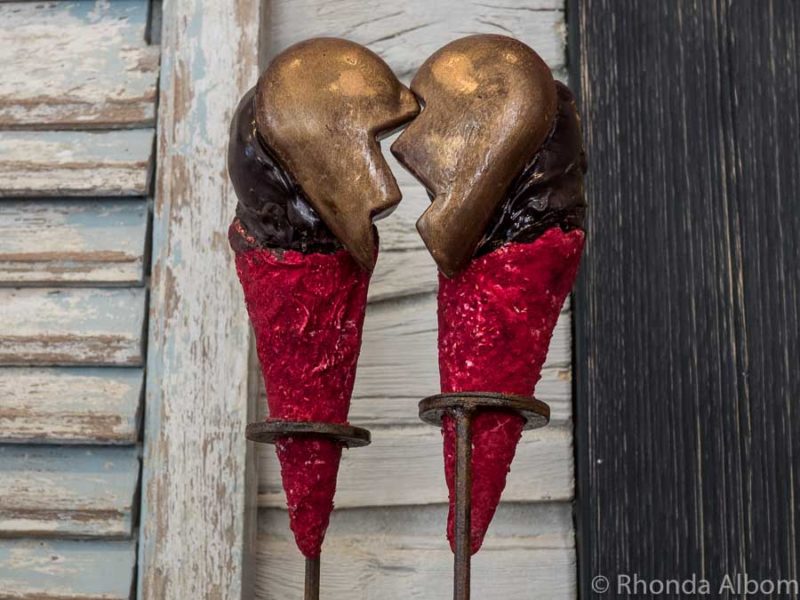 2019 Christmas ice cream creations
In his usual artistic and unconventional flair, Giapo has created two irresistible holiday treats that are more than just delicious. Both the Christmas cracker and bauble subtly encourage playfulness and sharing.
2018 Christmas ice cream creations
Breaking ice cream barriers
Giapo is changing how people experience ice cream by changing the function of ice cream and how people use it. "These are not ice cream as we know it. People that buy these items, do not necessarily buy it to lick it or to cool themselves down because it is hot, this is something new for people that see ice cream the way we do, as a platform to express freedom and to challenge the status quo."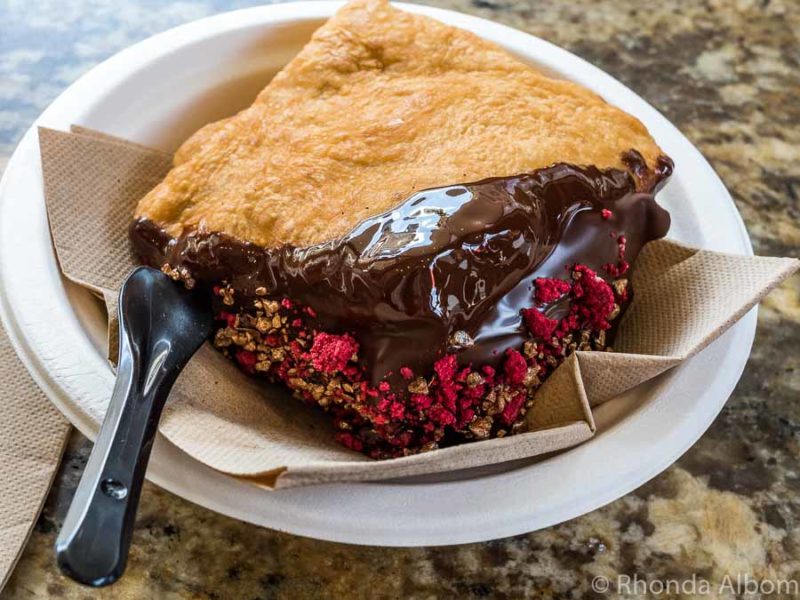 Despite continued new creations, let me reassure you, the old favourites are still here. In 2017, several new recipes expanded the menu, challenging the boundaries of ice cream with treats designed around worldwide comfort foods.
"In one bite from the new menu, you take a magic journey to two places: it could be to a street cart in Mumbai, to a trattoria in Naples, an izakaya in Tokyo, or to an old-school Maori family gathering. The other part of the journey is to somewhere new, a place where ice cream speaks to you in a new and thrilling language – a journey to a Giapo state of mind."

from a 2017 press release
Some of the unique ice cream creations are featured just below. (Only India's beloved pani puri is not shown.)
Photo Credit: Davide Zerilli. Images provided by Giapo. Used with permission.
Join an Auckland food tour that stops at Giapo
Food tours are a fun way to explore a city, and there is one top-rated tour we found that includes a stop at Giapo for a sample of his famous ice cream. But that's not all. This 3-hour afternoon walking tour will treat you to other artisan samples, plus wine and beer. As a bonus, you will discover a bit about the city and its culinary history.

You will want to start the tour hungry, wear good walking shoes, and bring a rain jacket. Don't forget to advise your guide of food allergies or sensitivities.
⇒ Check reviews or book your afternoon food tour
Where to get your Giapo ice cream creation
Located at 12 Gore Street, Giapo is in the heart of Britomart in Auckland CBD.
Giapo opening hours:
Monday to Thursday from 2 pm to 10.30 pm;
Friday and Saturday from 1.30 pm to 11 pm;
Sunday from 2 pm to 10.30 pm.
It's our favourite thing to do in Auckland at night, although we have been seen enjoying it in the afternoon too.
For more information, check out Giapo's official website.
Behind the scenes of Giapo New Zealand
After Giapo moved from Queen Street to Gore Street in 2017, we were invited upstairs into the workspace next to one of the kitchens. It's an enchanting place where creativity flows and Giapo's brilliant creations begin to take form. We sat, talked, and each enjoyed one of their classics.
From the original Queen Street location
Giapo used to be located on Queen Street, a smaller shop that also always had a queue out the door. Even then, it was a unique New Zealand ice cream shop offering the perfect handmade combination of flavours. A lot has changed over the years, but many of the originals still exist.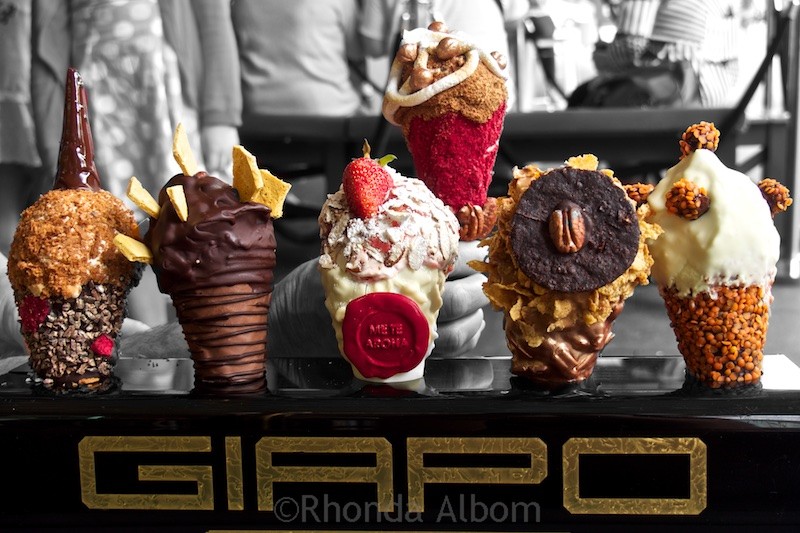 The first time I met Giapo, he wore a button-down shirt and matching cap, both with ice cream cones printed across them. We talked about ice cream, attention to every detail, fresh New Zealand ingredients, and family. His passion shined through and I couldn't help but smile when I spoke with him. Today, I still think of him as a friend.
At the time, they served about 1,000 people every day, estimating Giapo to be the busiest hospitality place in New Zealand. The Queen street shop staff of 25 employees included nine chefs working behind the scenes 24 hours a day to create everything from scratch.
Giapo personally knows all 67 farmers and suppliers and ensures he has the quality ingredients required to create his masterpieces (only the chocolate, vanilla, and a few spices are grown outside of New Zealand). The result is nothing short of perfection.
A few flashbacks to the original location, which no longer exists except in our memories: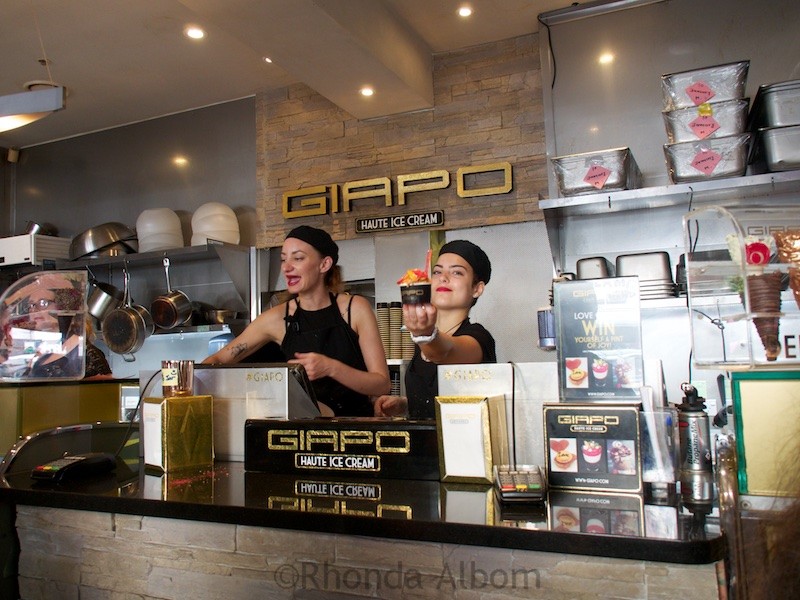 Conclusion
While there may be other New Zealand ice cream brands, Giapo is not only incredibly tasty, it is also the full experience. From the greeting through to the last bit, everything is perfection. Some may balk at Giapo prices, but they are worth every bite. Giapo is a unique dining experience in Auckland, and unquestionably our favourite place for New Zealand ice cream.
Visiting New Zealand?
Explore New Zealand from your screen or plan a an adventure: Join us at Explore New Zealand Facebook Group to share photos and stories, ask questions, or discover New Zealand.
Save for later
If you enjoyed this article on Giapo ice cream creations, please share it on social media and save it for later on Pinterest.
Read next: 75 Free and Nearly Free Things to Do in Auckland New Zealand.
Have you been to Giapo? Do you agree that it is the best ice cream experience in Auckland?
More from Auckland you might like:
Disclaimer: Some ice cream creations were provided for us to photograph. However, the opinions expressed here are strictly my own.