Every visit to Giapo is an experience, a teasing of the senses, a bringing together of fresh flavours that create a new sensation. Every creation is an artistic masterpiece pushing ice cream to the next level. From that first moment years ago, and still today, there has never been a doubt in my mind that this is the best. Giapo ice cream is perfection. And now, without sacrificing even an ounce of flavour, Giapo is 100% gluten-free.
For most people, the change to 100% gluten-free doesn't matter. In fact, it would go unnoticed if not pointed out, as you enjoy your flawless Giapo ice cream creation. Yet to a family like ours, and others with Coeliac disease, all gluten-free restaurants in Auckland make a big difference. But when it's my favourite place for a treat, well, our family's ecstatic.
Let's start with what's new at Giapo:
It seems there is always something new. And this year it's not just the fact that all Giapo ice cream creations are gluten-free. Or, that the entire shop is 100% gluten-free. There is now an app, local delivery, and two new creations to try when we can visit the shop again.
Giapo's winter comfort foods provided something good to remember about 2020
First, what you came for, Giapo's ice cream masterpieces for winter 2020. As we all need something warm and comforting, especially this winter, I think Giapo has nailed it with these two gluten-free Auckland treats that combine cold and warm on top of a cone.
The apple pie cone: An ice cream-filled crunchy waffle cone topped with a spicy shortbread crumb and a warm whole baked apple.
The steamed pudding cone: An ice cream-filled waffle cone topped with a light and airy spiced steamed pudding drenched in a rich, sweet caramel sauce (recipe is adapted from the 'Life with Krystle' Facebook page).
Check out the app for click and collect or local delivery
With the new app, order ahead and skip the queue (when they are open), or for those who live closer than we do (we are pretty far away), you can have these great flavours delivered. Download the new app to your phone.
The Giapo ice cream experience
Drop by the shop (outside of lockdown) and you will most likely encounter a queue that goes out the door. Let me tell you, the wait is worth it for a taste of the ice cream nirvana created by Giapo, short for Gianpaolo Grazioli, the mastermind behind it all, and Annarosa, his wife and partner.
Typically, we find the queue moves quickly. Once at the front, an enthusiastic employee greets our group, treating us like we are the only ones that matter. A brief discussion and they know our food allergies, sensitivities, preferences, and our current desire for savoury or sweet. We still haven't seen the ice cream, yet this feels right.
Now the fun begins with samples, brought out just for us to try. Although we can see into the kitchen, our server has captivated our attention. We each make a selection, not fully knowing what our masterpieces will look like, only that it will exceed our expectations.
Here are a few family favourites from past years. My personal favourite is Giapo Bueno, seen in my hand in the second shot below. Whatever your choice from the Giapo ice cream menu, you can't go wrong. Over-delivery is the unwritten motto. We have never been disappointed.
Pro tip: Arrive feeling hungry as Giapo ice cream creations may be a bit larger than you expect.
What Cher said . . . about Giapo ice cream
New Zealand gets excited when divas like Cher visit, and even more pumped up when they share about it on social media. Cher visited in September 2018, and 10 months later (July 2019) she lovingly remembered her Chocolate Evolution Cone (a popular favourite on the Giapo menu) and tweeted this: (See Cher's Tweet on Twitter)
For everyone's info …. Best, most astonishing, astounding, supercalifragilisticexpealidocioud best [ice cream GIF] I've had in my life New Zealand
Behind the scenes
After Giapo moved from Queen Street to Gore Street in 2017, we were invited upstairs into the workspace next to one of the kitchens. It's an enchanting place where creativity flows and Giapo's brilliant creations begin to take form. We sat, talked, and each enjoyed one of their classics.
Join an Auckland food tour that stops at Giapo
This site contains affiliate links to products and/or services. We may receive a commission for purchases made through these links at no additional cost to you.
Food tours are a fun way to explore a city, and there is one top-rated tour we found that includes a stop at Giapo for a sample of his famous ice cream. But that's not all. This 3-hour afternoon walking tour will treat you to other artisan samples, plus wine and beer. As a bonus, you will discover a bit about the city and its culinary history.

You will want to start the tour hungry, wear good walking shoes, and bring a rain jacket. Don't forget to advise your guide of food allergies or sensitivities.
⇒ Check reviews or book your afternoon food tour
More Giapo ice cream masterpieces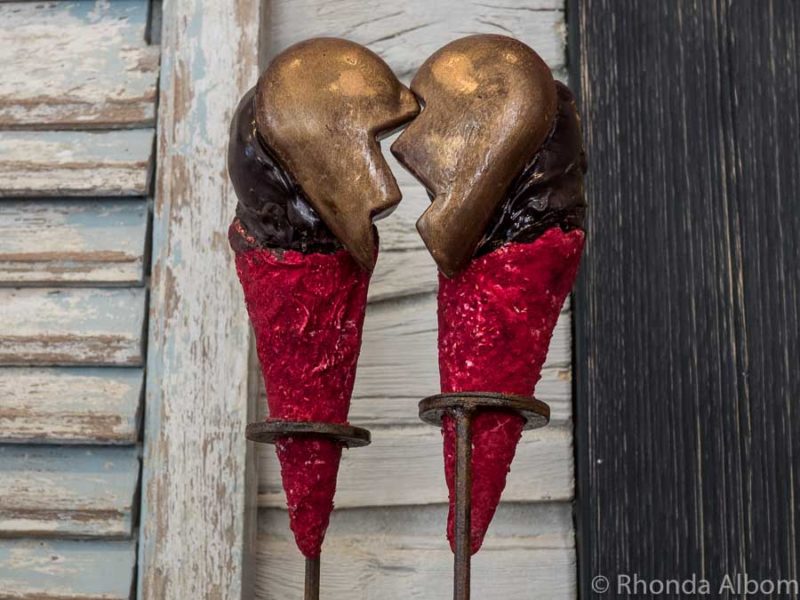 Giapo's ice cream creations that were new in 2019
By now, I am sure you know why I think this is the best ice cream in Auckland. Last year was all about fun, with the new creations being a 60 cm tall king of cones, and ice cream encased in chocolate lips. Later in the year, in his usual artistic and unconventional flair, Giapo created two irresistible holiday treats that are more than just delicious.
Breaking ice cream barriers
In 2017, several new recipes expanded the menu, challenging the boundaries of ice cream with treats designed around worldwide comfort foods.
"In one bite from the new menu, you take a magic journey to two places: it could be to a street cart in Mumbai, to a trattoria in Naples, an izakaya in Tokyo, or to an old-school Maori family gathering. The other part of the journey is to somewhere new, a place where ice cream speaks to you in a new and thrilling language – a journey to a Giapo state of mind."

from a 2017 press release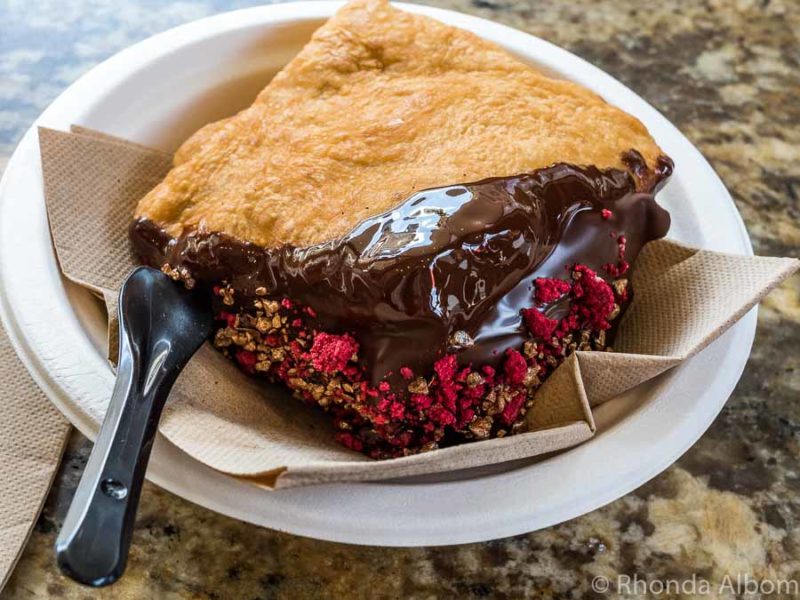 Where is Giapo?
Located at 12 Gore Street, Giapo is in the heart of Britomart in Auckland CBD.
Giapo (non-lockdown) opening hours:
Monday to Thursday from 2 pm to 10.30 pm;
Friday and Saturday from 1.30 pm to 11 pm;
Sunday from 2 pm to 10.30 pm.
It's our favourite thing to do in Auckland at night, although we frequently partake in the afternoon as well.
For more information, check out Giapo's official website.
From the original Queen Street location
We have been fans of Giapo back when they were at their original Queen Street location, a smaller shop that also always had a queue out the door. Even then, it was a unique New Zealand ice cream shop offering the perfect handmade combination of flavours. A lot has changed over the years, but many of the originals still exist.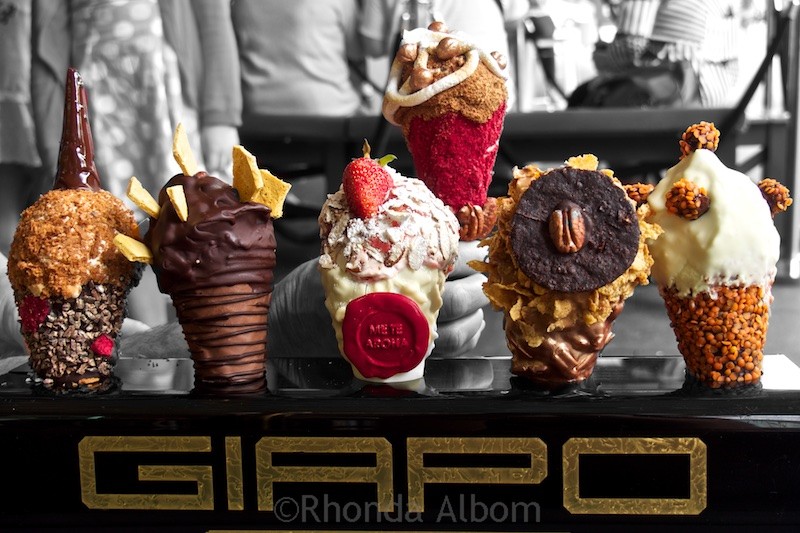 The first time I met Giapo, he wore a button-down shirt and matching cap, both with ice cream cones printed across them. We talked about ice cream, attention to every detail, fresh New Zealand ingredients, and family. His passion shined through and I couldn't help but smile when I spoke with him. Today, I still think of him as a friend.
At the time, they served about 1,000 people every day, estimating Giapo to be the busiest hospitality place in New Zealand. The Queen street shop staff of 25 employees included nine chefs working behind the scenes 24 hours a day to create everything from scratch.
Giapo personally knows all 67 farmers and suppliers and ensures he has the quality ingredients required to create his masterpieces (only the chocolate, vanilla, and a few spices are grown outside of New Zealand). The result is nothing short of perfection.
A few flashbacks to the original location, which no longer exists except in our memories: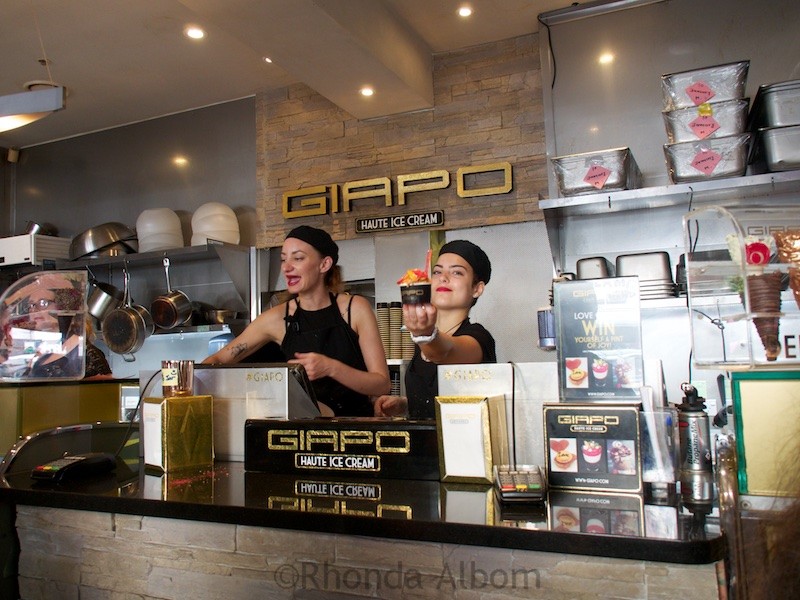 Conclusion
We love Giapo! Both his ethics and his tasty treats. We like it so much, in fact, we have included Giapo on our lists of best things to do at night in Auckland, most unique restaurants in Auckland, and unique things to do in Auckland.
While there may be other New Zealand ice cream brands, Giapo is not only incredibly tasty, it is also the full experience. From the greeting through to the last bite, everything is perfection. Some may balk at Giapo prices, but they are worth every bit. Giapo is a unique dining experience in Auckland, and unquestionably our favourite place for New Zealand ice cream.
Planning tips for Auckland
We often have affiliate partnerships with companies that we trust and recommend. We receive a small compensation if you make a purchase using these links. In some cases, the links can save you up to 70%.
First-time visitors start here: New Zealand travel guide or with our favourite New Zealand road trips.

Rental Vehicles: For cars, we always use RentalCars.com, a rental car search engine with no hidden costs. For campervans (and larger cars), note that Spaceships Rentals NZ offers free one-way drop-off between Auckland and Christchurch.
**Albom Adventures readers can check for discounts off Spaceships campervans.**

Accommodations: We typically stay in 4-star accommodations. We live in Auckland and recommend either Hotel DeBrett or Cordis (if you're on a tight budget, check out the backpacker options on Tripadvisor)

Activity Discounts: We use Bookme.co.nz to find discounts on entry tickets and tours in New Zealand.

Travel Insurance: We purchase insurance that covers medical and travel emergencies when we head overseas. We start with Travel Insurance Master, an aggregator that gives us a free and easy-to-read comparison of the inclusions of each policy.

What to bring: Get a free copy of our New Zealand packing list when you sign up for our mailing list.

**Find more money-saving resources on our Travel Resources page.
Save for later
If you enjoyed this article on Giapo ice cream creations, please share it on social media and save it for later on Pinterest.
Read next: 75 Free and Nearly Free Things to Do in Auckland New Zealand.
Have you been to Giapo? Do you agree that it is the best ice cream experience in Auckland?
Disclaimer: Some ice cream creations were provided for us to photograph and enjoy. However, the opinions expressed here are strictly my own.