Nightlife in Auckland may not live up to the reputation of other big cities around the world. However, if you know where to look in New Zealand's largest city, you will easily find plenty of fun things to do in Auckland at night.
Whether you are seeking a family-friendly early evening, an exciting adventure, an Auckland night out on the town with friends, or a late-night on the wild side, this list of night activities in Auckland has it all.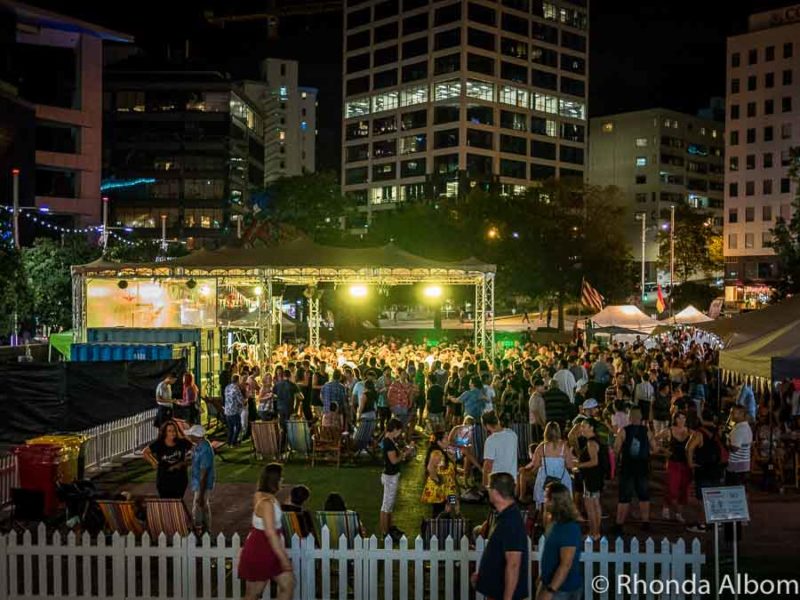 We often have affiliate partnerships with companies that we trust and recommend. We receive a small compensation if you make a purchase using these links. In some cases, the links can save you up to 70%.
Active things to do in Auckland at night – outdoors
Are you seeking a bit of adrenaline-pumping fun? There is plenty of outdoor active things to do in Auckland at night.
Take an energetic night tour
Electric bicycle tour of Auckland city lights: If bicycling the hills of Auckland seems like too much work, importantly, this guided tour is on electric bicycles. From the purple cycling path to vantage points for sparkling views, this is one of the eco-friendly night activities in Auckland. Check price and reviews.
Night Segway Tour: Enjoy the lights of the city on a small-group Segway tour of iconic sights including the Harbour Bridge, Wynyard Quarter, Westhaven marina, and more. This 3-hour adventure is family-friendly. Check price and see if the night you want is available with a discount.
Climb a volcano
Hike up Mt Eden or One Tree Hill to enjoy the sunset. Likewise, you can bring a picnic dinner and make an evening of it.
Kayak to Rangitoto Island: A uniquely New Zealand opportunity. Firstly, a safety briefing. After that, kayak with a guide to Auckland's youngest volcano. Then, hike to the crater rim and watch the sunset while enjoying impressive 360-degree views of Auckland's skyline and the islands of the Hauraki Gulf. This experience requires a moderate level of fitness and an adventurous spirit. The six-hour tour that starts late afternoon as darkness descends is one of the more exciting things to do in Auckland at night. Check price and reviews.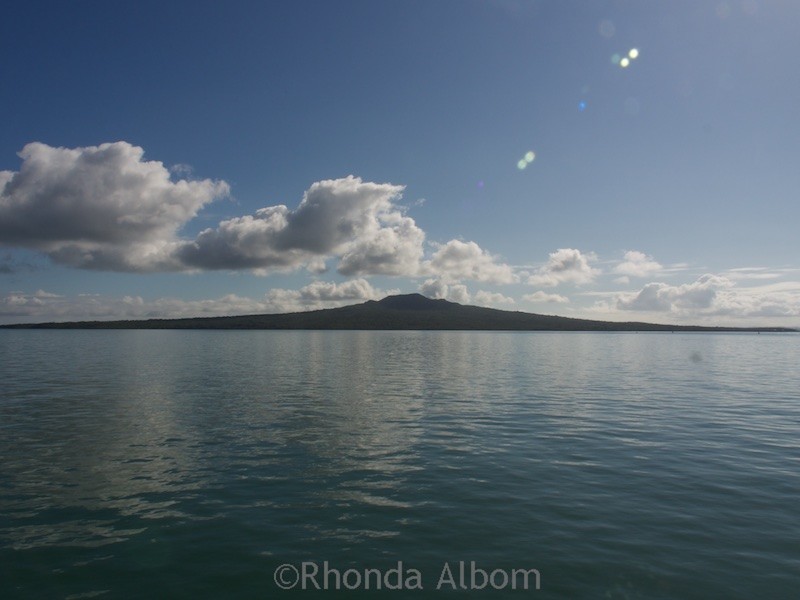 Get that heart racing
Reverse Bungy: Extreme adrenaline junkies will find several adventure places in Auckland during the day, but at night your options are more limited. You can get shot up into the sky at Skyscreamer. It's a reverse bungy experience that you will be talking about for years to come.
Active things to do in Auckland at night – indoors
For those who want a mental challenge as well as a physical one, Auckland's escape rooms, sensory maze, and virtual reality all stay open until at least 10 pm.
Escape Rooms: If it's a mystery you are after, certainly check out Escapade NZ. Locked in a room with your friends, you will need to solve the mystery to find the way. Most importantly, clues are everywhere. Last time we just rocked up and they were full. Booking ahead often saves up 50% and guarantees your spot.
Sensory Maze: Use all your senses as you pass through this unique Odyssey Sensory Maze whilst wearing a pair of crazy goggles. Filled with illusions, lighting and sound effects, scents, and strange sensations, it's a unique experience. Check price and discounted times.
Multiplayer Virtual Reality: Here's your chance to completely immerse yourself in virtual reality with friends. Check price and discounted times.
Things to do at night in Auckland – casino
SkyCity Casino: A classic casino that has all the bells and whistles of any world-class gambling establishment without the gaudy lights of Las Vegas. Open 24-hours per day for gambling, entertainment, or just catching up at one of the bars with friends, it is one of the things to do in Auckland at night or anytime.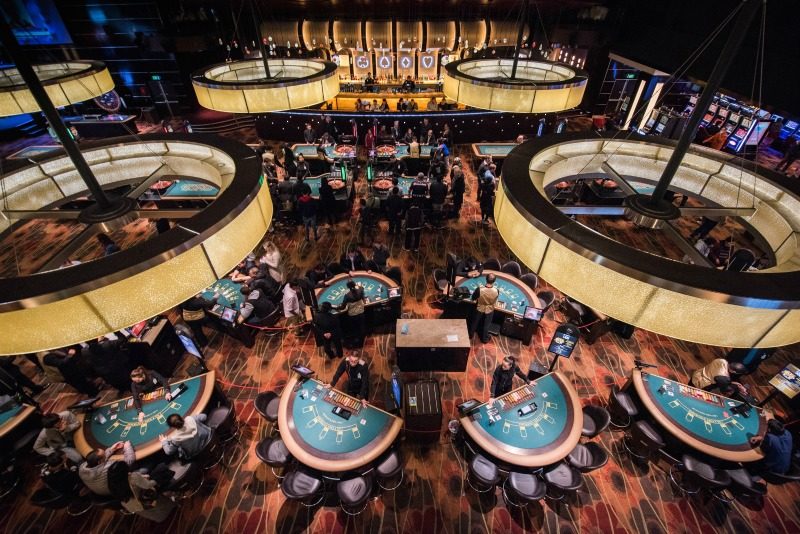 Fun things to do in Auckland at night – nightclubs and bars
Like most cities with universities, much of the nightlife in Auckland revolves around bars, many that cater to a younger crowd and don't get busy until late. Most importantly, you need a passport or an official New Zealand ID card for entry to NZ bars.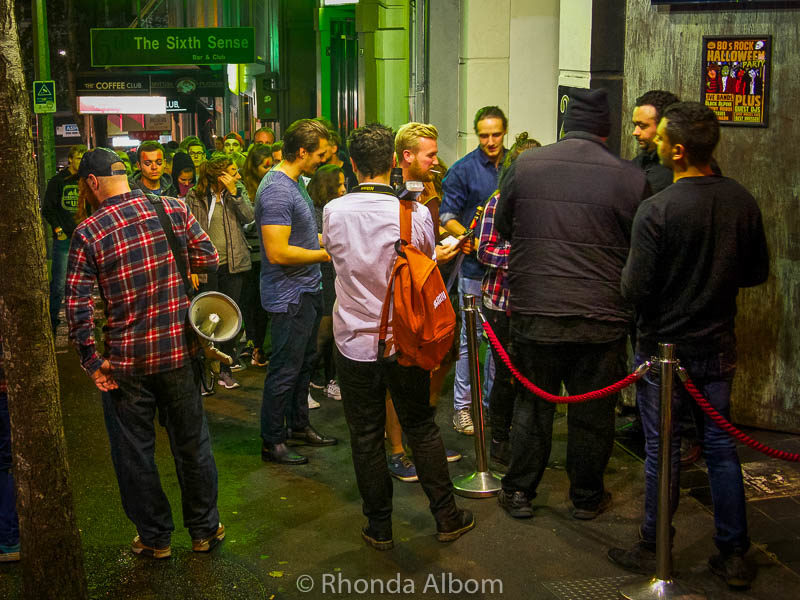 Popular Auckland bars in the CBD include
Danny Doolans An Irish bar featuring craft beers on Viaduct Harbour.
HeadQuarters or simply HQ, with an ideal location on the Viaduct, this is the place to go for dinner, drinks, or often for live music.
Soul Bar 'because every city needs a soul'. Also on the Viaduct, this is a place to be seen, to relax and enjoy the sunset, or to discover new music, a mix of life and DJ.
Glass Goose is a rooftop bar up a hidden staircase at the end of Federal Street near the Sky Tower. Contemporary yet casual, this is one bar you don't want to miss.
Habana Joe's wooden interior, pool tables, dance floor, and plenty of seating give it a relaxed atmosphere. A DJ livens things up on the weekends.
The Roxy is above the old Roxy Theatre. This multi-level dance club has a rooftop garden.
Rock Bar is the place to be if you want to sing karaoke.
Pro Tip: Many bars charge a cover from 10 pm. If you start early, be sure to ask for a hand stamp for re-entry later.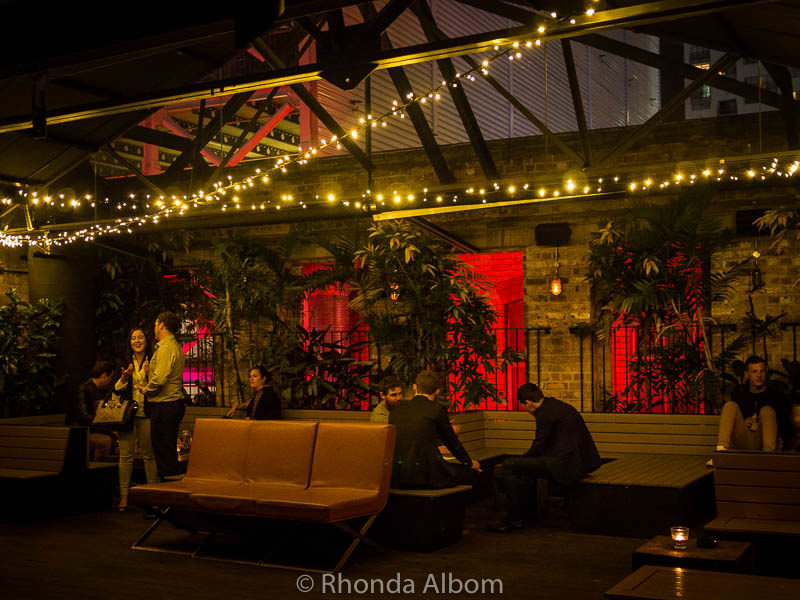 Tasty things to do in Auckland at night – culinary delights
Auckland is filled with unique dining options. Four standouts are below. However, if you don't see what you want here, check out these 20 Unique Auckland Restaurants.
Giapo takes ice cream to an art form. Giapo's handmade creations will tickle taste buds you didn't know you had. Of all the things to do in Auckland at night, enjoying ice cream from Giapo is the one we do the most often.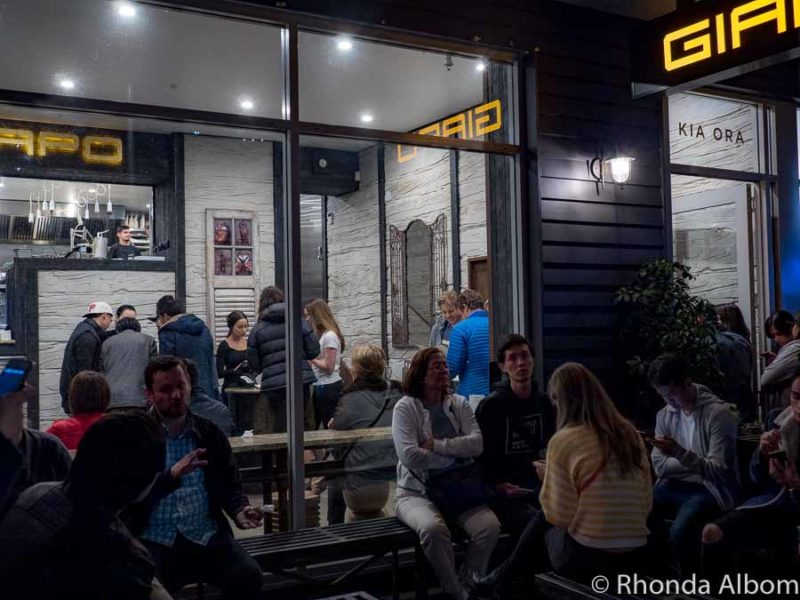 Harbour dinner cruise allows you to get out on the bay, which is something you should definitely do at least once if you come to Auckland. One of the nicest ways to spend an evening is to get out on a sailing yacht on the Waitemata Harbour while enjoying a three-course dinner from a top restaurant; in this case, Degree. Watch the sunset from the deck, learn a bit of the history of your surroundings, and enjoy your evening. Bookings are essential and often discounted here.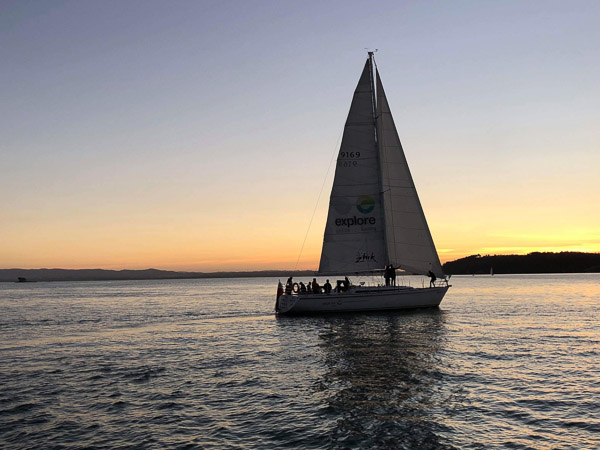 Auckland Night Markets are a mix of street food, crafts, supplies, and entertainment. There is a market almost every night in the summer. Often found in a parking garage, they rotate locations nightly.
The White Lady food truck is your chance to join locals in a late-night tradition while enjoying a tasty burger. Every night, and all weekend long, this food truck is out on the same corner on Commerce street. It is one of the few places open very late night to eat, and there seems to always be a crowd, yet food preparation is pretty quick. It's outdoors, and there are plastic crates to sit upon, but most people eat standing or take it to go.
Fun things to do in Auckland at night – comedy
If it is laughter that you are after, the two funniest spots in the city are Classic Comedy Club or Caluzzi Bar and Cabaret.
Classic Comedy Club presents a different show every night. While some may be family-friendly, be sure to check as much of the comedy is adult-themed. Also, seating is first come, first served. If you want to risk getting heckled by the comedian, be there early to grab a table near the stage.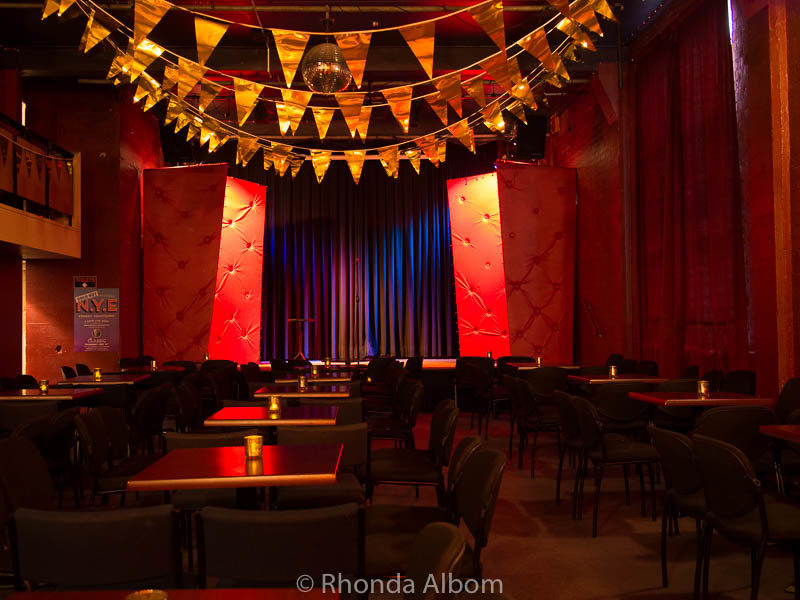 Caluzzi Bar and Cabaret is a complete night out with dinner and a drag queen show that will keep you laughing for hours. Not suitable for children, the adult-themed humour is loaded with double entendre. The talented "ladies" are both the servers and entertainers. Be sure to book in advance, as Caluzzi frequently fills up. Read our full review here.
Fun things to do in Auckland at night – sunset or stargazing
Whether you climb to the top of a volcano, go out into a park, or use a telescope, you'll want to catch a glimpse of the southern cross after you watch a colourful Auckland sunset.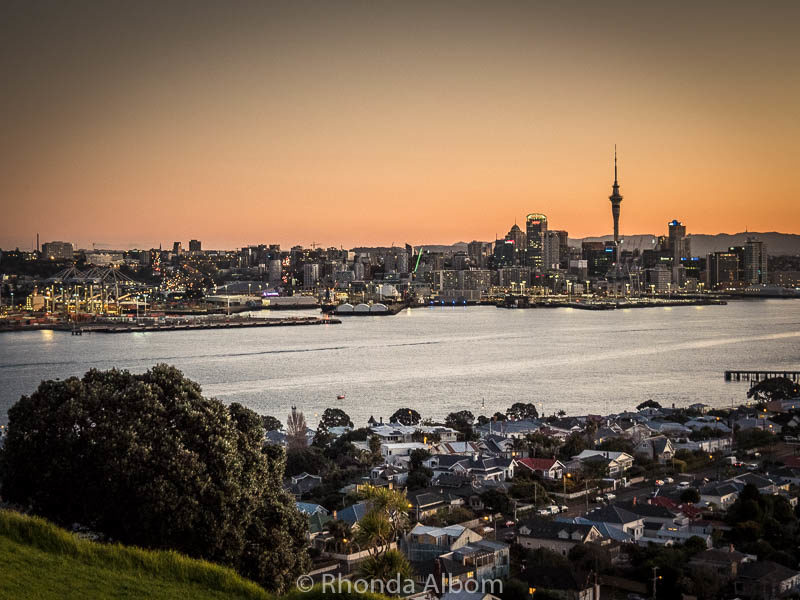 Sky Tower Viewing Platform: Take an elevator up to the top of the Sky Tower to enjoy views of Auckland from the tallest tower in the southern hemisphere. The view at night is much different from the one during the day. If you time it right, you can go up at sunset and enjoy them both on one visit. Many people consider it an Auckland must-do. Check price and reviews.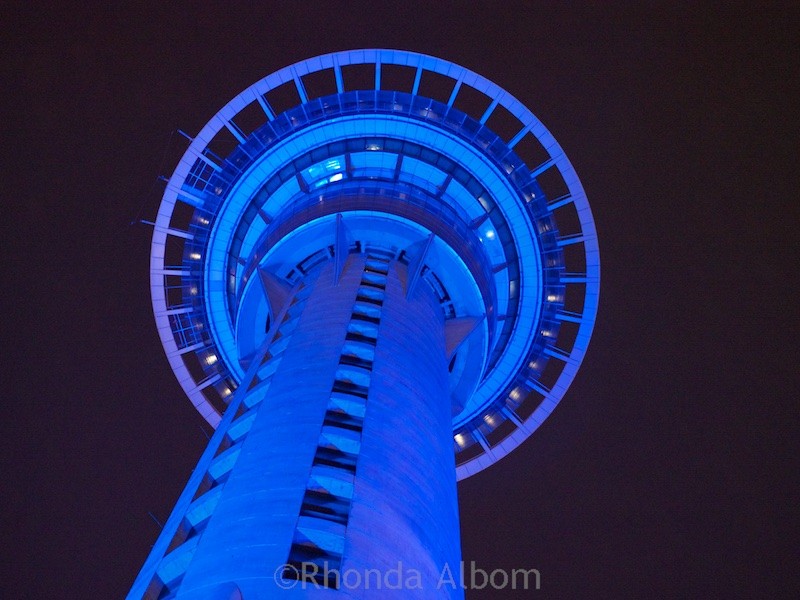 Stardome Observatory and Planetarium: The live show is different every night and features a reproduction of the current night sky. First, as seen with the naked eye, then as if the city lights (or clouds) disappeared. Travel virtually beyond Auckland's sky into the galaxy. After the show, head outdoors and view stars, planets, and nebulae through the courtyard telescopes. This is a family-friendly event for ages 8+. Read our review of Stardome Observatory.
Very late night activities in Auckland – adults only
If you are looking to take a late-night walk on the wild side, head to K-Road (officially Karangahape Road). The bohemian neighbourhood stays alive well into the wee hours of the morning with bars, strip clubs, and brothels. K-Road is especially interesting on Halloween.
Some of the popular late-night K-Road destinations:
Family Bar: A popular LGBTQI+ bar.
Eagle Bar attracts a mixed crowd.
Thirsty Dog is a fun place to go for live music or shows.
Whammy Bar classifies itself as a dive bar.
Calendar Girls offers an artistic full strip-tease.
The White House is around the corner on Queen Street and offers a cabaret striptease. American-themed, a portrait of former US president Bill Clinton hangs just beyond the entrance.
Men of Steel on Hobson Street has a male strip show.
If none of these appeal to you, people-watching on K-Road is always one of the more interesting things to do in Auckland at night. There is generally a strong police presence. You will want to be more vigilant and stay out of Myers Park after dark.
As the night progresses, the sleazier nightlife in Auckland seems to gain popularity. There are places I wish I didn't know existed, and I will neither visit nor write about them.
Where to stay in Auckland
If you are partying late into the night, you will probably need a place to stay. Like every big city around the world, there are plenty of options.
Personally, we prefer 4-star or higher with a bit of luxury and are usually willing to pay a bit more for it. However, we included a top-rated backpackers in the list for those who are looking for budget accommodations. Here is a shortlist of our recommended Auckland accommodations:
Hotel DeBrett: This fun and funky option is my favourite Auckland Hotel. Centrally located with comfortable beds and friendly staff, it's my top pick.
SkyCity Grand Hotel: Classic luxury that is part of the SkyCity complex in a great location across the street from Sky Tower and the major casino. It sits alongside several top-rated restaurants, and located in the hotel is the East Day Spa, the top-rated spa in Oceania.
Hotel Grand Windsor MGallery: Boutique style luxury and affordable (for Auckland) with a great location on Queen Street right in the heart of the city.
Metro Adventurer Backpackers Top-rated Auckland backpackers that is centrally located and perfect for budget travellers.
Or, save money and live like a local with an Airbnb.
(Read Next: 75 Free and Nearly Free Things to Do in Auckland New Zealand)
Planning tips for Auckland
We often have affiliate partnerships with companies that we trust and recommend. We receive a small compensation if you make a purchase using these links. In some cases, the links can save you up to 70%.
First-time visitors start here: New Zealand travel guide or with our favourite New Zealand road trips.

Rental Vehicles: For cars, we always use RentalCars.com, a rental car search engine with no hidden costs. For campervans, note that Spaceships Rentals NZ offers free one-way drop-off between Auckland and Christchurch.

Accommodations: We typically stay in 4-star accommodations. We live in Auckland and recommend either Hotel DeBrett or SkyCity Grand Hotel (if you're on a tight budget, check out the backpacker options on Booking.com)

Activity Discounts: We use Bookme.co.nz to find discounts on entry tickets and tours in New Zealand.

Travel Insurance: We always start with World Nomads.

What to bring: Get a free copy of our New Zealand packing list when you sign up for our mailing list.

**Find more money-saving resources on our Travel Resources page.
Do you want to:
Explore New Zealand through photos?
Share your NZ photos?
Ask New Zealand travel questions?
Chat about New Zealand?

Join us on Facebook at Explore New Zealand
Save for later
If you enjoyed this article, please share it on social media and save it for later on Pinterest.
What will you do in Auckland tonight?
You might also like:
Disclaimer: We are frequently provided with complimentary entrances, tours, or sample items. However, the opinions expressed here are strictly our own.