From natural beauty and historical sites to adrenaline-pumping thrills, there are plenty of unique things to do in South Auckland, New Zealand.
We spanned an area from Auckland's east to the west coast discovering the diversity of nature one expects to see on any coast to coast adventure, but we did it in the course of a few hours. New Zealand is amazing that way.
Filled with natural beauty and history, the region is alive with colourful parks, waterfalls, streams, and coast views. There is a seemingly endless number of outdoor things to do in South Auckland. This only mirrors the massive number of man-made opportunities.
In fact, it's the region where we find the country's biggest Polynesian-style market, the largest theme park, the most celebrated vineyard, and the location holding the longest continuous liquor license. There's even an Olympic training ground.
On the flip side, the region also had the nation's worst maritime disaster.
South Auckland is also home to New Zealand's largest international airport, and it is the starting point for most international visitors arriving via air travel. So, if you are going to spend any time here, read on and discover some fascinating things to do in South Auckland.
First, be inspired by the city…
We earn from qualifying purchases through partnerships or affiliate programs.
Mapping our favourite things to do in South Auckland
The map features our favourite things to do in South Auckland divided geographically. Below we have offered a bit more on each activity, along with any discounts we have discovered. The descriptions are organized into five categories (historical beauty, adrenaline rush, regional parks, kick back and relax, and weekend markets.)
Central
Otara Flea Market
Villa Maria Vineyard Estate
Rainbow's End
Vector Wero Whitewater Park
Auckland Botanic Gardens
East Coast
Omana Regional Park
Maraetai Wharf
Duder Regional Park
Clevedon Village Market
Hunua Ranges
Things to do in South Auckland: historical beauty
Manukau Heads lighthouse and Awhitu peninsula
With black sand on one side and white on the other, the Awhitu Peninsula is an adventure on its own. However, we focused on our destination, the Manukau Heads Lighthouse. Once at the end of the peninsula, we climbed the lighthouse, as it's one of the few remaining lighthouses in NZ that is still open to the public (and free!).
Here, despite the wind, we had spectacular views including the sandbar responsible for the wreck of the HMS Orpheus. It remains the worst maritime disaster in New Zealand's nautical history.
If you have allocated enough time, be sure to stop for a hike through the Awhitu Regional Park on your way back down the Penninsula.
Auckland Botanic Gardens
Roam through 156 acres (including 10 acres of native forest) passing 10,000 plants from around the world. The Auckland Botanic Gardens attract nearly one million visitors annually. Opened in 1982 and run by the Auckland City Council, the gardens open daily at 8am and have an on-site cafe.
Maraetai Wharf
Getting here is half the fun, as the drive is alongside the pōhutukawa coast. Here we enjoyed a stroll along the peaceful walking path passing a children's playground and views out as far as the Coromandel Penninsula on a clear day. There's an overall romantic feel, especially when there are couples cuddling together at the end of a wharf overlooking the water.
Things to do in South Auckland: adrenaline rush
Rainbows End Amusement Park
The ultimate in theme park excitement, Rainbows End will push adrenaline junkies to the edge of their limit with unique rides like the Stratosfear (photo above), Fear Fall, or Corkscrew Coaster. It's the country's largest theme park, and a great day of fun for the entire family. If you are headed to Rainbows End, be sure to check for discounts and reserve your tickets here.
Vector Wero Whitewater Park
Imagine a whitewater rafting experience in the city with an adrenalin-pumping 300m Grade 3-4 course that was even used by some of our Olympians for their training. If you are ready to enjoy one of the most thrilling things to do in South Auckland, check here for discounts or you can reserve your time slot now.
Things to do in South Auckland: regional parks
There are 28 regional parks in Auckland, each amazing, and each with its own features and highlights. About a third are in South Auckland. Three of our four favourites are listed just below, the fourth being Awhitu Region Park, which we already recommended above.
Hunua Ranges and waterfall
With hours of hiking trails and the impressive Hunua Falls, the Hunuas are easily a destination on their own. My daughter has spent more time here than I have and shares her photos above.
Ōmana Regional Park
The first stop on the east coast section of our road trip exploring things to do in South Auckland was the Beachlands Maraetai Walkway in Ōmana Regional Park. For us, it was interesting to notice that Rangitoto seems to look exactly the same regardless of which side you view it from. Historically,Ōmana park was one of the region's first farms.
Duder Regional Park
While most visitors to Duder Regional Park come for the peninsula walk and that feeling as if you are on your own island, we went in lambing season to enjoy the spring lambs.
Things to do in South Auckland: kick back and relax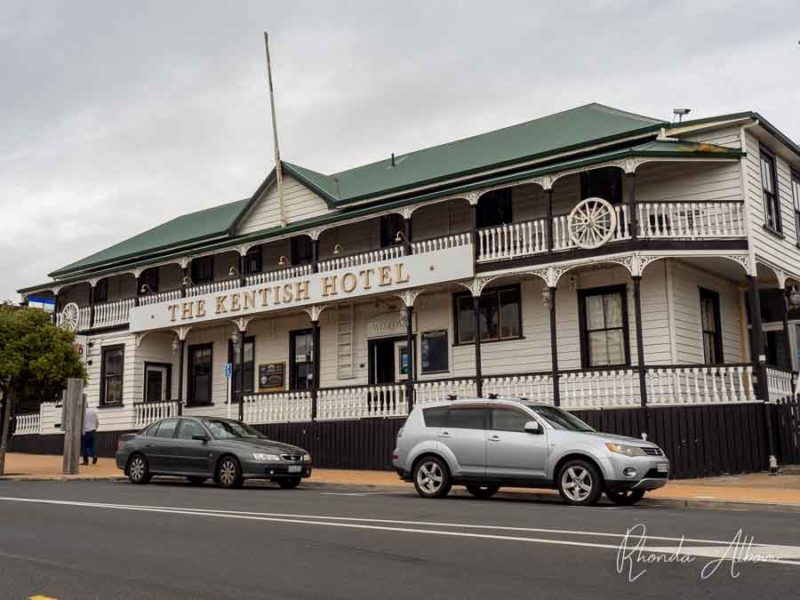 Waiuku
The delightful town of Waiuku is home to the Kentish Hotel, which holds New Zealand's longest continuous liquor license.
Nearby, don't miss the black sand, rugged cliffs, and impressive waves that match the generally windy atmosphere at Kariotahi Beach.
And if you want to complete the day in luxury, head to Castaways Resort for a clifftop meal overlooking the water. Or, go for the ultimate in pampering, book a spa treatment and then spend the night. You can check the reviews or book here.
Villa Maria Vineyard
One of New Zealand's most celebrated wineries is Villa Maria Vineyards. It has been awarded the New Zealand Wine Company of the Year at least 15 times in the past 20 years. With a location quite near the Auckland Airport, a stop here is ideal before your next flight.
Stroll through the grounds (last time we saw hand-pickers harvesting the grapes), have a winery tour, or enjoy a snack, meal, or a glass of wine at the cafe.
Things to do in South Auckland: weekend markets
Otara Flea Market on Saturday
A Saturday morning flea market, Otara is the largest Polynesian-style market in New Zealand.
Clevedon Sunday Farmers Market
I think it's the overall relaxed and rural atmosphere that makes this farmers' market so popular in the region. In fact, this lively market is so popular that there's even a transit option from downtown Auckland that will let you leave the car at home and simply enjoy the views along the way. Check for family discounts and book your transit here.
A bit farther away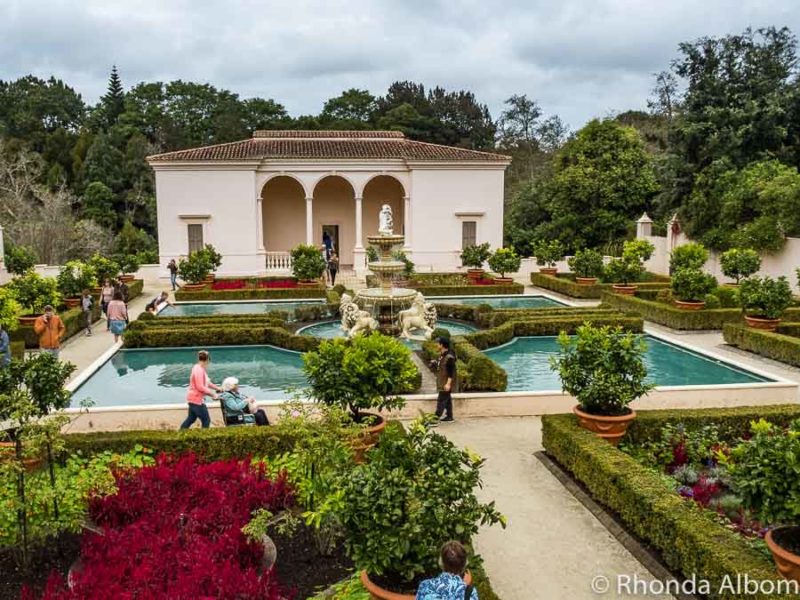 Where to stay
Our favourite getaway spot is located in the region, and you can read our full review of Quail Lodge here.
Get the best deals and discounts in Auckland
Activity discounts
Check Bookme.com for discounts of up to 70% on selected entrances, tours, activities, restaurants and more. Also, our readers get an exclusive 10% discount on New Zealand activities from Klook with code: EXPLORENZ10
(Applies to NZ activity purchases over $50 initiated in NZ or Aus)
Book your accommodation
We use Booking.com as they consistently return the best rates and their reviews are from actual guests. For self-contained lodging, we use Bookabach.
Reserve your vehicle
Use RentalCars.com to find the best deals on cars. With no hidden costs and outstanding customer service, we have successfully rented from them worldwide. Use Jucy for small campervans.
Before you book your NZ trip
Check our travel resources page for more of the companies we use when we travel. We believe them to be the best in each category. You can't go wrong using them on your trip too.
Save for later
If you enjoyed this article, please share it on social media and save it for later on Pinterest.
Which of these things to do in South Auckland will you try first?