Rainbow's End Stratosfear and Fearfall will push even extreme adrenaline junkies to the edge of their limit at New Zealand's largest theme park. But the amusement park is more than just high-energy excitement as it has something for everyone.
It's fun for the whole family, with a target focus on those seeking an adrenaline rush. The rest of us can join the fun at a lower level or just purchase spectator passes and live vicariously through the brave.
Rainbow's End may be physically small compared to many of the huge parks we have been to around the world, but they sure pack in a lot of excitement.
Located in South Auckland, you can see Rainbow's End Stratosphere, Fearfall, and the Corkscrew Coaster from the motorway. If you are headed there, be sure to :
Check for a discount on superpass or Kidz Kingdom entry.
Adrenaline Extreme: Rainbow's End Stratosfear and more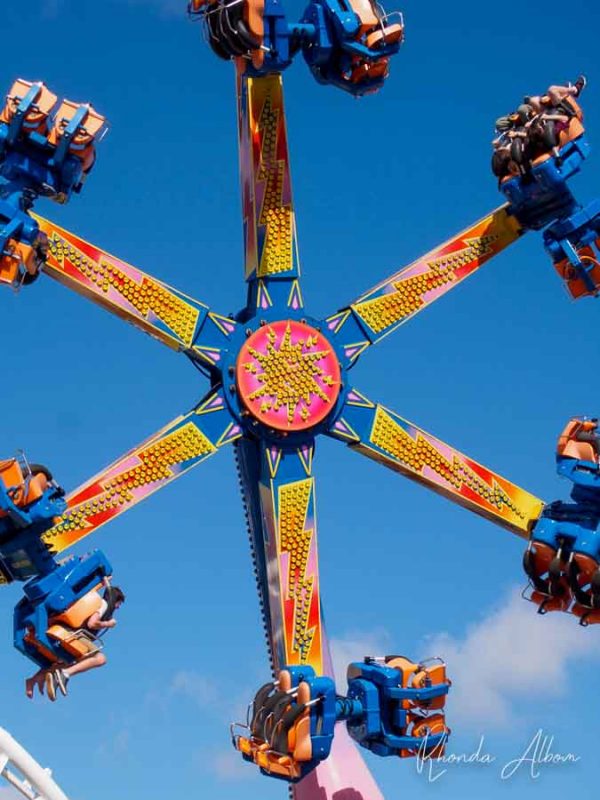 Rainbow's End calls them 'thrill rides'; our teens considered them to be 'The Best Rides Ever'. I just see them as the "terrifying quintuple." Regardless of what you call them, if you are brave (I would say fearless), then these are for you.
Rainbow's End Stratosfear
There are two options for how you take this ride, each with its own queue. For the super brave, the spinning wheel will go all the way over the top. However, a less extreme option has it travelling to only 45 degrees in either direction.
Ivader
A spinning disk running along a track, what could be scary about that? The screams tell a different story.
Fearfall
First, an 18-story slow steady climb, then a hold in that yellow section you see in the photo above before it drops, reaching speeds up to 80 km/h. I shot the drop like that on purpose to get the effect of the speed.
Power Surge
My girls loved it! Spinning and turning, it was a wild ride.
Corkscrew Coaster
As the name implies, this rollercoaster has two full twists or corkscrews, plus lots of climbs, twists and drops.
Our Rainbow's End Stratosfear story
Fear grips me and hangs on as I hold my breath, waiting to discover if the Stratosfear pendulum will go spinning back to earth or if this is the moment it goes over the top. The newest ride at Rainbow's End Theme Park hangs in limbo for just a moment before reversing direction one final time. I exhale. Next time is it.
Laughter turns to screams as, this time, the spinning disc makes it all the way around.
Finally, it ends, and my smiling teens bound out, "Can we go again?"
For me, watching this one is frightening enough. As I looked up at dangling feet and imagined the disorientation of the upside-down riders, I am thankful I am not brave enough for the "more extreme" version of this ride.
If you're ready to ride the Rainbow's End Starosfear, be sure to
check for a discount on superpass entry.
Other exciting rides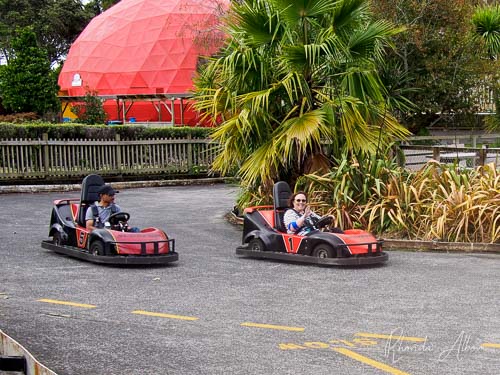 Perhaps a bit less extreme, there are other exciting rides at Rainbow's End.
Log Flume
A gentle ride, finishing off with a big drop and usually a splash.
Gold Rush
A rollercoaster-type ride through an "abandon mine"
Dodgems
The classic bumper cars are quite a bit of fun.
Scorpion Karts
That's me on the scorpion kart image above, but it's not Jeff. As it turns out, I am a bit slow. My husband is way ahead, where most people would be. I am lagging so much the guy who started behind us has caught up.
Fun rides
Dare I admit, my personal favourite is in this section. While my girls went on the Rainbow's End Stratosphere over and over, I was happier on the bumper boats.
The park classifies these as "fun rides", and personally, I think it's aptly named.
Bumper Boats
Family Karts
Rainbow Playlab
Sideshow Alley
Specrta
Kids fun
Inside Kidz Kingdom you will find 11 attractions and rides just for those under 8. We didn't spend any time here, but we could hear the sounds of happy laughter.
Retired rides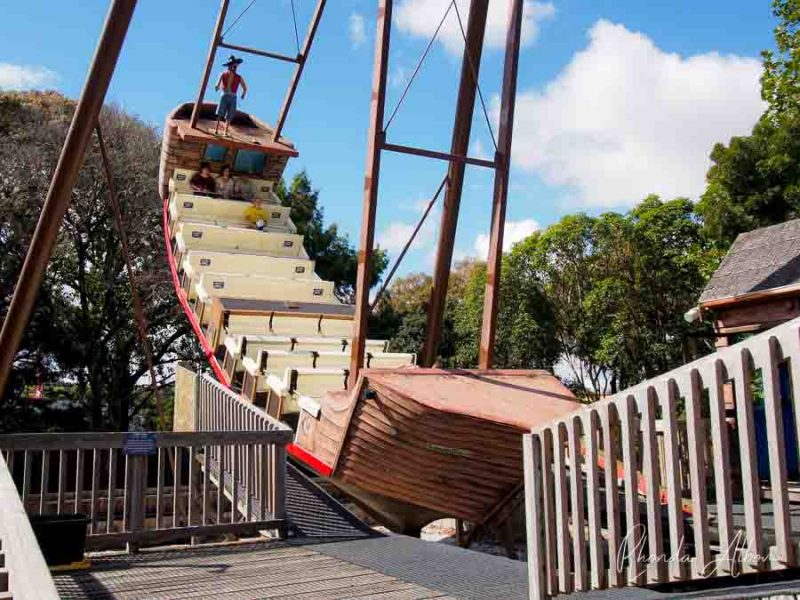 Sometimes, making room for cool new rides like Rainbow's End Stratosphere means retiring classic rides. The Pirate Ship was one we loved that has been permanently closed. Honestly, I can't remember how it is that our family and one other were the only ones on that half of the ride. There were others on the opposite side for balance.
Need to know before you go
Can't stop thinking about Rainbow's End Stratosfear or Fearfall?
First, you need tickets. Bookme often has them at discounted prices depending on the day you choose.
The park's hours and open days change based on school holidays, days of the week, and seasons.
Note that if you are not riding, you can purchase a spectator pass, but there is no free entry option.
For more fun things to do in Auckland, read our article on free things to do in Auckland.
Save on your NZ trip with these resources
These are our go-to companies when we travel. We believe this list to be the best in each category. You can't go wrong using them on your trip too.
Check out our travel resources page for more companies that we use when you travel.
Save for later
If you enjoyed this article, please share it on social media and save it for later on Pinterest.
Will you ride the Rainbow's End Stratosfear?
You might also like …
Disclaimer: As guests of Rainbows End, I have been granted written permission to publish my photos of the park in this article.