Are you ready to try something new? How about pole dancing – Auckland makes this fitness sport fun and easy to try. Recently, we met with a fascinating woman known as The Pole Comedian. Today, she shares with us the secrets of her sport, her journey, and her long list of impressive accolades.

We have also included information for getting started with Auckland pole dancing classes.
In the last ten years, pole dancing in Auckland has quickly become a fun, unique and popular way to work out. In fact, pole dancing is one of the fastest-growing fitness trends in the world.
With roots dating back to ancient China and India, pole dancing is a modern sport and art sensation that's both versatile and challenging.
We got the opportunity to hang with an international pole dance champion who happens to be an Auckland local. She gave us some insight into the pole dance community in Auckland.
An interview with the Pole Comedian about pole dancing (Auckland and worldwide)
Tell us a bit about yourself
I am known on stage as "The Pole Comedian". I have been pole dancing for just about eight years, performing for seven years, and teaching for six years. I have won awards in three different countries, including America, Canada, and New Zealand.
Some of my accolades on stage include:
Current reigning North American Showgirl Grand Champion and Stage Rockstar
Season 12 contestant on America's Got Talent
2021 Open Division Weird and Wonderful Pole Inferno (2nd runner-up)
I am also a Pole Sports and Arts Worlds Federation international judge and have been the curator and featured performer for the Pole Comedy Showcase at the International Pole Convention.
What is pole dancing?
Pole dancing is whatever you want it to be.
Some people use it strictly for exercise, and some people use it strictly for work.
No matter what "tickles your whistle", pole dancing is an incredibly challenging sport and art form that has an eclectic background in its participants. It'd be challenging to cover the entire history of modern pole dancing in just one blog entry, but there are several books on the internet that go into greater depth written by proper historians.
Your name is "The Pole Comedian", what does that mean to you?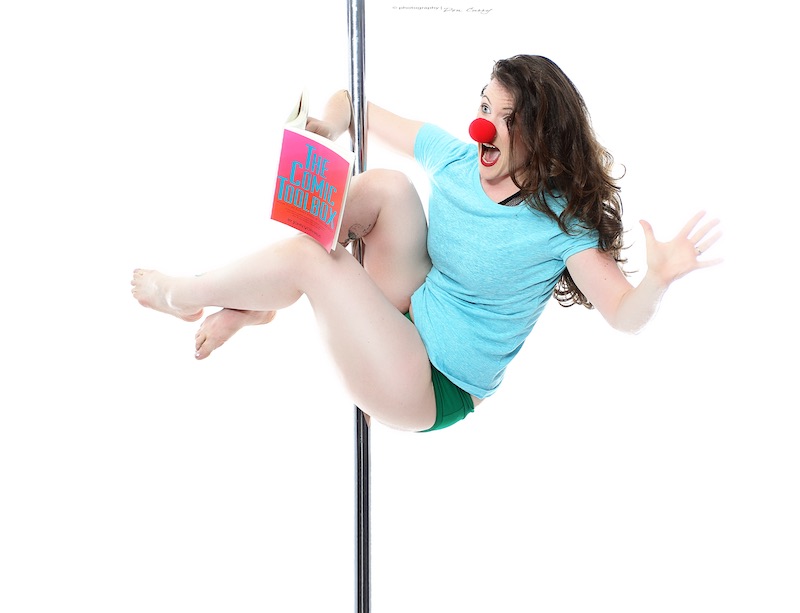 The Pole Comedian is a character I play on TV. It's my stage name, and I think it really lends itself to what I love to do most: make people laugh. When I first started pole dancing, I loved creating routines that were different, light-hearted and got people smiling.
Pole comedy as a style really fits the bill for me. It's basically the art of combining clowning around with pole dancing. Nowadays, my technique and style have evolved. I still favour pole comedy, but as my skills have gotten better, my routines have matured as well.
I like to think of myself as a glorified mime on a stick.
What's your favourite part about pole dancing – Auckland or anywhere?
I love the diversity! Seeing all kinds of humans come up with their own unique way of expressing themselves through pole is incredible. Sometimes, a pole dance performance can be gymnastic and athletic, while sometimes, it's just sensual dancing. It really does vary.
In my case, I love to express myself by making people laugh! That is why pole comedy speaks to me. It's also how I got my stage name, "The Pole Comedian".
What are some of the benefits of pole dancing?
Pole dancing is beneficial in many different ways.
Physically, it requires a massive amount of strength, dexterity, flexibility, and grace to do even the most foundational of tricks. It uses all parts of the body, so taking just one class means you'll be getting a full-body workout.
Pole dancing also comes with an incredible community. Studios often have social gatherings and showcases that enable students and instructors to get together for a good time.
Everyone in the community is different and comes from different walks of life; you can have a lawyer, a doctor, a teacher, and a sex worker all in the same room doing the same thing. It's truly remarkable and special.
Pole dancing is also an incredible way to feel good about yourself. I think if there's one big takeaway I've gotten from my pole dance career, it's that every body is different and every body is beautiful.
I love seeing the transformation of an individual from the first time they try the pole to a year or two later. Each person's journey to self-love is simply incredible.
What would be your advice to someone trying pole dancing for the first time?
Just do it! Anyone any age, with any physical capability, can learn to pole dance. Go in with an open mind and an open heart. Also, pole dancing is hard, so don't be concerned if you don't get everything on the first go!
No one starts at the top of the pole, and anything worth doing takes time and practice. There's no such thing as being too unfit, too inflexible, or too old to give pole dancing a go!
Where can I find pole dancing classes in Auckland?
Pole dancing in Auckland has blossomed, and you have a variety of studios to choose from. I specifically teach at Altitude Pole, which has several Auckland locations (Albany, Drury, Onehunga, and Takapuna) as well as locations nationwide.
Learn more about the Pole Comedian
.
Where can we find out more about you?

I'm most active on my Instagram @ThePoleComedian

I have a website (The Pole Comedian)

And Youtube channel (ThePoleComedian) where you can check out all of my stuff!
Will you try pole dancing in Auckland?
Save on your trip with these resources
These are our go-to companies when we travel. We believe this list to be the best in each category. You can't go wrong using them on your trip too.
Flights: we use Expedia for the best and cheapest flight options.
Accommodations: we use Booking.com (hotels), VRBO (self-contained), or Hostelworld (budget).
Cars (gas or electric): we use RentalCars to search for deals and dealer ratings.
Campervans or Motorhomes: we use Campstar where Albom Adventures readers get a 3% discount.
Motorcycles: we have heard good things about BikesBooking.
Private guides: we love the private guides at Tours by Locals.
Travel Insurance: while not required, we always opt for travel insurance and start at InsureMyTrip to compare coverage plans.
Check out our travel resources page for more companies that we use when you travel.
Photo Credits
All photos of pole dancing (Auckland and other locations) on this page are provided by The Pole Comedian. They carry their own copyright and are used on this page with written permission. Photographers are as follows: