We had never heard of Jugger before today. It took us by surprise as we looked out the window our home exchange house in La Coruna, Spain onto the park. At first, we all gathered at the window and watched a young adult swinging a ball on a chain, aimed at another person.
They were surrounded by others wielding large sticks or weapons. Our best guess was two teams competing in the park, but in what sport we had to wonder.
I had to go down and have a closer look. The family followed.
As seems to be most of the people we met in this town, the players on the sidelines are friendly and welcoming, despite our inability to speak Galilean, the local dialect. Apparently, the game is called Jugger.
The teams here are a group of friends, and this is a practice, so all of today's participants are normally on the same team.
What Jugger Looks Like to an Observer
The group splits into their "teams." Then the 3 . . .2 . . . 1 . . .Go is called and to the observer, it appears as if both sides rush toward each other swinging bizarre weapons.
Once hit, a player drops to their knees and counts with their fingers in the air, so everyone in the game knows how long they are down.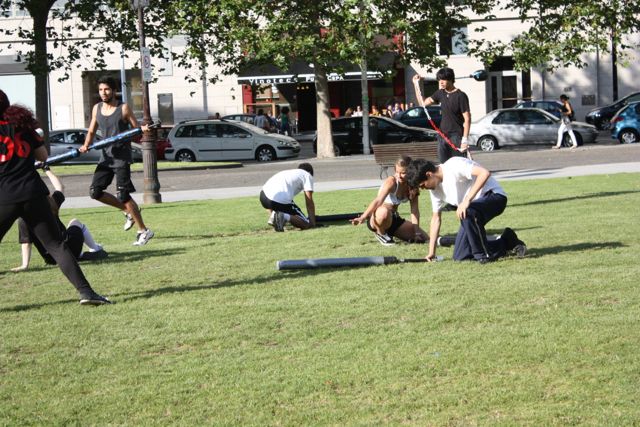 There is one player I haven't quite figured out yet. He swings a ball at the end of a chain and whacks the other team's players.
The confusing part, there is only one player with the ball and chain, so I am not sure how it is determined which side he/she plays on during the game. (Turns out in an actual game, each team has a player with this position. We are watching a practice, so there is only one).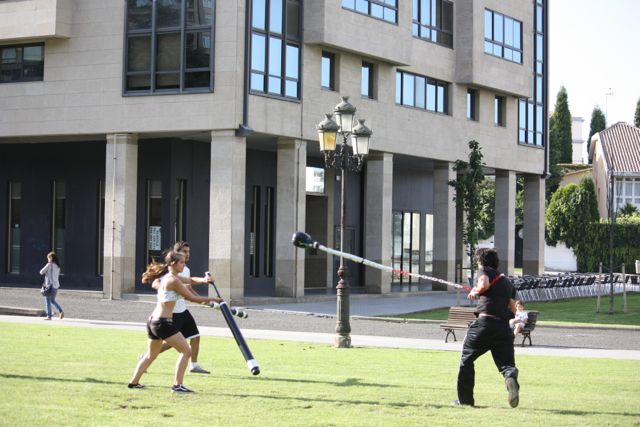 There is an object to the game. There is a ball. Each team has one carrier whose goal is to put the ball into a bucket.
There are Rules of Jugger
As one would expect, there are in fact plenty of rules to this game, and like so many sports, they vary by country. Wikipedia lists the equipment needed, the player roles, and the rules for Australian style, German style (although it states the Irish rules) and American (both North and South) style.
There are many similarities, especially in the weapons between the three regions.
Jugger Timing and Timekeeping
At first, we were confused by the person who sits on the sideline and bangs on a symbol. But it turns out he is the timekeeper, and the gong is very traditional. However, he used a mallet, while tradition suggests 100 stones are thrown against the gong to keep time. The game is played in thirds, and each third is the length of time to toss 100 stones (or hit the gong 100 times, in this case) per third.
Check out the other things we discovered on our home exchange in La Coruña Spain, or on our road trip across northern Spain as we left the region.
Save for later
If you enjoyed this article, please share it on social media and save it for later on Pinterest.
Have you heard of Jugger before? Have you played?
All photos on this page © Rhonda Albom. All rights reserved