Several years ago we visited Alnwick, a classic "living castle" situated along England's Northeast coast. What makes this even more magical is that we took broomstick flying lessons at 'Hogwarts School of Witchcraft and Wizardry.' You see, the Alnwick Castle broomstick training is in the same courtyard where Harry Potter, Hermione Granger, Ron Weasley, Draco Malfoy, and the rest of the Hogwarts first years learned to fly.
Portions of Alnwick doubled as Hogwarts in a variety of Harry Potter scenes, including broomstick flying lessons. However, it's more than that. It's also the current home to the Duke and Duchess of Northumberland.
The castle offers several tours, from gardens to history. We chose the engaging Harry Potter Tour, which was the perfect prelude for our broomstick flying lessons. And was it a success? Well, take a look; both of our girls got off the ground.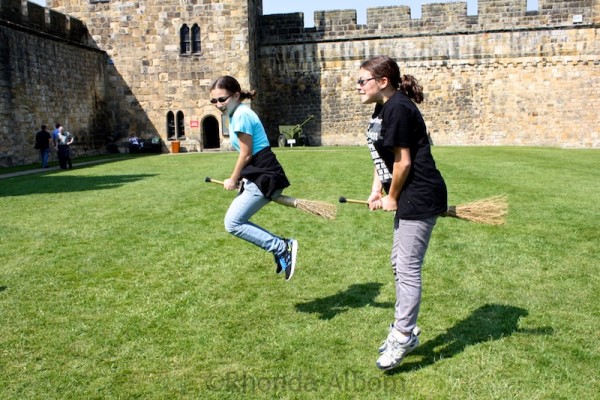 To this day, people still ask us how our girls rode on flying broomsticks. I just smile and think about the photos.
Note: Based on world conditions, we advise checking official channels including cancellation policies prior to booking. Also, with often reduced capacity, booking ahead becomes more important.
Can you see it? It sure looks like they are broomstick flying
I, however, never got off the ground. One would have suspected that I would have been a natural at broomstick flying.
And that isn't the only magic they can do while at Alnwick: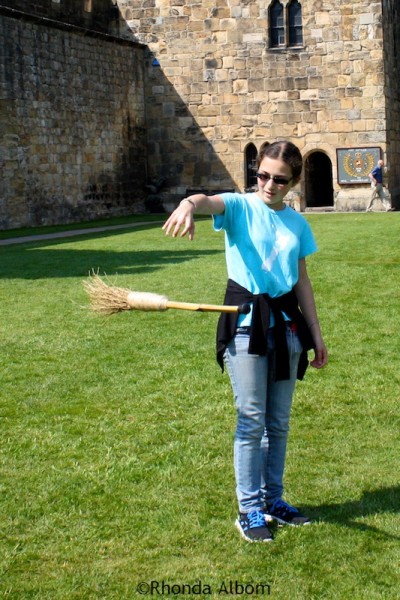 And the illusion is complete.
Trending on Albom Adventures
How to sign up for Alnwick Castle broomstick training
Broomstick flying lessons are open for everyone over the age of six. In fact, I was encouraged by the eccentric professor to join in. Back when we took the lessons, they were included with the Alnwick castle entrance tickets, but today, they are an extra fee. Each class is currently limited to 20 participants and adhere to strict social distancing.
The training includes mounting and dismounting, manoeuvering your broom, and speed control. Learning to fly is a popular activity at Alnwick. Here's what you need to know:
Broomstick flying lessons take place on Saturday and Sunday only.
Tickets are for a specific time and start between 10.30 am and 4.00 pm.
A ticket tent is located near the Lion Arch.
Important: Tickets are only released one hour prior to the start of each lesson.
Our fun and entertaining Alnwick castle broomstick training lasted about 25 minutes, nearly all with laughter.
For more information, check out their official webpage.
Is Alnwick Castle broomstick training real, or an illusion?
We earn from qualifying purchases through partnerships or affiliate programs.
If you want to continue to believe in the magic, get yourself a Harry Potter broom replica, perhaps even a Nimbus 2000. And, stop reading this article now. Instead, head over and join us as we search for other Harry Potter film locations, and don't lose the magic.
If you want to know the secret to broomstick flying or raising the broomstick, then read on . . .
Your first question might be, did I use Adobe Photoshop or Lightroom? While I am a huge fan of Lightroom, and use it for the organization and touch-ups on nearly all my photos, it has nothing to do with the effect of flying.
How do the visitors fly at Alnwick Castle?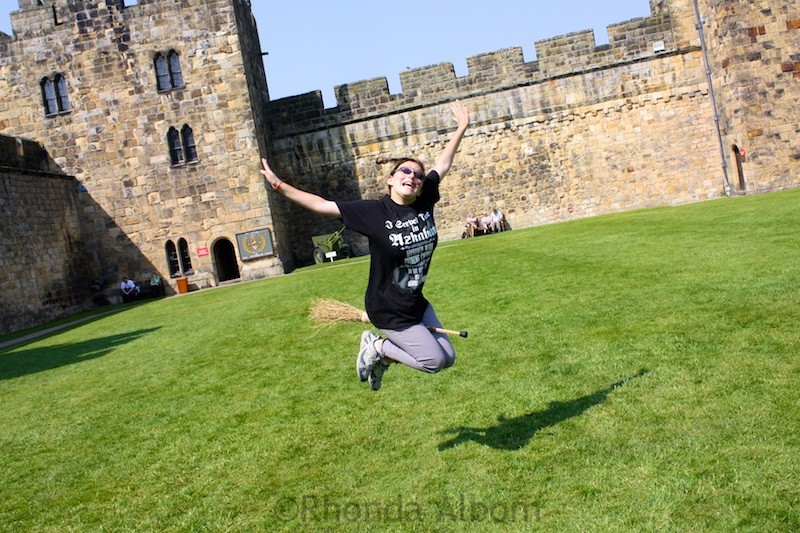 The effect is not a secret:
Body positioning of the single moment in time you wish to portray.
Fast shutter speed.
Narrow aperture for a larger depth of field.
Props – in our case a real "Harry Potter Broom"
Backdrop – If you're not at Alnwick, a castle backdrop would help complete the look.
Creative captions complete the illusion of broomstick flying.
How are they broomstick flying?
You see broomstick flying because I told you they were flying on broomsticks. After all, they are on broomsticks sailing above the ground . . . or are they?
The truth, they stood still with the broomstick between their legs and jumped while tucking up their legs. As a photographer, my job was to freeze a moment in time. I used a shutter speed of 1/640 for these photos. Had I used a slower speed their legs would blur, and it would be obvious that they are jumping.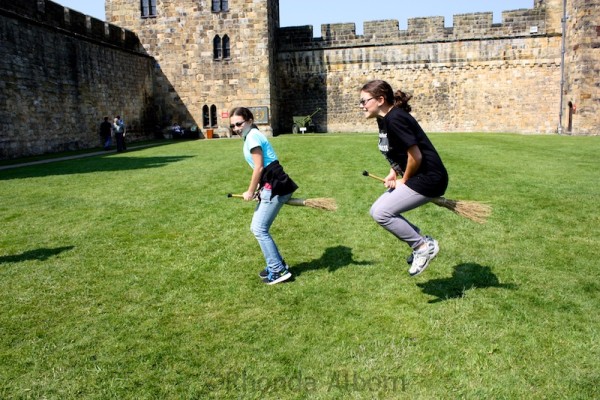 How are they levitating the broom?
And in the "Up" photo, you see the broom rising for two reasons. First, the caption told you the broom was going up, and secondly, take a look at her hand position.
In reality, Sarah is dropping the broomstick, being careful to keep her hand in the proper position to appear as if she is retrieving it. Here I also used a fast shutter speed to freeze the action.
Broomstick flying image fails
Give it a try, but be prepared to take lots of photos to get the effect you want. Here are two that just didn't capture the illusion of broomstick flying: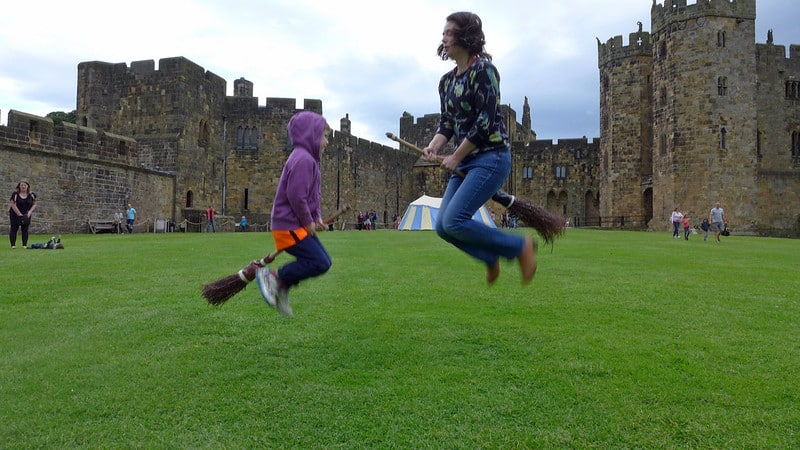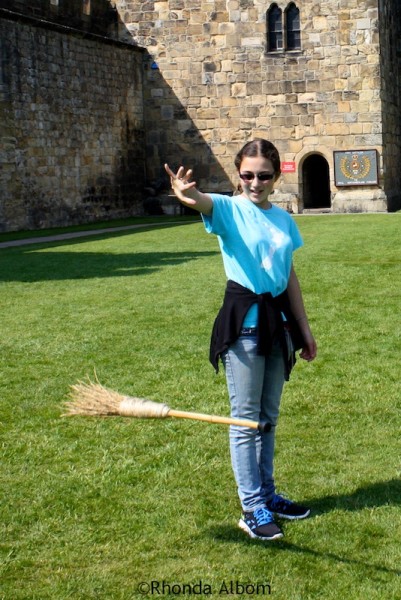 More on Harry Potter
At the time we visited, our girls were Harry Potter fans, having read all the Harry Potter books and seen all eight Harry Potter films multiple times. We also celebrated our daughter's birthday by taking her on a Harry Potter: Warner Brothers Studio Tour just outside of London.
Save for later
If you enjoyed this post, please share it on social media, including Pinterest:
*Alnwick Castle is located in Northumberland, England. It is one of many Harry Potter sites we visited whilst travelling through the UK. Or, take a tour from Edinburgh.
Does the illusion work, do you see broomstick flying?