It was our first day in the Moroccan city of Fes, and our timing was fortunate as the city was hosting the Moussem of Moulay Idriss II (Moulay Idriss Festival). In Morocco, a "moussem" is a religious festival in honour of a saint, and this particular event is one of Morocco's largest moussems.
Not a fan of crowds, we were a bit apprehensive as we approached the main gate to the old medina. However, the advice given to us was excellent.
We tucked into a cafe window seat high above the street, affording us a prime position to enjoy the festival without being a part of the crowd. We ordered traditional Moroccan mint tea to compliment the recommended snack.
The festive mood was contagious.
Despite the hot weather, the thick crowd was seemingly friendly. The parade of local artisans, musicians, and others wove through the onlookers effortlessly. The melodic music mixed with an almost chanting tone filtered up to our seats. While we didn't fully understand the event, we enjoyed it.
Note: Based on world conditions, we advise checking official channels including cancellation policies prior to booking. Also, with often reduced capacity, booking ahead becomes more important.
Highlights of the Moulay Idriss festival procession
Musicians created a festive mood
Setting the festive tone, the first musicians entered the medina along the procession route. Many onlookers joined the procession, adults and children alike.
Next, a group of drummers joined in, skillfully twirling their drums as they played. People, especially those sitting up where we were, tossed money into their drums. One guy looked straight up at me, his eyes asking for money to be tossed. We quickly obliged.
In the end, the drummers were my favourite to watch.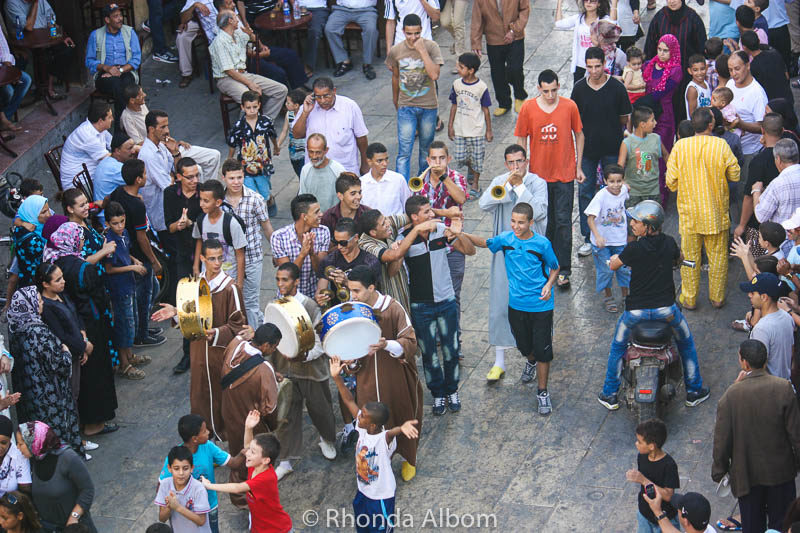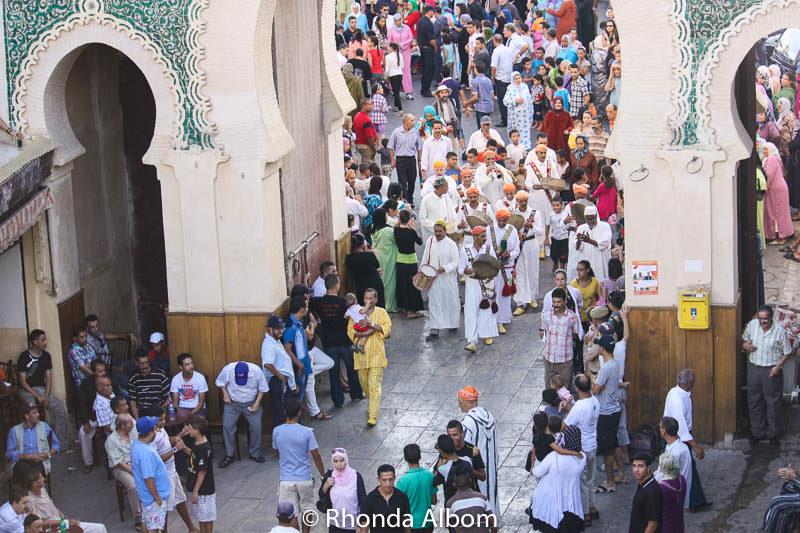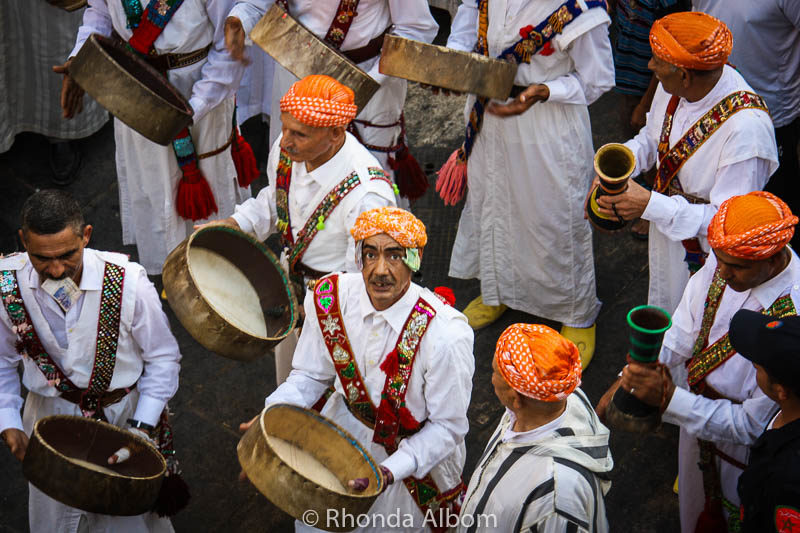 Craftsmen shared their wares
After the musicians came the craftsmen. First, the carpets, then other handcrafts.
As more skilled craftsman shared their wares as the crowds on the street were getting thicker. Some were onlookers. Many joined in. I was just glad to be in a seat watching from above.
In the second shot below, the blue blanket caught coins as onlookers tossed them from the decks.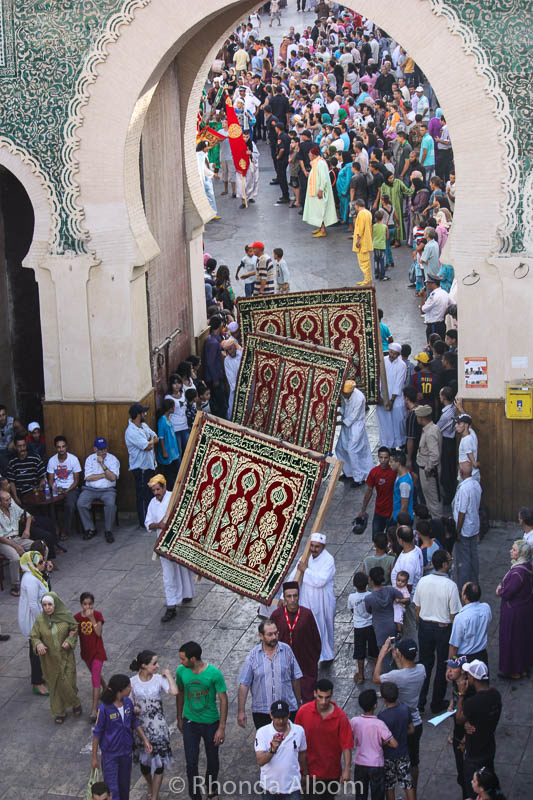 Crowds filled every empty spot
The crowds kept growing, and seemed to fill every spot on the ground, in the cafes and on the rooftops.
We continued to be thankful for the advice to get here early and to sit in this cafe. From our window seat inside the medina, we looked towards the intricate main gate. Called the Blue Gate, it is blue on the other side.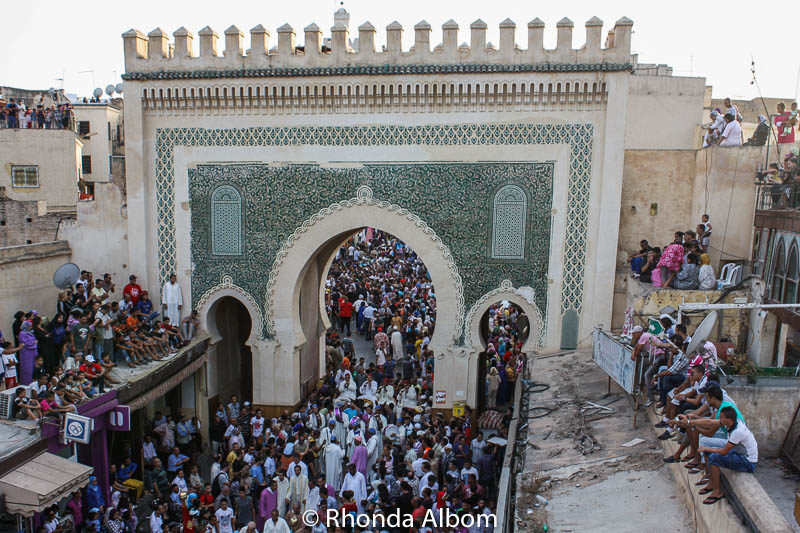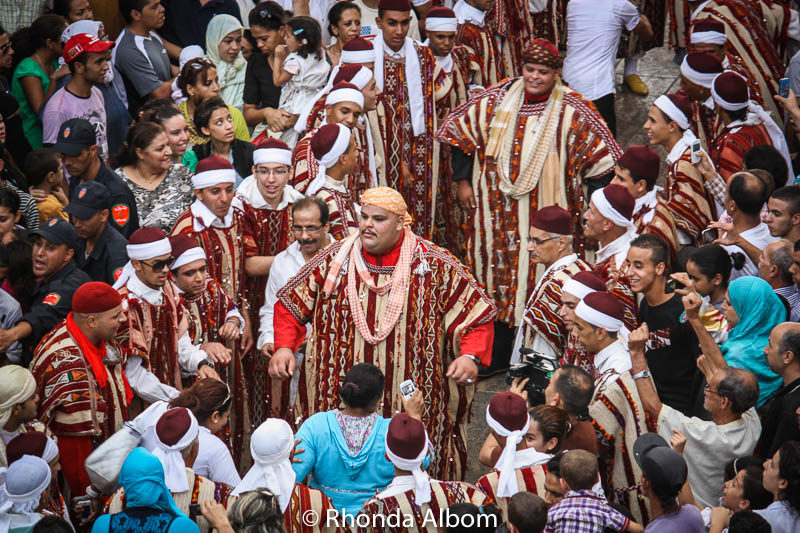 Animals are included, some being ridden and one for sacrifice
While the overwhelming majority of people walked, some rode donkeys. Traditional melodies filling the air.
Several men guide a single cow through the crowd to a place for sacrifice. Many onlookers will follow along to witness the sacrifice, but not us. While we try to embrace the culture, we just couldn't bring ourselves to either join that dense crowd or watch a sacrifice.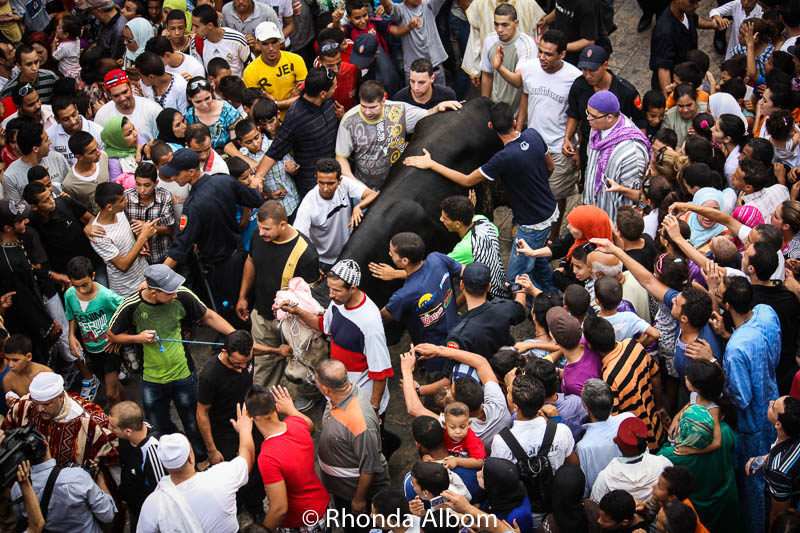 More information on the Moulay Idriss Festival
The Moussem of Moulay Idriss II procession winds through the old medina of Fes to the saint's tomb.
We attended this annual event in September 2012. However, the date moves according to the Islamic calendar.
Moulay Idriss II ruled Morocco from 807 to 828 and founded the city of Fes for the second time in 810. (according to Wikipedia)
Rabat is the current capital of Morocco. Historically, the capital city has changed many times between the imperial cities of Fes, Marrakesh and Rabat.
A portion of Fes' old Medina is a UNESCO World Heritage Site.
Fes or Fez? Because the city name is Arabic, it doesn't translate directly to English. Both spellings are correct. However, more often, the city is Fes, while the hat is a fez.
More to do in Fes
Best deals and discounts for your travel planning needs
We earn from qualifying purchases through partnerships or affiliate programs.
Flights: When it comes to flights, we always start with Expedia.

Hotels: We use Booking.com to compare and book accommodations. Don't miss Booking.com's Getaway 2022 Deals that save 15% or more on selected accommodations. (T&Cs apply)

Other accommodations: If you prefer B&B or self-contained type lodging, check out VRBO.

Vehicle hire: RentalCars is like a rental car search engine with no hidden costs, that lets us find the best deals on car rentals worldwide.

Private Tours: We are big fans of ToursByLocals, and use them for nearly all cities where we want a private guide.

Packing Tips: Get a free copy of our packing light checklist when you sign up for our mailing list. (We pack light, yet have everything we need.)
Find more money-saving resources and T&Cs on some of the above, check our Travel Resources page.
Save for later
If you enjoyed this article, please share it on social media and save it for later on Pinterest.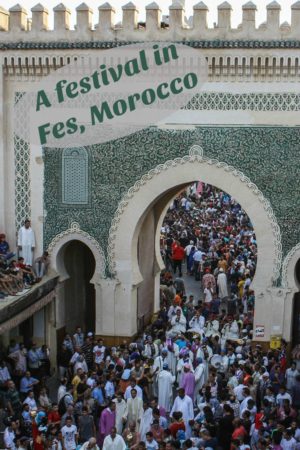 Have you seen a Moussem of Moulay Idriss II or a festival like it?