Rabat, the capital of Morocco, is a surprisingly modern city with a long history. While we opted to spend the majority of our time in the older historic sections of town, there are plenty of things to do in Rabat.
It's a city often overlooked by visitors who head straight to the country's more popular parts. In fact, our original Morocco travel plans didn't include it. But it didn't take long for us to fall in love with the country and increase our time in Morocco from a week to a month.
Honestly, I am glad we added Rabat, as it is an easier place to be than the other imperial cities. Less touristy, we had more time to discover the culture, and importantly, to relax a bit as we had been 'all go' through other parts of the country.
A coastal city, Rabat is located on the Atlantic coast, also boarded by the Bou Regreg River. In 2012, it gained world heritage status.
Therefore, we had plenty of time to discover some of the fascinating things to do in Rabat.
Top things to do in Rabat
Kasbah of the Udayas
Dar al-Makhzen (King's Palace)
Chellah
Hassan Tower

Mausoleum of Mohamed V

Old Medina
Waterfront
Kasbah of the Udayas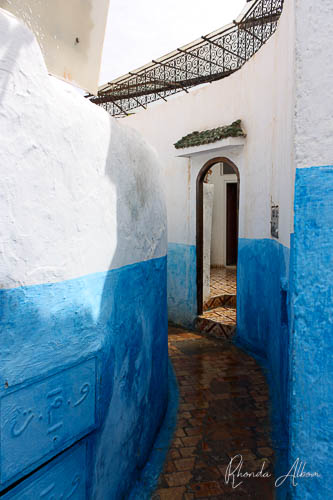 Overlooking the Bou Regreg River and the Atlantic Ocean, the 12-century Kasbah of the Udayas (Kasabah des Oudeyas) once protected the city of Rabat. In fact, at that time, the fort encased the city.
It's a must-see, found on probably every list of things to do in Rabat.
Inside, we walked along the narrow streets of the residential area with a sense of déjà vu, the half-painted blue walls reminiscent of our time in Chefchauen, the blue city.
Next, we enjoyed mint tea and a surprisingly large snack tray at Café Maure, overlooking the water. Then we checked out one of Morocco's oldest public museums (Musée Des Oudeyas).
Just outside of the walls, we strolled through the lovely Andalusian Gardens.
Dar al-Makhzen (King's Palace)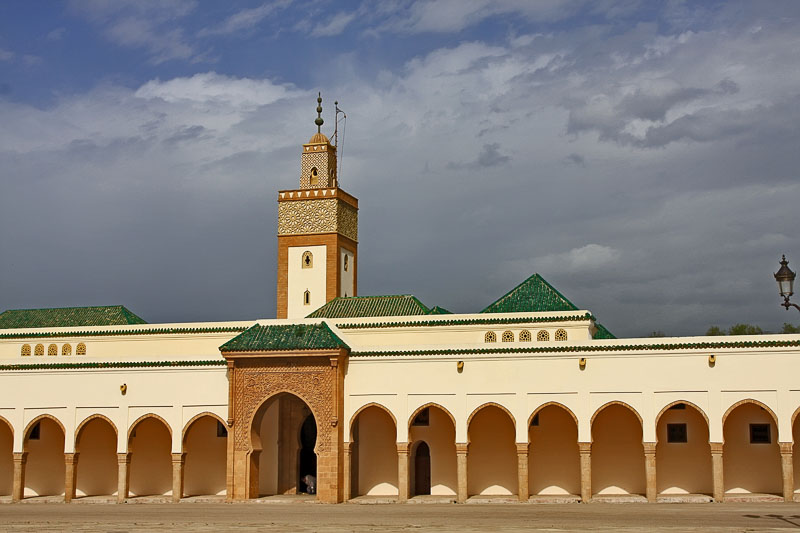 Each of Morocco's Imperial cities has a royal palace. King Mohammed VI currently resides in Dar al-Makhzen (Rabat's palace).
Visitors can enter the grounds but are only permitted to do so through a designated gate.
While this seems pretty simple, for us, it wasn't. When we arrived at what we thought was the correct gate, we were sent back in the direction we had come from.
However, when we finally made it to the newly described gate, the guards told us we had been right the first time. Giving up, we figured it was a language translation issue.
Pro tip: Be sure to have your passport with you if you want to visit the grounds.
Chellah
The Chellah is probably my favourite place in Rabat. These former ruins have been built over multiple times.
First by the Phoenicians in the first millennium BC. Next, the Romans added it to their empire.
In the 1300s, it was built over as a dynastic necropolis for the Marinid dynasty, although there is still evidence that the Romans had been here.
The ruins are interesting, and the gardens are well-maintained, featuring flowers and fruit trees. There are English-speaking guides at the entrance that will help make the visit more interesting. Their price is generally negotiable.
Chellah is smaller than Vollibulis, the Roman ruins we visited from Meknes. However, the structures at Chellah, many of which are 1000 years newer, are naturally more intact.
If you are a fan of ruins and not planning a visit to Meknes on your own, you won't want to miss this full-day tour from Rabat to Volubilis and the imperial city of Meknes. Reserve your tour here.
Note: there is some talk online suggesting Chellah is closed temporarily, others suggest it is a permanent closure.
Hassan Tower and Mausoleum of Mohamed V
Construction on this unfinished mosque began in the 12th century. Under orders from the then ruler, Yacub al-Mansur, it was to hold 20,000 worshippers and be the world's largest mosque. Similarly, the minaret would be the world's tallest, standing at 60 metres.
Unfortunately, upon al-Mansur's death in 1199, the project was stopped. The 1755 Lisbon earthquake further damaged these ruins.
The mausoleum, built in the 1960s, is the final resting place for former ruler Mohammed V (1909 – 1961), who guided the country to its independence.
Also entombed here are his two sons, King Hassan II (1929-1999), and Prince Abdallah (1935-1983). Open to the public, the mausoleum is protected by the Moroccan Royal Guard.
Hassan Tower and the Mausoleum of Mohammed V should be on your list of things to do in Rabat.
Old Medina
Unlike the medinas we visited in Fes, Marrakesh, or Essaouira, the old Medina in Rabat is smaller and much less touristy. Therefore, it seemed easier to shop here. Yet, the handcrafts were equally as exquisite, and the food as exotic.
A great place to find souvenirs, Jeff also purchased an electrical adapter from one of the old souk vendors.
Located just inland from the river, a visit to the old medina should be on your list of things to do in Rabat.
Waterfront
While there are several sandy Atlantic Ocean beaches and even a surf beach in Rabat, we didn't visit any of them. However, we did walk along the coast path and enjoyed the views.
More things to do in Rabat
Mohammed VI Museum of Contemporary Arts: Reviewed as an impressive art museum, it opened since our last visit, and we haven't been yet.
Jardins Exotiques de Bouknadel: Beautiful gardens with botanical displays from around Asia, the Caribbean, the Amazon, and other African nations.
MegaMall: As the name implies, there is a modern mega mall in town, complete with shops, a food court, and even an ice skating rink.
Take a hammam bath: Like every city we visited in Morocco, there are choices here. You can enjoy a luxurious "tourist" spa-like hammam or visit a no-frills, strictly traditional hammam as we did in Fes.
Visit the nearby town of Salé: If you want a sense of purely local life, cross the Bou Regreg River to Salé. Be sure to explore the medina, view the Grand Mosque (non-muslims cannot enter), and include a visit to the former pirates slave prison.
Take a cooking class: Discovering the food and preparation is one of the best ways to learn about a culture. And doing it in a family home is even better. Check out this tour that takes you first to the market, then back to the home to prepare either a traditional Moroccan three-course meal or to enjoy a cooking session of pastries and cakes. Reserve your cooking class here.
Tips for visiting Rabat
One of the best ways to see the city is with a private guide. We tend to use Tours By Locals when we visit unfamiliar cities, especially places with an interesting and significant history that we want to understand. We generally discuss the details with a guide before we hire them, as we frequently alter their pre-scheduled suggested itinerary and need to be sure our revised plan will work. Check out these Tours By Locals guides in Rabat.
We arrived in Rabat on the train, a quick, easy, and efficient way to travel if you pay the nominal extra fee for a first-class car. Otherwise still quick, but overcrowded and hot.
As with anywhere in Morocco (and several other countries), avoid public protests and demonstrations as they often quickly turn violent. We were nearly caught up in one as we walked past parliament at the wrong time. We quickly turned a corner and avoided the impending clash between the police and the approaching rioters.
Take caution when crossing streets. In our experience, drivers ignored crosswalk signs.
We stayed at and recommend Dar Yanis, a lovely riad just outside the old medina and a five-minute walk to the beach. Reserve your room at Dar Yanis here.
Save on your trip with these resources
These are our go-to companies when we travel. We believe this list to be the best in each category. You can't go wrong using them on your trip too.
Check out our travel resources page for more companies that we use when you travel.
Save for later
If you enjoyed this article, please share it on social media and save it for later on Pinterest.
Which of these things to do in Rabat will you try?
Photo Credits:
All photos on this page are either shot by our team and watermarked as such or stock images from Depositphotos.