It only takes one quick look to know how the names Chefchaouen and Blue City became interchangeable. More than that, the Chefchaouen blue city is unlike most other places we have visited.
A walled city founded in 1471, Chefchaouen has an interesting, albeit sordid, history.
A refuge and haven for Jews and Muslims during the Spanish Inquisition, Chefchaouen banned Christians (punishable by death) until the 1920s, when Spain temporarily captured it.
Today, it is probably most known by its nicknames, either the "Blue City" or the "Blue Pearl."
Strolling the streets of Chefchaouen
We found the blue to be calming, creating a serene feel as we strolled through the streets. This is a complete contrast to the chaotic environment we found in Fes, Marrakesh, or many of the other Moroccan cities we visited.
That said, this is a city to explore on foot. To walk the streets with open eyes and breathe in the beauty.
The is a city for photographers. Whether you are amateur or professional, whether you shoot with a big DSLR or a phone, the variety of blue will captivate your imagination and have you snapping photos constantly.
Here are some of my favourite shots over two days: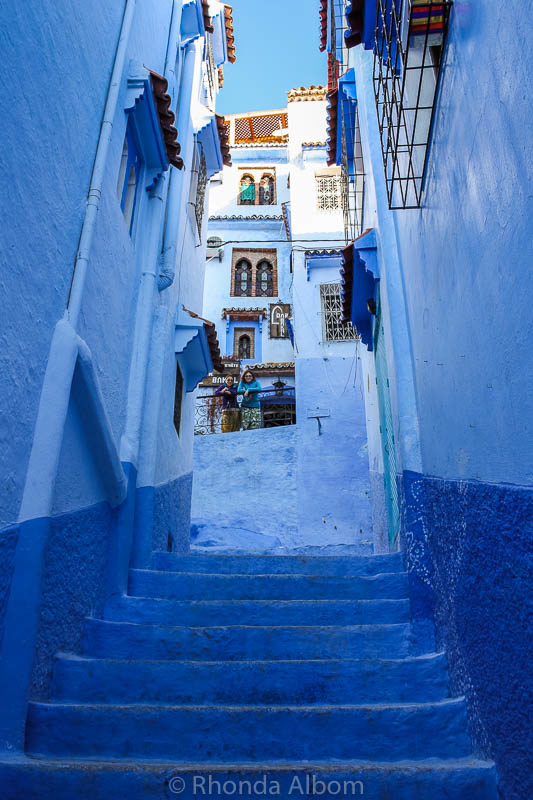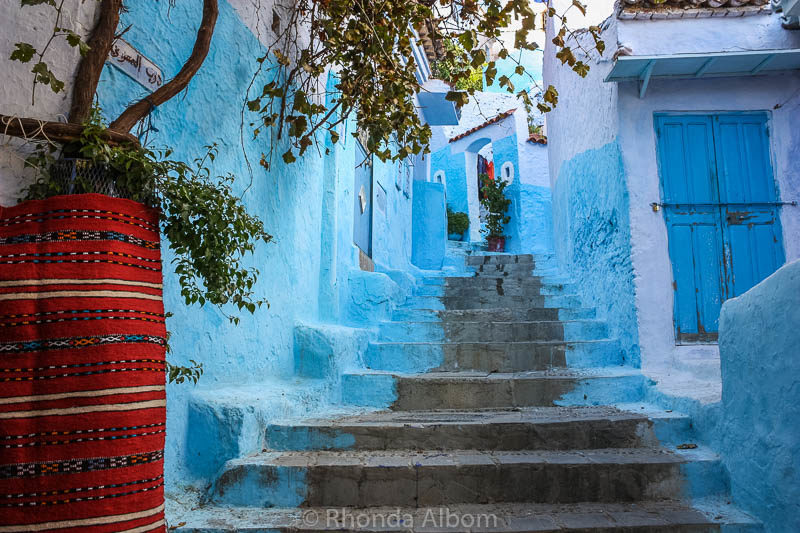 Why is Chefchaouen a blue city?
I wondered why Chefchaouen was a blue city. Apparently, there is no definitive answer, but lots of rumours, speculations, and theories on the subject. When I asked our guide, he simply rattled off a list of reasons, each one as plausible as the one before, but only one can be right.
I followed up by asking the proprietor of our riad and a couple of other guests who went with a different guide, and I did a bit of research.
There isn't even complete agreement on when it became blue. The majority of stories suggest the mid-1900s. However, one version implies that blue paint began in the 15th century.
Interestingly, several of the theories relate to the city's then-Jewish population, which had two major influxes. First at the start of the Spanish Inquisition in 1492, and second were those fleeing Nazi persecution just prior to the start of WWII.
Here are all the answers I can find to the question, "Why is Chefchaouen a blue city?
It's tradition
The oldest theory he had heard was the Jews escaping the Spanish Inquisition painted their new homes blue as that was their tradition.
Blue represents water
There were two different thoughts here. Some say the variety of blue hues creates an effect like the sparkling Mediterranean sea. Others simply say that the colours represent Ras el-Maa waterfall, the source of the town's water.
As a show of solidarity
The second influx of Jews arrived at the start of WWII and painted their houses blue representing the sky and thus symbolizing the power of the heavens, peace and safety. In a show of solidarity, others in Chefchaouen followed.
Mosquitos stay away
According to our guide, Chefchaouen is in the only region of Morocco to have ever had malaria (although he assured us it is not a problem today). Locals began to notice that the blue areas of the Jewish section had fewer mosquitoes, so they subsequently painted the rest of the town.
Houses stay cooler
This one is self-explanatory.
Tourists come to see it
Finally, there are locals that suggest that the original reason is not important anymore, admitting they now keep the blue to attract tourists.
What else to do in Chefchaouen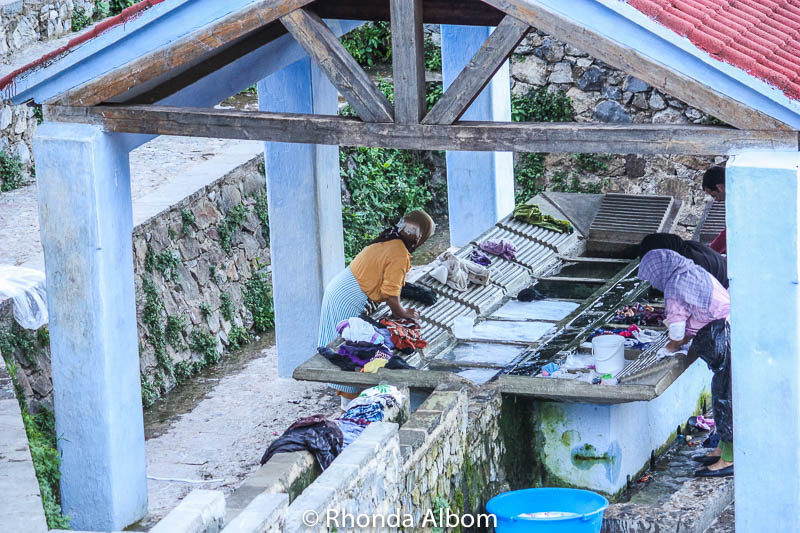 Relax at Place Al Haouta
This is the main square in town. It was still early when I captured the shot above. Later in the day, the cafes were open, chairs and tables out, and somehow, there were still cats everywhere.
Admire the Grand Mosque
The Grand Mosque is one of 12 mosques in Chefchaouen. Non-Muslims cannot enter, but we can see the somewhat unique octagonal minaret. Most Moroccan minarets are square.
Get a glimpse into daily life
Our guide took us to the stream below the waterfall. Here we overlooked an area where women wash laundry. They scrub at a workstation set up along the waterway.
Check out the old city wall
You can see Chefchaouen's city wall as it runs up through the Rif Mountains.
Discover the vivid chalk used to make paint
Paint pigment (chalk-based talc) is for sale in Chefchaouen. Typically, exteriors are blue, whereas interiors can be a variety of colours.
Drug trade
The region is also quite popular amongst the tourist sector seeking drugs. The plantations in the surrounding hills drive this reputation. We avoided anything related to the drug trade, as it was illegal in Morocco when we were there.
Day trip from Chefchaouen to the Akchour Waterfalls
The drive to the Akchour waterfall trailhead is about 40 minutes north of Chefchaouen, the exact opposite direction from Fes. Next, a 3.5-hour hike (each way).
As happens at times, we were too tired to do the full hike, and at about an hour in we crossed over a tiny cascade. At this point, we all decided to skip the big waterfall and just hike back to the car. Not the best use of our money, but not the guide's fault either.
Had we completed our hike, we would have first come to the small waterfall just below, and then later, we would have been rewarded with a waterfall so tall (about 100 metres [328 ft]) that it's impossible to get it into one photo.
From those we talked to who actually completed the hike, it seems we missed two stunning waterfalls as well as a dip in a refreshing swimming hole.
Where to stay
While there are several options, we prefer top-rated places, and these two are top picks based on user reviews:
Lalla Ghayta
One of the top-rated accommodation options in Chefchaouen, the Lalla Ghata is a villa featuring 2-air conditioned bedrooms. Perfectly located, it is just 300 m from both Outa El Hammam Square and Mohammed 5 Square, while only 400 m from Kasba. Reserve your room at Lalla Ghayta here
Riad Cherifa
Also quite well located, Riad Cherifa is absolutely lovely, offering 4 suites and 8 rooms. Opened in 2016, it is built from two traditional Chefchauen houses. Reserve your room at Riad Cherifa here
Getting to Chefchaouen
Located in the Rif Mountains, Chefchaouen is about 125 km southwest of Tangier and 200km north of Fes.
We had been in Morocco for nearly a month by the time we came to Chefchaouen. Up until this point, our Moroccan travel included a train from Fes to Marrakech or a self-driving road trip loop from Marrakech west to Essaouira and then east to the Sahara.
Driving in Morocco is easy, although we did get pulled over a few times for ridiculous things that generally had low fines. The first time we paid it, but later it was suggested to us to ask for a lower price. With a bit of negotiation, the fines got reduced to the equivalent of very little in our own currency. It went into a pocket, there was no paperwork, and we were on our way with a story to tell.
Transportation options
The best options for getting to Chefchaouen are to either rent a car, hire a private guide, or join a tour. There is also a bus option, but we never took the bus in Morocco and can't personally recommend it.
Rent a car
As stated above, driving in Morocco is easy. I am not sure why we opted to get a private guide rather than renting another car and hiring a guide just in Chefchaouen (for that added value). We believe the best way to rent a car, just about anywhere in the world, is with RentalCars. As an aggregator, they feature both local and international companies along with cars and ratings, offer competitive pricing, and have English-speaking customer service. Check availability or reserve your rental car in Morocco here.
Hire a private guide
We used a private guide from Fes. As a result, we paid quite a bit extra for the overnight and Akchour stop. In retrospect, we wish we rented a car and then hired a private guide locally. Either way, we always use Tours By Locals. Based on reviews and their English fluency, we recommend this guide for a private tour from Fes or one of these guides for a local tour in Chefchaouen.
Take a tour
Tours are also a great option for the additional background, history, and culture they add. Plus, there is the added bonus of not having to drive.
Save on your trip with these resources
These are our go-to companies when we travel. We believe this list to be the best in each category. You can't go wrong using them on your trip too.
Flights: we use Expedia for the best and cheapest flight options.
Accommodations: we use Booking.com (hotels), VRBO (self-contained), or Hostelworld (budget).
Cars (gas or electric): we use RentalCars to search for deals and dealer ratings.
Campervans or Motorhomes: we use Campstar where Albom Adventures readers get a 3% discount.
Motorcycles: we have heard good things about BikesBooking.
Private guides: we love the private guides at Tours by Locals.
Travel Insurance: while not required, we always opt for travel insurance and start at InsureMyTrip to compare coverage plans.
Check out our travel resources page for more companies that we use when you travel.
Save for later
If you enjoyed this article, please share it on social media and save it for later on Pinterest.
Have you been to Chefchaouen, the blue city?
Photo Credits
Photos on this page are either shot by our team and watermarked as such, in the public domain, or some stock photos were supplied by DepositPhotos.