Chaotic, invigorating, colourful and hypnotic, the old Fes medina is enough to place Fes among my favourite cities in Morocco. It's the largest medina in the country, yet there are still plenty of other things to do in Fes.
A former capital of modern Morocco, Fes is the country's third-largest city. We chose to spend most of our time inside the walls of the old medina. As one of the world's largest pedestrian zones, it's also a bit of sensory overload, but it's never dull.
Then there is modern Fes, outside the old medina offering a completely different feel and list of things to do in Fes.
We liked Fes so much that we went back for a second visit.
Top 10 things to do in Fes
Lose yourself in the old Fes medina
Be enchanted by architectural and mosaic details
Explore the Jewish quarter
Visit Chouara Tannery (inside the Fes medina)
Take a photo of the Imperial Royal Palace
Be in awe of the craftsman
Escape the chaos at Jardin Jnan Sbil
Discover new flavours and aromas
Get a henna tattoo
Take a day trip to the 'blue city' or to ancient Roman ruins.
Lose yourself in the old Fes medina (Fes el Bali)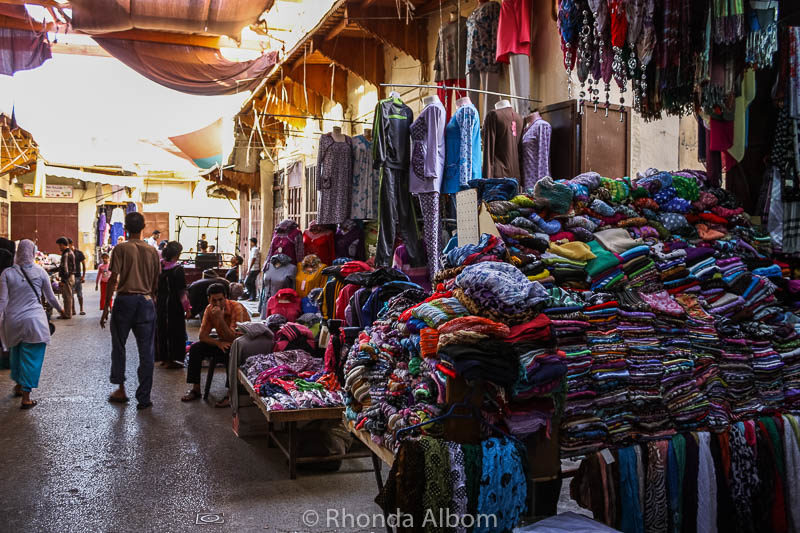 The old walled Fes medina is a labyrinth of narrow streets and dead ends like nowhere else. The 1200-year-old Fes medina is the oldest surviving medina in Morocco. It's also a UNESCO world heritage site.
It's one of those places that people either love or hate.
Whether you are shopping for clothing, spices, souvenirs, food, or crafts, there are seemingly endless opportunities in the medina. Prices are never listed. Bartering is a way of life. Don't be surprised that Moroccans pay considerably less than tourists, even for the same items.
Working animals share the medina's walking spaces.
We got lost several times in the maze of streets. In fact, I believe most people do. This is half the fun. Note there are plenty of locals, many of whom are kids, that will happily guide you out for a couple of dirhams (the currency of Morocco). They will find you if you look lost.
Pro tip: Before you hire a guide to find the exit, try walking uphill. Most of the medina alleyways head downhill to the centre. That is, unless hiring the guide is part of your fun.
Also, inside the wall of the old Fes medina are plenty of restaurants, mosques, an old madrasa, meeting places, and riads (accommodations).
The Fes medina is a must-see on most lists of things to do in Fes. However, if the probability of getting lost intimidates you, or if you have limited time and want to be sure to see all the highlights, you can:
Hire a guide on the spot who may or may not be an actual guide
Get a vetted private guide through Tours By Locals, a company we have successfully worked with worldwide.
Be enchanted by architectural and mosaic details
Have you ever noticed that people tend to look down or out in unfamiliar surroundings?
But in Fes, and especially in the Fes medina, we encourage you to always look up, even on the narrow streets. For it is there that we so often discovered stunning and intricate carvings or Zellige mosaics.
Zellige patterns are created from individually chiselled geometric tiles. The result is impressive, unique, and exquisite.
One site not to miss is Bab Bou Jeloud, the French-made Blue Gate (photo at the top of page). In contrast to most of the centuries-old handcrafts in the medina, the Blue Gate was built in 1913.
The cars in the photo, as well as the cobalt blue colours, indicate that I am standing outside the medina. The other side of the gate is green (in the medina) and marks the sacred colour of Islam.
Explore the Mellah (old Jewish quarter)
Large windows and open balconies signified our arrival at the Mellah, the old Jewish quarter of Fes. These dwellings stand in sharp contrast to the traditional Arab houses that have huge indoor courtyards but a limited view of the outside.
Jewish history in Morocco dates back more than 3,000 years, and as recently as 100 years ago, over 250,000 Jews lived in Morocco. Substantial emigration began with the establishment of the state of Israel in 1948. The current estimate is that only 2,000 Jews remain in Morocco, most in Casablanca.
This short video highlights the history of Jews in Morocco.
Synagogue Ibn Danan
We navigated the Mellah's labyrinth of narrow streets to find Synagogue Ibn Danan, one of the oldest synagogues in North Africa. Locating the caretaker was a bit more challenging but required gaining access to the beautifully restored 17th-century synagogue. (We had a similar experience at the synagogue in Marrakesh). We saw the original deerskin Torah, the tevah (bimah), and the mikva bath below.
Jewish cemetery
We passed through the blue door into a long hallway but were not able to enter this old Jewish cemetery. However, we could see it through a fence. The cemetery overlooks the newer portion of the city of Fes. Graves in a Jewish cemetery can face any direction, while in a Muslim cemetery, all graves face Mecca.
Take a tour that includes the Jewish quarter
If you are looking for a city tour that visits the old Jewish quarter, we like the looks of this highly-rated half-day private tour. It visits several sites in the medina: Al Quaraouin University, Batha Museum, Blue Gate, and Chouara Tannery. It also visits the Jewish quarter, including Ibn Danan Synagogue, Jnan Sbil garden, Nejjarine Square, and sees the Royal Palace Gate. Book your half-day Fes tour here.
Visit Chouara Tannery (inside the Fes medina)
Chouara Tannery is the largest of the three tanneries in Fes. Operating since the 11th century, it's the oldest tannery in the world using traditional methods. In fact, for thousands of years, leather processing techniques utilised pigeon droppings, cow urine, and other natural materials.
The best place to view the tannery is from above, and this also helps with the overwhelming stench. At least that's what they tell you, but I can't even imagine how bad it was down low.
Pro tip: Hold a mint leaf under your nose to help hide the smell.
Take a photo of the Imperial Royal Palace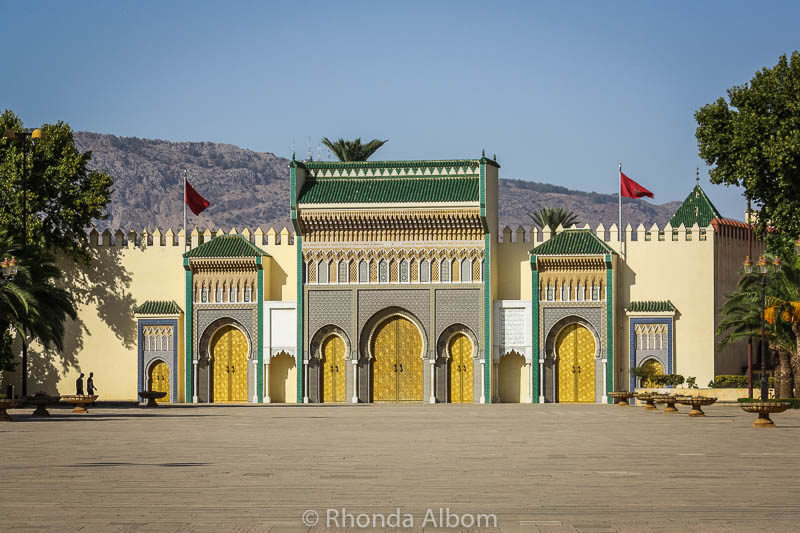 The colourful Dar el Makhzen (the royal Imperial palace) is one place you want to be sure you have your camera. Stop at any of the seven gates, as the grounds are neither open to the public nor does the royal family live here.
An imperial city in Morocco is a historical capital, and there is a royal palace in each of the four imperial cities: Fes, Marrakesh, Meknes and Rabat.
Covering nearly 80 hectares, the exquisite brass and gold doors reflect the palace's majesty.
Be in awe of the craftsmanship
Talented and impressive hand craftsmen are often busy practising their art with skills that passed down through the generations. The main areas include:
Chouara Tannery (above)
Square Seffarine: the souk of the coppersmiths
Ain Nokbi: district of the potters and the place to get ceramics
Nejjarine Square: Two key things to see are the fountain and the Nejjarine Museum of Wooden Arts and Crafts.
Escape the chaos at Jardin Jnan Sbil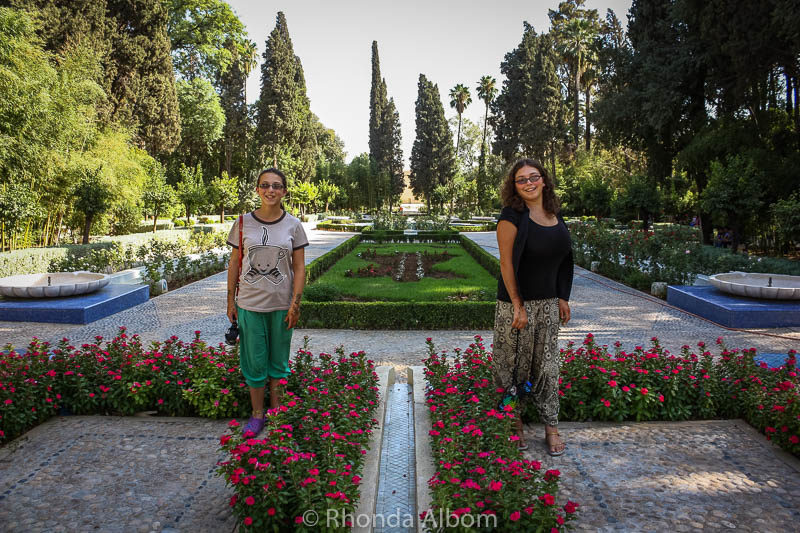 One thing we noticed rather quickly about Fes is constantly chaotic, busy and noisy surroundings. Jardin Jnan Sbil offers a well-needed escape. We found these nicely manicured public gardens just outside of the Fes medina on our way to the Mellah.
With no vendors inside the park, we took a bit of time just to breathe and enjoy the peaceful atmosphere.
Discover new flavours and aromas
While aromas often attract us, it is trying the new flavours that is one of my favourite things to do in Fes. Whether it be barbeque or sweets, we bravely tried most of it. We even had a camel burger in Marrakech.
We loved Chez Rashid's (first image), a restaurant near the blue gate. Learn from our mistakes. The outdoor tables appeared the same on our second visit, but the metal shutters were down. A server approached and insisted they were using their 'other kitchen' tonight. In truth, the restaurant was closed, and we have no idea who served us our dinner.
Get a henna tattoo
Henna is a Moroccan traditional decor most often applied to a woman's hands or feet. A henna tattoo will usually last about two weeks. They are done for a variety of reasons, but they are more intricate for special occasions.
Henna is plant-based and one of the world's oldest pigments.
One of the women who works at the riad we stayed at does wedding henna. Our girls were very lucky to have her do theirs. After a few washings, the black and the colours came off, leaving the henna's red-orange colour for a couple of weeks.
Take a day trip from Fes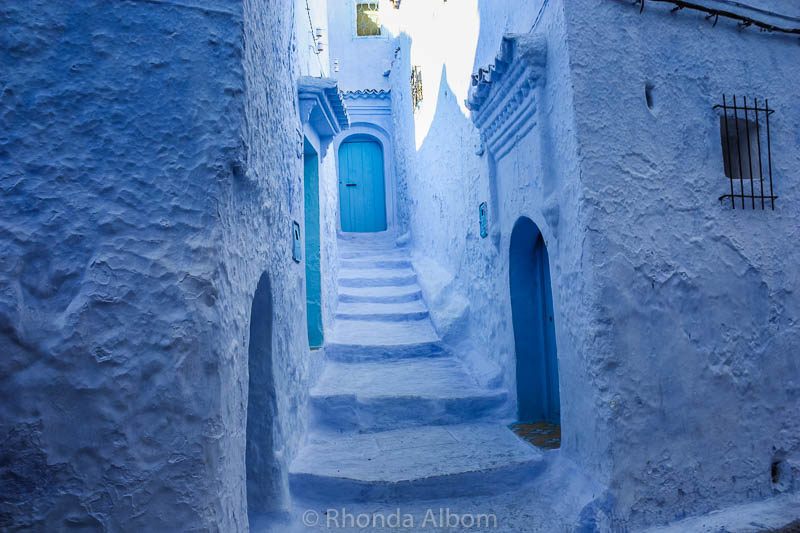 Three popular day trips from Fes are Chefchaouen, Volubilis, and Moulay Idriss. Each has its own distinctive personality. We opted to stay in Chefchauan for one night and in Meknes (closer to Volubilis and Moulay Idriss) for a couple of nights.
More things to do in Fes Medina and beyond
Here are a few more ideas that didn't fit into any of the above:
Take a local's hammam bath. We opted to do this rather than the tourist hammam, and it was quite the unusual (and, in retrospect, hilarious) experience.
The University of Al Quaraouiyine, founded in 859AD, is the oldest continuously functioning university in the world (in the Fes medina).
Madrasa al-Attarine is nearly 1000 years old and open to non-Muslims (in the Fes medina).
Stroll through the 14th-century Merenid Tombs (we didn't go here).
Attend a festival (called a moussem) if one is going on. We were lucky enough to arrive for the huge Moussem Moulay Idriss.
If you don't want to miss anything, take a tour.
Where to stay in Fes
As people who like to immerse ourselves in the local culture, it was important to us to stay at a riad (also spelled riyad or ryad) inside the Fes medina. Riads are traditional Moroccan homes converted to accommodations. However, if this isn't for you, we recommend two top-rated western-style accommodations outside the medina as options.
Riyad Al Atik
What makes Riyad Al Atik so special is the friendly owners and staff, the beautiful interior filled with intricate Moroccan doors and Moorish archways, many places to relax, attention to every detail, and exotic and delicious food (be sure to try the homemade ice cream). Down a narrow road, it was a bit hard to find the first time, but that was our experience with everything in this medina. This was such a good choice that we stayed here on our second visit to Fes as well. Reserve your room at Riad Al Atik here.
Palais Faraj Suites & Spa
This top-rated option is a former Arab-Moorish palace featuring views of the medina. It looks like they don't miss a beat here, with luxury around every corner. If I were to stay outside of the Fes medina, this would be my pick, especially for a weekend stay, as there is free yoga on Saturdays and free meditation sessions on Thursdays. Reserve your room at Palais Faraj Suites & Spa here.
Fes Marriott Hotel Jnan Palace
If you are looking for the familiarity of home in a 5-star option, then the Marriott is for you. Located in the city's new quarter, it has everything you would expect from a Marriott.
Reserve your room at the Marriot here.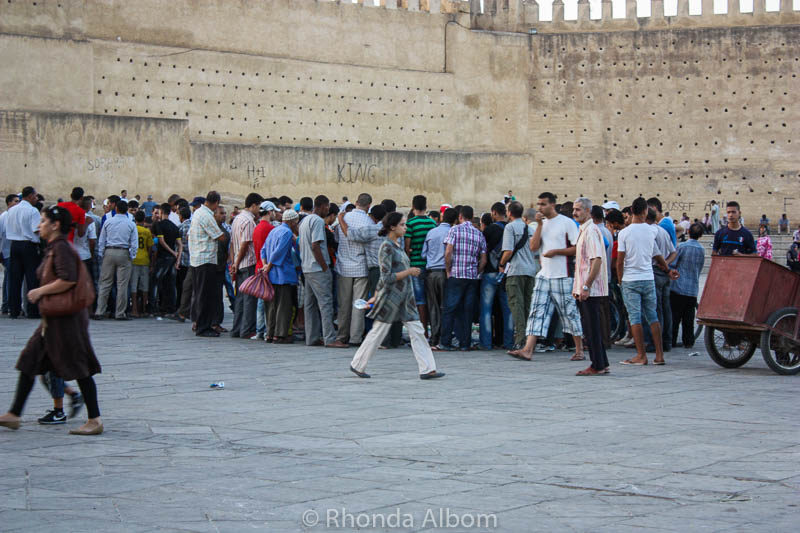 Final thoughts and tips on visiting Fes
Take caution when drinking water. Always ask if it is safe for you to drink (the Moroccans grew up on it, and they can drink it without a problem). When you purchase bottled water, be sure you receive unopened bottles rather than refilled ones.
Carry toilet paper with you.
Before you head out of the pedestrian-only medina, ask at your accommodation how much the taxi should cost and don't pay more – negotiate before you get in.
Embrace the culture and enjoy.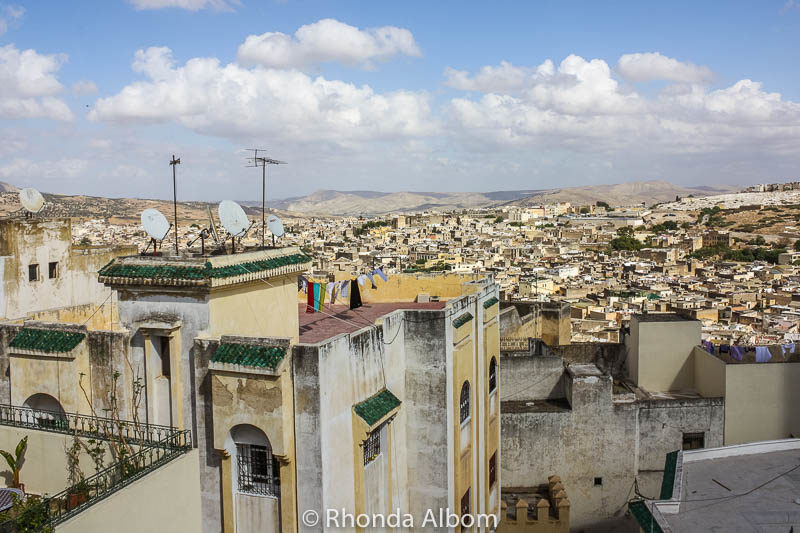 Save on your trip with these resources
These are our go-to companies when we travel. We believe this list to be the best in each category. You can't go wrong using them on your trip too.
Flights: we use Expedia for the best and cheapest flight options.
Accommodations: we use Booking.com (hotels) or VRBO (self-contained).
Cars (gas or electric): we use RentalCars to search for deals and dealer ratings.
Campervans or Motorhomes: we use Campstar where Albom Adventures readers get a 3% discount
Private guides: we love the private guides at Tours by Locals
Travel Insurance: we start at InsureMyTrip as they are the best option to compare plans and find the right coverage for you.
Check out our travel resources page for more companies that we use when you travel.
Save for later
If you enjoyed this article, please share it on social media and save it for later on Pinterest.
Have you been lost in the Fes medina? What are your favourite things to do in Fes?
Photo Credits
Photos on this page are either shot by our team and watermarked as such, in the public domain, or some stock photos were supplied by DepositPhotos.