I bought my first carpet in Morocco today. We are in Meknes, Morocco, an interesting town.
We found a guide. Well, technically, the guide found us, which according to our tour book was a mistake. He wasn't an "official guide," and the guide books warned against it. Hubby met him, trusted him and lucky for us it turned out just fine.
Actually, this guide was excellent. He showed us all around the Medina, and explained things along the way. His English was pretty good, he was friendly and he always answered our questions.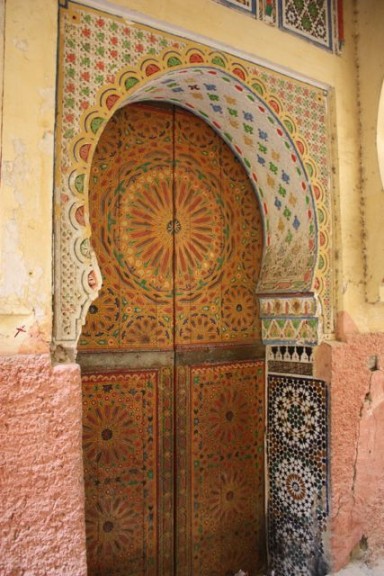 He pointed out things of cultural difference, like this typical craft booth where the man who runs it sleeps in the booth on the floor (look closely and you will see him) until the ladies come to shop.
There was a lot more including the souks and in the end, he took us to a carpet store – "No obligations, strictly hospitality."
We were greeted with a glass of mint tea (a Moroccan tradition and a new favourite of ours).
We were a bit cautious after our carpet store experience in Istanbul, but I knew I wanted to buy a carpet in Morocco. We drank tea, we chatted and then we learned all about the different kinds of rugs, how they are hand made and what many of the symbols mean. Unlike in Istanbul, our salesman today treated us like he was a mate and a guide, here to teach us all about rugs.
And, he was smart – he talked about Morocco and the equality of men and women in the home. How, like in New Zealand, families make decisions together. He became a "friend" and we all laughed together as he referred to me as the "Minister of the Interior" and hubby as the "Minister of Finance," he never brought up the cost of a rug until long after he had us pick out a favourite.
Here is where the carpet shopping game continues.
He was fair, although we know we paid substantially more than a Moroccan would for the same item.
And we left feeling pretty good about our small, handmade, Berber rug – check it out – We bought a carpet in Morocco for our teen:
Unless otherwise noted, all photos on this page ©Rhonda Albom 2012
Note: Based on world conditions, we advise checking official channels including cancellation policies prior to booking. Also, with often reduced capacity, booking ahead becomes more important.
Have you bought a carpet in Morocco, or anywhere? Did you have a good experience?
Travel Tips for Meknes
Visit the ruins of nearby Volubilis, an ancient Roman city.
Don't drink the tap water, don't drink anything with ice and be sure you are given unopened bottles of water when you purchase them.
Carry toilet paper with you. Carry lots of toilet paper if you accidentally drink the water.
Watch for the details in the deals you make. We were offered free drinks to eat in a restaurant. The drinks would have cost 45 dirham for the table. As promised they were free, but they charged us 45 dirham for "service" instead (this is the only time in Morocco we were charged "service").
Ask at your Riad or Hotel for the going rate for a taxi for where you are going, and negotiate with the driver for this rate before you get into the cab.
Don't be embarrassed to offer a really low price when negotiating for a carpet in Morocco. We started at about 10% of the price he suggested. If you are going to buy a Berber rug, and don't know where to shop, we think we got a fair deal at Riad Al Mansour.
You do not have to pay the man to remove the snake from your shoulders.
In addition to a guide, we used the Lonely Planet Morocco Travel Guide