Long before Moroccan argan oil became popular in western society, it was a staple amongst the people of Morocco, used in cosmetics, beauty products, skincare and even in the diet. Apparently, the production begins with goats in trees that internally process the nut, then it takes a bit of manual work. We were lucky enough to witness most of it first-hand, and fortunate enough to get permission to take photos.
Our story of learning about Moroccan argan oil is best told from the beginning.
We were enjoying a cup of tea with new friends who had just arrived in Essaouira from the Sahara desert. They talked of goats in trees, climbing, eating, and being happy.
They had no photos as the goatherder chased them away. But, they were sure that's what they had seen.
At first, we thought perhaps they had started happy hour a bit early, and it wasn't just tea they were drinking.
We teased them a bit, but it didn't last long. The riad owner quickly confirmed their story. Then he explained that the goats weren't climbing just any tree. These are Argania Spinosa (Argan Trees), a native to the Souss-Massa-Drâa region of Morocco and western Algeria.
"The goats eat the nut, and what they poop out is the base ingredient used to make the oil that was on your salad last night."
You see, as the nut passes through the goats, the husk softens making it easier to open.
As you can imagine, this was not received as well as they expected. In fact, one of the teenagers at the table jumped in with, "Are you suggesting there was poop in our salad?"
The continuing conversation intrigued us. Adventurous, and with no particular plan in mind, we decided we would set out in the morning, take a small detour and search for these famous goats in trees.
Moroccan argan oil roadside vendors
We had a morning swim before leaving the beautiful beaches of Essaouira. Rather than heading straight inland, we initially headed south along Morocco's west coast towards Agadir, where we intended to turn inland.
We kept a keen watch for goats in trees, but there were none. However, we did pass several roadside vendors offering Moroccan argan oil.
Clearly homemade, the collection of bottles seemed random. And the different colours had different uses. But it didn't really matter to us, as we were on a mission to find goats in trees.
Still unsure if the rumours are true, we didn't stop at any of the vendor stands. We continued to wonder if goats could actually be the first step in the making of Moroccan argan oil.
We hadn't seen goats between Marrakesh and Essaouira. And now, there were none between Essaouira and Agadir. Mostly, it was a barren desert leading out to the sea.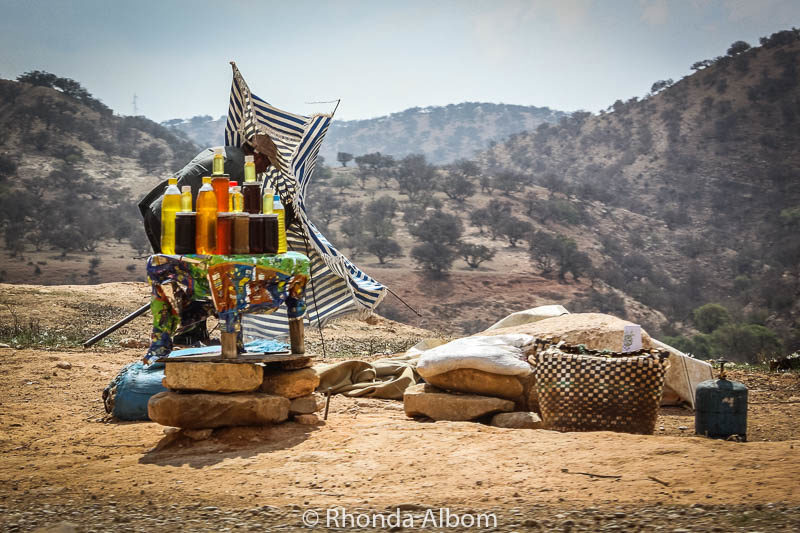 Finding goats in trees
The drive inland was smooth and much easier to maneuver than the crowded streets of Marrakesh or Essaouira had been.
With fewer drivers on the roads cutting us off, donkey carts now stayed on the shoulder, and almost no pedestrians ran randomly in front of the car. Roadside litter dotted the desert views, and finally, there they were … goats in trees.
I was glad I had been advised to ask permission before taking photos. I approached the goatherder first, and adding a bit of cash to the question helped to get that permission granted quickly.
He happily took the money and allowed me to photograph his goats.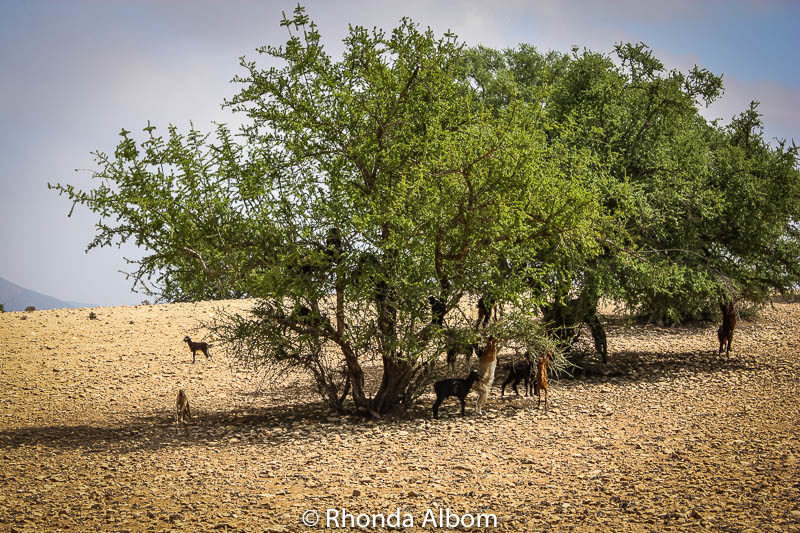 The shots below were taken between Marrakesh and Essaouira, an area we didn't see goats, but clearly, they are there. While we passed that way, we didn't spot goats.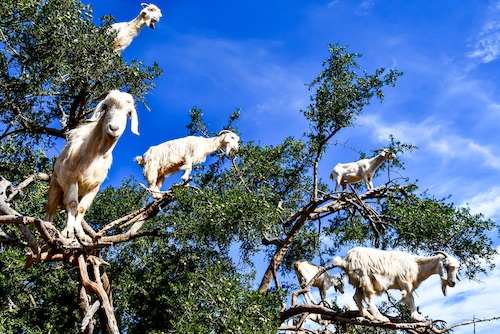 What happens next?
Yep, it's true. The goats eat the nut, which passes through their digestive system intact, although with a softened husk. This makes it easier to open the nut and extract the needed seeds (up to three kernels in each seed) and ultimately make Moroccan argan oil.
(According to CBS News, this is not as rare of a process as one might imagine. In fact, Black Ivory Coffee beans start in elephant dung in Thailand. And, there is also the famous kopi luwak coffee whose beans process through a civet.)
How is Moroccan argan oil made?
As stated above, the traditional method allows the goats to process the nuts first, as this softens the husk. Then, according to the riad proprietor who took us to town, some Berber women will handpick through the poop, clean it, and open the nut to get at the seed.
The next step in the process is to laboriously hand grind the seeds, thus producing the oil.
Argan oil is frequently a family business. When our guide invited us into a family home to see the pressing, we felt honoured.
We watched two women grinding non-stop. While they allowed me to take their photos, they requested that I not include their faces.
Baskets of different seeds and nuts sat on a table. Our host explained which are for cosmetics and which are edible.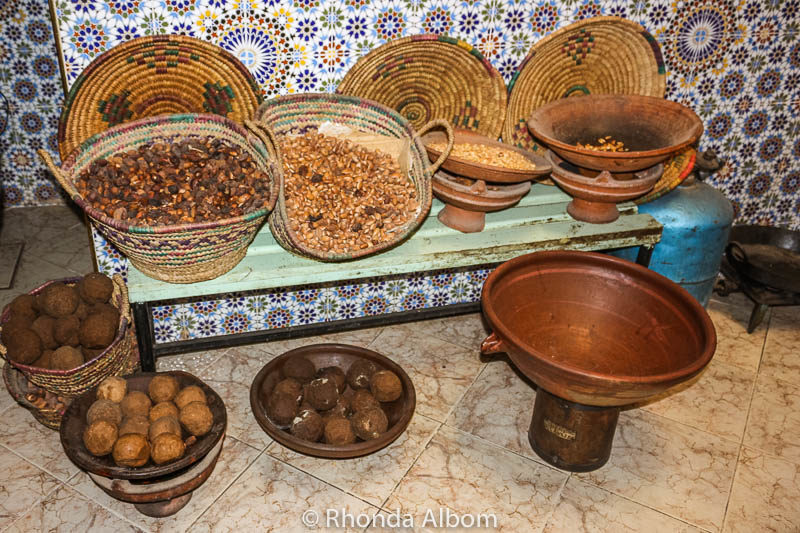 More on goats in trees and Moroccan argan oil
Moroccan argan oil is often referred to as a miracle oil or liquid gold.
Its benefits to skin and hair are well known. It's also thought to aid in digestion, reduce joint pain, and stabilize blood sugar.
We were able to apply a few drops on our skin, and also offered a small bowl of argan oil and bread for dipping. It's smooth with a pleasant aroma and an acquired taste (although Jeff seemed to acquire the taste instantly).
Standard practice is to offer a few coins in payment for taking photos, both at the trees and in the home.
While we wonder if we could have brought fresh Moroccan argan oil back home to New Zealand (as we have strict biosecurity laws), I regret not purchasing more of the oil at Moroccan prices.
Today, Moroccan argan oil seems to be a common ingredient in western hair and skin products. It's even available in a variety of products on Amazon.
How to see goats in trees and learn about Moroccan argan oil if you don't have a car
Getting around Morocco is easy, although different from other countries we have travelled through. We opted for train travel from Fes to Marrakesh, which included stops in Meknes, Casablanca, and Rabat.
However, the train ends at Marrakesh. We wanted to travel west to the Essaouira and Agadir coasts and also travel southeast into the Sahara, and it all made for a fabulous Moroccan road trip.
We thought about a tour, and that certainly would have made our lives easier, we would have been pulled over for fewer bogus traffic violations, and given us a level of comfort and security.
For us, we opted to hire a car, again taking an unnecessary risk. Rather than going with RentalCars, the company we have successfully used worldwide and that works with several companies in Marrakesh, Jeff opted to trust a handshake deal with a friend of the riad proprietor.
We got lucky, and it turned out okay. In fact, it was a fascinating adventure offering us some very interesting memories.
If you are not brave (or stupid, depending on your point of view), tours are the ideal solution. And from Agadir, there are options that will take you to Essaouira or to Taroudant and give you an opportunity to learn more about making Moroccan argan oil.
We added a touch of luxury to our travel
While in the region, we treated ourselves to a bit of luxurious relaxation at Riad Jnane Ines in Taroudant.
Fragrant lemon trees, a beautifully manicured garden, an outdoor pool, and a wellness centre made this a day of paradise amidst the general hustle we experienced throughout Morocco.
Relaxation opportunities abound. We spent time at the iconic keyhole-shaped pool, a shape commonly found in Moroccan doorways. We also opted for a hammam bath. This time we experienced the luxury reserved for tourists, a far cry from the drama of a traditional hammam we experienced in Marrakesh.
Our traditionally decorated unit featured colourful bathroom tiles, comfortable bedding, and attention to detail. And the food was equally impressive, although we only had a chance to eat breakfast.
Taroudant is a mix of traditional and modern lifestyles. We ate dinner at the pizza restaurant in the corner after our vegetarian daughter discovered that the adorable rabbits and chickens in the garden were on the dinner menu at the riad.
⇒ Check the impressive reviews and availability at Riad Jnane Ines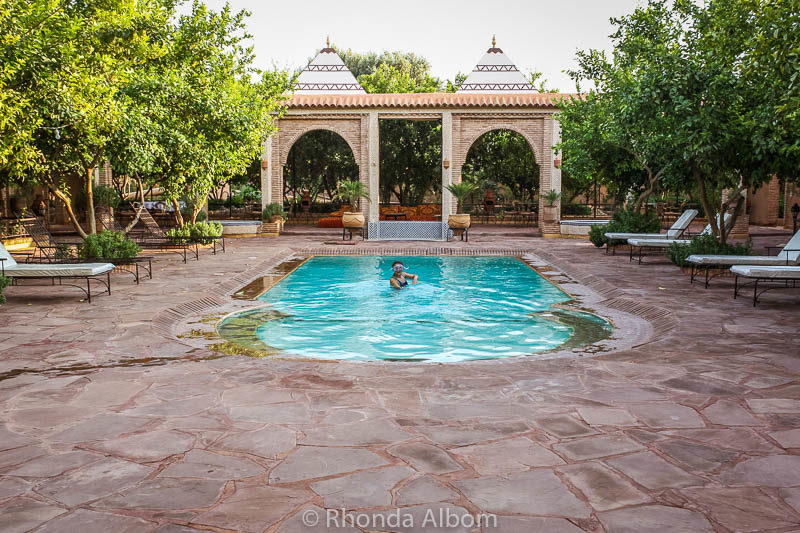 Save on your trip with these resources
These are our go-to companies when we travel. We believe this list to be the best in each category. You can't go wrong using them on your trip too.
Check out our travel resources page for more companies that we use when you travel.
Please share
If you enjoyed these images of goats in trees and the processes of making Moroccan argan oil, please pin them on Pinterest:
Have you seen goats in trees or tried Moroccan argan oil?