Beijing Street Food was really beyond my imagination and farther outside my comfort zone than I had expected.
Our visit to Wangfujing Snack Street was a treat to the senses, or should I say a challenge to them. From interesting textures to new aromas, it was much more than just a tasty food market.
With some restrictions still in place in China, we have kept this page on Albom Adventures as a historical reference and for possible future planning. Note that many venues are still closed, and some tours are not currently operating. This page will be reviewed when China tourism is fully open.
Based on what we'd heard, I expected to find fried spiders but not seahorses or cow testicles. And that was only the beginning. All this was long before we had even begun adapting to the culture.
But there we were, staring at tables of Beijing street food along the famous Wangfujing Snack Street. It's located off of the also famous Wangfujing Street, well-known as a modern fashion destination in the Dongcheng District, inside the 2nd Ring.
The mile-long main road is one of the four most prosperous business zones in Beijing. It's where you go for the best shoes, hats, books, tea, herbs, and even Peking duck. In fact, and quite the opposite of Beijing street food we encountered, the most famous roast duck restaurant in China, Quanjude, is located on Wangfujing Street (as one of its many locations).
And then there is Wangfujing Snack Street.
For us, it was located right outside our Beijing apartment, yet we didn't brave it alone. Although we could have. And, if we went back today, I am sure we would.
At the time, we were still quite new to international travel with our kids, and a bit unsure of ourselves in countries where neither of us spoke the language.
It was our guide who explained how it worked, simply select your favourite treat, and they will boil, BBQ, fry, or steam it right on the spot . . . But then she told us of her last clients, and the maggots that were squirming about inside a freshly fried scorpion they had just broken into.
The gate to the Beijing street food market
The beautiful entrance gate to Wangfujing Snack Street and all of the Beijing street food looks much better in the dark sky. An intricate display of colour, it stands over 10-metres tall.
We visited the night market in springtime before darkness took over. I like this shot better than any I was able to capture. But the food shots below – all mine.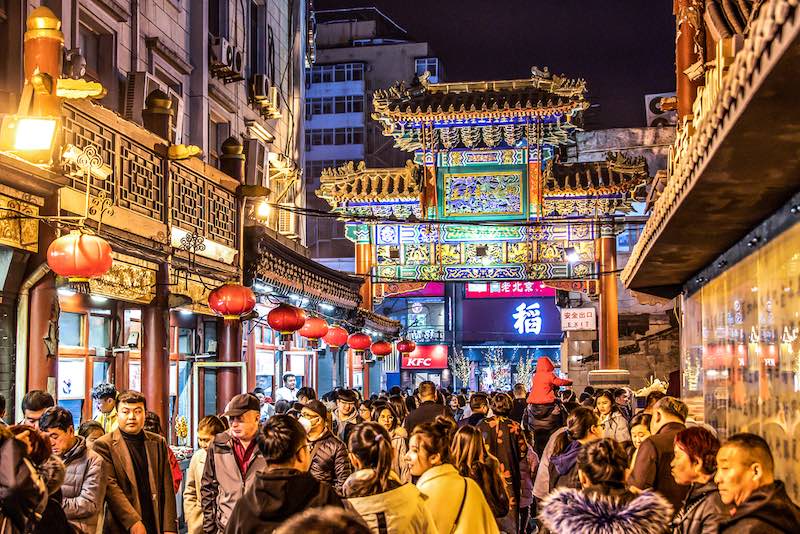 Beijing street food on Wangfujing Snack Street
We went earlier and it wasn't quite as crowded. Here is my daughter thinking about trying a fried scorpion.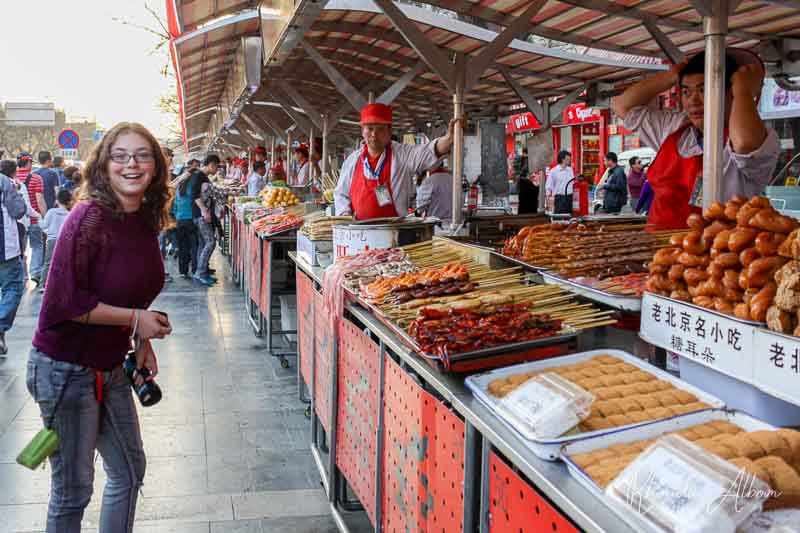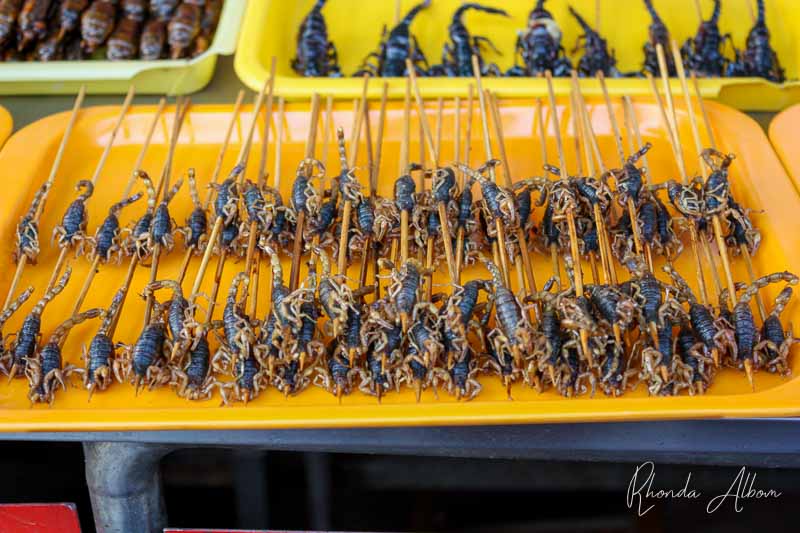 While I wasn't about to try a scorpion after the story our guide had told, there sure was plenty to pick from.
In fact, it went from weird to almost shocking. There were also seahorses on sticks, centipedes, silkworms, congealed duck blood, lambs leg, squid, and fried ice cream. Plus, take a look at some of these…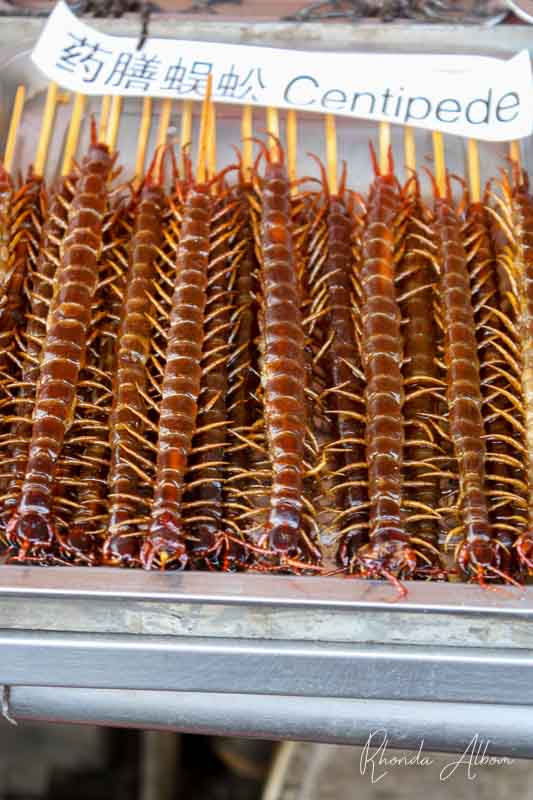 More Beijing street food …
In reality, that's how it felt. Just when I thought it couldn't get any farther from the edge of my comfort zone, a vendor called us over and surprised us with a new sensation.
While many of the insects were labelled, without our guide, we wouldn't have known what some of the other things were made from. The question is, would that really be a bad thing?
We got to try things like fermented mung bean juice but took a pass on the stinky tofu of Hunan.
But we spent most of our time in an area I wasn't quite brave enough to fully experience. To be honest, a pass on most of this Beijing street food night market's roasted delicacies including the centipedes, grasshoppers, king spiders, scorpions, starfish, tripe, congealed duck blood, and shark.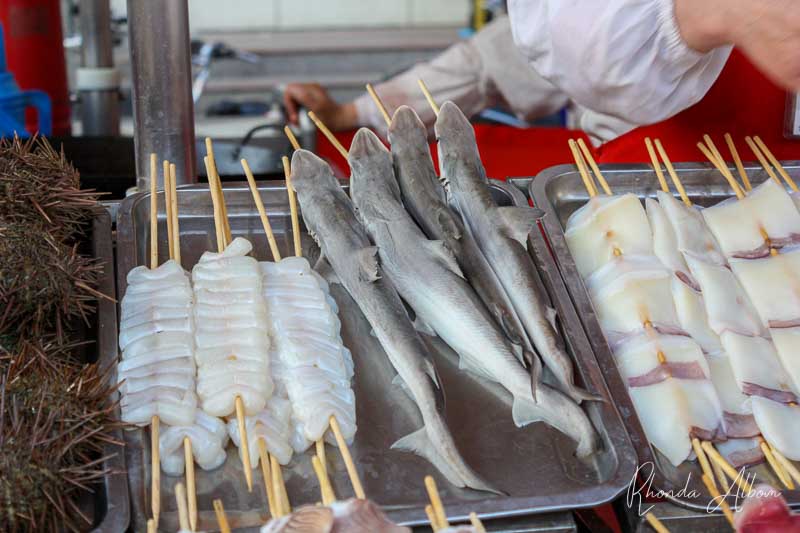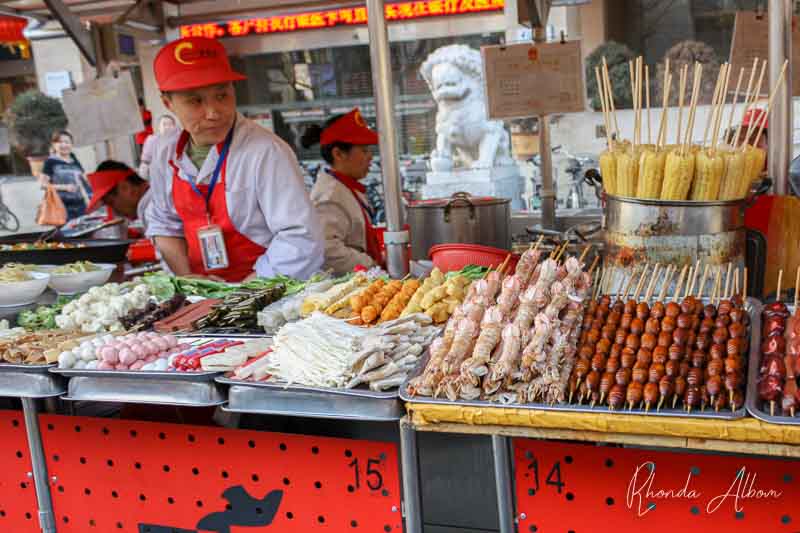 Getting a guide in Beijing
China was only our third stop on a year-long adventure around the world with our then-teenagers. For the most part, we did it on our own, but there are times when we want an overview group walking tour, like when we first arrive in a new city. And, there are other times we prefer a private guide, like when we wanted to see a particular part of the Great Wall of China and had a few other off the beaten path requests.
Our go-to site is Tours By Locals, as we can find private guides and have the opportunity to customize our tour with the guide before we commit. We were thrilled with Tours by Locals' guide Alexandra in Beijing, and feel good about recommending her.
Read next: How to Spend 5 Days in Beijing: Where to go – What to see
Save for later
If you enjoyed this article on Beijing street food, please share it on social media and save it for later on Pinterest.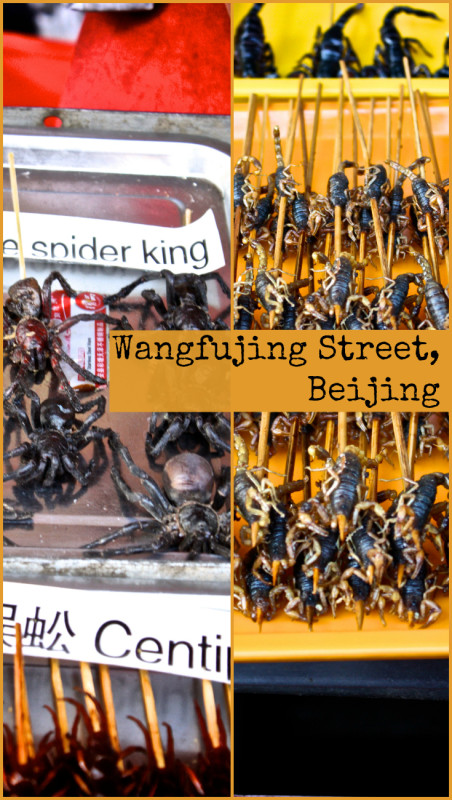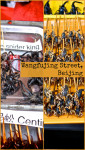 Which Beijing street food items are you brave enough to try?