Dengue fever is no fun. I know. It is high on my list of things I NEVER want to do again. A hard lesson learned, my dengue fever experience was a big price to pay for entering the Brazilian and Paraguayan rainforest using an all-natural insect repellent.
The Aedes aegypti species mosquito transmits dengue, Zika, chikungunya and other viruses in specific tropical regions worldwide. It generally bites during the day but can also bite at night, and symptoms of dengue don't appear for about a week.
My dengue fever experience
Travelling through South America, we visited exciting places like Iguazu Falls, Parque das Aves bird park in Brazil, and Ciudad del Este in Paraguay. Strong summer heat dominated our visits, and I wore shorts, against standard advice. Naturally, the mosquitos took advantage of my bare legs. A bit of anti-itch lotion, and I was fine, or so I thought.
A week later, we were in Cafayate Argentina, a high-altitude wine region in Argentina. Life was good. We had a few days of resort luxury at a winery. Welcomed with a glass of their Malbec, we also swam at the pool, relaxed at the spa, and enjoyed the South American lifestyle.
My dengue fever experience: symptoms start in Cafayate, Argentina
I was fine. Then I was sick. And not just a little sick. The kind of sudden unwell that frightens the people around you. It started in my legs, with crushing pain that quickly grabbed a hold of my jaw, elbows, forearms, and my core.
I could barely hold the thermometer, yet the temperature gauge rose quickly. There was no question that I had a high fever. Yet before I could worry about how high, my stomach joined the party, accompanied by a raging headache manifesting with pain behind my eyes.
At first, we went to Siro Salud Dr. Rivero medical clinic in Cafayate (there was no hospital). The woman waiting next to me had an adorable puppy, but I was too sick to either care or to wonder why it was in the hospital. Two injections later, I was back at the resort asleep.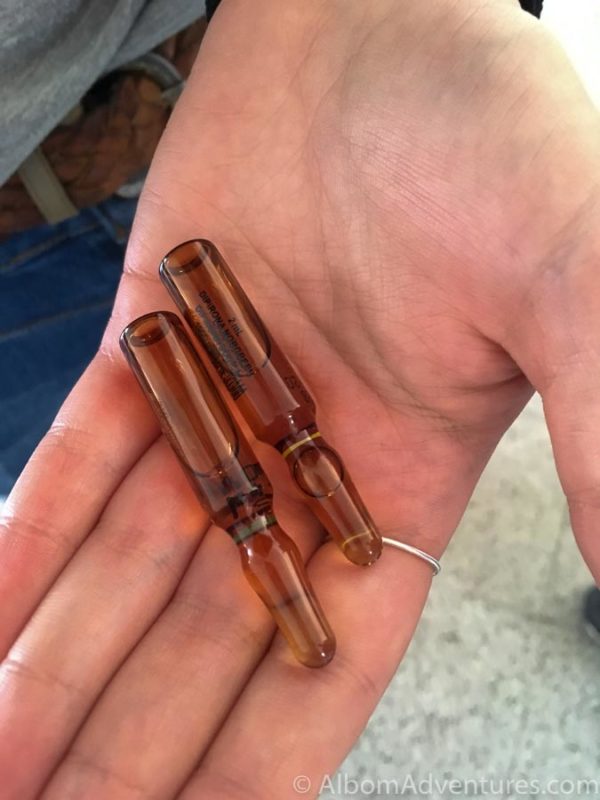 My dengue experience moves to Salta
Everything was worse in the morning. We contacted our travel insurance company, who suggested the new Hospital San Bernardo in Salta, Argentina, a larger city about 3 hours away. Despite not wanting to move, I got into the car.
Walking into the overcrowded hospital waiting room, I was too sick to notice the police and the man in handcuffs or the street dogs lazing in the corner. Jeff told me about them later.
The triage nurse asked about symptoms. Thankfully, my daughter Sarah is fluent in Spanish (although medical terms were new to her) and listed my symptoms. They asked about our travels, and the whirlwind of commotion that followed became a blur. I understood a few words like dengue, zika, Brazil, and Paraguay.
Next, they required my Yellow Fever immunization card (without it, I would have gone straight to isolation for six days). Instead, I was told to wait. I must have looked pretty bad as people offered me their seats. Surprisingly, triage put me at the head of the queue, calling me in almost immediately.
The consultation room seemed fine, and the doctor competent. He ordered some tests, drugs, and IV fluid before sending me through a door across the room and into a scene from a bad movie. Gurneys lined the hallway, most filled with catatonic-looking people, but other patients were moaning softly.
The chipped paint on the walls seemed to fit the chaos. The only empty gurney became mine, despite its plastic coating and lack of sheets or a pillow. I didn't care, I could barely stand. Next, a blanket that had seen better days covered me.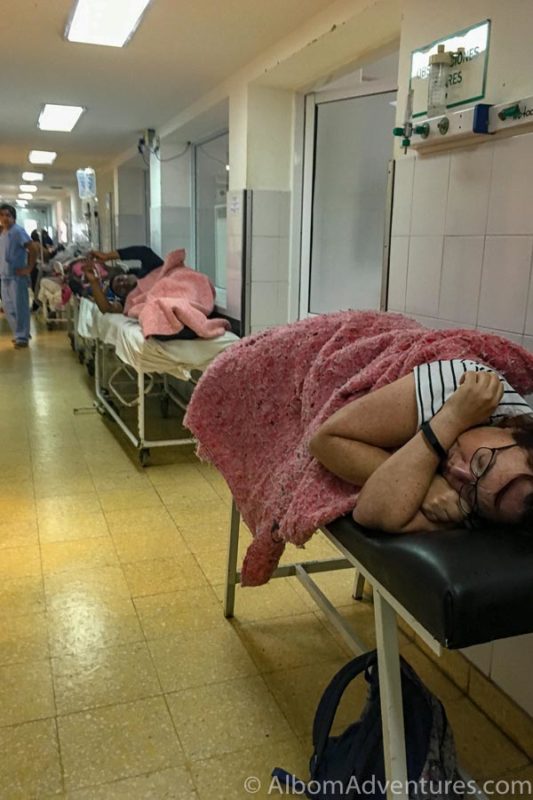 My dengue experience continues as they send my translator away
An IV bag appeared, and then there were needles. One syringe for each tube of blood, plus mystery drugs injected. Then, the nurse told my Spanish-speaking daughter to leave. As my translator, she refused, and the nurse got security.
Thankfully, my girl refused again and somehow managed to stay for a while longer. But, when it was time to clean the floor, they made her go. She managed to cry her way back in later.
Finally, they move me to a ward, but is it the right one?
Eventually, they moved me from the hallway to a ward with 16 other patients, some naked, others moaning, and most just lying there with blank expressions. More drugs were injected, more time passed, and I woke up to a group of doctors discussing me in Spanish. Perhaps it is a teaching hospital.
Time ticks by. I carry my IV bag down the hallway passing through a small janitor's closet to find the disgusting bathroom that had neither a seat nor toilet paper. Fortunately, we knew always to carry our own by this point.
Hours later, my doctor returns to my bedside. And if translations are correct, he said, "Good news. You don't need surgery. This is a surgical ward. Your gallbladder is fine. We are transferring you by ambulance to a hospital for tropical diseases."
My dengue experience continues as I am transferred by ambulance to a hospital for tropical disease
Even with my back elevated, so I sat up on the gurney, my feet touched the back door of the tiny ambulance. Sarah rode with me on the transfer. She opted not to translate the paramedic and driver's conversation, as it involved not knowing where Sr Hospital del Milagro, the tropical disease hospital, was located.
Being wheeled in, all I could see were the filthy walls, chipped paint, and narrow hallways. Sarah had to stop at registration. I freaked out, and fortunately, the aid heard my barely audible cry of ¡Espere! (wait). I speak some Spanish but am not fluent.
Sarah returned, and I went to the isolation ward. My room had only two beds, and the other was empty. The room was clean and even had its own bathroom, a toilet with a seat, and a sink. Still no toilet paper.
Apparently, the hospitals don't share records. They gave me more drugs, took more blood, and sent me for another x-ray.
Again, the doctors seemed excellent. They wanted to culture for more detailed results. These take three days. My options were to stay in the hospital or at the same five-star hotel we had loved on our first visit to Salta.
You know I went straight to Hotel Alejandro I. With my dengue experience continuing in paradise, I could sleep in comfort and eat from room service. I took the drugs I was released with and started to get well.
Dengue experience: the lab in photos
Somehow the hospital seemed even worse on our return visit to get more test results. I only had my phone for photos, as I was still sick. Check it out:
Practical information and tips on going to a hospital in Argentina
Our South America adventure was nine weeks, so I had time to recover long before we came home. If we had been on a more traditional week-long holiday, we would have been home before I got sick, and, for better or worse, I would have been treated in New Zealand.
My best travel advice: Don't get sick or injured.
If you do, be sure the clinic uses clean needles. If not, it is okay to refuse care. This was not an issue in the facilities that cared for me, but we have heard about it from other parts of the world.
There are both public and private hospitals in Argentina.
Treatment at a public hospital in Argentina is free. Neither of the hospitals nor the ambulance charged us for service or drugs. In fact, we paid only about $0.20 USD for a specimen cup Jeff was sent to buy from the pharmacy.
With more knowledge, I would have gone to a private hospital.
Medical clinics will charge, but not that much. My Cafayete visit included two injections and cost the equivalent of $4 USD.
Your travel insurance company may have the best intentions, but when they recommend a hospital, they are most likely doing it from a list unless they are familiar with your location.
**Also, don't miss this general travel guide for first-time visitors to Argentina.
On travel insurance
You should not overlook travel insurance for your upcoming trip. We have partnered with InsureMyTrip, because they are the best option to compare plans and find the right coverage for you. They have thousands of travel insurance plans and a one-of-a-kind recommendation engine to help travellers find the right plan.
Most importantly, they will be there for you before, during and after your trip if you should need anything – especially help with a claim with the provider. Get a free quote from InsureMyTrip here
Preventing dengue fever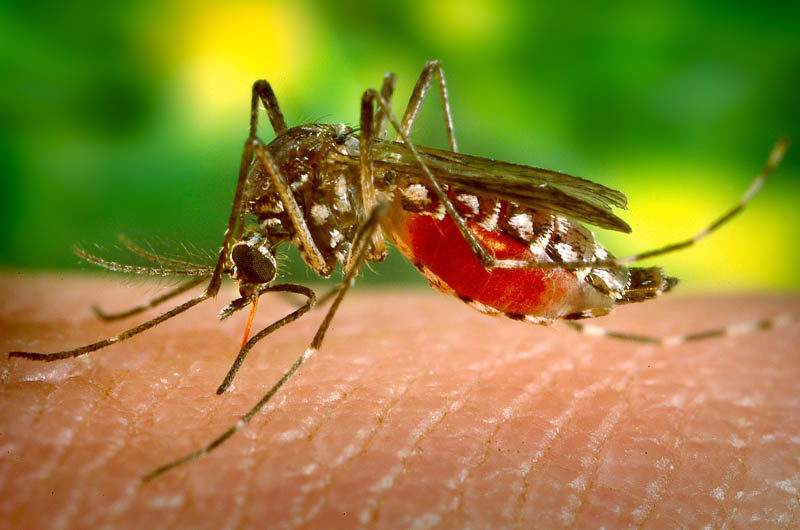 No bite, no dengue. It sounds simple. Here are a few tips to avoid having your own dengue fever experience:
Use an appropriate insect repellent. Despite my dislike for the chemicals, I will be using an insect repellent with DEET for any future travel in the dengue region. Whichever product you choose, follow the product instructions. Tip: If you use both sunscreen and insect repellent, apply the sunscreen first, let it dry, and then the repellent.
Cover up with long sleeves and long pants during the day and sleep under mosquito netting.
Treat your clothes with permethrin, or even better, wear permethrin-treated clothes.
Protect others by avoiding mosquito bites that can transfer diseases after you leave the region, as not everyone infected gets sick.
There is a dengue vaccine (2017 and available in the US since May 2019) only for those who have confirmed cases in the past. Otherwise, the vaccine may increase your risk of getting severe dengue if you get infected in the future.
I won't suggest staying out of any region that has the Aedes aegypti mosquito. As it's in over 100 countries (including parts of the USA), this would be more difficult than it sounds. For traveller writers like us, it's not going to happen.
More on dengue fever
Map of dengue fever risk areas (Public Domain)
The Centers for Disease Control and Prevention (CDC) estimates an annual 400 million dengue infections worldwide. Of these, 100 million result in illness, and 22,000 will die from severe dengue. CDC has a comprehensive page on dengue.
Tropical disease is just another aspect of safety when travelling in South America.
Please share
If you found my dengue fever experience either interesting or helpful, please share it on social media, including Pinterest:
Have you had a dengue fever experience?
Sources: Centers for Disease Control and Prevention, National Center for Emerging and Zoonotic Infectious Diseases (NCEZID), Division of Vector-Borne Diseases (DVBD)