After living in San Francisco (SF) for 15 years, I learned some of her secrets. Of all the hidden SF stories, my favorite surround a secret prohibition room. Purpose-built, it inconspicuously hid in an impressive hotel. Yet somehow, authorities never discovered it.
Prohibition lasted from 1920-1933. An era of mystery and hidden fun for the wealthy, the "in crowd" knew where and how to party.
Visitors to San Francisco headed to the only hotel in the city built during the prohibition era. You see, its owners recognized an opportunity and were ready to assist.
And law-abiding guests never knew what was going on around them.
Completed in 1928, the then-named Sir Francis Drake Hotel was elegant, refined, and full of hidden San Francisco secrets. And that elegance never faded.
On a personal note, its been our favorite San Francisco hotel, since we moved from the city. No longer the Drake, and now the newly renovated Beacon Grand, we believe, from everything we read, our passion will transfer easily. (More on the Beacon Grand below, but if you can't wait, check it out and reserve your room here.)
If you dig deep enough, I imagine every hotel has a story to tell. However, few are as intriguing as the former San Francisco's Sir Francis Drake.
Careful planning allowed a secret prohibition room to be added during initial construction, although it was never put on blueprints. Along with this was a detailed plan to discretely move booze from this room to the guests.
Word around town was that if you stayed at the Drake, you'd receive a bottle of booze when you checked in.
The plan was simple yet too complex for the feds.
First, where is this hidden prohibition room?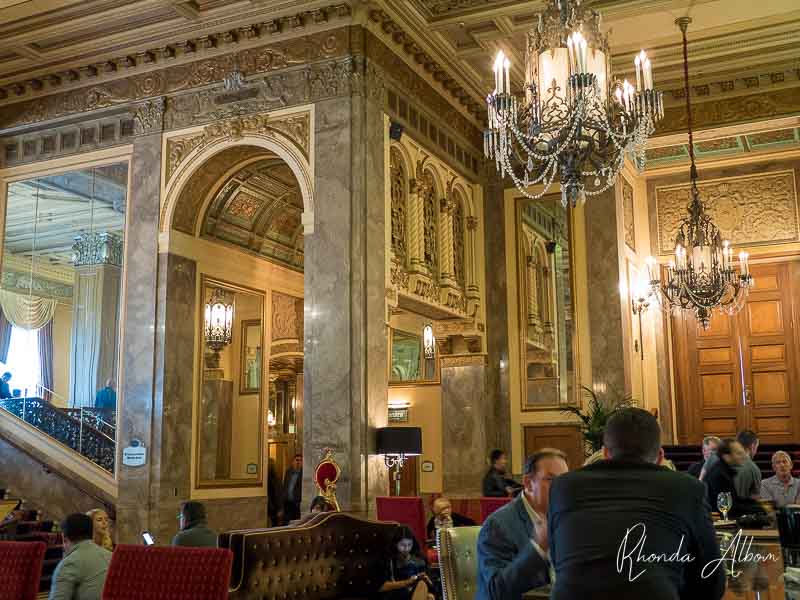 Take a look at the lobby of the former Sir Francis Drake. Can you spot where the secret prohibition room hides?
Of course, it's not obvious. After all, they hid it from the feds for years.
Take a closer look through the archway. We enlarged it for you here: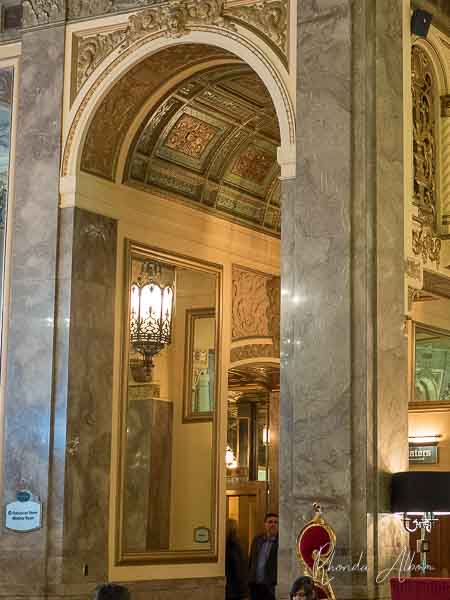 The elaborate walls and ceilings are a decoy.
Do you see the second, lower archway coming off to the left, also with an elaborate ceiling? This is the elevator bay. The secret room is just above the elevator hallway where the man is standing, in the space camouflaged by the decor.
Inside the secret prohibition room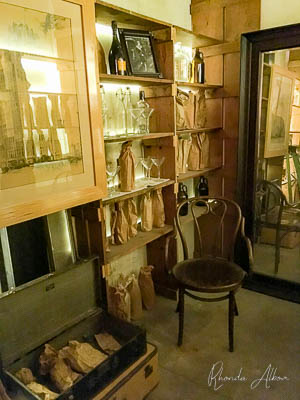 Back in the day, only a very few had access to this room.
Today, it's often shown to those who know to ask.
When our time arrived, we had to wait for a specific elevator, as only one of the four has access. Using a concealed keyhole on the original 1928 elevator, our guide took us up.
This is the same elevator that we took many times before, yet we had remained oblivious to the secret until now. Activating the key, the elevator stopped between floors where it waited until we finished.
We entered this hidden San Francisco room. Enhancing the mood, our guide played "speakeasy-style" music from an old record player.
Then he explained the process that brought booze from Canada via bootleggers. First to the Moss Beach Distillery, where it was hidden inside luggage and then brought into the hotel through the underground garage.
Using the same elevator, the luggage was brought up and stored in this room.
A few of the current lobby sprinklers cover the old peepholes that allowed the bellman to keep watch.
Finally, the bellman delivered the booze to guests without contact. This was done through purpose-built hollow passages in the wall with doors on either side, in the same manner as room service orders or dry-cleaning was sent up.
Apparently, the feds found booze on guests a few times but never figured out the process.
Bullet holes in the ceiling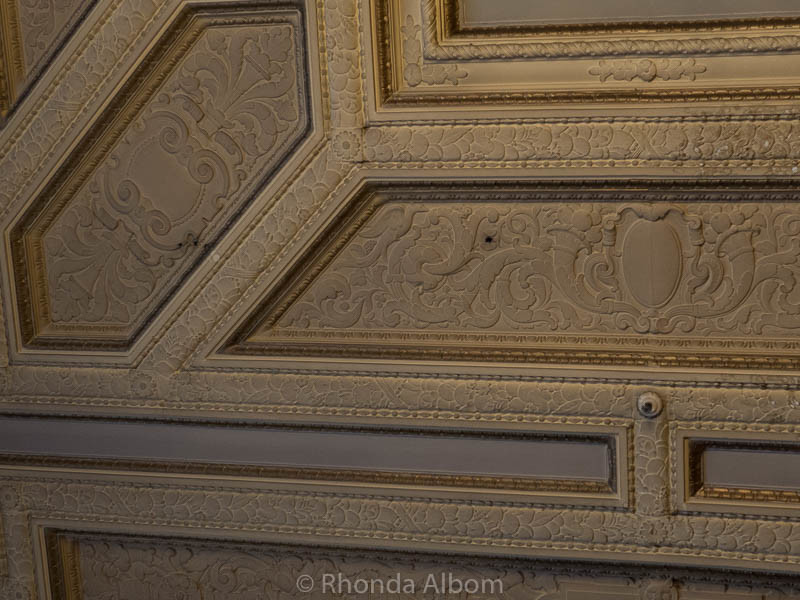 Want more San Francisco secrets, head up both flights on the hotel's grandiose central staircase, and look up. Hidden SF historians will tell you those are prohibition-era bullet holes.
They became embedded in the upper lobby ceiling following a late 1920s wedding.
And, if you are hoping for a gangster story, I am sorry to disappoint. Although, it was a strange era, and much of it did revolve around organized crime and concealed alcohol.
But this story is far less nefarious. It was just an excited and happy father celebrating the marriage of his daughter by shooting the ceiling.
These photos will give you a better perspective of where to find the bullets, and add a bit of random trivia.
The first image is me with legendary doorman Tom Sweeny, who at the time was the most photographed man in San Francisco. Tom Sweeny retired at the start of 2020, after 43 years of greeting guests to the Sir Francis Drake.
The second image is the staircase leading to the upper lobby, where you will find bullet holes in the ceiling.
The third shot is from the entrance, just after passing by Tom Sweeny, leading to the main lobby where we find the elevators protecting the secret room.
About the new Beacon Grand
The Beacon Grand is at 450 Powell Street in the Union Square neighbourhood of San Francisco, right on the cable car line. It's an ideal location for exploring the city.
Keeping much of the original ornate ambiance, original architectural details, and historical markers the Beacon Grand added a contemporary flair.
Many of the rooms overlook Union Square.
We stayed in what was called a 'Grand Guestroom', which I believe is a Deluxe King Room at the Beacon Grand. We had plenty of space, but our room was much larger room than the basic rooms.
There is no self-parking, and valet parking is expensive per day, as it is everywhere in this part of San Francisco. With excellent public transportation and a seemingly endless stream of taxis or ubers right out the door, we recommend NOT bringing a car to San Francisco unless you are driving your own vehicle.
Beacon Grand is pet friendly.
⇒ Reserve your room at the new Beacon Grand Hotel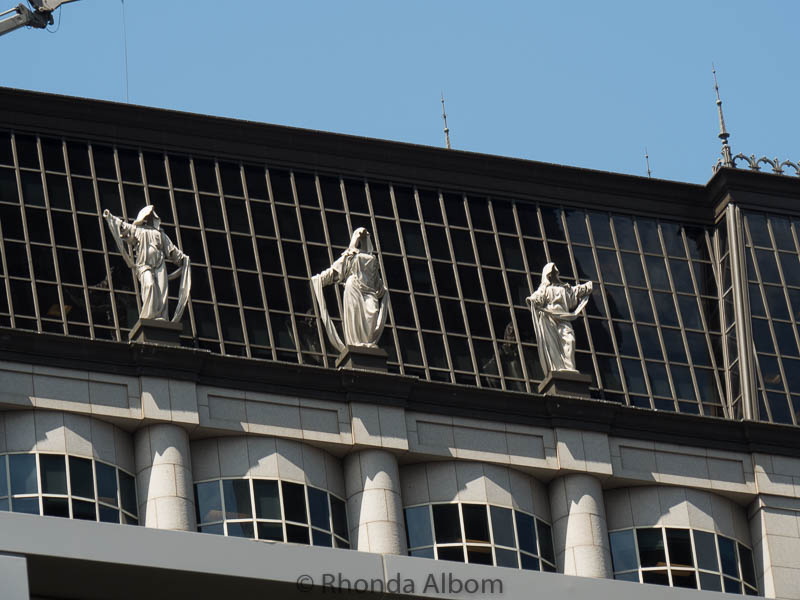 Of course, the prohibition-era remnants at the hotel are not the only hidden SF surprises in this city to intermix in your San Francisco itinerary. Here are a few of our other favorites:
Staircase on 16th Avenue
This colorful mosaic staircase reminded us of the Celeron Steps in Rio de Janeiro without the safety fears. Best of all, the 163 steps, featuring patterns of the sea to the sun, lead to sweeping views of the city from Grand View Park.
Sutro Baths
Former saltwater swimming pools, there is a nearby land bridge leading out to a small island. I speak from experience here – don't ignore the caution sign about the waves that can unexpectedly sweep over the path or island.
The Corporate Goddesses
Angelic or Creepy? These are two of twelve 12-foot faceless, hollow statues by Muriel Casntanis above the 23rd floor at 580 California Street in the city's financial district.
Bison in Golden Gate Park
Yep, it's true, there is a herd of bison grazing in the park. In an effort to protect the breed from being hunted to extinction, they were brought here in the late 1800s.
Palace of Fine Arts
I know what you are thinking. How is this hidden? This marina district masterpiece is so unique, seemingly out of place, and impressive that it deserves a spot on my short hidden San Francisco list.
Save on your trip with these resources
These are our go-to companies when we travel. We believe this list to be the best in each category. You can't go wrong using them on your trip too.
Flights: we use Expedia for the best and cheapest flight options.
Accommodations: we use Booking.com (hotels), VRBO (self-contained), or Hostelworld (budget).
Cars (gas or electric): we use RentalCars to search for deals and dealer ratings.
Campervans or Motorhomes: we use Campstar where Albom Adventures readers get a 3% discount.
Motorcycles: we have heard good things about BikesBooking.
Private guides: we love the private guides at Tours by Locals.
Travel Insurance: while not required, we always opt for travel insurance and start at InsureMyTrip to compare coverage plans.
Check out our travel resources page for more companies that we use when you travel.
Save for later
If you enjoyed this article, please share it on social media and save it for later on Pinterest.
Read next: USA Adventure: Places to Visit on a USA Road Trip
Disclaimer: We were media guests of the Sir Francis Drake hotel, which included a few extra benefits. However, the opinions expressed here are strictly my own.