Rio de Janeiro Brazil conjures up images of brightly coloured samba dancers, Christ the Redeemer towering over the city, Sugarloaf Mountain, spectacular beaches, exciting lifestyle, and unfortunately, petty crime. It's an affordable city for tourists filled with fascinating sites, delicious foods, and great entertainment. Unfortunately, it has a reputation for pickpocketing and other non-violent crime. Don't let this stop you from seeing the Rio de Janeiro landmarks, but do make a few simple changes to increase your personal safety.
Rio de Janeiro is a city of 6.7 million people, of which nearly one-quarter of the city's population live in the favelas (the slums), with a reported average annual income equivalent to about $100 USD. I guess it is not surprising that thieves rip jewellery, cameras, cell phones and wallets off of unsuspecting tourist who wave them around.
We followed the guidelines below, and like thousands of other visitors, we had no problems. Don't be so paranoid that you forget to have fun. Rio de Janeiro is a fabulous city.
Rio de Janeiro Tours
There really is something to safety in numbers, as well as the inherent safety that comes from being with someone familiar with the lay of the land. We recently gave Get Your Guide a try for tours and have been impressed. They offer a huge selection of Rio de Janeiro tours at a range of prices, often getting you up to the top of Corcovado Mountain (Christ the Redeemer) and Sugarloaf Mountain quicker than you can on your own. Plus, with a driver, you can move safely through various neighbourhoods.
One of the top-rated tours is a 9-hour tour including the top city highlights: Christ the Redeemer statue, cable car to Sugarloaf Mountain, Maracanã Stadium, Sambadrome, Metropolitan Cathedral, and the Selarón Steps. If this isn't enough goodness, the tour includes a traditional Brazilan barbeque lunch. The day starts early, with the first pick up in Barra da Tijuca at 6:30 am.
⇒ Check price and reviews for the Full-Day Tour with Christ, Sugarloaf, Selaron and BBQ Lunch
Other tour options:
If you are into walking tours, there are four companies that offer free city walking tours through the historic districts in exchange for tips. We enjoyed a four-hour walking tour with Strawberry Tours, although in the heat some people bailed out early. These tours will not get you up to Corcovado Mountain (Christ the Redeemer), Sugarloaf Mountain, or out to the beaches, all top things to do in Rio de Janeiro.
More Tips for Staying Safe in Rio de Janeiro
After talking with officers on our cruise ship, local destination experts, and local tour guides, we concluded that everyone's recommended safety list is similar. Also, most of these guidelines apply throughout Brazil and much of South America.
The good news is that for the 2016 Olympics, many Rio neighbourhoods were cleaned up, and still have a high presence of tourist police. This helps in deterring some crime.
Avoid wearing jewellery, especially expensive-looking jewellery. We talked to one woman who had a necklace ripped from her neck by a passing cyclist and a man who was jumped from behind. When he instinctively reached up, someone sliced off his watch.
Carry only one credit card and the cash you will need. Keep your cash in multiple pockets, and only reach into the pocket with the proper amount for what you need to purchase.
Depending on the neighbourhood, don't bring a big camera.
If you do carry an expensive camera, keep it in a backpack or zippered pocket except when you want to take a shot.
Avoid using mobile phones in public. They are frequently grabbed right out of people's hands.
Carry your purse or backpack in the front, over one shoulder, and under your arm.
Speak Portuguese, if you can.
Pickpockets work in teams. One will distract you while the other robs you.
Yellow cabs (with meters) or uber are generally safer than the Metro.
Remember if you take the bus, the language is Portuguese, few if any drivers will speak English. Be sure to know the bus route, as many buses will enter into the unsafe favelas.
If you are still wondering how safe is Rio de Janeiro, remember a lot of it is up to you. For more safe travel guidelines, check out our general South America travel safety tips.
Rio de Janeiro Landmarks
There are so many things to do in Rio de Janeiro. Here are some of our highlights:
• Christ the Redeemer
Christ the Redeemer, a huge statue of Jesus Christ stands tall at 671 meters (2,200 feet) above sea level on top of Corcovado mountain. It is an icon of Rio de Janeiro and one of the most famous places in Brazil. There are five ways to get to the monument.
Completed in 1931 out of reinforced concrete covered in Soap Stone, it is the largest Art Deco statue ever built. For many, the visit is about a spiritual attraction. For others, it's the view, which is nothing short of impressive. It is now listed as one of the seven wonders of the modern world.
It is crowded, often with long queues for the train to the top. Here, two of the 40 or so people in our tour encountered pickpockets. The action is swift, so be extra vigilant.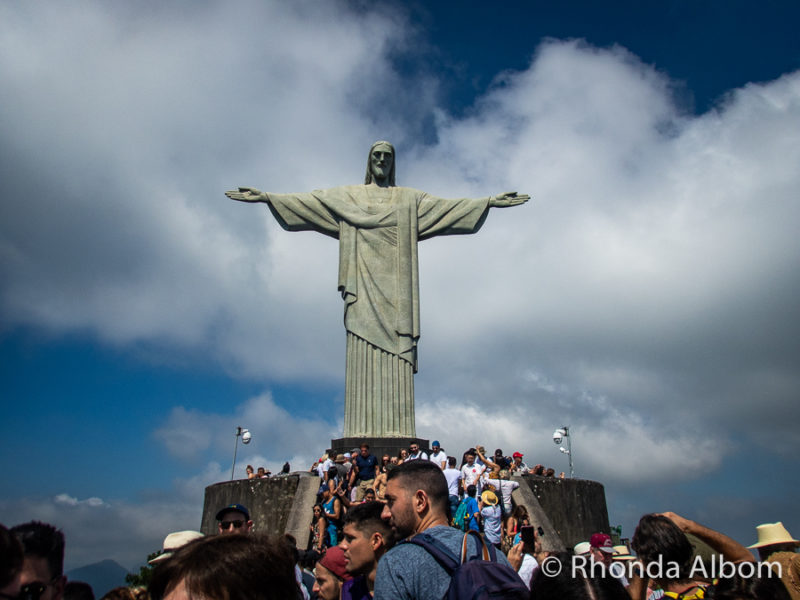 • Pão d'Açucar (Sugarloaf) Mountain
Similar to visiting Christ the Redeemer, you will be in long queues for the cable car to the top and often encounter a few shady people, so be aware of your surroundings. As we had only two days in Rio and it was the crowded New Year's Eve season we opted to skip Sugarloaf and therefore missed the spectacular views from the top.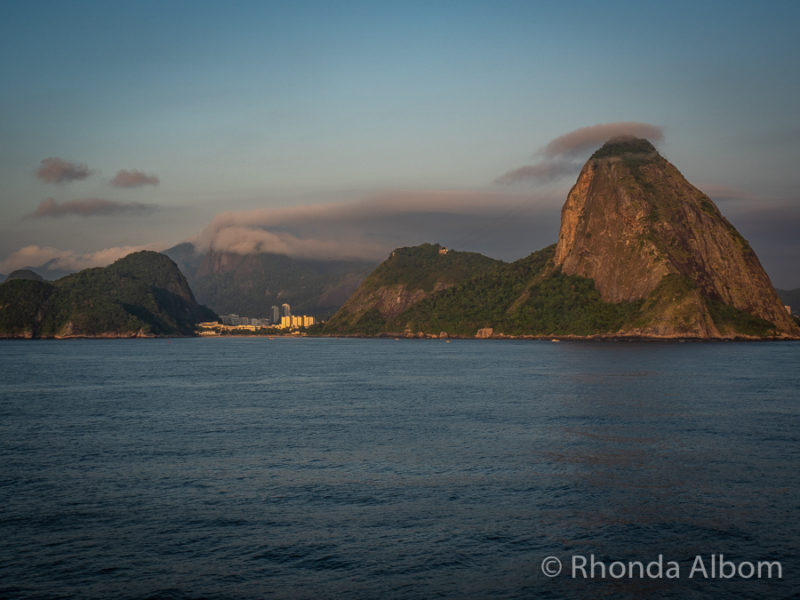 • Selaron Steps
Believe it or not, this is the number three most visited destination in Rio after the Christ the Redeemer and Sugarloaf. The tile-covered steps are a work of passion (rather than commission) by Chilean artist Jorge Selarón who lived at #24. The steps have been made even more popular when Snoop Dog used them in a music video. We went on December 30, a weekend with over one million visitors to the city, and it was packed.
When you climb the stairs, be sure to notice the variety of tiles, many of which were sent to the artist from cities around the world. At one point very near the top, you will reach a large mosaic of the Brazilian Flag. This should be your stopping point. According to our guide, there is a blind spot just beyond it where many robberies take place.
• Sambadrome
Having never been to Rio during Carnival, I had no idea that the main dancing takes place in the Sambadrome, a 700 meter long open stadium that seats 70,000 people. Here 12 of the 200 city samba schools will each get a 45-minute opportunity to show off their talent.
• Arco do Teles
Walking under the Arco do Teles brings you to an area of traditional houses from the 1700s, including #13 home to Carmen (the famous Brazilian woman who was always photographed with fruit on her head). Aside from prostitution, the area has a sordid past and may be haunted by Barbara. As legend has it, Barbara stole local children, killed them, and bathed in their blood to stay youthful.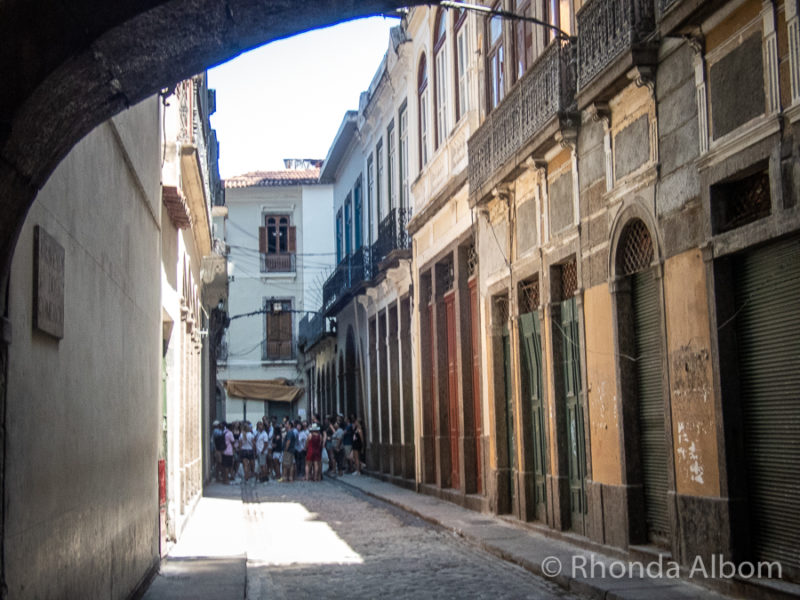 • Metropolitan Cathedral of Saint Sebastian
Also called the Metropolitan Cathedral of Rio de Janeiro, it is round to symbolize unity. We entered from the main entrance in the front and went out on the side facing the Lapa neighbourhood. Here our guide instructed us to remove all our jewellery and put our cameras away. It is okay to take the camera out for a photo, but immediately put it away after the shot."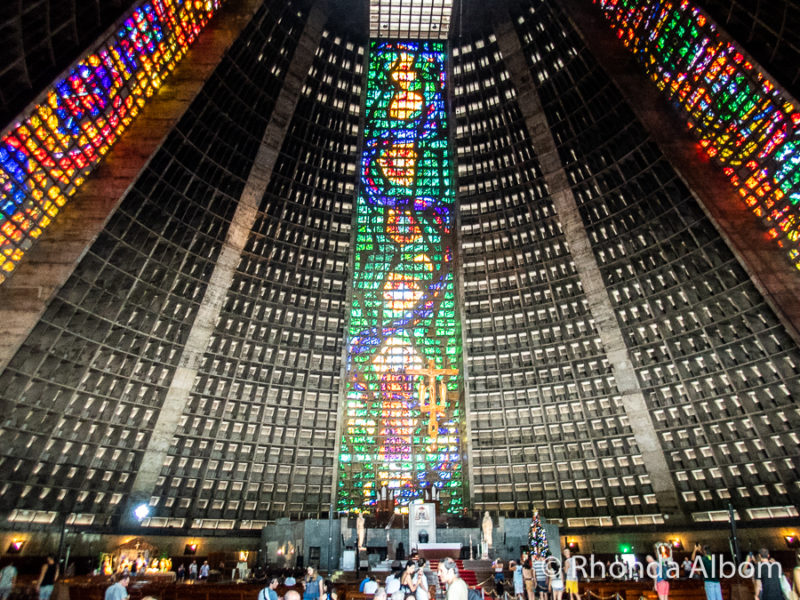 • Lapa Arches
Originally an aqueduct built in 1723, although not nearly as impressive as the aqueduct in Segovia Spain. The concrete park-like area in front of the arches draws huge crowds of young people on Saturday nights. It's a mix of rich and poor, a coming together of everyone in a festive mood.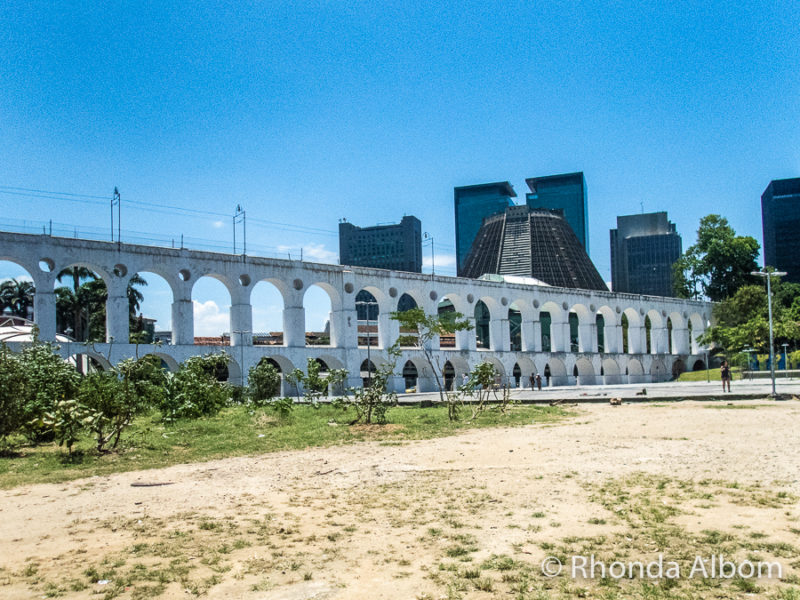 • Colombo Coffee House
If you haven't tried a Brazilan coffee, you are missing a treat, and this is the place to get it. Opened is 1894, it's where Queen Elizabeth enjoyed a cuppa in the 60s.
• Theatro Municipal
The Municipal Theatre offers daily tours except on some holidays and holiday weekends.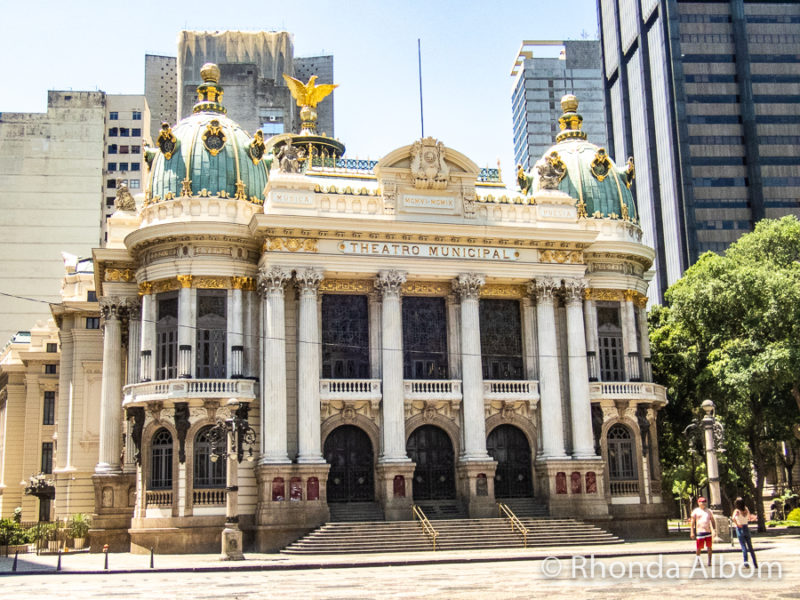 • Candeleria Cathedral
Built for the wealthy population, Candeleria is a masterpiece. It was closed on New Year's Eve weekend when we visited the city.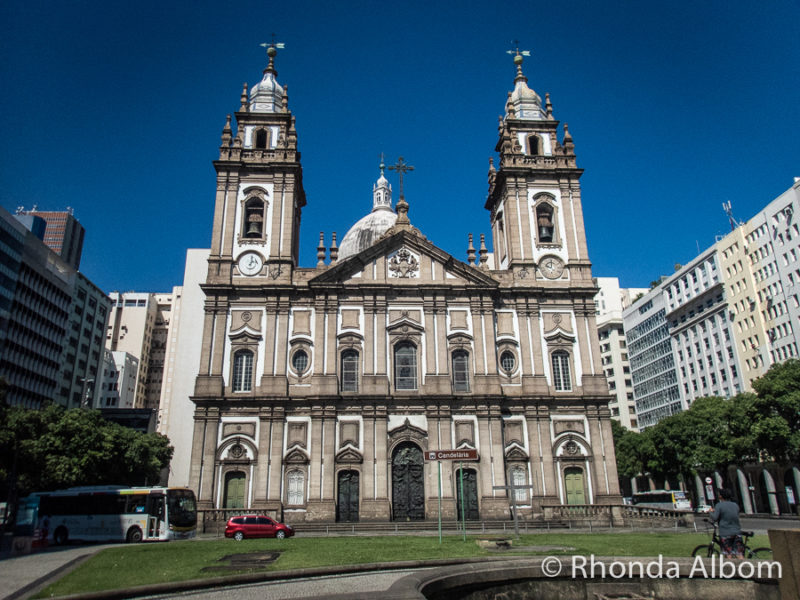 • Olympic Torch
Rio de Janeiro was home to the 2016 summer Olympics. As a result, the government cleaned up many areas of the city. The city had two Olympic flames. One is at the main stadium and a second flame for the people on the street nicknamed 'Olympic Boulevard.'
• The Museum of Tomorrow
Located near the cruise terminal, the building itself is a work of art. Good thing for us, as that was all we got to see. It locks the doors to new entries one hour before closing.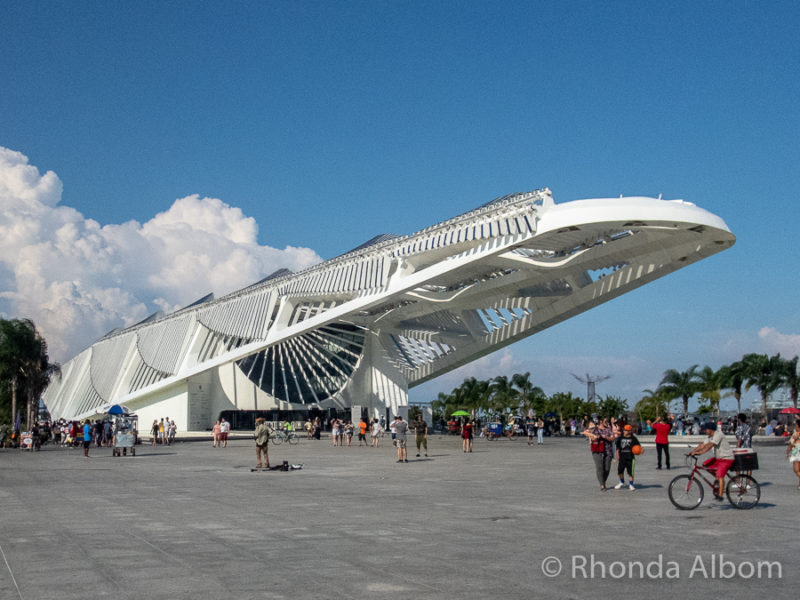 • Best Beaches in Rio de Janeiro
Rio has 23 beaches lining its coastline. Take a safety tip from the locals. Notice they typically bring only a towel, sunscreen, and some small currency for snacks, drinks, and other items from beach vendors.
The top three beaches for swimming, people watching, popularity, safety and offering some of the best hotels in Rio are Copacabana Beach, Ipanema Beach, and Leblon Beach.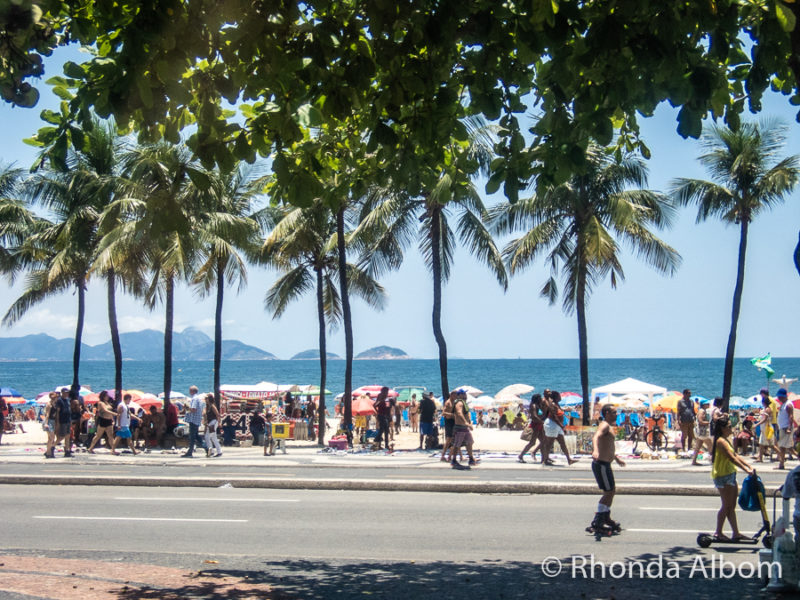 Where to stay in Rio de Janeiro
Many of the best places to stay in Rio de Janeiro are located on Copacabana or Ipanema Beach. If I were staying here, it would be at the Belmond Palace Hotel on Copacabana Beach. Built in 1923, it is still the place to stay. Here are links to check availability of our top choices:
General Information and Tips on Visiting Rio de Janeiro Brazil
Read the safety tips above.
The two biggest parties of the year are Carnival (40 days before Easter) and New Year's Eve.
READ NEXT: Amazing Fireworks: Rio de Janeiro on New Year's Eve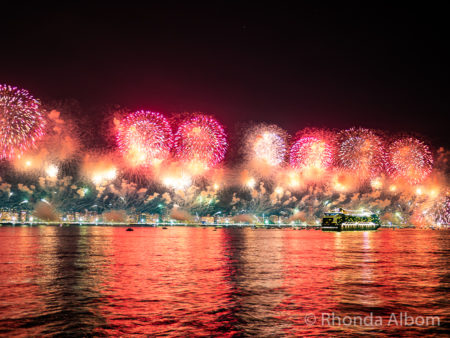 The currency of Brazil is Brazilian Real. While some places do take US dollars, you will get a poor conversion rate. It is best to have local currency. You will need Brazillian Real for most taxi cabs and for any public transportation.
In many tourist areas of the city, there are QR codes on the sidewalks to get more information about the site.
Portuguese is the official language of Brazil. While we found many people also speak Spanish, only a small percentage speak English.
A 10% tip in restaurants is customary.
Cariocas is the nickname of people from Rio de Janeiro.
Click here to follow our entire South American itinerary.
Photography on this Page
Following my own advice, my big camera (Olympus OMD-em5 Mark II) never left the cruise ship. Instead, I took my predecessor to the Olympus TG-6, a tough little shockproof, waterproof, dustproof, crushproof and freezeproof point and shoot camera that has an option of RAW output. It's the perfect camera to keep in my pocket, especially in questionable safety areas. I even went so far as to unbrand it with gaffer tape covering the brand name. I had no problems.
The fireworks shots were taken from the ship on the Olympus OMD-em5 Mark II using a slow shutter speed and a tripod.
Please Share
If you enjoyed this article, please share it on social media, including Pinterest.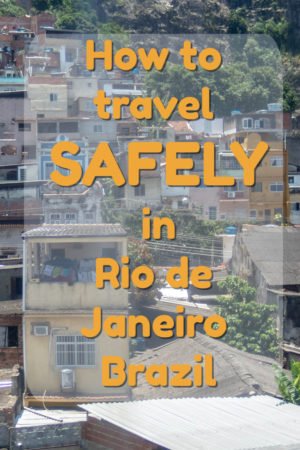 Which Rio de Janeiro Landmarks will you visit?