Some places take a bit to warm up to, but Buzios Brazil captured my heart instantly. Arriving by sea, we passed cove after cove of crystal clear water and white sand surrounded by lush hillsides. The real fun came as we set out to discover the best beaches in Buzios.
This small fishing village was a well-kept Brazillian secret until it gained international fame after French actress Briget Bardot, who visited annually, told the world about her find.
It wasn't long before Buzios was thought of as one of the 10 most beautiful areas in the world. And for us, it is easy to see why. I know it's a bit cliché, but this place is breathtakingly beautiful.
Today, it's a town well known for its beaches, In fact, along the Buzios coast and peninsula, there are 24 beaches. It can be challenging to know which ones to visit.
We have simplified the process as we explore the best beaches in Buzios and provide you with our photos and all the information you need to fall in love with this stunning part of Brazil as we did.
From Ferradura to Azeda, we will take a closer look at the top options and what makes them so special. Whether you're a surfer, sun seeker, or simply looking for a peaceful place to unwind, Buzios has you covered.
Best beaches in Buzios
These are what we believe are the best beaches in Buzios:
Armação
Ossos
Azeda
João Fernandes
Brava
Olho de Boi
Forno
Foca
Ferradura
Geribá
Manguinhos
Where to find the best beaches in Buzios
Highlights of the best beaches in Buzios
We started our visit with a trolley tour that brought us around the peninsula, allowing us to overlook and explore the best beaches in Buzios. With the added information on each from the trolley guide, we knew where to spend our time.
Below we share the highlights of each of the best beaches. Then we pulled together summary lists to make it easier for those looking to participate in specific watersports or for a family-friendly atmosphere.
Armação Beach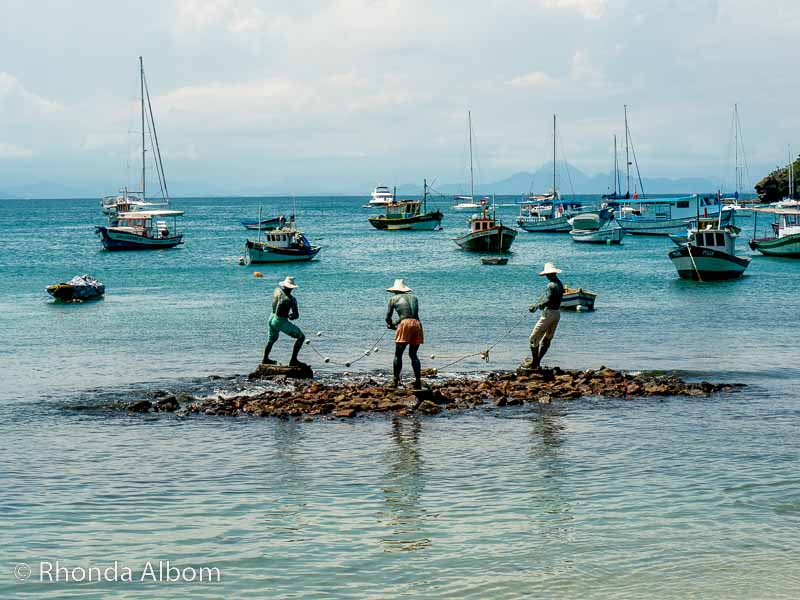 Armação is located in the heart of the town and is home to the city's fishing fleet. It's the first place we walked after arriving in town.
Although it's not a place for swimming, we found it lovely to walk along, stretch our legs, and enjoy the calm waters and serene views. We were told that the locals call it Trap Beach because it traps the waves, but it seemed very flat and calm when we were there.
What caught my eye here was the lifesize sculpture of three fishermen with a net. In fact, it's what kept me walking closer as they appeared so real yet so still, it was almost confusing.
There are plenty of restaurants and shops along the road. At a later time, I had my first ever affogato here. It's vanilla ice cream with a shot of espresso poured over it. Not a traditionally Brazillian thing, but the delicious treat will always remind me of Buzios.
Ossos Beach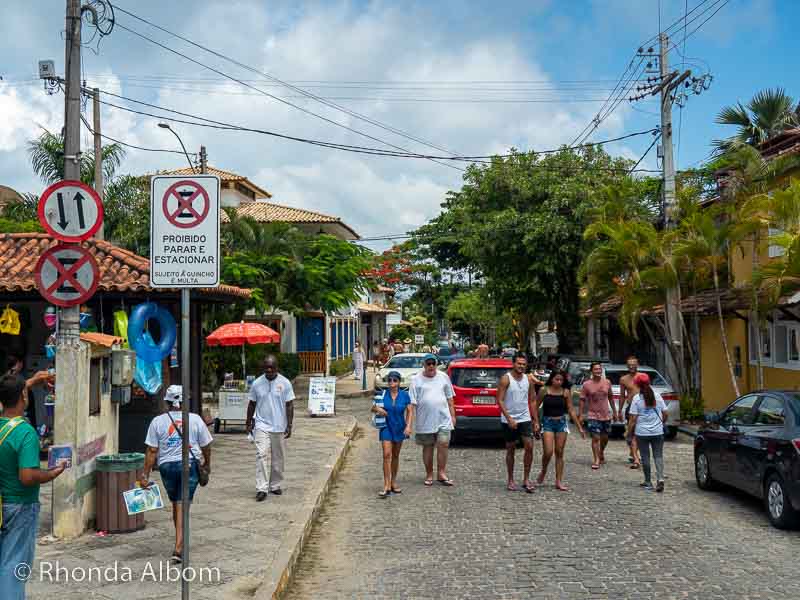 The next stop to the north is Ossos Beach, commonly called Bones Beach. It's smaller and known for its calm and clear waters.
While we could have easily walked here for a swim, we returned to the port as we had pre-scheduled a trolley tour (something we loved and recommend). Luckily, it was our first trolley stop, and we got to enjoy this picturesque spot that has plenty of nearby shopping options, pleasure craft, and water taxis.
Azeda Beach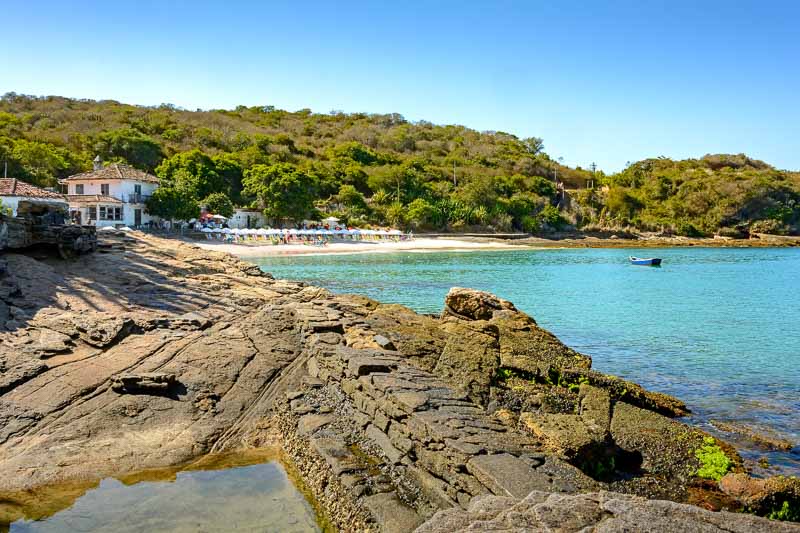 Sitting side by side, Azedinha and Azeda Beaches are known for their very calm crystal-clear waters and scenic cliffs. However, they are rarely crowded, and we didn't get to either.
Azeda beach is accessible by a long set of stairs, but this only adds to its charm. The beach is surrounded by lush greenery and crystal-clear waters, making it a perfect spot for a quiet day out.
João Fernandes Beach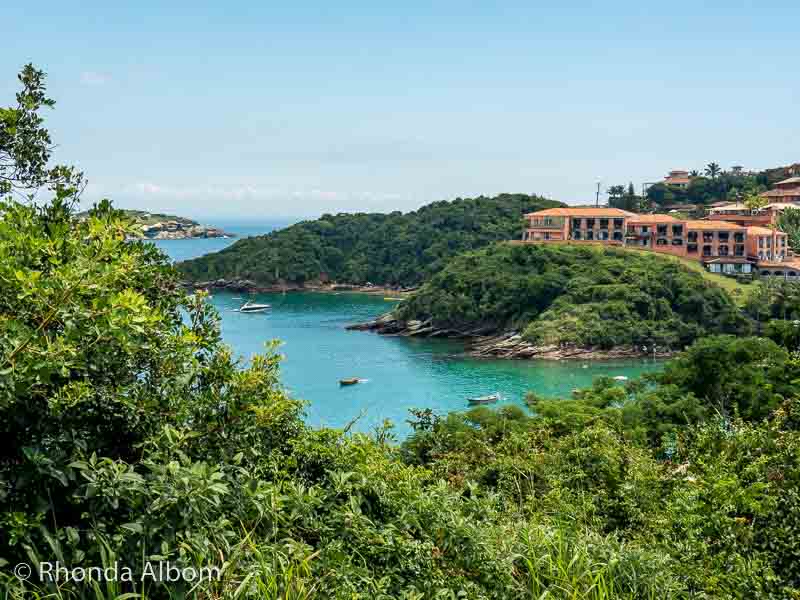 João Fernandes is one of the most popular and often considered the most beautiful beach in Buzios. It's also known for its white sand and clear waters. We only had time to overlook the sand and sea, but on my next visit, I will spend my time here.
The beach is surrounded by hills and has a variety of water sports available. In fact, it's known as being one of the best snorkelling spots in Buzios. Plus, there are full facilities and lots of cafes.
Brava Beach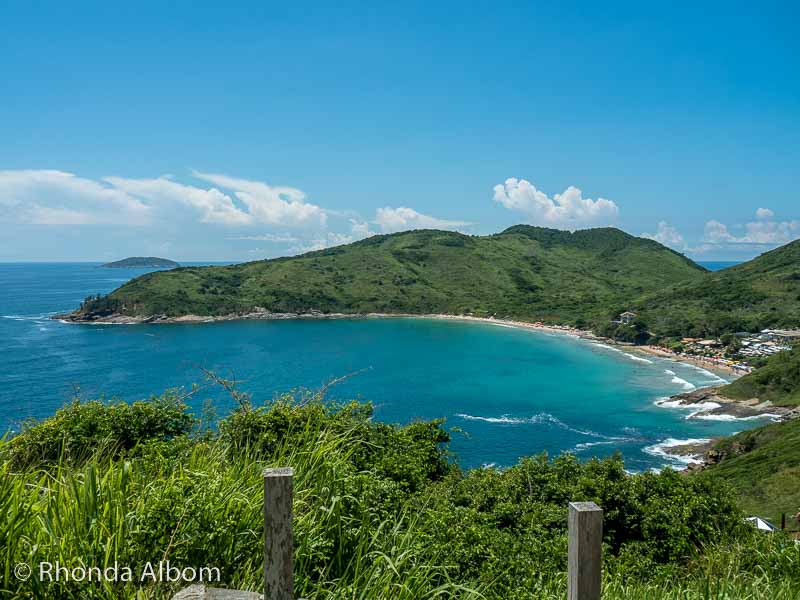 Brava is known for its waves that can get a bit rough. Our trolley driver called it an "angry beach in the winter" with waves up to two metres. He also added that it has some of the area's coldest water.
It's small, rarely crowded, quite secluded, and has no facilities.
Olho de Boi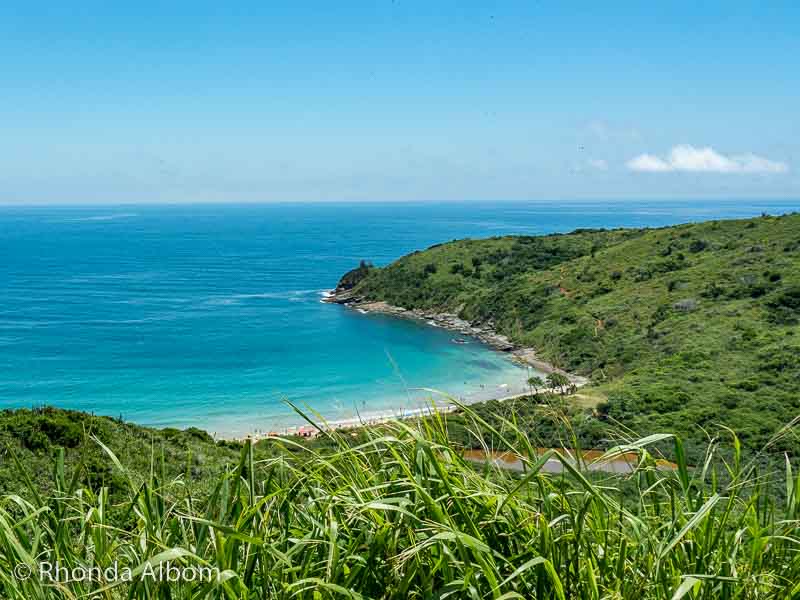 What can I say about the nude beach in town, except remember your sunblock!
Seriously, this place is secluded, as one would expect, and requires a bit of a hike to get to it. We didn't go as we are not into the "au naturale" style. If you look closely, you can see the trail leading through the hills to the beach at the end of the peninsula.
Forno Beach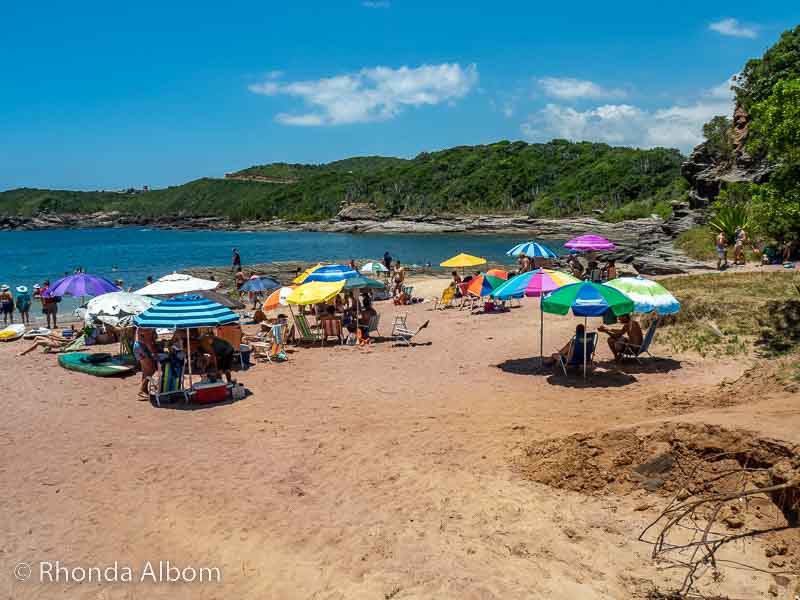 Aside from the main beach in town, Forno is where we spent our time. We were told that the sand here has a high iron content, making it hot and slightly red. But not too hot, as we were barefoot.
Jeff didn't swim, but that didn't stop me from taking a quick dip. The clear waters were bathtub warm and delightful. I could have easily spent days here.
Foca Beach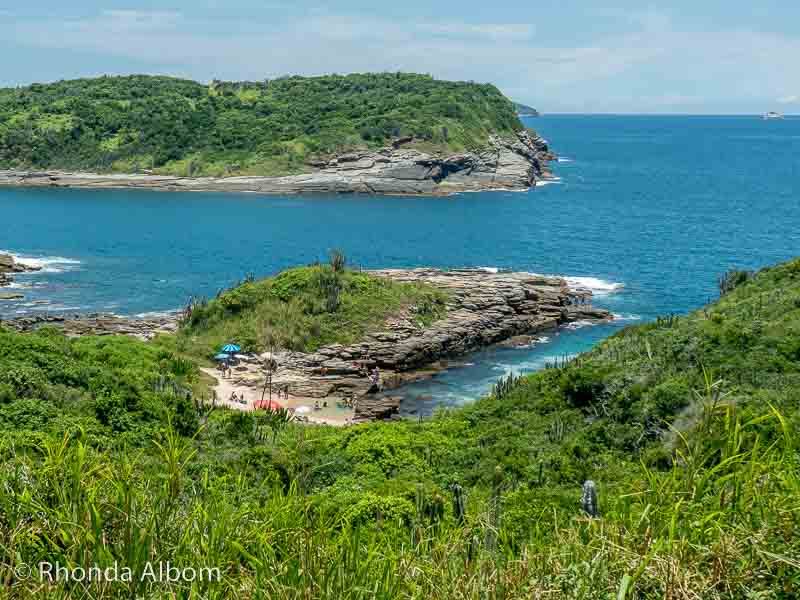 Nicknamed Seal beach, our driver told us the story of a fisherman, a seal, and their daily visit. Embarrassingly, neither Jeff nor I can remember any other details of the story.
Difficult to get to, it is almost more of a pool than a beach. But there is good snorkelling here.
Ferradura Beach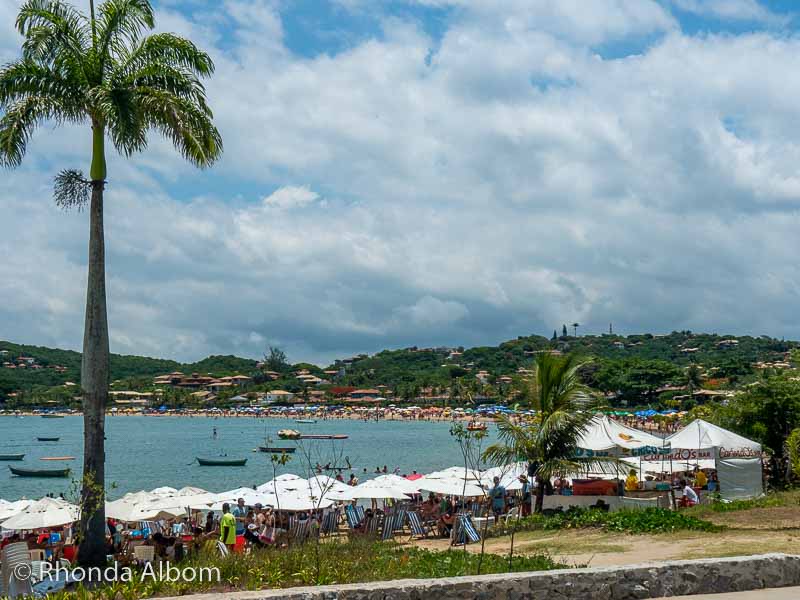 Ferradura is long-narrow horseshoe-shaped and known for its calm, shallow waters and stunning views. Surrounded by hills, there are a variety of water sports available, especially snorkelling.
It's one of the largest beaches in Buzios. It is in an upscale neighbourhood with several facilities, including restaurants and bars. Ferrudura is popular with families.
Geribá Beach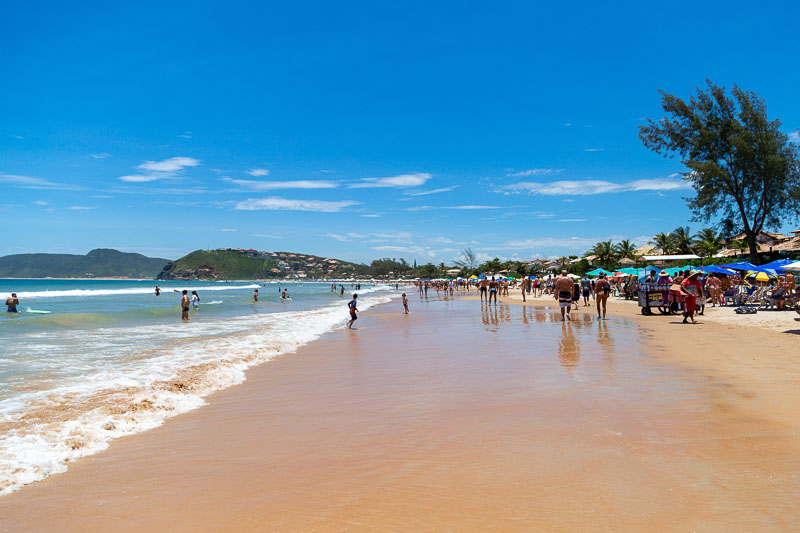 Geribá, the largest and one of the best beaches in Buzios, is a long, broad stretch of sand along a coast. It's popular with families. In fact, it's a fun place to learn to surf. Reserve your Geribá Beach surf lessons here.
It offers a variety of other watersports and many restaurants and bars to enjoy.
Manguinhos Beach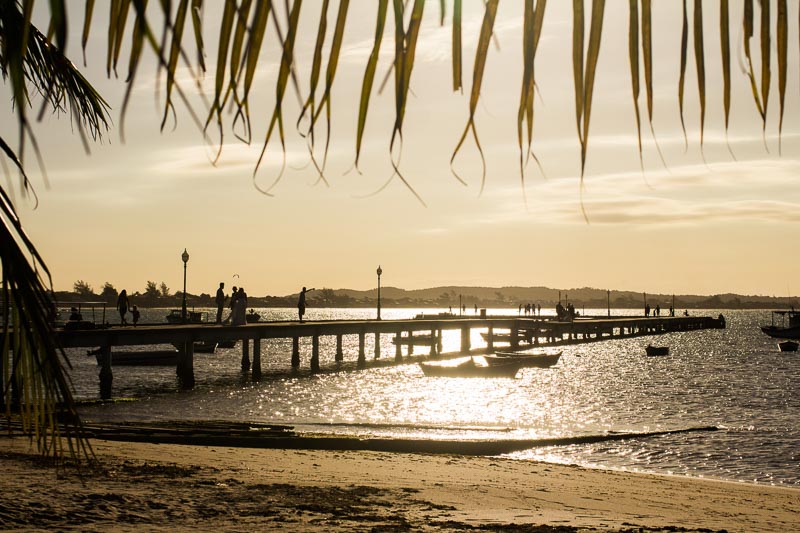 This long beach is known as the place to go for kitesurfing and windsurfing, whether experienced or seeking lessons. If you are more like me and prefer to watch, there are several beachside cafes.
Best beaches in Buzios for watersports
If you have a specific watersport you want to try, the winds and waves might make a difference. In Buzios, you can get out on the water and try surfing, windsurfing, kitesurfing, stand-up paddleboarding, scuba diving, or snorkelling.
Surfing
Geribá is one of the best spots for surfing in Buzios. With its wide, sandy beach and consistent waves, it's popular among both locals and tourists. And there are lessons available there. Reserve your Geribá Beach surf lesson here. Tocuns (not featured above) and Brava are also a good surfing option.
Windsurfing and kitesurfing
Manguinhos and Geribá are great spots for more experienced windsurfers or kitesurfers. Beginners might be happier at Ferradura, Ferradurinha or Tartaruga.
Stand-up paddleboarding
Armação is a great spot for stand-up paddleboarding, with its calm waters and beautiful scenery.
Snorkelling
Azeda is a great spot for snorkelling, with its clear waters and colourful fish. Other great snorkelling spots are Foca, João Fernandes and Ferradura.
Scuba diving
Personally, I prefer to SCUBA from dive boats. One interesting option for first-timers or experienced divers is to dive in Buzios side-by-side with an accredited instructor. No certification is necessary.
Please keep in mind that the conditions for water sports can vary depending on the season and weather. It's always a good idea to check with local guides or instructors for the best times and spots for each activity.
Best family-friendly beaches in Buzios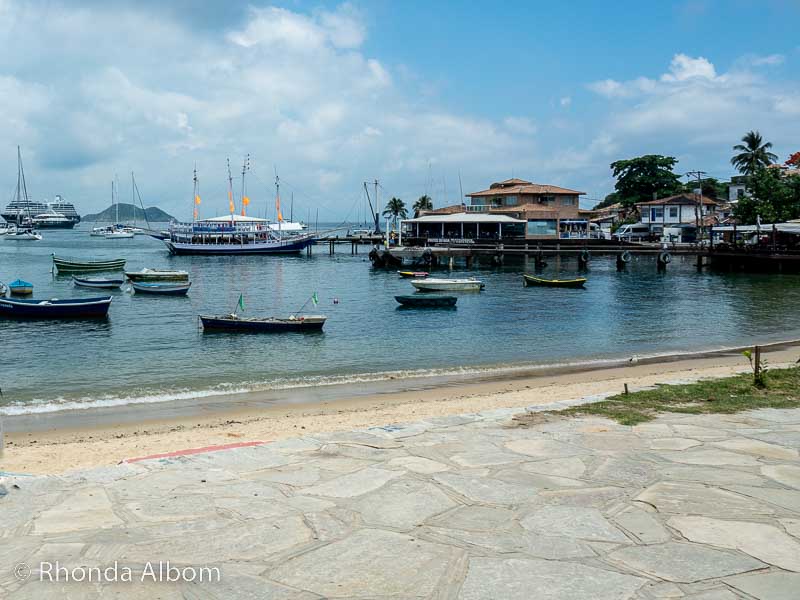 There are several beaches in Buzios that are considered family-friendly due to their calm waters, facilities, and overall atmosphere. The top four are:
Ferradura
Azeda & Azedinha
Forno
João Fernandes
Geribá
It's worth noting that during peak seasons, some of these beaches can get crowded, so it's always a good idea to arrive early to secure a good spot.
How to see the best beaches in Buzios with limited time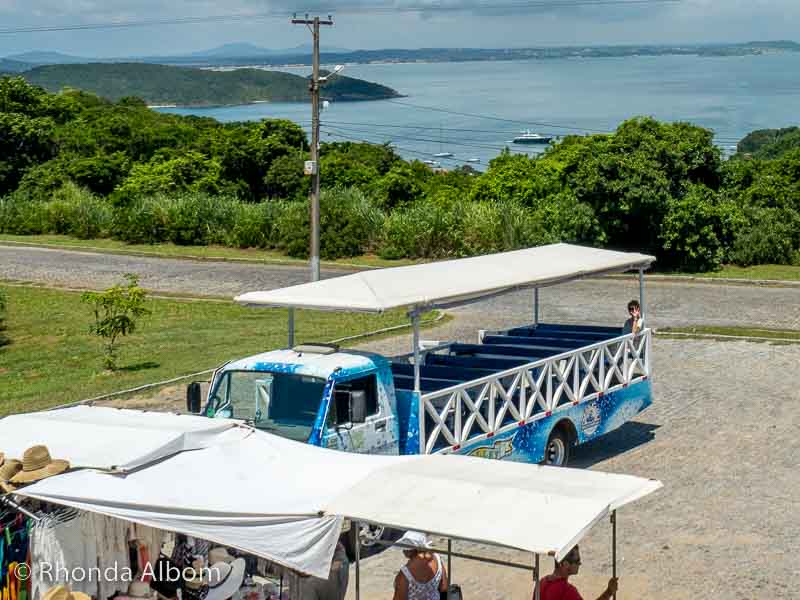 If you are just doing a day trip to Buzios, like we did, there are two great ways to see the highlights.
Take a trolley tour
Our two-hour, pre-booked trolley tour took us first through some of the narrow streets, but the best part was circumnavigating the stunning Buzios peninsula and stopping to either visit or overlook many of the breathtaking beaches. As a guided tour, we also learned interesting bits of the culture and history of this charming town.
The open-air vehicle allowed for high visibility, and the breeze kept us comfortable, despite the heat of the day. Most of the beach pictures above were taken during our trolley tour. Reserve your trolley tour here.
Boat tours
One of the most popular things to do in Buzios is to take a boat tour that explores many beaches and coves. There are several tour companies that offer different types of tours, including snorkelling, fishing, and sunset cruises.
Our top picks:
Other things to do in Buzios
Shop, dine, or just people watch along the cobblestone main street Rua das Pedras.
We also branched off onto several of the side streets. No matter where we went, we found the town charming.
Visit the Brigitte Bardot statue, the famous French actress who visited Buzios in the 1960s and helped put it on the map.
Hang out in Praça Santos Dumont, the main square in Buzios (Sorry to say, but we found it a bit crowded and loud.)
Enjoy food, drinks, and music while lounging at one of the beach clubs after a day in the sun.
Join a 3.5 km walking tour of the Natural Pools Circuit. Reserve your walking tour here.
Visit the Sant'Anna Church, which dates back to the 1740s and is one of the town's oldest buildings.
Final tips and information about visiting Buzios
Save for later
If you enjoyed this article on the things to do in Buzios, please share it on social media and save it for later on Pinterest.
Which of the best beaches in Buzios will you visit?