Montevideo, the capital of Uruguay, exudes a captivating blend of European charm and South American allure, making it a city worth exploring. In fact, we found a surprising number of interesting things to do in Montevideo.
Often overshadowed by its more renowned counterparts, Montevideo remains a hidden gem waiting to be discovered. Uruguay, a liberal nation with a rich and tumultuous history, stands out for its progressive laws and distinctive character.
Positioned gracefully between Brazil and Argentina, this coastal country beckons with its unique personality and enthralling landscapes. Below we unveil several diverse and fascinating things to do in Montevideo.
As we ventured through the vibrant streets and neighbourhoods, we were captivated by the city's cultural tapestry, where European influences intertwine with South American heritage. Beyond its bustling cityscape, Uruguay unfurls a tapestry of attractions, from serene beaches and picturesque countryside to captivating historical landmarks and dynamic urban enclaves.
From strolling along the charming Rambla promenade to delving into the city's rich history at the Ciudad Vieja (old town), Montevideo offers an array of experiences.
Things to do in Montevideo Old Town
If you only have time to visit one area of the city, Ciudad Vieja (the old city of Montevideo) is it. Charming and historic, its pedestrian-only walkways will take you back to the 1800s. It is a mix of modern life with colonial Europe.
The gentle, easy walk from the port to the historic district took us about 20 minutes over relatively flat and paved footpaths.
Montevideo Metropolitan Cathedral
The first church of Montevideo is now the seat of the archdiocese. It is the city's main Catholic cathedral. Inside are the remains of several important people, including the tomb of Uruguay's first president.
However, unlike other South American countries, Uruguay has no official religion, and less than half of the population identifies as Catholic.
Plaza Independencia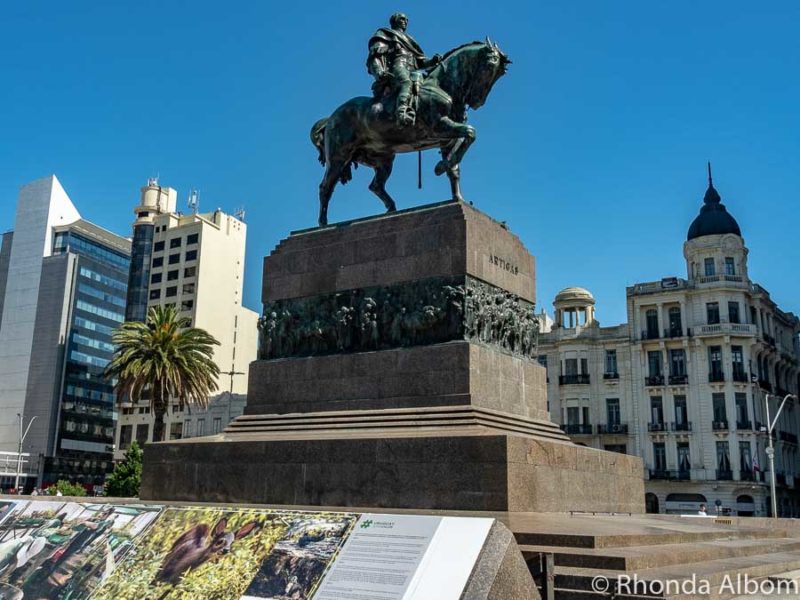 You will know you have arrived at Plaza Independencia when you see the prominent statue of General Jose Gervasio Artigas. He was the initial leader in the movement towards Uruguayan independence, the "father of modern Uruguayan nationalism". Below the statue is his mausoleum. Open to the public, entry is via the staircases on either side of the statue and can easily be missed. In the tomb, you will find the remains (ashes) of this national hero protected by federal guards.
City gate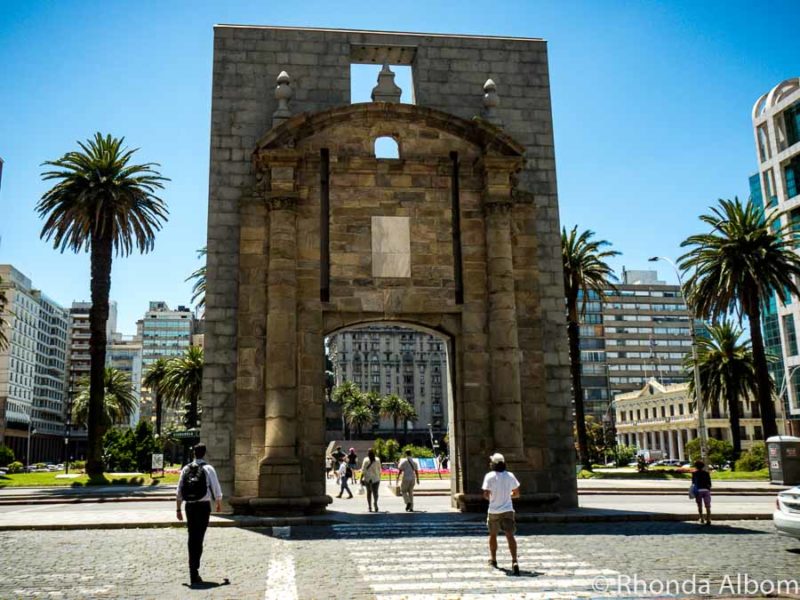 The old city gate originally led into a walled Montevideo, and of course, we had to pass under it.
The gate is not in its original position and is now aligned with the main street. In fact, the only original part of the gate is the square of white stone above the opening.
Salvo Palace (Palacio Salvo)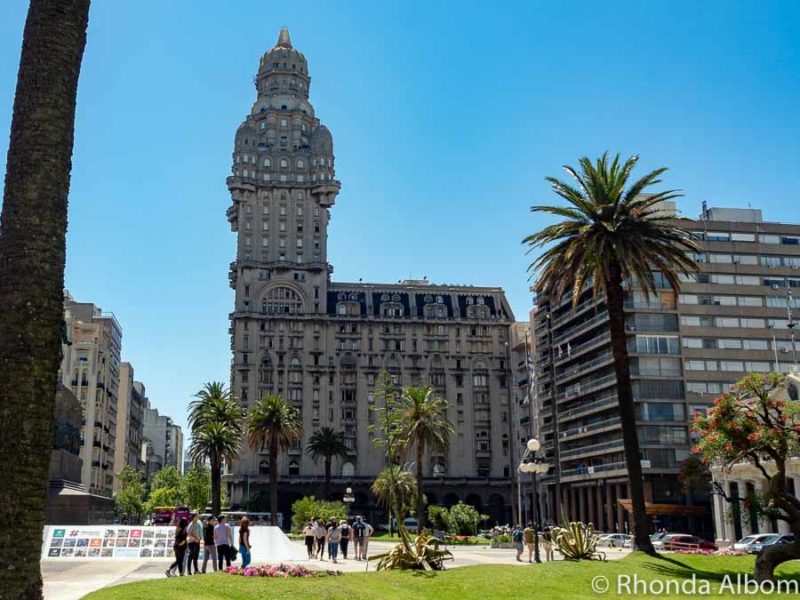 Standing tall at 95 metres (312 feet), Palacio Salvo was the tallest building in South America when it was built in 1927. Today, Sky Costanera in Santiago, Chile holds the record.
Palacio Salvo is home to the Tango Museum as well as a lookout on top of the tower (one of the free things to do in Montevideo).
Presidential Palace
The current presidential palace is located on Plaza Independencia. Nearby is the former presidential palace (the short, white building with columns in the photo just above) that is now the Government House Museum (Museo de la Casa de Gobierno).
Solis Theatre (Teatro Solis)
Boasting an elegant and renovated interior with outstanding acoustics, the Solis Theatre is the oldest theatre in use in South America, having opened in 1856. It is also the second-largest on the continent. We saw an impressive carnival presentation here that also featured Candombe music and dance. Candombe is an Uruguayan style brought to South America with the African slaves. Solis Theatre sits at the edge of the Montevideo Old Town, separating it from the modern section.
Things to do in Montevideo: museums
Most museums in Uruguay are closed on Monday, which is one of the two days we were in the city. Therefore, we didn't get to any of them. However, when we return someday, we will visit the following museums in Montevideo:
The National History Museum (Museo Historico National)
Gaucho Museum (Museo del Gaucho) – Gauchos are Uruguayan cowboys.
Tango Museum – Argentina and Uruguay both lay claim to inventing the tango.
Fine Arts Museum (Belle Arts Juan Manuel Blanes)
Government House Museum (Museo de la Casa de Gobierno)
Things to do in Montevideo: market
I was fascinated by the Sunday flea market and glad we got a chance to
T
Sunday flea market (Feria de Tristán Narvaja)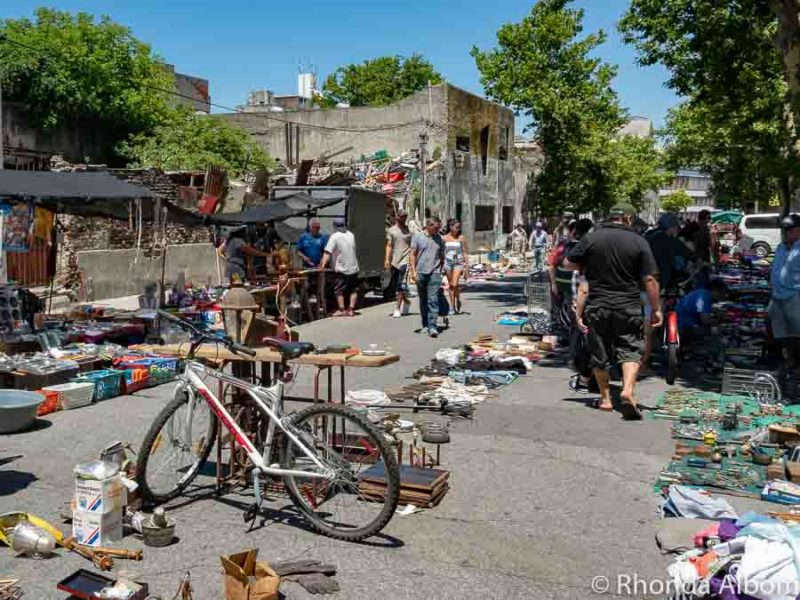 If you are in the capital of Uruguay on a Sunday, the flea markets are one of the best things to do in Montevideo. The market officially runs along Avenue Tristán Narvaja, then unofficially for block after block off to the sides. Although, the farther you wander from the official market, the more you need to think about safety (see below). We were advised not to head north beyond the market. Regardless of where you are in the flea market, stay vigilant about pickpockets.
Port market (Mercado del Puerto)
A place for shopping and food, the port market is the ideal stop for anyone arriving via cruise ship that has extra time either before or after an excursion. Be aware that it caters to tourists, and prices tend to be higher than in other parts of town. However, it is conveniently located right across the street from the port, and often has street performers on the weekends and when cruise ships are in town. It is the type of place one could spend an hour or half a day. It's also the place to go for a famous Uruguay steak. Called parilla in Uruguay, it is similar to the asado in Argentina.
Things to do at Montevideo port
There is duty-free shopping at the port, just inside the gate in the little building that looks more like a cafe than a shop. Here we found knives, gifts, food, and other tourist items at better prices than at the port market.
Other things to do in Montevideo Uruguay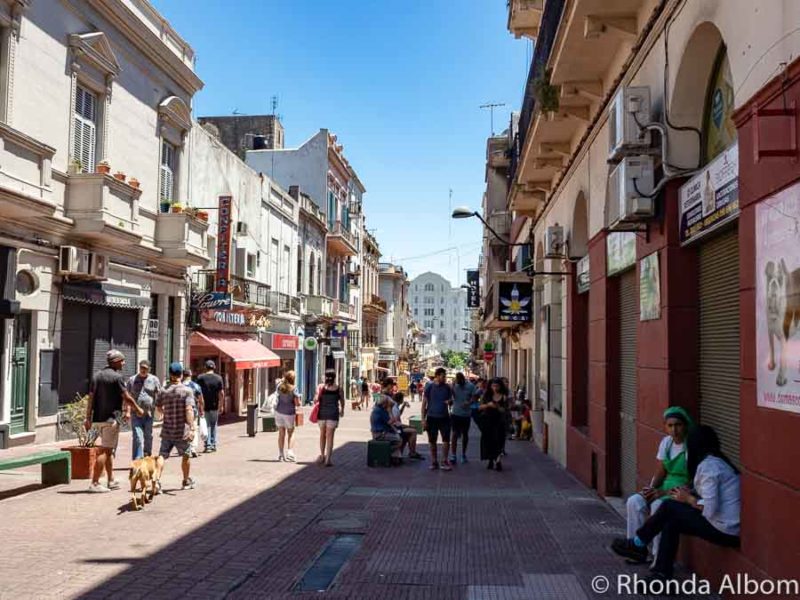 We took a free city walking tour, a historical overview of the old town. It was excellent.
Walk along the 10-mile coastal stretch called La Rambla. One of the things you will see is a Holocaust memorial.
Enjoy one of the beautiful, clean Montevideo beaches.
Overlook the city from the fort on the hill (Fortaleza Del Cerro).
Montevideo safety tips
Uruguay is considered to be one of the safest countries in South America. However, one still needs to be careful. See our overall safety tips for South America can be found on our page about Rio de Janeiro.
According to a port consultant on our ship, the safer areas of Montevideo are the port market area, the historic district, and La Rambla.
He also advised not to travel north to portions of the city including Parque Batlle, Aguada, Tres Cruces, and Buceo without a guide.
If you go to the flea market, be cautious about pickpockets.
Getting to Montevideo
Ferry from Buenos Aires to Montevideo
Buquebus offers a ferry service from Buenos Aires to Montevideo. We took Buquebus from Colonia de Sacramento to Buenos Aires and found them to be clean and comfortable. They are the only company offering a direct Buenos Aires to Montevideo ferry. If I were to do this, I would want to spend the night in Montevideo, as the ferry, plus customs takes several hours each way.
Ferry from Buenos Aires to Colonia de Sacramento, then a bus to Montevideo
We took a ferry from Buenos Aires to Colonia de Sacramento with Colonia Express, and waiting at the dock were Buquebus busses headed to Montevideo or to Punta del Este. This is a lower-cost alternative than taking the ferry directly to the capital city.
Hire a car and drive
We have rented several cars in South America and have had all positive experiences going through RentalCars.com. As an aggregator, they offer cars from local car rental companies, often with additional coverage over what the locals would have provided and with English-speaking customer service.
Any problems we have had were resolved quickly and easily. We comfortably recommend them anywhere in the world. Check the pricing and availability of vehicles from RentalCars.com
Arrive via cruise ship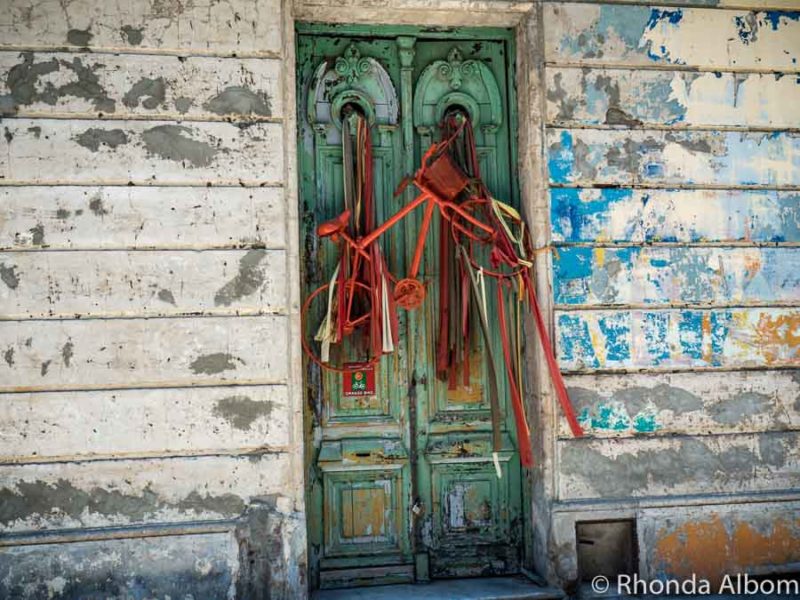 This is what we did. Arriving on a Sunday and staying until Monday evening, we had plenty of time to explore this charming Uruguay coastal city.
Where to stay in Montevideo
We were in port for two days and spent the night on our ship. However, Montevideo hotels cover the full gambit from five-star luxury to backpackers. Click here to find the best prices on local hotels at Booking.com
More practical information and tips on visiting Uruguay and Montevideo
A 10% tip in restaurants is customary.
While it is legal for Uruguayan citizens to smoke marijuana, it is NOT legal for tourists.
The weather is unpredictable, especially in the summer, so bring a rain jacket.
If you buy gifts that you are taking out of the country, you can get a VAT tax (22%) refund near the port terminal. See our Uruguay travel guide for more details.
The population of Uruguay is about 3.5 million people and 12 million cows.
If you're like me, you are going to be looking for the best coffee in town. You will find it at Cafe Brasilero, the oldest cafe in Montevideo. If you want a real treat, try their Cafe Aliano made with coffee, milk, amaretto, and dulce de leche.
Other cities in Uruguay that we visited
We hit the big three of Uruguay, each as independent visits, although one could easily do day trips from Montevideo.
Montevideo (this page).
Punta del Este (a resort town frequently visited by Argentineans).
Colonia de Sacramento (One of Uruguay's oldest towns and an easy day trip from Montevideo or from Buenos Aires).
Save on your trip with these resources
These are our go-to companies when we travel. We believe this list to be the best in each category. You can't go wrong using them on your trip too.
Flights: we use Expedia for the best and cheapest flight options.
Accommodations: we use Booking.com (hotels), VRBO (self-contained), or Hostelworld (budget).
Cars (gas or electric): we use RentalCars to search for deals and dealer ratings.
Campervans or Motorhomes: we use Campstar where Albom Adventures readers get a 3% discount.
Motorcycles: we have heard good things about BikesBooking.
Private guides: we love the private guides at Tours by Locals.
Travel Insurance: while not required, we always opt for travel insurance and start at InsureMyTrip to compare coverage plans.
Check out our travel resources page for more companies that we use when you travel.
Please Share
If you enjoyed this list of things to do in Montevideo (or the Uruguayan history), please share this article on social media, including Pinterest: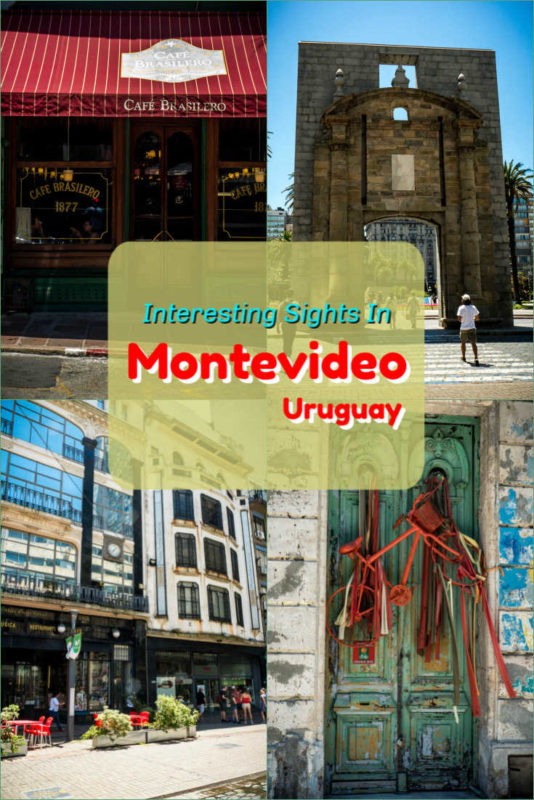 Montevideo was only one stop of our South America itinerary
Which of the things to do in Montevideo will you do first?