Punta del Este is sparkling white sand, varied surf, playful sea lions, exclusive shopping, and culinary delights. Uruguay's fashionable resort town attracts holidaymakers, families, and the beautiful people. As cruise visitors, we focused our time on discovering the best things to do in Punta del Este rather than relaxing at the beach.
A seasonal destination, the town has 14,000 permanent residents and swells to about 140,000 in the summer (according to our guide). In January, 80% (estimate) of these holidaymakers are Argentinean.
They come to relax, play, unwind, and enjoy summer.
Typical to resort towns, Punta del Este isn't cheap. We found it one of the most expensive cities we visited in South America.
In contrast, the miles of stunning white sand beaches are free to visit.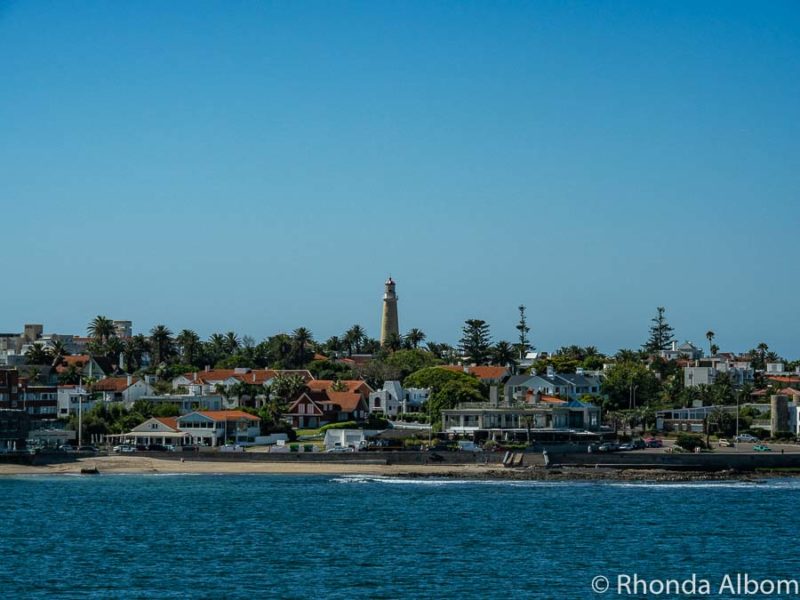 Things to do in Punta del Este: beach
To maximise our time, we opted for a free city tour, the kind you enjoy and then tip at the end. We had arranged it online, and our meeting point was La Mano, the giant hand sculpture.
We enjoyed a gentle 25-minute stroll from the cruise port to get to the sculpture.
Hand sculpture (La Mano)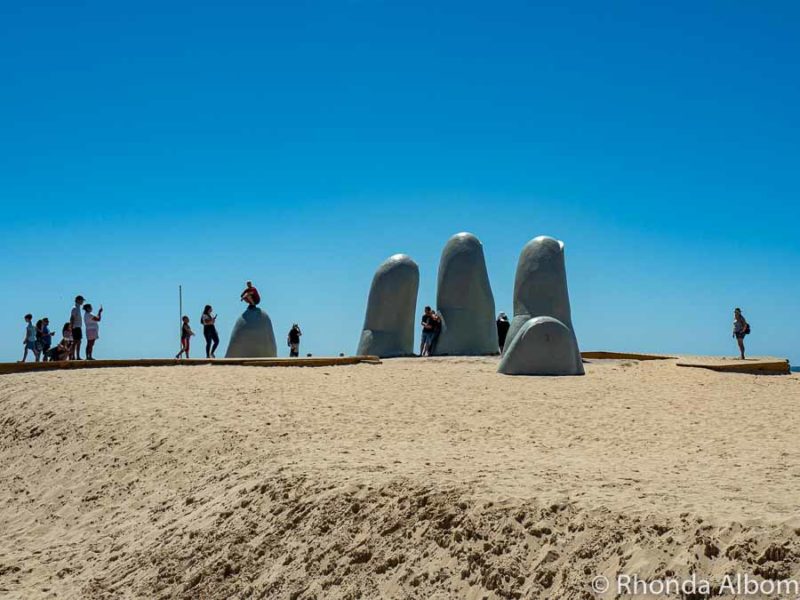 Creepy or wonderful? La Mano is a giant hand emerging from the sand. Actually, it's just the fingers, and as a result, it is sometimes called Los Dedos (the fingers). Regardless of how you feel about it, this hand is probably the most Instagrammable spot in Punta del Este.
Installed in 1982, it was part of the First International Meeting of Modern Outdoor Sculpture of Punta del Este. It is now a symbol of the city. Artist Mario Irrazábal has created similar artworks in Madrid, Chile's Atacama Desert, and in Venice.
Avenue of the Americas (Paseo de las Americas)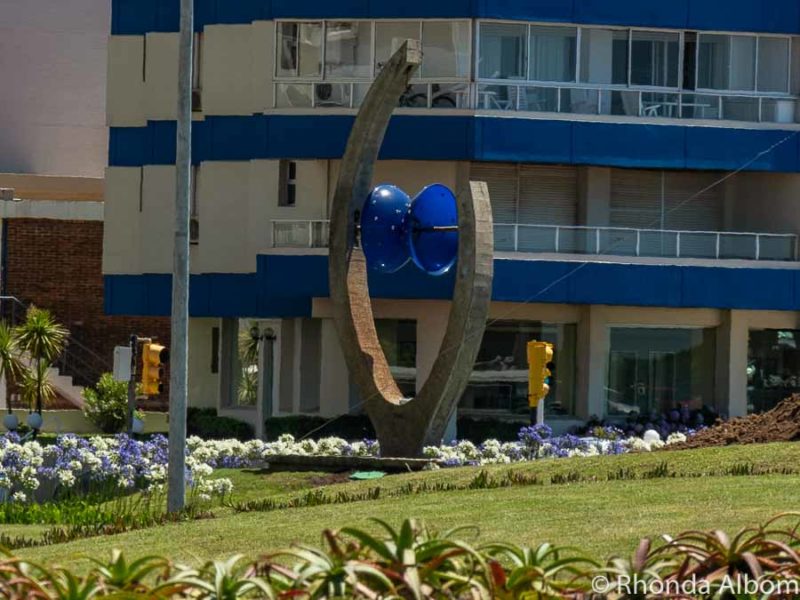 La Mano is not alone. It is one of many fascinating sculptures from different worldwide artists. Most are across the road from the beach, and each of the displayed artworks represents something significant to the artist or the world. Aside from the hand, three of my favourites are:
Wings of a Bird: represents the damage man does to nature.
Metamorphosis: The evolution of humans and machines.
Hug: representing the meeting of river and ocean.
Punta del Este Beaches
Miles of pristine beaches are the calling card for this resort city. They range from surf beaches like Brava or El Emir on the Atlantic side to gentle waves on Mansa beach along the river. Clearly, it is the surf beaches that are most popular.
El Emir attracts swimmers and for those who want to surf or learn to surf Punta del Este.
Things to notice as you walk along the Punta del Este beach
In addition to the sand and surf …
The Candelaria Virgin Monument at the Beach
Just south of El Emir beach, a monument contains a statue of the Virgin Mary and baby Jesus. Interestingly, the statue, called Our Lady of the Candelaria, washed away with a cyclone in 2016, but the structure still stood.
Two days later, surfers recovered the decapitated statue and head. It contained the restored original statue by the time we saw it.
Santa Maria Lujan shipwreck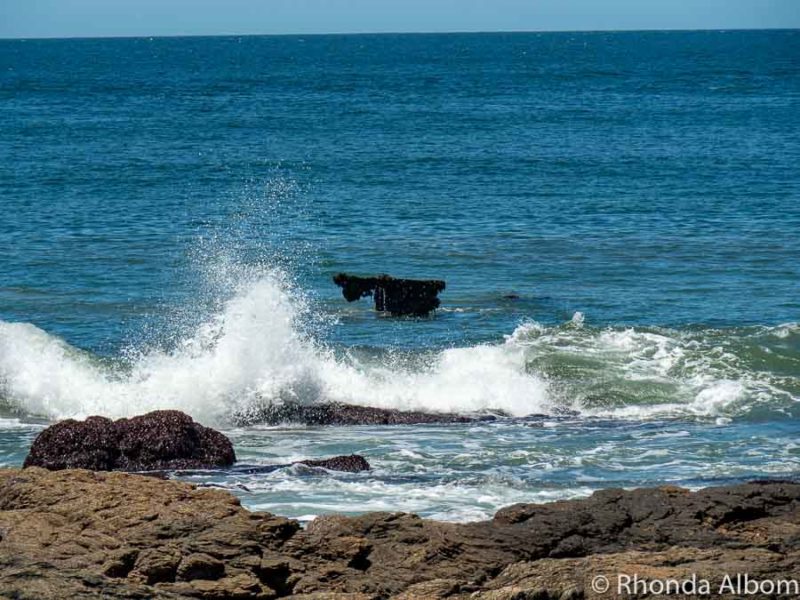 Key historical things to see in Punta del Este
However, there is also a law preventing any building put up before 1949 from being torn down; therefore, they remain unsold and derelict.
See the sea in all four directions
I learned first-hand that some people yell at you if you stop too long in the centre to take the five photos (four directions and the marker), as there is some traffic.
Excursions: Punta del Este
Sea lions at Isla de Lobos
One of the popular excursions is a boat trip around Isla de Lobos, an island that is home to the largest sea lion colony in the Americas, as well as the third tallest lighthouse in South America. Although visitors cannot walk on the island, the boat brings you close enough to enjoy the colony. The total trip takes about 2 hours and is in three languages: English, Spanish, and Portuguese.
We opted not to do this as we had recently seen sea lions (and penguins) in Isla Damas, Chile. However, we talked to many people who really enjoyed their adventure.
Be warned, the sea can be a bit rough, so if you are prone to seasickness, you might want to take a preventative before you go.
This tour tends to sell out in season, so if you want to do it, it's often best to book in advance. Reserve your tour to Isla de Lobos
Casapueblo
Although only rated 3-stars, I think it would be a fascinating place to stay. Check prices here, or read more about it below.
Things to do in Punta del Este: near the cruise port
We were sailing on the Azamara Pursuit, a small luxury cruise ship. Even with her compact size, Punta del Este is a tender port. Therefore, the ship drops anchor and passengers are brought to shore in smaller boats called tenders.
Fish market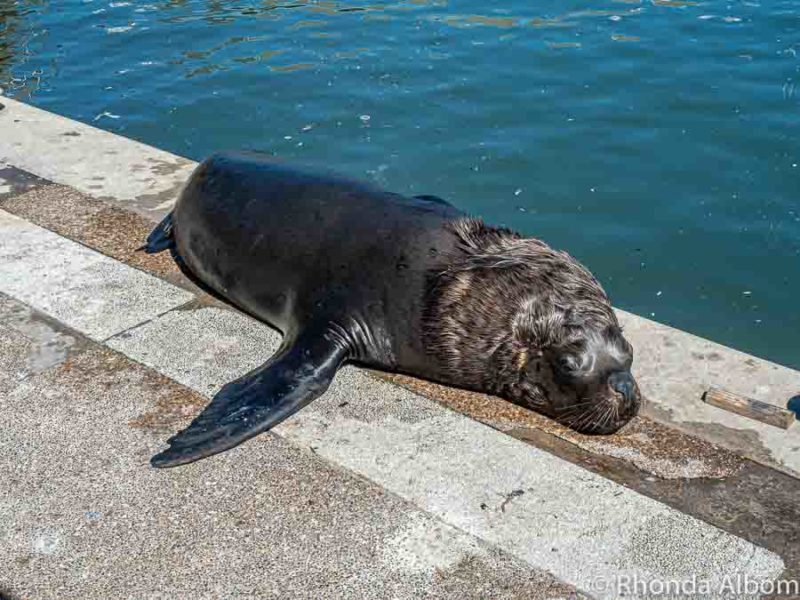 We arrived near a fresh fish market that attracted sea lions in the water and seagulls swooping overhead. One resident sea lion is there so often the locals have named him Ronaldo.
Grab a bite to eat at the port
Near the Punta del Este port are several enticing Punta del Este restaurants and ice cream parlours, which serve food all day. (Although, if you want stunning views from above while you eat, you might want to head in town to La Vista 360).
Following the recommendation of our guide, we enjoyed some seafood from Artico, located at the port. It's an upscale takeaway seafood shop with tables. If you want hot food, take a number for service. If sushi or any of the tasty-looking self-serve seafood salads is your choice, you can just pay and go.
Right next to Artico is Heladaria Il Porto, a delightful gelato shop with three different flavours that feature dulce de leche (Plus plenty of other options).
Where to stay in Punta del Este
We arrived via cruise ship, and although we had planned to spend two days, we intended to sleep on board our ship. However, bad weather early on cancelled one of our days, leaving us just one day in this city. Our next visit will be longer, and we will stay at one of these Punta del Este Uruguay hotels:
The Grand Hotel:
If you prefer five-star luxury and Punta del Este hotels on the beach, then this is the place to be. Located on Playa Brava, The Grand Hotel is rated as Superb by hundreds of reviewers. It is an oceanside eco-friendly property with a spa, wellness centre, gym, and pool. Plus, you can walk to just about everywhere you want to go from the location. Reserve your stay at the Grand Hotel here.
Enjoy Punta del Este:
You may already know the Enjoy brand and, therefore, instantly associate it with fun. They are well known in South America for their casinos, the Punta del Este facility is no exception. This five-star accommodation also includes spa facilities with hammam, tennis courts, two swimming pools and four restaurants. It is across the street from La Mansa Beach. Reserve your stay at Enjoy here.
Club Hotel Casapueblo:
This Mediterranean-style chalet is a work of art, surrounded by nature and endless sea views. The rooms are spacious, and breakfast is included (with vegetarian and gluten-free options). There is an onsite museum, a spa, a swimming pool, tennis courts, and a fitness centre. Situated on Punta Ballerna, it's about 10 kilometres from Punta del Este. While we generally prefer at least four-star accommodations, the three-star Casapueblo really appeals to me. Reserve your stay at Club Hotel Casapueble here
More information and tips on Punta Del Este
First-time visitors to Uruguay:
click here for our complete Uruguay travel guide
As this is a town attracting predominantly Argentinians, the Spanish spoken has an Argentinian accent. Therefore the "ll" and "y" are pronounced as "sh" and "j" respectively.
Translated to English, Punta del Este means "tip of the east," a name established in 1907 in an effort to convert the former fishing town into a tourist destination.
While the currency is Uruguayan Pesos, many shops will take American dollars, Argentinian pesos, or Brazilian reals.
This is a lovely place to visit, but it's not cheap. If you are headed to other towns in Uruguay, you may want to buy your souvenirs there.
If you purchase expensive items that you are taking out of the country, you can get the 15% tax back.
See our nine-week South American itinerary here.
Save for later
If you enjoyed this article, please share it on social media and save it for later on Pinterest.
What will you do in Punta del Este?
Photo Credits:
All photos on this page are either shot by our team and watermarked as such or stock images from Depositphotos.