Cruce Andino's Andean crossing is an ever-changing example of nature at its finest. Turning a day of transit into a spectacular adventure, Cruce Andino transported us over the Andes mountains from San Carlos de Bariloche to Puerto Varas.
As we travelled from Argentina to Chile we sailed across three lakes, drove through a rainforest, viewed volcanoes, and discovered waterfalls. It was a twelve-hour day that I didn't want to end.
Tip: pronounced like cruise andino
The crossing is done in seven major segments (three on boats, four on buses), plus a stop at immigration and another for lunch. If you are like me, don't be put off by the idea of bus travel. No segment is too long, and the scenery is so picturesque that the time whizzes by.
Cruce Andino segment 1: The City of Bariloche, Argentina to the port via bus (Puerto Pañuelo)
Length: 1 hour
I'll admit, waking up early and walking to the Turisur office with our luggage felt a bit like a chore, but it was the last one of the day. From here, Cruce Andino took our luggage, and we barely saw it again before reaching Puerto Varas.
Our first bus provided comfortable transport from the city of Bariloche to the port, stopping at designated hotels just outside the city to pick up other passengers. With both lake and forest views, it was a pleasant ride. For the best lake views, sit on the right side of the bus.
For us, this was the third time we did this segment, as we had been to Puerto Pañuelo, Bariloche at the start of our adventure to Isla Victoria and also when we completed the tourist short circuit (Circuito Chico).
Cruce Andino segment 2: Cruise across Nahuel Huapi Lake from Puerto Pañuelo to Puerto Blest
Length: 1 hour
After exiting the bus, we paid a port departure tax of 72 pesos per person ($2 USD). Then we boarded the Gran Victoria catamaran, and for me, this is where our adventure really began. Huge windows, the option of tables or row seating, and outdoor decks provide the ideal spot for everyone's tastes.
Saying goodbye to Bariloche, we cruised down the Blest arm of Lake Nahuel Huapi inside Argentina's national park of the same name. Like the other Andean Lakes, Nahuel Haupi is a glacial lake, the cold water reflecting a rich teal.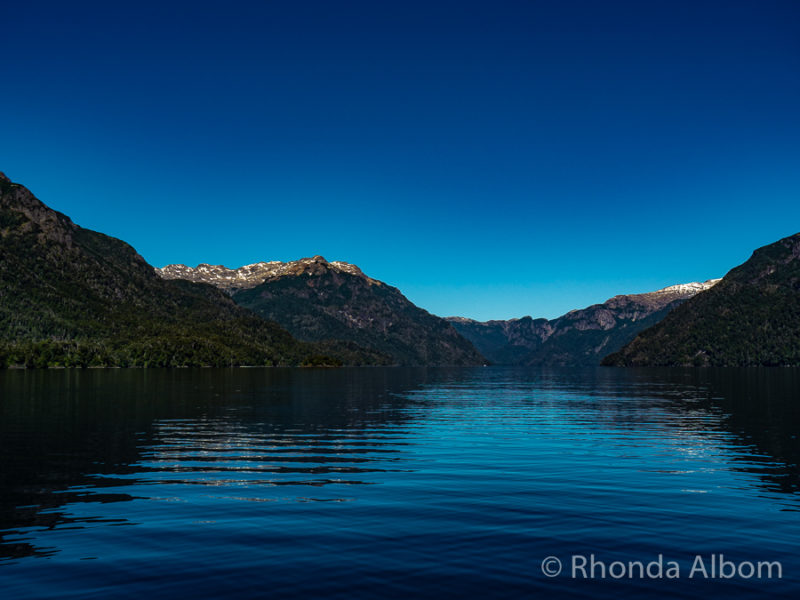 We got lucky with the weather and had clear skies the entire day. The Gran Victoria sailed smoothly. I always choose outdoors on a boat and checked out the decks first on the main level, then the upper level, where I had an opportunity to feed a seagull. I thought this was going to be the highlight of our crossing, but it continued to get better.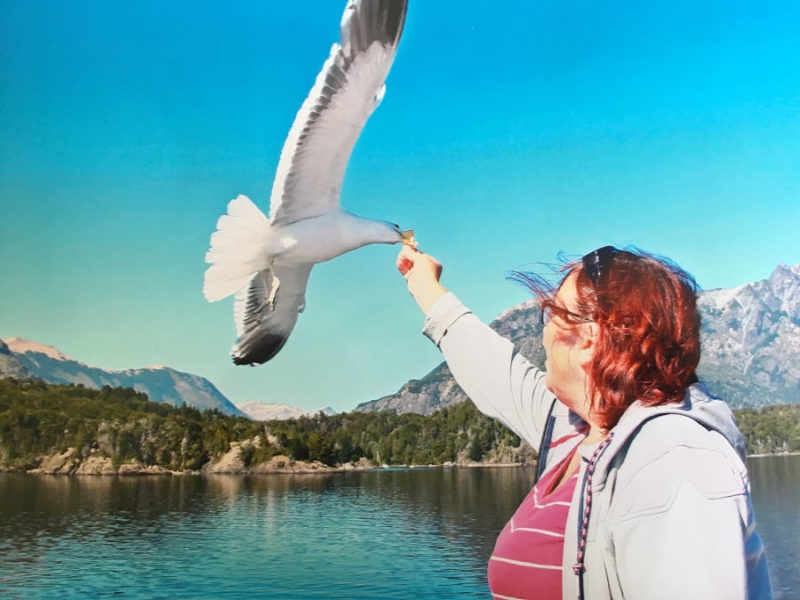 Segment 3 Cruce Andino: Bus from Puerto Blest to Puerto Alegre
Length: 10 minutes
Our first stop was Puerto Blest, a small town that hosted former US President Theodore Roosevelt in 1913. A short break here allowed us to take photos, use the facilities, buy a snack, and walk on the beach.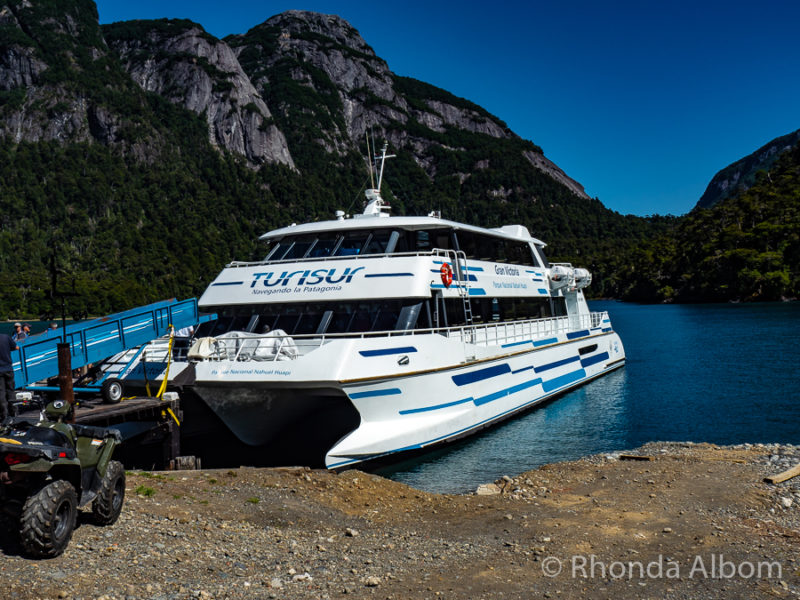 As an alternative to the Andean crossing, many people opted for a day trip to Puerto Blest and returned to Bariloche from this point.
Check the price of the day trip from Bariloche to Puerto Blest
Next, a bus took us through the heart of the National Park, into what our guide referred to as the Valdivian Rainforest. It is a pure forest, growing on fertile ground that has a record annual rainfall of about 4,000 mm. (we really were lucky to have such great weather.)
A map of the region shows a river connecting Lake Nahuel Haupi to Lago Frías, but it is not navigable, therefore the need for the bus. As the drive was only about 10 minutes, we didn't stop. Therefore, photos were shot through the windows of the moving bus and don't appear here.
Cruce Andino segment 4: Cross Lago Frías from Puerto Alegre to Puerto Frías via boat
Length: 20 minutes
The Victoria Del Sur, this segment's boat, was much smaller than the first one but large enough for our shrinking group of those doing the full Andean Lakes crossing. An outdoor upper deck is as far as I ventured into the boat. Jeff checked out the lower deck which had a small outer area and large viewing windows for those who prefer to be indoors.
As we pulled away from Puerto Alegre, condors glided overhead, their magnificent wingspan impressive, even at a distance. This short cruise crossed the deep green Lago Frías (Cold Lake).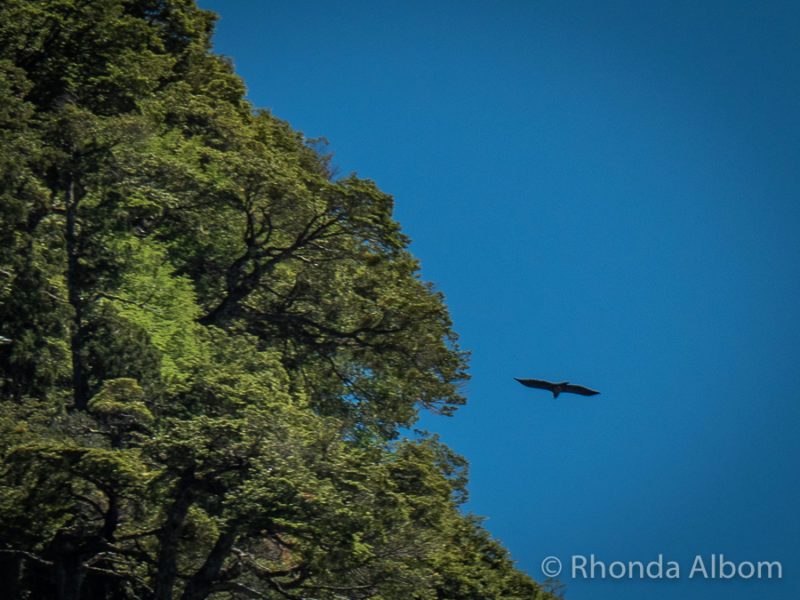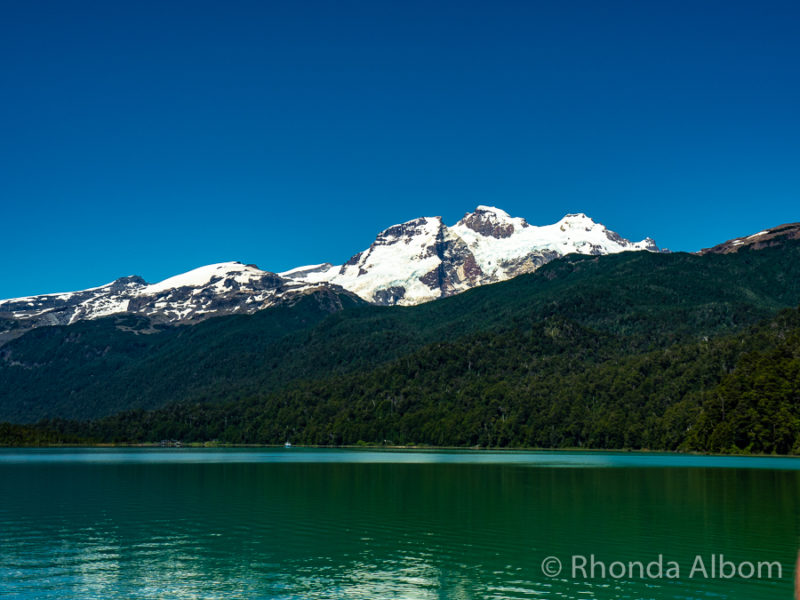 Clear Argentinean immigration in Puerto Frías
Length: 15 minutes
Once in Puerto Frías, we said goodbye to Argentina officially. We had to clear immigration, a somewhat slow process that went smoothly. Just outside the immigration office is a display featuring the route and a replica of the motorcycle that Che Guevara rode travelling from Argentina to Chile.
Cruce Andino segment 5: Bus from Puerto Frías Argentina over the border to Peulla Chile
Length: 2 hours
The bus used for this segment was the weak spot of our journey. Small, and only slightly more comfortable than a school bus, every seat was needed for the passengers, many of whom had to sit with strangers. You can see it in the photo above, waiting for us outside Argentina's immigration building.
Puerto Frías is at 700 metres elevation. From here, we climbed 300 metres to the road's summit, where we stopped to take photos as we crossed the border from Argentina to Chile.
We got a second break after another short drive, thus making our time on that bus not seem so bad. Our next photo stop provided views of Tronador, the tallest volcano in the region, standing at 3491 metres (11,450 ft). It last erupted in 1934.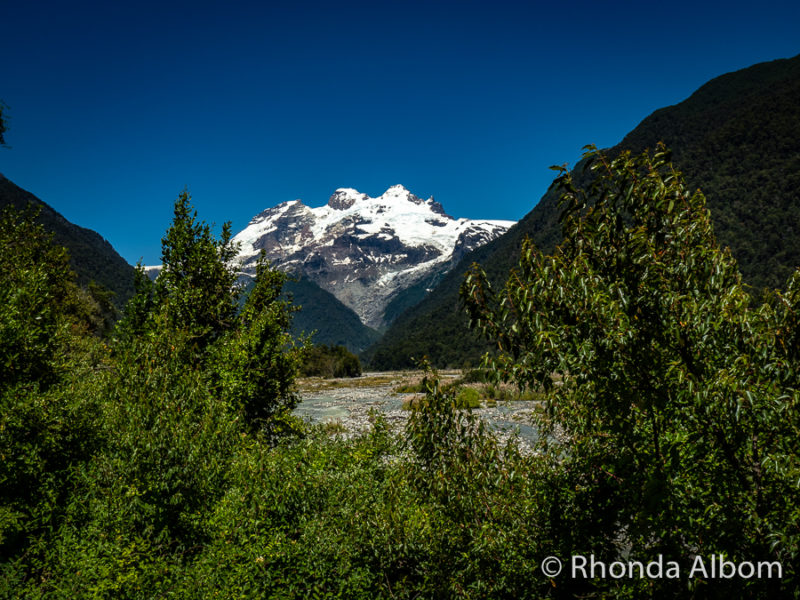 Returning to the bus, we continued downhill through the evergreen rainforest to the town of Peulla, Chile. This area gets more than 3,000mm of rain annually, and according to our guide, it rains on average 230 days per year.
Stop in Peulla to clear Chilean customs and for a lunch break
Length: 2.5 hours
Peulla is a small town located inside the Vicente Pérez Rosales National Park (Chile's first national park) with a population of only 120 people, which includes our guide. Here, we cleared Chilean customs before having two hours for lunch. As our guide warned us, customs opened every suitcase and backpack to check everything. I am so glad I used packing cubes, as repacking our gear was quick and simple.
Our options for lunch included bringing your own food, eating in the restaurant at the historic Hotel Natura Peulla, or at the cafe next door. There was enough time after lunch for a coffee or beer or for a walk to the water or around the grounds. Unfortunately, I was a bit intimidated by the massive number of swarming Tabanus, an insect that looks as though it's a cross between giant flies and bees and apparently bites.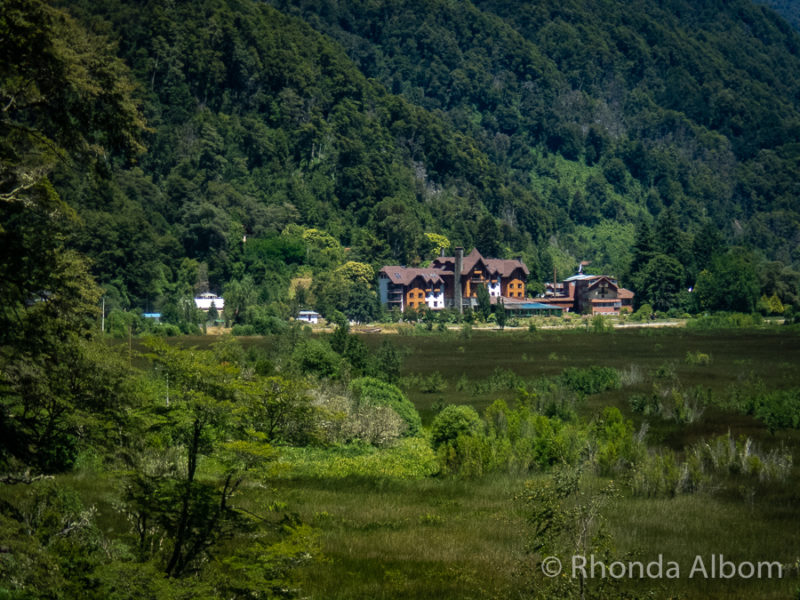 There are plenty of active things to do in this town for those who choose to make the journey a two-day trip and stay here for the night, thus joining Cruce Andino the following day.
Cruce Andino segment 6: Cruise across Todos Los Santos Lake from Peulla to Petrohué
Length: 2 hours
Next, my favourite segment. We sailed for two hours across the Todos Los Santos Lake in Chile on the Catamaran Andean Lakes. One spectacular view after the next, and finally, nature's masterpiece, Osorno Volcano. Standing tall at 2652 metres (8700 feet), she is a stratovolcano, a near-perfect snowcapped cone. She last erupted in 1869.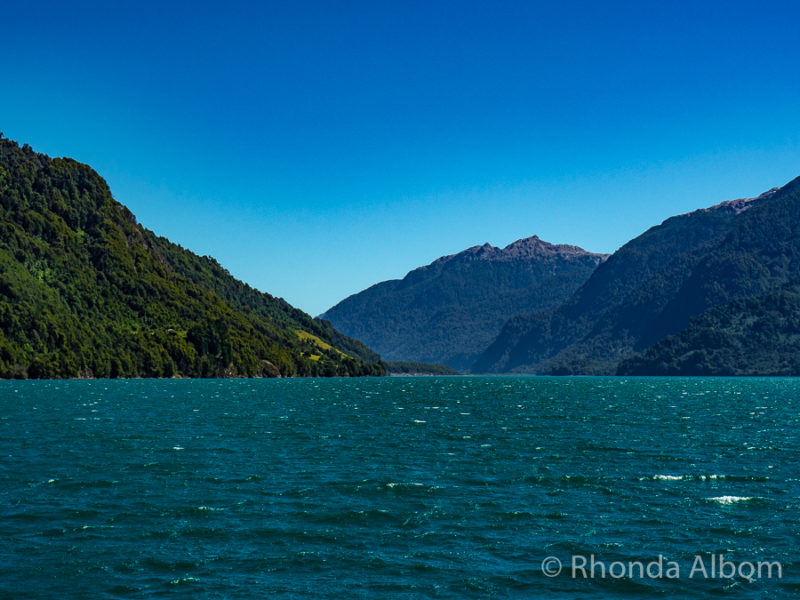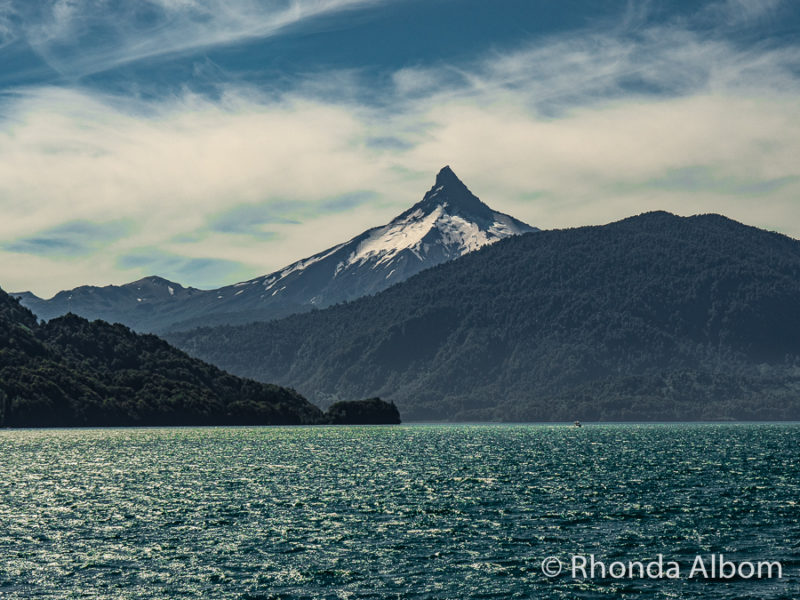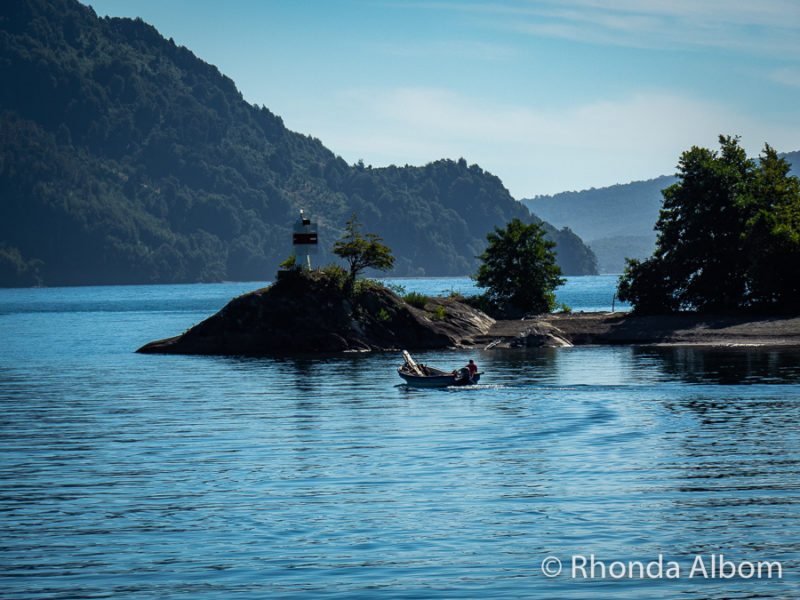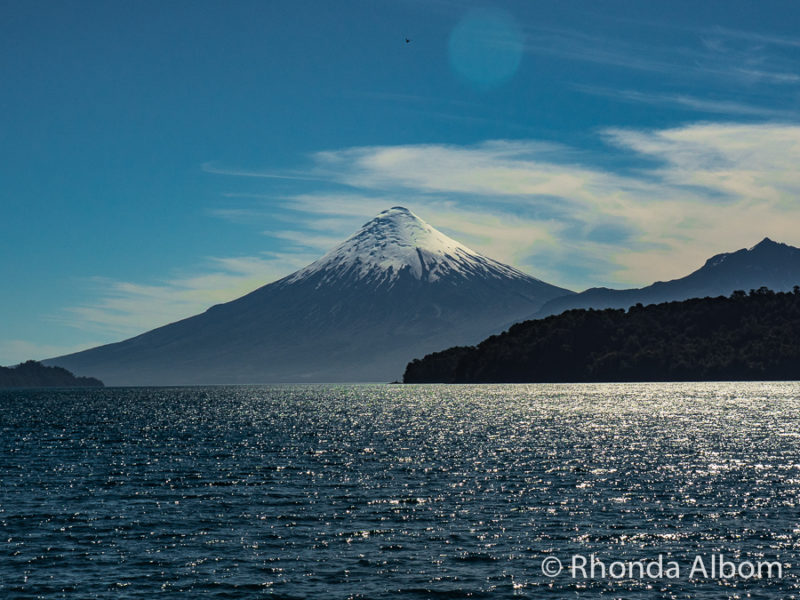 Cruce Andino segment 7: Petrohué to Puerto Varas via bus
Length: 1 hour 45 minutes
To our surprise, we had to pick up our luggage as we exited the boat and bring it to the final bus, a new, modern, comfortable coach with a toilet onboard. It was the ideal way to travel by this point, as we were getting a bit tired.
Our final bus segment was broken up when we stopped for 30 minutes to visit the Petrohué Waterfalls. With Osorno as a backdrop, the rushing water created views worth a visit. We arrived at 6.45 pm, and our driver hurried us, insisting we follow him without stopping. Once we reached the pay area, we understood. The last daily entry is at 7 pm.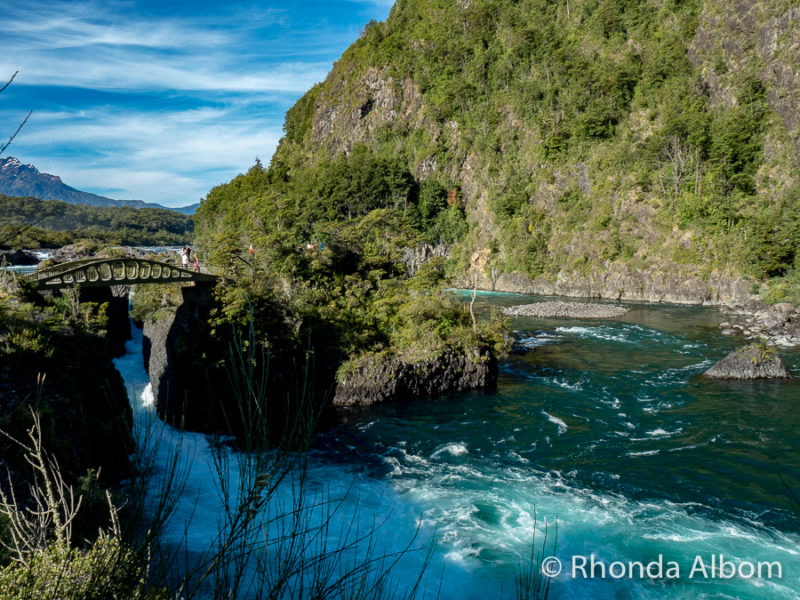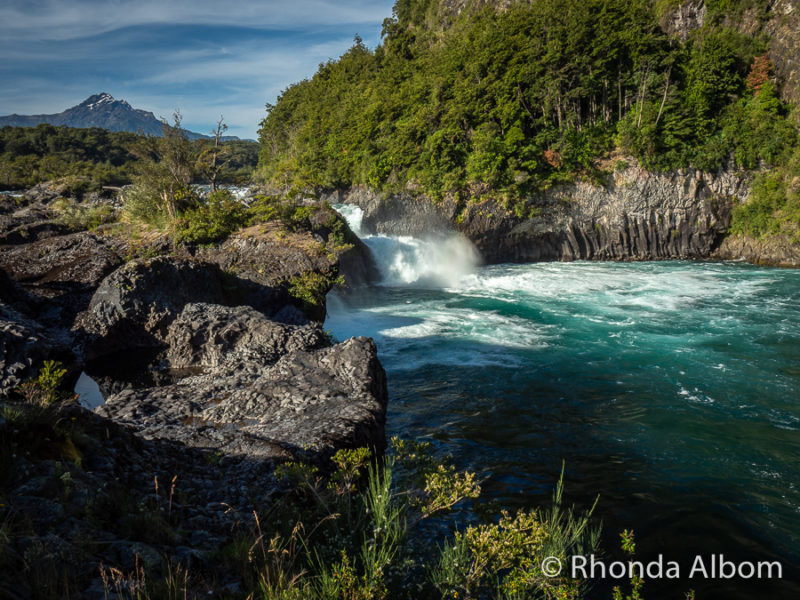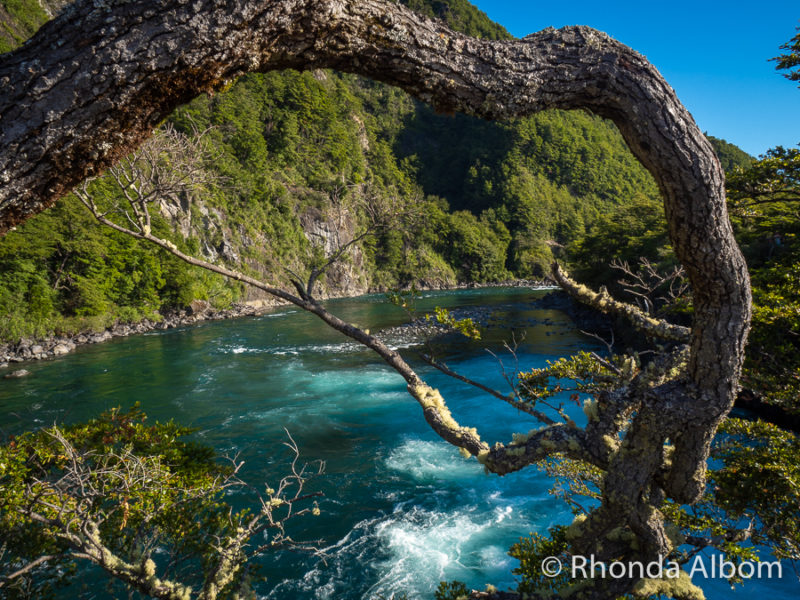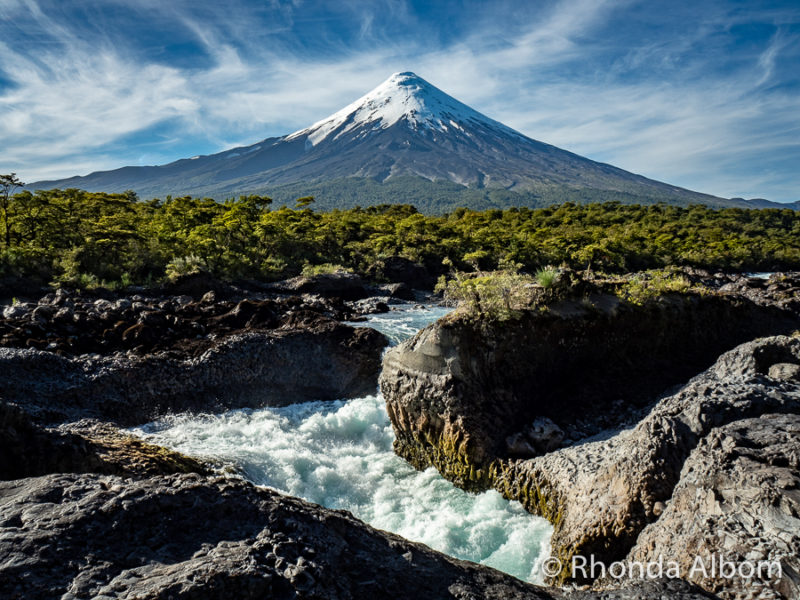 If you get here too late and miss the falls, you can do it as a separate tour from Puerto Varas on a different day.
The final hour of our Andean crossing was filled with historical commentary on the Patagonia lakes region, things to do in Puerto Varas, where to eat, and other interesting information in both Spanish and English. Time flew by, and before we knew it, we were in the delightful town of Puerto Varas.
Conclusion
YES! Honestly, this was a great day. My highlights are all here in the photos. It was one of the best "travel" days we have had, and it's a good thing as there are no direct alternatives between these two cities.
Our Cruce Andino Andean Crossing is a perfect example of a quote often attributed to Ralph Waldo Emerson's quote, "It's the journey, not the destination that matters."
About photography on this page
Except where noted, all images on the page were shot with an Olympus OMD em5 and an Olympus 14-150mm lens. This is my primary combination when I travel, as the zoom covers nearly every scenario. A mirrorless camera, it's a lighter weight and smaller alternative to a DSLR. I, like many photographers, believe it is the camera for travellers, as it offers all the flexibility and manipulation options of the bigger cameras without the packing hassle. Plus, it easily captures sequences and shoots well in low light.
We also carry an Olympus TG-6 for when I am around water, indoor shots, underwater photography, and any situation where I feel it is unsafe to carry a larger camera or just prefer to have only a pocket-size camera. Lately, it's been the camera Jeff reaches for first, as it's so simple to use, has many optional settings, is dustproof, waterproof, crushproof, and fits in his pocket.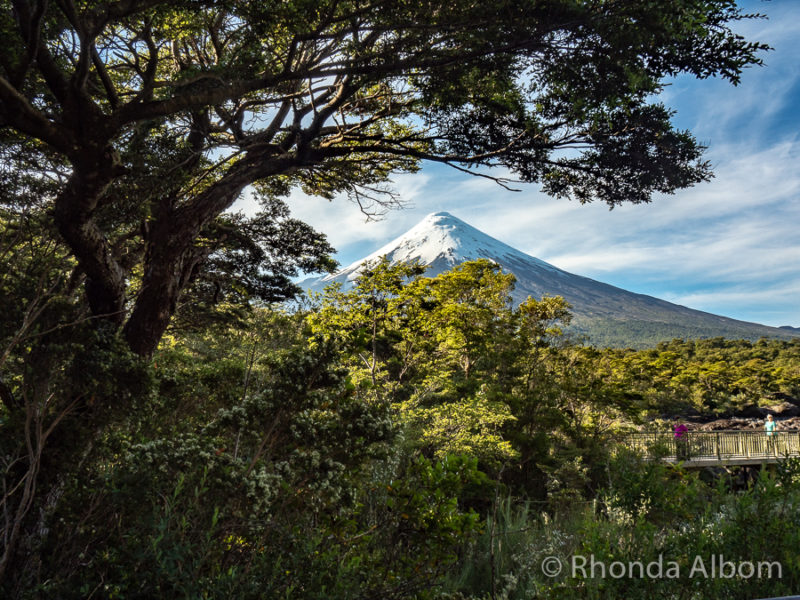 Where to stay on each end of an Andean crossing
Our Cruce Andino adventure was part of our larger South American itinerary.
Bariloche Argentina
We spent four nights in Bariloche at Hotel Ayer Del Nahuel. It's a three-star cozy accommodation that surprised me in a good way. The beds were super comfortable, but it was the location and the staff that left me wanting to recommend this place to all my friends. Centrally located, we were only a block off the main square, with one of the best restaurants we have eaten at in a while (El Nuevo Gaucho) right across the street. The staff was wonderful, making sure everyone was happy while also recommending sites and meals.
Check price and reviews: Hotel Ayres Del Nahuel
Puerto Varas
We spent three nights at this end and stayed at the Bellavista Hotel, a four-star masterpiece overlooking the lake and just around the corner from downtown. Every room has a view of the volcano. Again, our bed was amazingly comfortable, and the staff was very accommodating. We did have one minor issue here, but it was corrected quickly and effectively. They make a fabulous Pisco Sour (a Chilean drink that you must try when in the country), and a decent cup of coffee (not at the same time).
Check price and reviews: Bellavista Hotel
Practical information and tips before you do an Andean crossing with Cruce Andino
Check pricing on their official website.
If you are travelling from Bariloche to Puerto Varas, you will need 72 pesos in cash per person for port taxes (The price could change).
Bring food and water if you are going to want snacks and don't want to purchase them on the boats.
Don't bring prohibited foods over the border.
Chilean customs on the Andean Crossing will open your luggage and search everything. Packing cubes will simplify your life, as you have to put your luggage back together.
Wear layers; the weather changes throughout the day.
Cruce Andino handles your luggage up until the last bus ride.
There was a toilet on the final bus (the only long journey) and on the first and third boats. However, there were enough toilet opportunities throughout the day (even for me).
Bring sunscreen.
Bring toilet paper (always in South America).
Pre-arrange transport to your hotel at the end of your journey. Check first to see if it is within walking distance. The Hotel Bellavista (where we stayed) is just around the corner from the Cruce Andino termination point.
Great views can be enjoyed from both sides of the bus for each segment. Neither side seemed better. If you are trying to take photos through the glass (I rarely do this), sit next to the window; if not, an aisle seat makes it easier to see both sides.
The commentary is in both Spanish and English.
I had no internet or mobile service on most of the journey.
Remember your passports and visas if you need one for entry to either Chile or Argentina (depending on which direction you head).
The first modern Andean Crossing between Puerto Varas and Bariloche was completed in the early 1900s and took five days, although archeological evidence shows movement in the area dating back almost 15,000 years.
Please share
If you enjoyed this article, please share it on social media, including adding one of these pins to Pinterest:

PS: If your schedule allows it, allocate an extra day in Puerto Varas to visit Chiloe island.
What segment of the Andean crossing will be your favourite? Have you travelled with Cruce Andino?
Disclaimer: As media guests of Cruce Andino we were provided with our passage through Turisur. However, the opinions expressed here are strictly my own.