Santiago, the capital of Chile, is a stunning, modern city surrounded by mountains. Nestled between the Andes to the east and the Chilean coastal range to the west, the city itself is an eclectic mix of architectural styles and activities. While there are seemingly endless things to do in Santiago, we definitely have our favourites.
From heading up to the top of the modern Sky Costanera, the tallest building in Latin America to touring the current seat of government, we were always on the go. It's a city for history lovers, art enthusiasts, and shoppers.
We spent five days in the city and filled our time with a variety of activities. There is an endless list of things to do in Santiago Chile.
Below are our highlights and recommendations.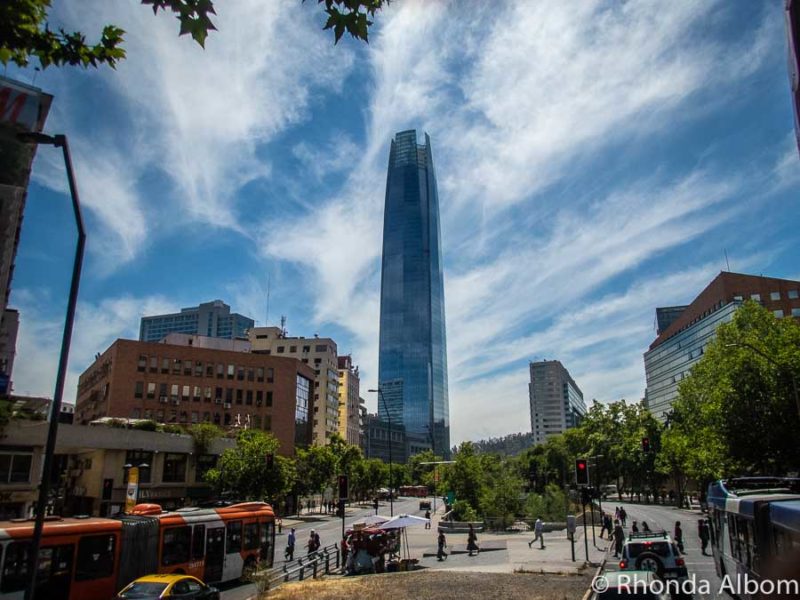 Top 10 things to do in Santiago
Here's a quick summary of our top 10 Santiago highlights:
Watch the sunset from the top of Sky Costanera
Stare in wonder at the statue of Neptune on San Lucía Hill
Admire architecture at Plaza de Armas
Enter the Metropolitan Cathedral
Explore the Pre-Colombian Art Museum
Tour La Moneda Palace – the seat of the Chilean government
Contemplate the exhibits at Bellas Artes
Ride a cable car or funicular to the top of San Cristobal Hill
Stroll through the Lastarría neighbourhood
Discover birds and a rose garden at Araucano Park
Note that we utilized the Discover Santiago 2-day option of the hop-on-hop-off bus from Turistik, and have included the bus stops for each of the accessible destinations below.
It was a perfect introduction to the city that provided us with transportation, a city tour of Santiago in English, and the flexibility to spend time seeing the sites that interested us. (More on this below.) It's one of the better hop-on-hop-off bus tours we have taken.
Before we go into detail on each of the Santiago highlights, let Chile inspire you …
Watch the sunset from the top of Sky Costanera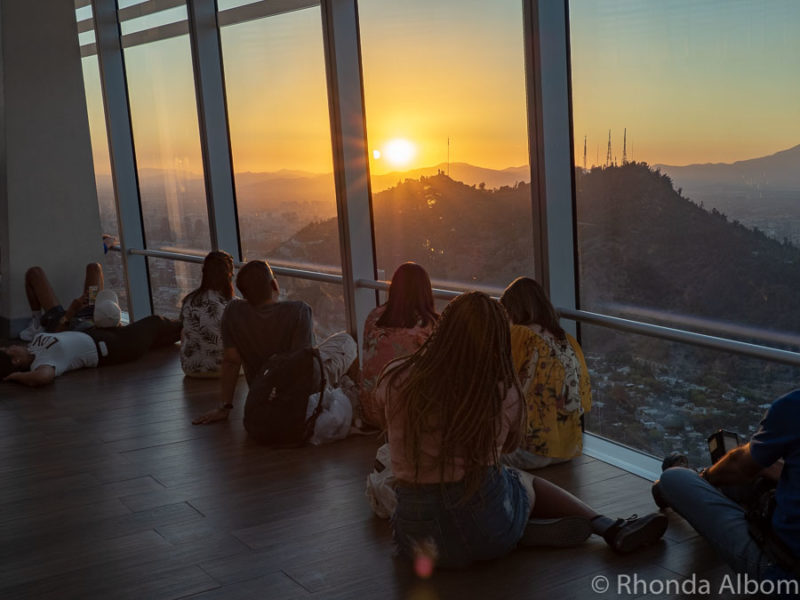 Costanera Center is stop number 10 on the hop-on-hop-off bus.
Standing tall at 300 metres, Sky Costanera, the tallest building in Latin America, is only 28 metres shorter than the Sky Tower in Auckland New Zealand (the tallest free-standing structure in the Southern Hemisphere).
Taking a 50-second elevator ride, we headed up to the observation deck about an hour before sunset. This is definitely one of the best things to do in Santiago.
From the top, it's clear to see the mountains surrounding Santiago, and the golden-hour glittering views are quite impressive. Alongside locals and other tourists, we watched as the sun slowly dip below the horizon. A round of applause followed from the Chileans. Reserve your tickets to the top here.
Stare in wonder at the statue of Neptune on San Lucía Hill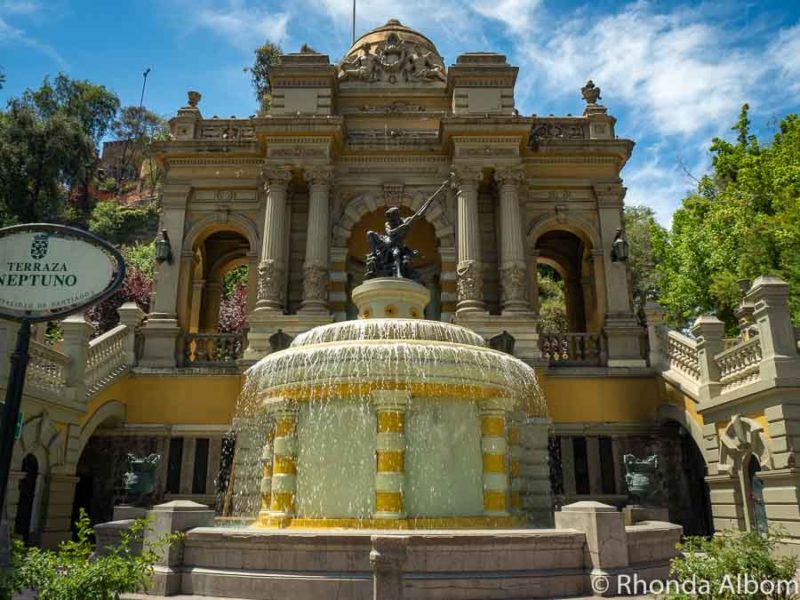 San Lucía Hill is stop number 8 on the Santiago hop-on-hop-off bus.
Photos just don't do justice to this huge fountain dedicated to Neptune, the Roman god of the sea. Seemingly out of place in the centre of a city, as we entered through the ornate iron gates and walked along the lush path leading up the hill, we were transported from the hustle and bustle of the big city.
San Lucía is a hill with a long history as it was a volcano 15 million years ago. More recently, it was the starting point for the founding of the city of Santiago in 1540 by the Spaniards.
Admire architecture at Plaza de Armas
Plaza de Armas is stop number 5 on the hop-on-hop-off bus tour. It is also the stop for the Metropolitan Cathedral and Pre-Colombian Art Museum.
Not an original name for this square, there is a Plaza de Armas in just about every Chilean city we visited. This is because when the Spanish arrived, they started each city's construction with a cathedral, a Cabildo (government building), and a central park, naming the square Plaza de Armas (meaning the main square).
Today it is still the centre of town life, used for ceremonies, and loaded with historic architecture.
Enter the Metropolitan Cathedral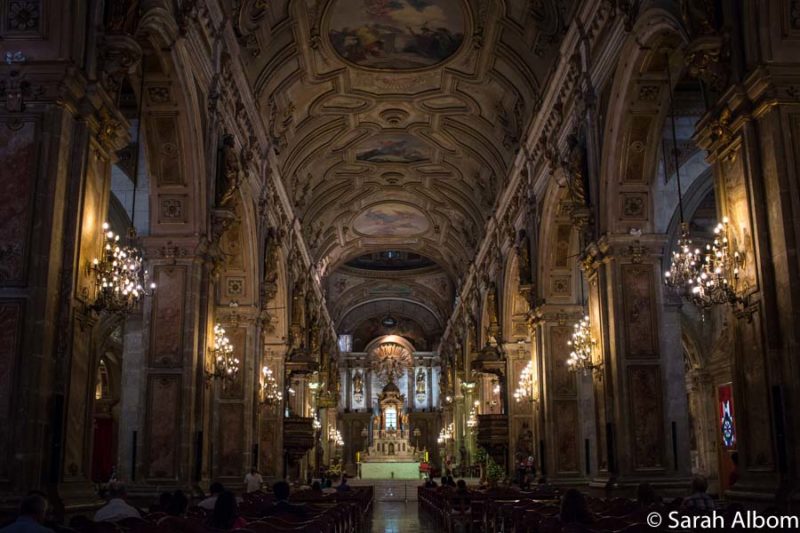 Located on Plaza de Armas, the Metropolitan Cathedral is recognized as one of the main Catholic symbols in Chile.
Constructed from 1753 to 1799, with the final refurbishments in the early 1900s. Neoclassical style dominates the resulting mix of architectural styles. Be sure to enter this impressive cathedral.
Explore the Pre-Colombian Art Museum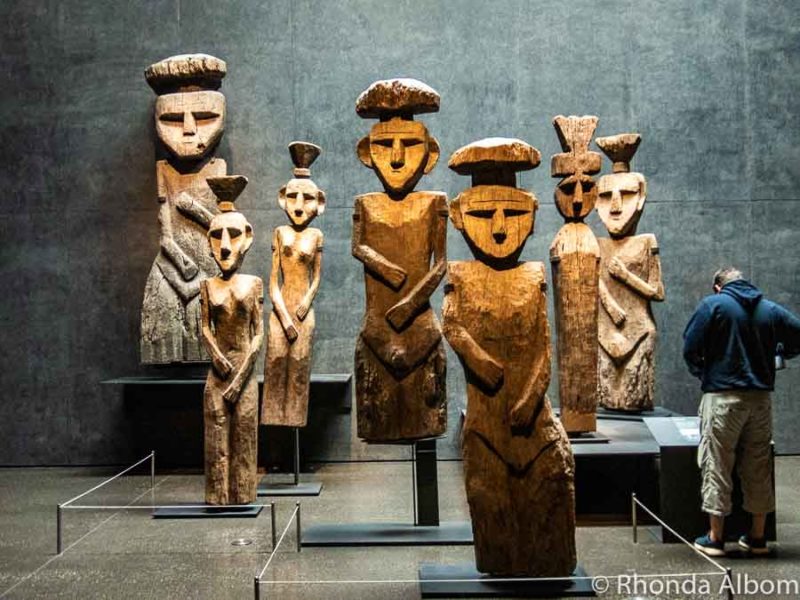 The Pre-Colombian Art Museum is one of the more unusual museums we have visited as we make our way across South America. It features artworks of American indigenous populations predating the 16th century.
The neoclassical building that houses the museum is also a masterpiece. Built during the early 1800s as the Royal Customs House, it was destroyed by fire in the last century and repaired to house the museum in 1980.
Tour La Moneda Palace – the seat of the Chilean government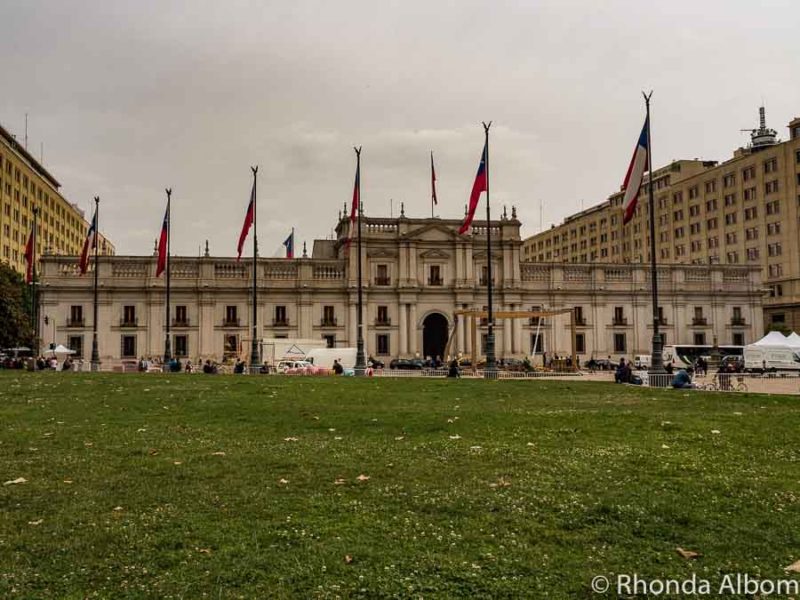 La Moneda is on Constitution Square. Here you will also find the Palacio de la Moneda Cultural Center and the Santiago Stock Exchange. Constitution Square is stop number 6 on the hop-on-hop-off bus.
La Moneda Palace is a piece of Chilean history that is now a World Heritage Site. A stunning example of neoclassical architecture, it holds the seat of the President of the Republic of Chile, as well as the offices of three cabinet ministers.
La Moneda holds a place in Chile's history having originally served as a mint, later as home to presidents, and then the seat of power. It was damaged on September 11, 1973, when military forces staged a coup, a day that ended with the announcement of the death of the president (a controversial event that has been officially labelled a suicide).
Daily tours are available in both Spanish and English but must be booked in advance. The interior is an understated elegance, a striking example of what I believe a top government building should look like. Check availability and book your free La Moneda Palace tour here.
Pro tip: tours book out well in advance, so book as soon as you know the dates you will be in Santiago.
Contemplate the exhibits at Bellas Artes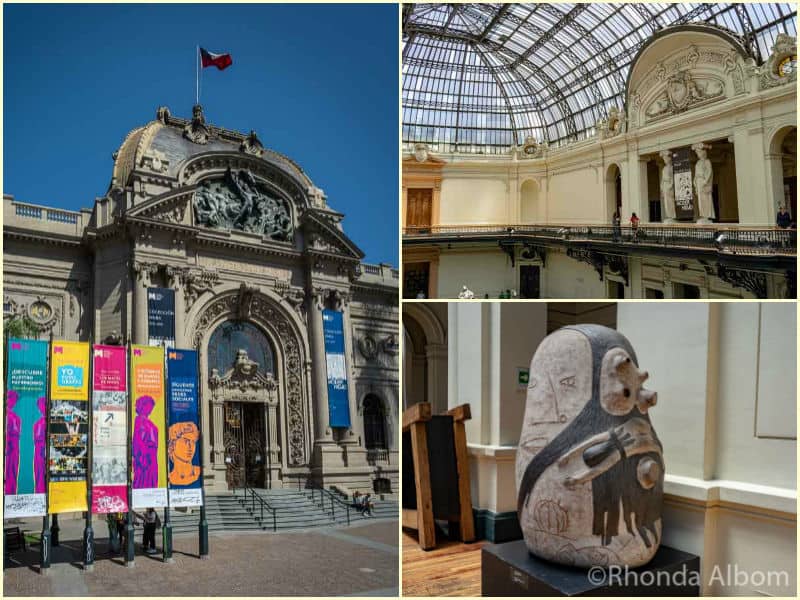 Bellas Artes is the Chilean National Museum of Fine Arts. Established in 1880, it's the oldest art museum in South America. For me, it was the building itself that made the visit worthwhile, in addition to the over 3,000 works in the museum.
Ride a cable car or funicular to the top of San Cristobal Hill(one of my favourite things to do in Santiago)
We did both! We took the cable car to the top, and the funicular back down. However, the real magic is at the top. Despite the drizzle that decided to turn to rain by the time we got to the top, the views of the city are spectacular. Also at the top is a huge statue of the Virgin Mary, a small church, and the path with seven crosses called "Camino de las siete palabras", which translates to "Way of the seven words."
San Cristobal Hill is over 860 metres (2821 feet) above sea level. It is a part of Metropolitan Park, Chile's largest urban park.
Note: Although the funicular is open daily, the cable car is closed on Mondays. If you purchased the Hop-on Hop-off Plus (two-day pass), both are included. You will start from stop number 2 on a Tuesday to Sunday.
Stroll through the Lastarría neighbourhood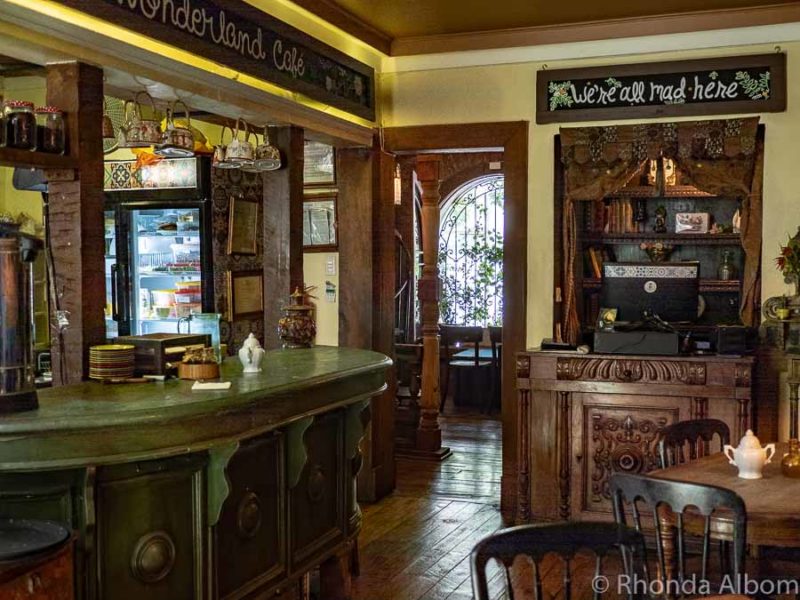 The popular bohemian Lastarría neighbourhood is both a local and tourist hangout. Whether it's cultural activities, festivals, restaurants, or nightlife, there seems to be something for everyone to enjoy.
We were directed here twice. First while seeking a reserve wine for a gift, and the second time to eat at Wonderland Cafe. Designed with Lewis Carroll's book in mind, this place features "drink me" treats that are massive in size. I had a "Madhatter".
Discover birds and a rose garden at Araucano Park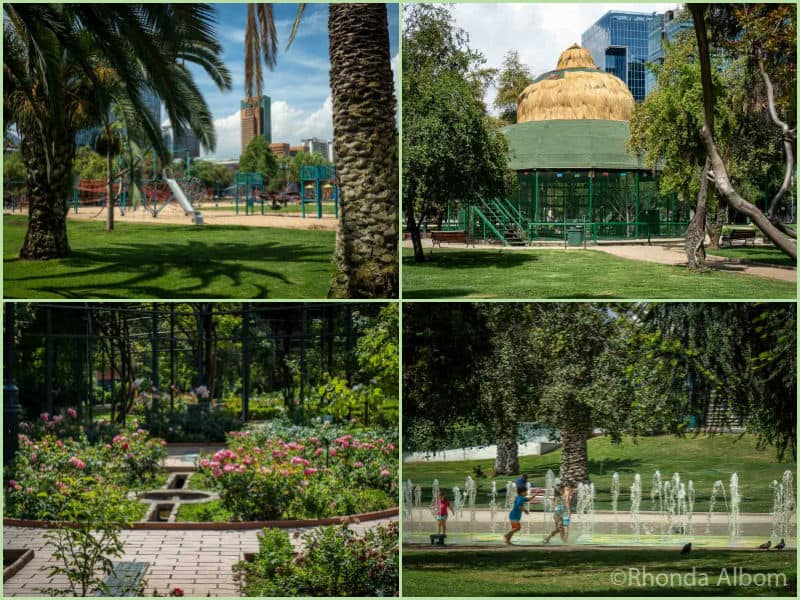 It's at hop-on-hop-off bus stop number 13.
The lush green 22 hectares of Araucano Park is the ideal spot to relax. Here we found a gentle walking path that leads to a bird aviary, a rose garden, a playground, and the kind of fountain children can't resist running through.
Take a day trip outside Santiago
While there are plenty of interesting and fun things to do in Santiago itself, the surrounding area is also filled with treasures. We spent three nights in the Viña del Mar and Valparaiso area (where we took a cooking class and enjoyed some of the world's best street art), but many people visit both cities on a day trip. Other popular excursions include winery tours, Andes mountain hikes, and a visit to the home of Chile's Nobel award-winning poet, Pablo Neruda.
Go shopping (one of the popular things to do in Santiago)
I will admit shopping is not on my things to do in Santiago list, which is why it is last on this page. However, if I were a shopper, it would be much higher up. At the base of Sky Costanera is a five-story modern shopping mall (Costanera Center) that we had to walk through to get to the tower's entrance. While it looks complete, with everything one could imagine, it is the Parque Arauco Mall that earned spot number 1 on the Turistik Santiago Hop-on Hop-off bus.
If you are looking for something special to purchase, consider Lapislázuil, a semi-precious blue stone that is found almost exclusively in Chile and Afghanistan.
See friends
On a personal note, for us, the real highlight of our time in Santiago was catching up with our former exchange student and meeting her family.
Where to stay in Santiago Chile
Like most major cities around the world, there are plenty of Santiago accommodation options. Despite the vast number of choices, we think we found the best choice on our second visit to the city.
We slept in luxurious beds and woke to a delicious breakfast at the NH Collections Santiago Plaza. If that wasn't enough, we had a high-floor room with fabulous views of the city, and the hotel is across the street from Costanera Center.
We were close to great restaurants and a metro station. Of course, everything was immaculate, we had all the amenities we could want, and they could arrange for anything we needed. Reserve your stay at NH Collections Santiago Plaza here
If you're not a fan of five-star luxury or just prefer to spend a little less on accommodations, these are the recommendations from a Santiago-based friend.
Getting around in Santiago
Santiago hop-on-hop-off bus
As you probably already figured out, we found the Turistik hop-on-hop-off bus tour to be a great way to get around the city.
It was a perfect introduction to the city and an easy way to tour. We took the two-day option, giving us enough time to see it all including the cable car up and the funicular down San Cristobal Hill. Best of all, the buses run every 30 minutes, we can get on and off the bus as many times as we choose, and we can go around as many times as our day will allow.
As the bus drove around the city, we listened to audio commentary through provided headsets (available in multiple languages including Spanish and English). Reserve your hop-on-hop-off pass here
Pro tip: At first we found it difficult to find the bus stops as they are not well signposted. However, the addresses of the stops are printed in the guide provided when you get your ticket.
Guided Santiago tours
The other easy way to get around a city is to let someone else do the driving. Tours not only do this, but they also take you to the best spots and give you an interesting and informative background. Because we opted to do the Turistik hop-on-hop-off bus, we didn't need to take any other tours.
If we had hired a guide, and I were feeling energetic, I either enjoy this city bicycle tour or hire a private guide from our favourite company, Tours by Locals.
Taxi
Santiago has both taxis with metres and Remis where the price is negotiated in advance. If we needed to flag down a car, we always took metred taxis. However, from the airport, Remis is a good option as it has a fixed price regardless of traffic.
Public transit
We found the public transportation to be surprisingly clean, on time, and easy to use. You will need a BIP card to use the buses or metro. Purchase a card and add money to it at any metro station or Bip Center (Centros bip!). You can use one card for the entire family.
You will need to use the card to get onto the buses or into the metro station. However, the payments are based on time of travel (pay more at peak times), rather than distance, so the card is not needed to exit.
Drive (rent a car)
If you plan on driving while in Chile, we have great success with RentalCars.com. They found us the best prices, offered us options of companies to work with, and of cars. Everything went smooth as silk for the rental of our vehicles. (However, I caution against using Europcar in Chile, as we used them in the Atacama desert and they deducted from our deposit an amount greater than the cost of the rental for two new shock absorbers, although only one was shot).
Walking
Mixed with public transit, hop-on-hop-off bus, or taxis, Santiago is an easy city to walk around.
Pro tips: Know before visiting Santiago Chile
The currency is the Chilean Peso (CLP). Typically only CLP or credit cards are accepted in restaurants, shops, and for entrance fees.
Most museums in Santiago are closed on Mondays.
It is customary to tip 10% in restaurants, and this amount is often added to your bill, labelled "propina." If paying with credit, the server will often ask if you want the tip included, the assumption being that you will otherwise tip it in cash.
Tap water is not provided for free in restaurants.
Neighbourhood safety is varied; therefore, you should check with your hotel before going out at night. Click here for more South American safety tips.
If you are taking a taxi, and are not fluent enough in Spanish to negotiate your price, select one with a meter.
If you drive, we recommend Maps.me. We found it to be more accurate than Google Maps in Chile (and Argentina), and Maps.me offers downloadable maps that work offline.
Tours of La Moneda must be booked in advance and in peak season, can be booked out for weeks. Check their official website here.
If you are visiting Santiago for multiple days, book the La Moneda tour for your first day as any newly scheduled presidential activity will change the dates to a future date. Our tour moved one day forward.
For more tips, be sure to check out our Chilean travel guide.
Click here to see our South American itinerary.
Save on your trip with these resources
These are our go-to companies when we travel. We believe this list to be the best in each category. You can't go wrong using them on your trip too.
Flights: we use Expedia for the best and cheapest flight options.
Accommodations: we use Booking.com (hotels) or VRBO (self-contained).
Cars (gas or electric): we use RentalCars to search for deals and dealer ratings.
Campervans or Motorhomes: we use Campstar where Albom Adventures readers get a 3% discount
Private guides: we love the private guides at Tours by Locals
Travel Insurance: we start at InsureMyTrip as they are the best option to compare plans and find the right coverage for you.
Check out our travel resources page for more companies that we use when you travel.
Please share
If you enjoyed this article, please share it on social media, including Pinterest:
Which do you believe are the best things to do in Santiago Chile?
Disclaimer: While you pay the same, we receive a small commission from many of the links of this page. It helps us pay for this page. In addition, we were media guests of Turistik and Sky Costanera. We are frequently provided with complimentary entrances, tours, accommodations, or sample items in order to gather information necessary to write our reviews. However, the opinions expressed here are strictly our own.