Chilean food is simple, traditional, and delicious. We had one great meal after the next, and then we learned why. It's all about tradition, culture, and real food. We spent the day with Pablo, one of the chefs from Chilean Cuisine Cooking Classes in Valparaiso, Chile.
We came away with a better understanding of Chilean life and an appreciation for new flavours, as well as learning a bit about Chilean culture. And we enjoyed a fabulous home-cooked meal, by us. Importantly, the menu adapts to allergies and dietary requirements. (Chilean Cuisine Cooking Classes can even accommodate those with Coeliac Disease.)
Choosing the menu of Chilean dishes
Our adventure began outside the Melbourne Cafe in Valparaiso. Owned by an Australian, it serves the style of coffee we love. Here, we met Pablo. Sitting together at one of the tables, we reviewed the menu of traditional Chilean food, picked from typical Chilean food options, before heading to the market to purchase the fresh ingredients we needed.
Each class prepares pebre, empanadas, and pisco sour, along with the group's collective choice of an entré, main, and dessert from a list of traditional Chilean dishes.
The menu we chose included pebre (Chilean salsa), empanadas (traditional baked turnover pie with meat onion filling), machas a la parmesana (baked razor clams with cheese), charquican (country-style vegetable mash), and leche asada (baked milk Chilean dessert), plus the pisco sour. Pisco is a popular brandy produced in Chile.
Take the same great class we did. Reserve your cooking class here.
Shopping in the Chilean market
We took the city bus from the cafe, an experience on its own, and got off near the market.
As we approached the market, Pablo gave us the same reminders we have heard almost daily since arriving in Chile. Keep your bags close, camera and mobile phone out of sight except inside the market, and always be aware of your surroundings.
We went to the local market, complete with every type of produce, Chilean seafood, meat, bread, and spices one can imagine. Inside the main building, the produce looked fresh and delicious, although imperfect. Foods grown in Chile use fewer chemicals, thanks to clean food laws. There are also food stalls outside the markets, which have fewer regulations and often sell older produce at a reduced price.
At the market (Mercado El Cardonal), we purchased beef, clams, cheeses, butter and cream, potatoes, vegetables, chilis, and spices, including merkén. Pablo knew many of the vendors, and in addition to the things we needed for our meals, he brought some fresh, in-season strawberries and grapes to enjoy while we cooked.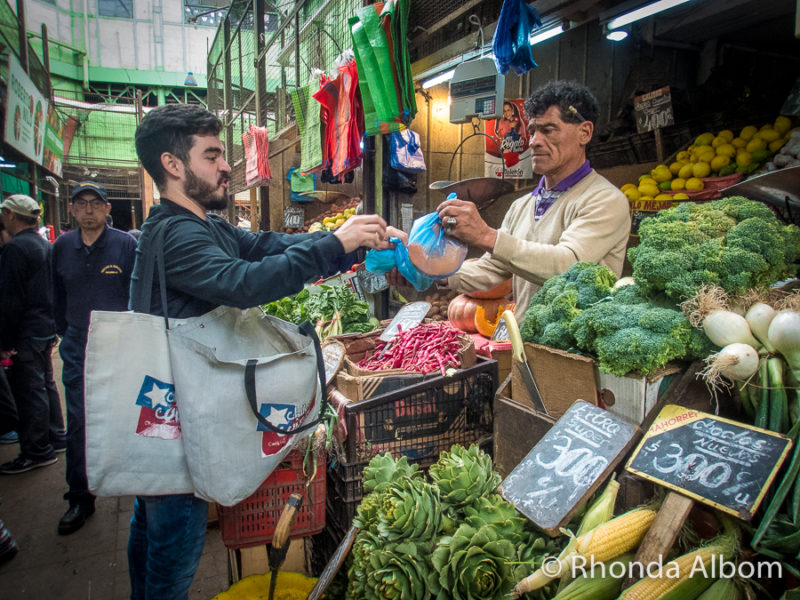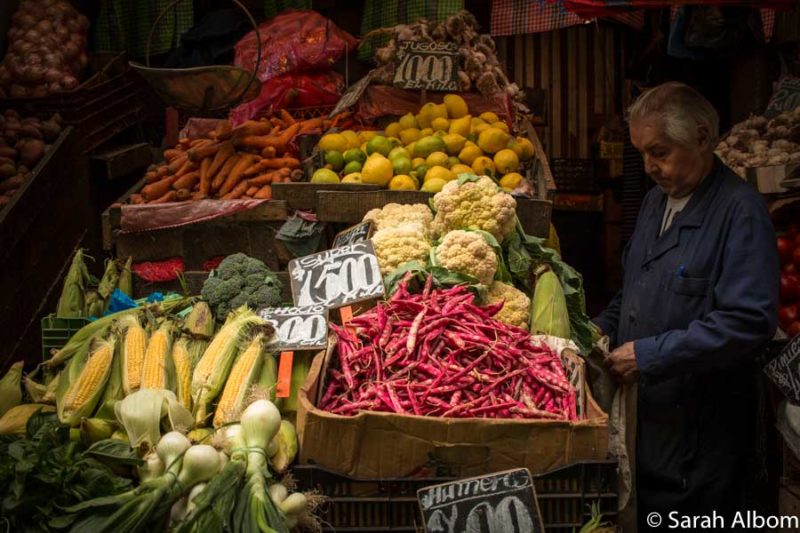 Taking the oldest elevator in the city
From the market, we had two options: walking uphill or taking the oldest elevator in the city and walking downhill. We made a great choice opting for the latter. The ride took only a couple of minutes, but where else are we going to get this experience?
The walk was pretty impressive.
A famous staircase took us up to Cerro Concepción, a series of narrow, mostly pedestrian-only maze of streets covered completely in street art. Chilean Cuisine's kitchen is behind a beautifully painted doorway.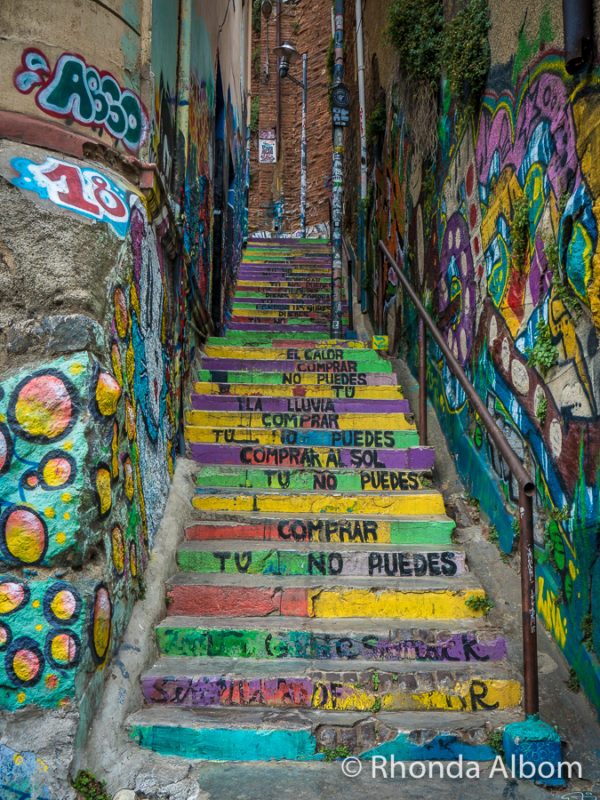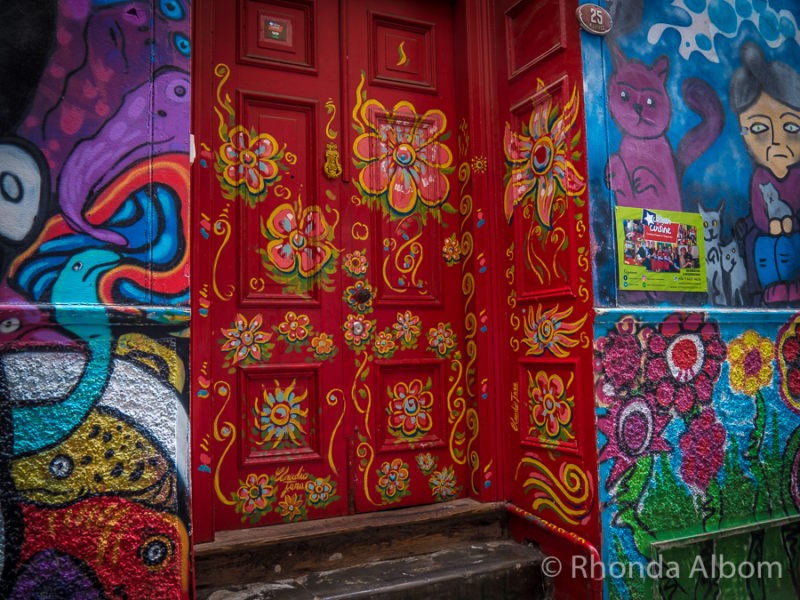 Take the same great class we did. Reserve your cooking class here.
Preparing our traditional Chilean cuisine
Next, the real fun began. Dicing, chopping, mixing, rolling, and folding – this is a hands-on class, and we did the preparation alongside Pablo.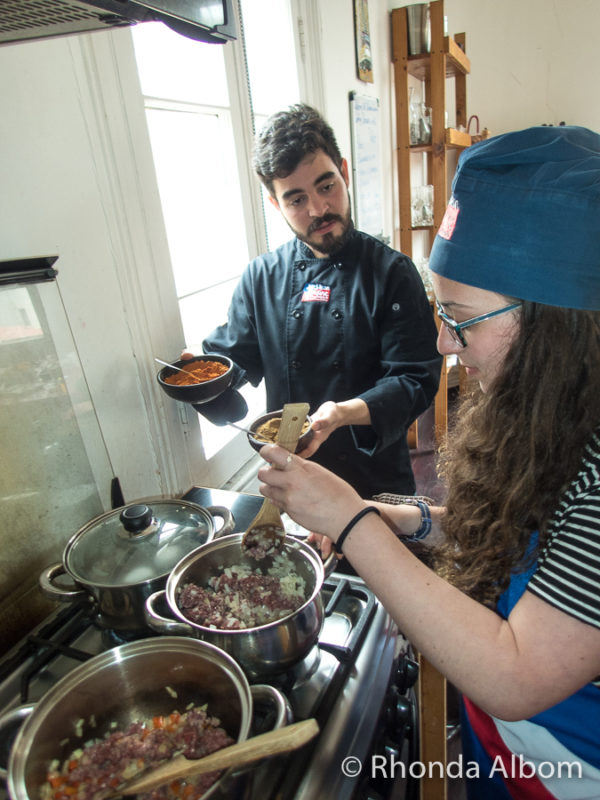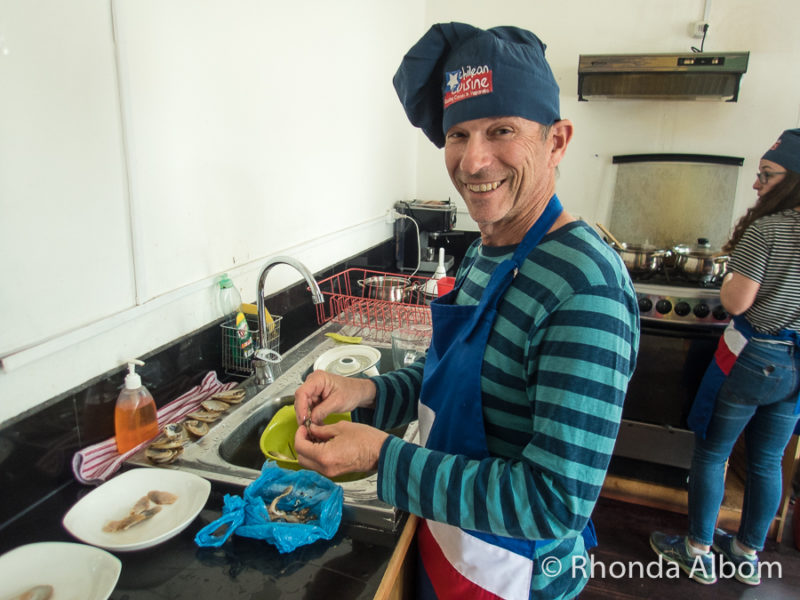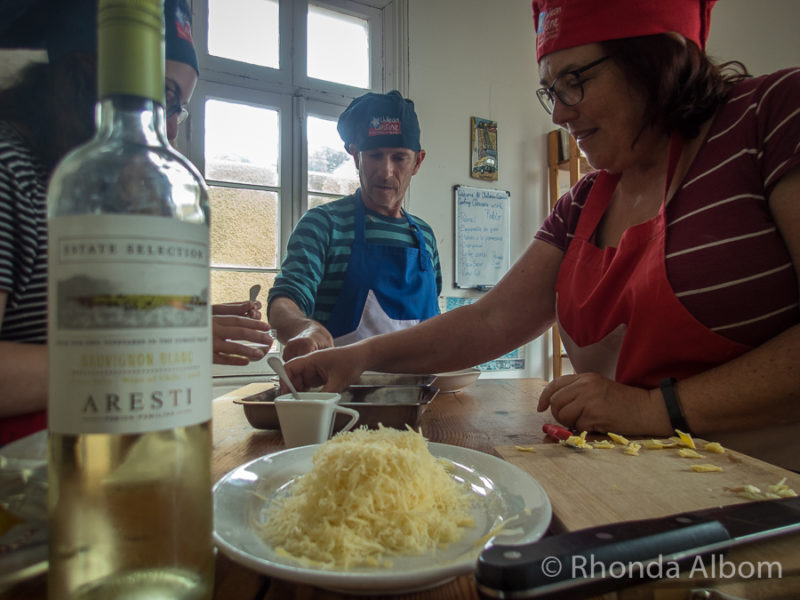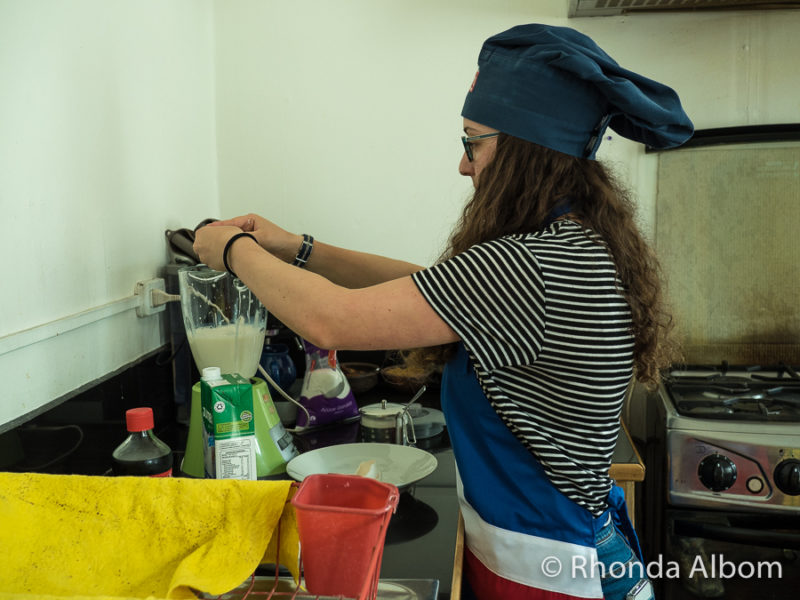 Finally, a feast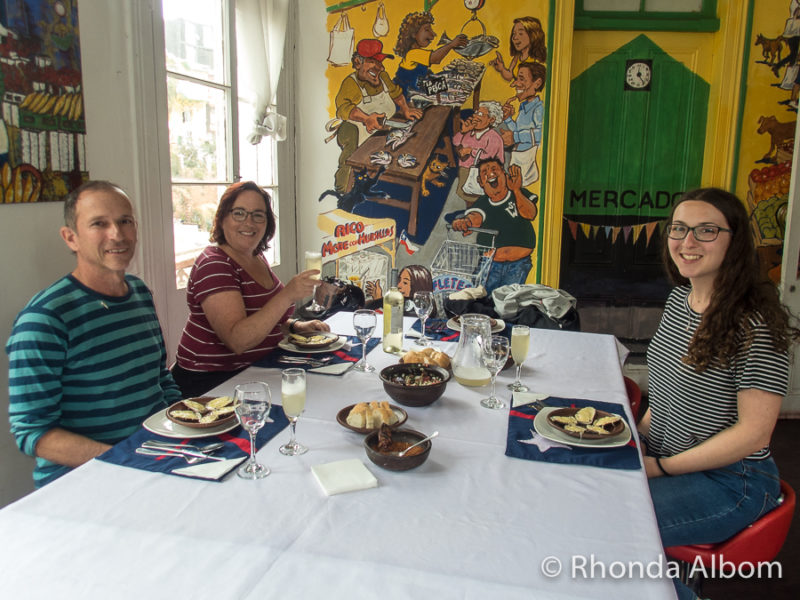 Heading to Valparaiso?
If so, we recommend adding a day for Chilean Cuisine cooking lessons. It is time well spent, with a bonus of being educational, delicious, and fun.
Final thoughts on Chilean cuisine
Please share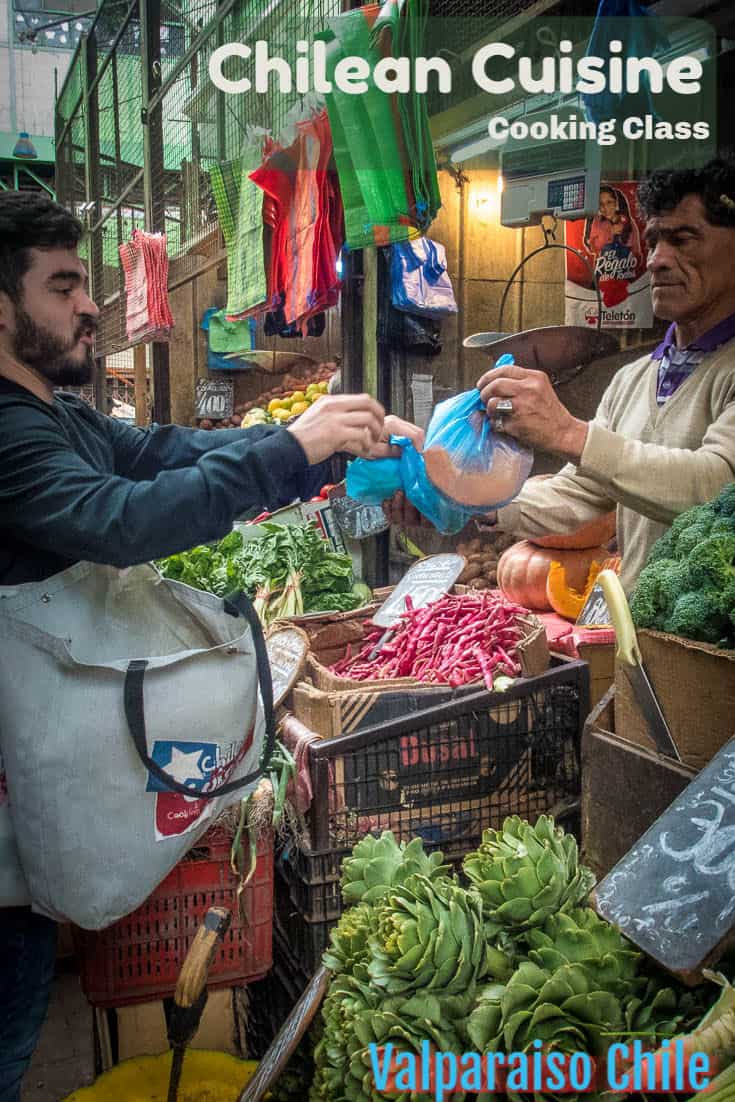 If you enjoyed this article, please share it on social media, including Pinterest:

Click here to see our South American itinerary.
What will you prepare in a Chilean Cuisine cooking class?
Disclaimer: We were provided with complimentary classes to assist in the writing of this review. However, the opinions expressed here are strictly our own.