A large aspect of Argentinian culture revolves around food. We enjoyed meal after meal of perfectly seasoned, flavorful, but not too spicy traditional Argentinian food. Mains centre around meats, while desserts are sweet treats that melt in your mouth and fill your belly yet leave you craving more.
Our daughter lived in Argentina for a year as an exchange student. She reported that typically family or friend gatherings centre around a meal and that nearly every event she attended included biscuits or maté. Read on for a mix of traditional Argentinian food and our favourites.
Asado: possibly the most traditional Argentinian food
Asado is an event more than a food. Often, a gathering of friends and family centres around an Argentinian BBQ. More specifically, asado consists of Argentinian beef or other meats, slow-cooked over hot coals rather than the flame.
As the meat tenderizes, the aromas waft from the BBQ and stimulate quite the appetite. Honesty, I was surprised to learn that nearly a half-kilo (1.1 pounds) of meat is prepared for each person at an at-home asado.
The meats include beef, chicken, and varieties of other animals in a selection of different cuts from steaks to intestines. Our daughter's family enjoyed asado nearly every Sunday for the year she lived in Argentina, and they even made one for us when we visited.
We encountered a slightly different preparation in Uruguay and in Brazil.
Other must-try Argentinian food
Two things are certain. First, you won't go hungry in Argentina. Secondly, you will want to return for many reasons, one of them being the popular Argentinian foods.
Empanada in Argentina
Empanadas are another popular Argentinian food. These savoury, flakey pastries are commonly filled with meat (carne), ham and cheese (jamón y queso), or vegetarian. My personal favourites are a salmon con crema empanada found in a small restaurant near the Recoleta Mall in Buenos Aires, followed closely by ones we tried in San Telmo.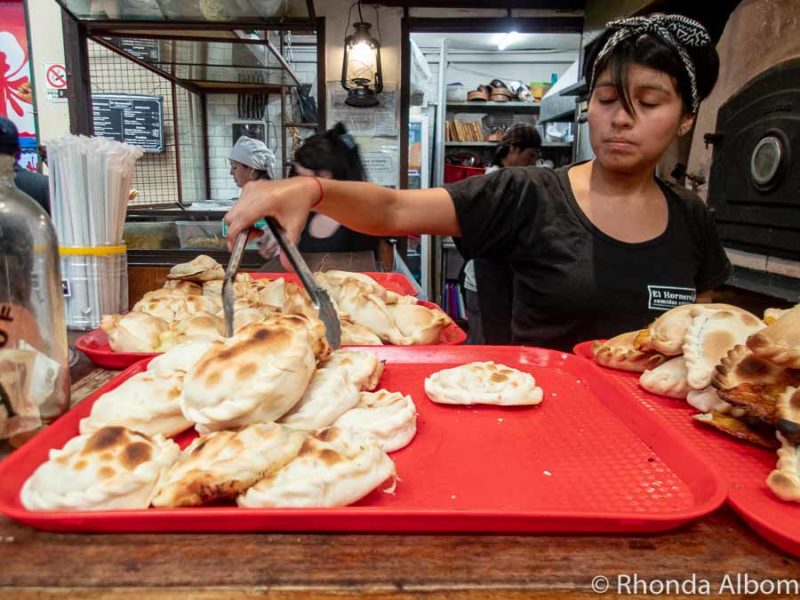 Sarah's family made them from scratch, manually stuffing, folding, and crimping the edges of each empanada. If that seems like too much work, we stumbled upon this empanada press on Amazon.
Argentinian bread
Argentinian food is also starch-intensive. Bread is normally served in a basket at restaurants and eaten as a snack at home. A frequent snack amongst my daughter's friends in Argentina is ham and cheese on bread.
Choripán
Choripán is a tasty and inexpensive Argentinian street food that is a spicy sausage (chorizo) on bread (pan), or a shortened name chori-pan. Think of it as an Argentinean hot dog topped with caramelized onions or spicy chimichurri sauce (olive oil-based sauce typically with green spices, onion, garlic, and chilli pepper flakes).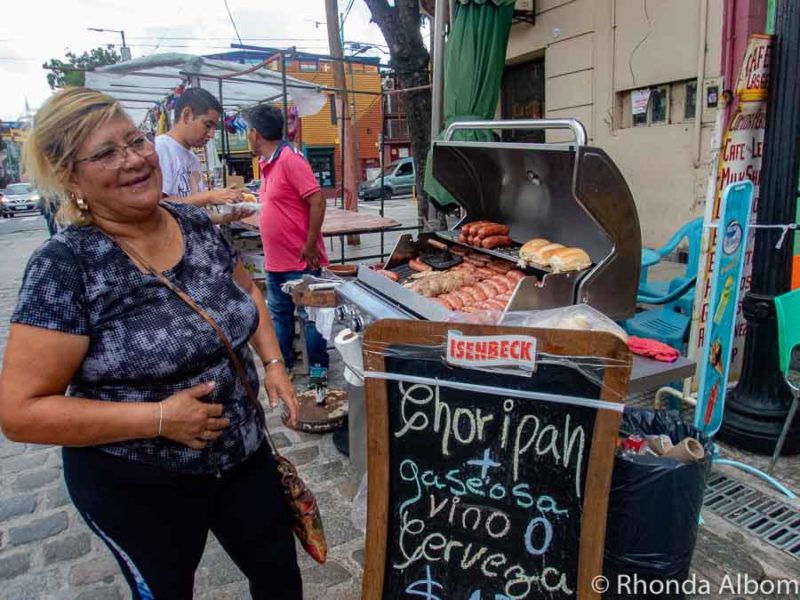 Dulce de leche and Argentinian dessert
Regardless of which Argentinian dessert you choose, it is highly likely to contain layers of dulce de leche, a caramelized milk spread used on anything from toast to cakes. Or, if you are young with a sweet tooth, just eat it with a spoon.
It's also a popular flavour of ice cream. We loved the Argentinian sweets so much we wrote a separate page on them.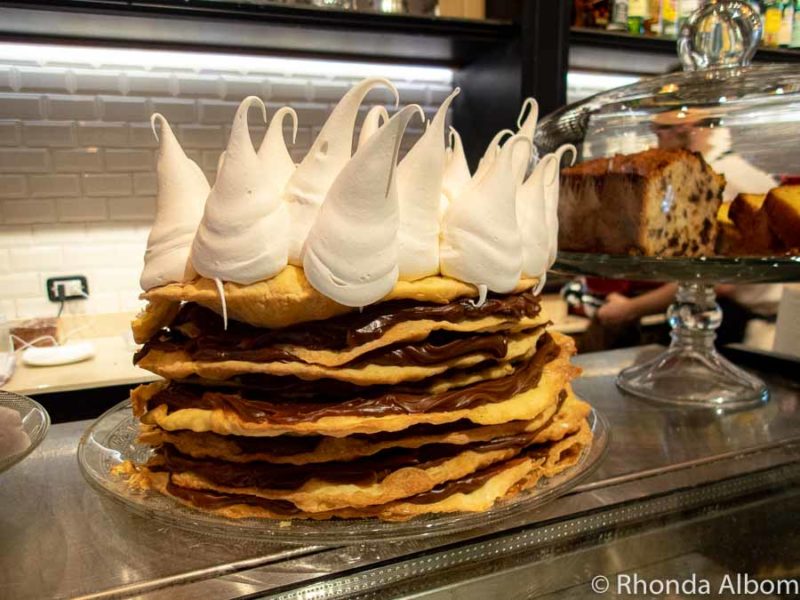 Argentinian foods made from corn
Corn is a staple item. When our daughter lived there, she visited Rosario to visit an exchange friend on their host family's farm, including their cornfield. Two popular corn dishes are:
Harina de maíz: the corn is ground into an orange flour-like powder, cooked, and then eaten with sauce and cream.
Humita: This is one of the common Argentinian foods that we didn't try. It has been described to us as a mix of fresh corn, milk, goat's cheese, onions, and other spices wrapped in a corn husk (chala), and similar to Mexican tamales.
Italian-influenced Argentinian food
Milanesa
Milanesa is another of the traditional Argentinian dishes that originated in Italy. This thin, breaded beef or chicken (like a schnitzel) is served with a variety of toppings in Argentina, ranging from mushroom sauce to ham and cheese.
I'll admit that milanesa isn't my personal favourite, but it is so popular that there are milanesa restaurants. Perhaps I would prefer the homemade oven-baked milanesa prepared by our daughter's host family over the fried milanesa we had in restaurants.
Pasta
Another popular Argentinian food from Italy is pasta. My daughter's host family used it often at gatherings. Here's one of her stories:
"Meals are an important time, and in social gatherings can last hours. A few weeks ago, at the birthday lunch of a host cousin, we started the meal around midday and were at the table drinking and talking past 6pm. Here in Argentina, the meal is the event.
One of my host cousins made pasta for the birthday lunch. It was incredibly tasty! First, she cut the dough into long strips. Then, she flattened them by cranking them through a device, and finally, she used the device to cut them into thin strips.
After she cut the pasta into strips, she hung it on a rack to stop it from sticking. When she finished cutting all the pasta, she took it outside in a massive pot to cook."
Traditional Argentinian drinks
Drinking is also very common, from nightclubs to asado lunches. It is common for kids and teens to drink alongside their parents, and there is a wide range of Argentinian wines, beers, and liquors. The official drinking age is 18. Despite that, it seems infrequently enforced, even in shops and at bars.
Maté
Share a maté (mah-tā) with friends. It's a bitter-tasting, tea-like beverage drunk from an open-top cup through a metal straw called a "bombilla."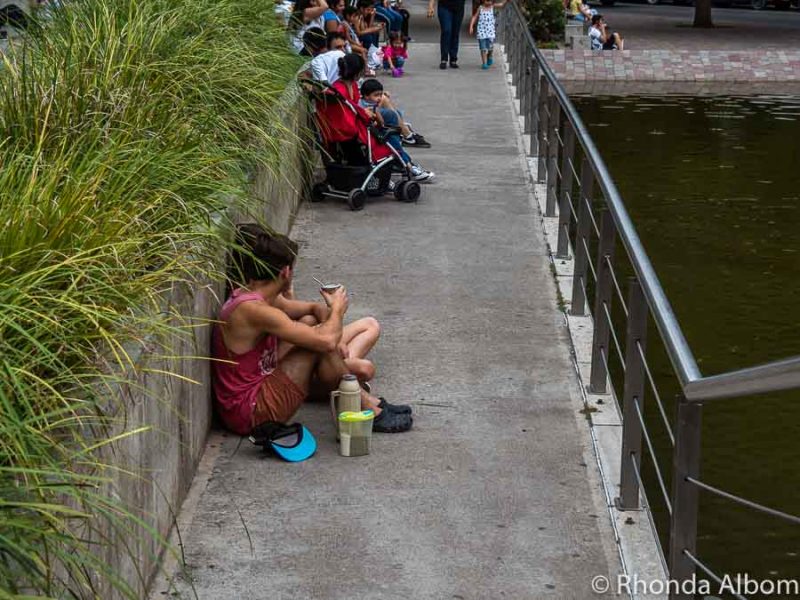 Fernet con Coca
Often called the national drink of Argentina, Fernet actually is Italian in origin. It's a popular after-dinner spirit, with the added benefit of aiding with digestion. It appeared on just about every restaurant menu we encountered, most commonly as Fernet con Coca. That is, over ice and mixed with coca-cola.
Malbec Wine
A medium to full-bodied, robust, dry red wine that we first discovered when we stayed at a winery producing it near Cafayate. An Argentinean favourite that has won our hearts.
If you want to enjoy a Malbec in paradise, we stayed at and recommend Altalaluna Hotel Boutique and Spa Located on the Tukma vineyard and off the beaten track, Altalauna is a quiet piece of paradise. Greeted with a glass of wine, we found this the perfect place to relax by the pool or at the spa.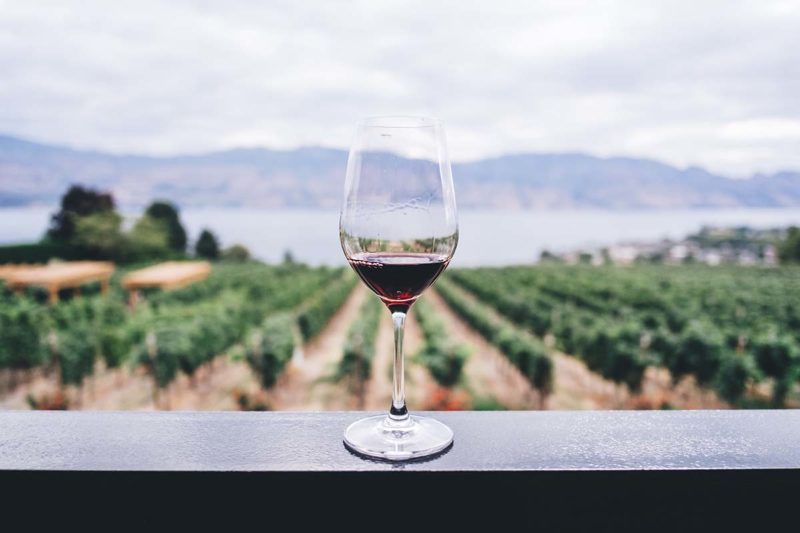 More on the Argentinian food culture and meal times
Traditionally, lunch is the largest daily meal. It's a big deal. A family affair followed by family time, then a siesta. My daughter's school closed at 12.30 so she could get home for the meal. Sometimes there were late classes to return to, but not often in her case.
Similarly, businesses close. In many areas of the country, whole towns roll up and shut down from 1 pm until about 4 or 5 pm. As a result, retail outlets are open into the evening, sometimes until 9 or 10 pm. After siesta is a snack. Dinner typically starts around 9 or 10 pm.
From our daughter's original article, "It has taken a little bit of time to get used to the lack of vegetables found in meals. Salads are sometimes served with meals like asado and milanesa, but on the whole, a lot less than the New Zealand diet. Vegetarians are grossly outnumbered by meat-eaters."
Superstitions around Argentinian food
A story from our daughter's year in Argentina: "When they opened the champagne bottle at my host cousin's birthday, the cork popped and fell into my lap. I was later told that this meant I was going to marry. Though, to be honest, I'm not sure if they meant I was going to be the NEXT to marry or just that I would eventually be married."
Make it yourself with one of these two Argentinian cookbooks
Save for when you're hungry
If you enjoyed this article on traditional Argentinian food, please share it on social media and save it for later on Pinterest.
Do you have a favourite Argentinian food? What new item will you try first?
About the Authors: This post is a collective effort by Rhonda Albom and Sarah Albom based on travel in 2018, 2019, and a year-long student exchange by Sarah in 2016.