Argentinian sweets are a staple in South America, and desserts in Argentina are one of the highlights of every meal. We learned this from our daughter Sarah after she spent a year in Argentina as an exchange student.
Below she shares with us some of her favourite sweets and desserts.
While passionate about Bon o Bons from practically the first day she arrived at age 15, there were plenty more Argentinian sweets for her to discover during her yearlong AFS student exchange.
Generally, Sarah's favourite desserts contained chocolate, dulce de leche, or, to my surprise, quince jam.
And it wasn't just the Argentinian sweets that captured her heart, culinary delights surrounded her. In particular, the meats in Argentina were on her list of highlights, listing favourites such as asado, milanesas, you name it. Argentina is known for amazing food.
Returning our focus to desserts in Argentina, note that Argentinian sweets are both delicious and photogenic. See if you agree:
Sarah's favourite Argentinian sweets and desserts in Argentina
Anything with dulce de Leche
Flan
Pastelitos
Tortas FritasCheesecake
Birthday cake
Alfajores
Churros
Filled pastry
Bon o Bon
Copito de Dulce
What is Dulce de Leche?
Topping Sarah's list, was anything with dulce de leche. Made from sugar and milk, dulce de leche is best described as caramelised condensed milk.
While it's fairly easy to make, it does take a while. Therefore, it is often purchased pre-made in a glass jar.
However, it can be made at home by either slowly boiling condensed milk or cooking milk and sugar together. While fairly simple, either process takes about three hours.
True fans, who want more, don't miss this collection of Dulce de Leche: Recipes, Stories, & Sweet Traditions.
Classic and delicious desserts in Argentina
Let's let Sarah describe the desserts in Argentina…
Pastelitos and mini pastelitos
Pastelitos are a fried puff pastry normally filled with dulce de membrillo (quince jam). Typically, these Argentinian sweets are eaten from March to May and are traditionally eaten on the holiday 25 de Mayo. The second image features mini pastelitos shot from above. The quince jam goes in the flat middle between the two layers of pastry.
Cheesecake
Photoed above is a delicious cheesecake and strawberry smoothie I had at the Brota Vivero Paseo Cafe in Santa Fe City (permanently closed). While it isn't exactly authentic Argentinian food, it tasted incredible.
Flan
Flan is a milk-based Argentinian dessert. Making it even better, on the left side of the photo above is a scoop of the famous dulce de leche.
Tortas Fritas
An Argentinian fry bread so delicious, it was gobbled up before Sarah could get a photo. If you want to make it yourself, check out this Tortas Fritas recipe.
Birthday cake
Sarah describes the three birthday cakes above as follows:
My host family woke me up at 6:30am on my birthday with this beautiful purple Argentina cake, which is also my favourite colour. We ate it for breakfast! Argentina cakes often have dulce de leche, a sweet spread that is best explained by caramelised condensed milk.
In the second image, a slice of a host family member's birthday cake, the bottom layer features the customary dulce de leche spread, with pieces of meringue mixed into it.
The final photo is the topping of a cake I had while at a birthday party.
Snacks are some of the best Argentinian sweets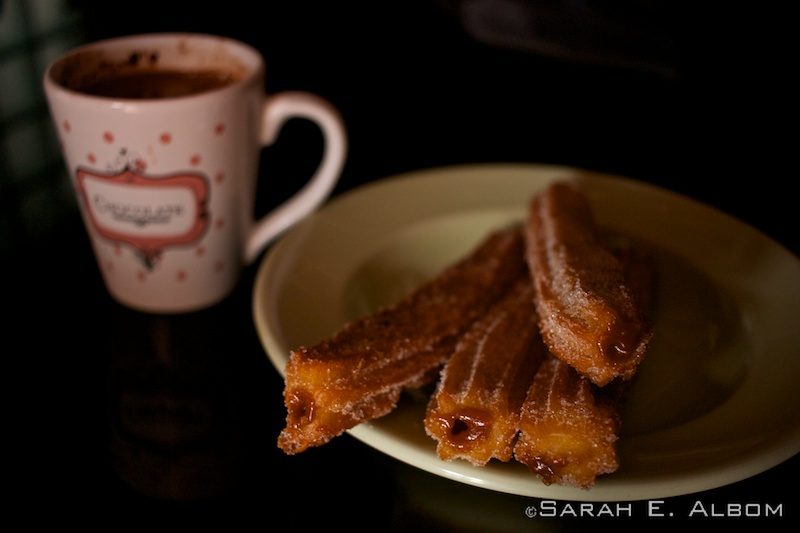 Churros
Churros filled with dulce de leche and dipped into a cup of hot chocolate are delicious Argentinian sweets.
Alfajores
Sarah's face lit up when she saw alfajores at a festival in Auckland. They are one of her favourite sweets from her year as an exchange student in Argentina. We tried the three different flavours (naturally, the dark chocolate was my favourite). Filled with Dulce de leche, it is a treat not to be missed.
Pastry
There were lots of different types of Argentinian pastry, often served with vanilla cream, chocolate, and dulce de leche filling. The tuck shop at Sarah's school always had a supply.
Slice
The final photo features a slice she had as a snack on a camp. "If I remember correctly, the filling was quince jam."
Pre-made Argentinian sweets
Sarah adds more about some of the commercial Argentinian sweets.
While exploring Buenos Aires on a trip to the city and then north to Iguazu Falls, some exchange students and I stumbled upon an Argentinian sweets shop with entire bins full of Bon o Bons.
The inside of a Bon o Bon, I'd describe the filling as creamy peanut butter, though it was different than that. Next, there is a thin layer of a flaky, pastry-type biscuit and then the chocolate coating.
Copito de Dulce translates to 'sweet cup' and is an Argentinian sweet that I quite liked. It had a pastry bottom with dulce de leche filling and a coating of chocolate.
Save for later
If you enjoyed this article, please share it on social media and save it for later on Pinterest.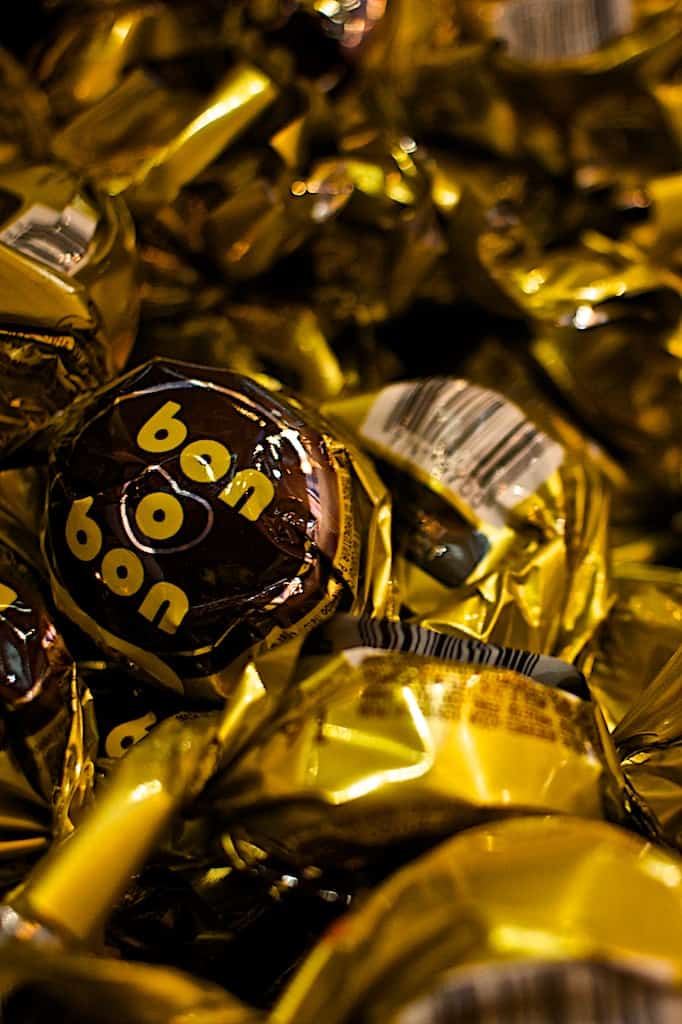 Which of these Argentinian sweets do you want to try?
You might also like…
Photo Credits
Nearly all photos on this page were taken by Sarah Albom over the course of a year-long student exchange in Argentina with AFS. She stayed in the city of Santa Fe with an incredible host family.