Elegant yet energetic, Buenos Aires has it all. The cosmopolitan capital of Argentina offers an eclectic mix of modern and European colonial styles. Filled with Argentine traditions, it's the unique things to do in Buenos Aires that drew me here. A city pulsing to a tango beat, it has a few surprises.
Unique things to do in Buenos Aires
Tango in Durrego Square, San Telmo
Tango started in Buenos Aires and is deeply ingrained in the culture. In the San Telmo neighbourhood, tango goes even further, as it is part of their Argentine traditions. Argentina's Independence was announced in 1816 in Durrego Square, yet today it draws crowds for the tango.
It was here that we sipped coffee at an outdoor cafe in Durrego Square on a Saturday afternoon. At the same time, we stared in wonderment as incredibly talented dancers demonstrated their art. Well-earned tips flew from the crowd when the dancers took a break. Soon, a second couple began dancing.
Tango is not exclusive to San Telmo. In fact, there are shows and lessons (tanguerias and malongas) in just about every neighbourhood of Buenos Aires. You can even book a Madero Tango Show with an optional dinner and tango lesson in advance.
Absorb the colourful La Boca neighbourhood
A visit to La Boca's brightly coloured Caminito is on nearly every list of top things to do in Buenos Aires. This colourful street is an open sky museum in the neighbourhood that held the first port of Buenos Aires. When walking along the Caminito, be sure to notice that the buildings have windows but no doors. When built, this street was the back alley.
La Boca is also renowned for its large, caricature-like statues of famous people including Pope Francisco, Diego Maradona (soccer star), and Carlos Gardel (the most prominent figure in the history of tango), as well as being home to the Boca Juniors' stadium, the most famous stadium in Argentina.
We enjoyed our walking tour of La Boca, as it is the small details brought out by our guide that make this neighbourhood so interesting. Had we been feeling more energetic, we would have opted for this top-rated bicycle tour of La Boca and San Telmo.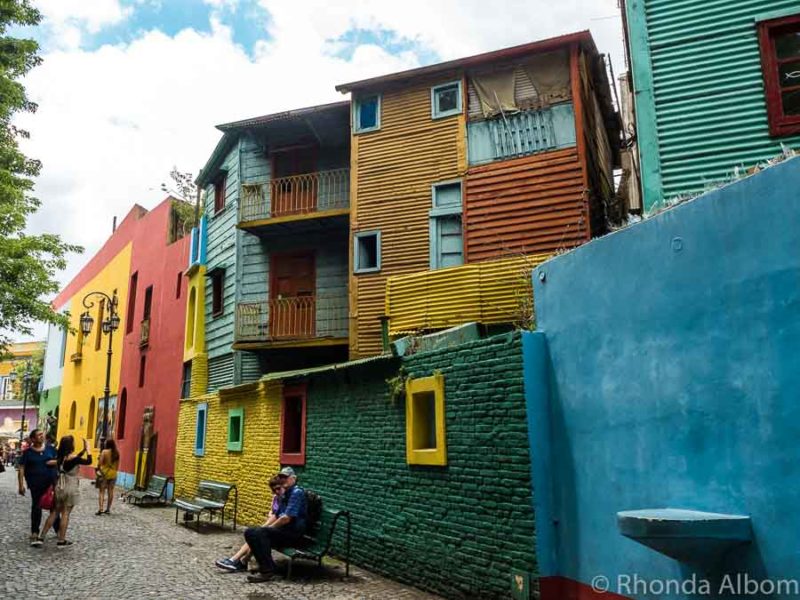 Visit the world's most beautiful bookstore (El Ateneo Grand Splendid)
Imagine an elaborately decorated theatre converted to a huge bookstore and you have the El Ateneo Grand Splendid. In January 2019, National Geographic named it the world's most beautiful bookstore.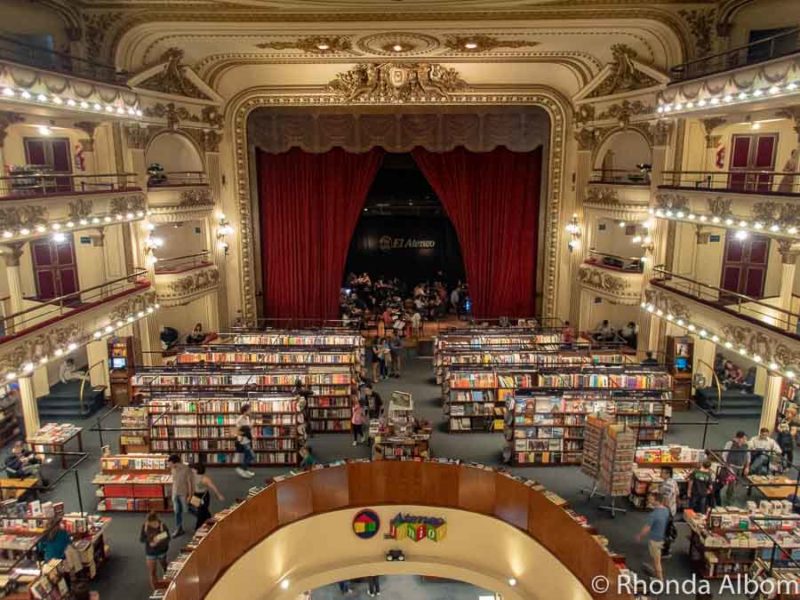 Witness graduation traditions in Argentina (from a safe distance)
When I graduated from university, I received flowers. Not so in Buenos Aires. Following Argentine traditions, eggs, flour, old maté, and a host of other wet or smelly items are tossed upon the graduate. And if that's not enough humiliation, family and friends often make a giant cardboard picture frame to capture the moment.
Stroll through the Recoleta Cemetery
A walk through the cemetery is one of the iconic things to do in Recoleta. It is the final resting place of generals, presidents, and former first lady Eva Perón. With over 90 vaults, the Recoleta cemetery is filled with history, legends, and ghost stories.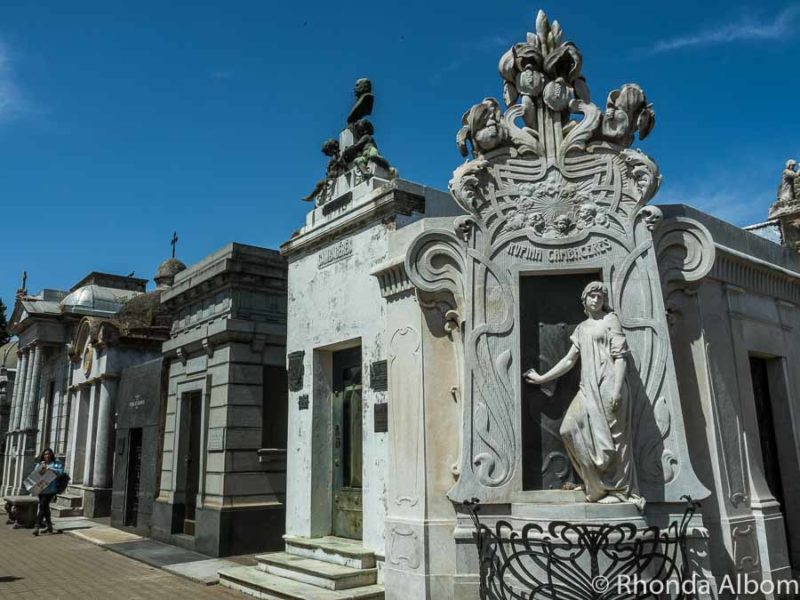 Beware of the animals (or not) at EcoParque
We were lucky to tour EcoParque before it opened to the public. It's an interesting concept that converts the former Buenos Aires Zoo to an interactive, educational, eco-friendly park. With many animals roaming free, I am sure that once open to the public, a visit here will be one of the more unusual things to do in Buenos Aires.
The Buenos Aires Zoo originally opened in 1888. When it closed in 2016, many animals were relocated to natural reserves and sanctuaries. The animals that remain were slowly given a new home. While we were surprised to see mara wandering free, we were saddened to see the small spaces allocated to the monkeys, elephants, and other animals. We hope that by the time EcoParque opens, these areas will be significantly improved.
Entry will be limited to 2,000 visitors per day, and a visit here will be one of the free things to do in Buenos Aires.
Attend a concert or take a tour of Colón Theatre (Teatro Colón)
Pavarotti once stated that the Colón Theatre has such perfect acoustics that the audience knows immediately if he makes a mistake. Today, Teatro Colón is world-renowned for its mix of architectural styles and sound quality. Guided tours of Colón Theatre often book up, so it's often a good idea to get them in advance.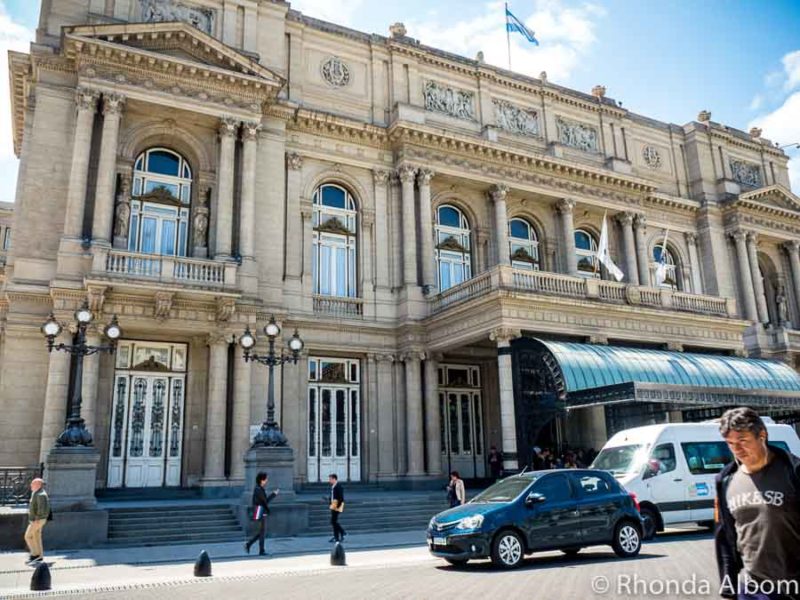 Honour the fallen at the Israeli Embassy Memorial (Plaza Embajada de Israel)
Spend a few moments at Plaza Embajada de Israel to honour those who died in the 1992 suicide bombing attack on the Israeli Embassy in Buenos Aires. The memorial plaza sits on the site where the building stood and includes twenty-one trees and seven benches in memory of the victims.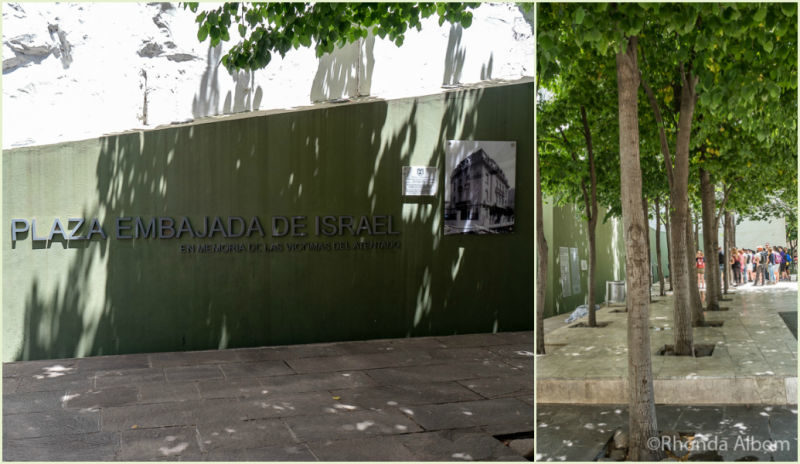 Roll your eyes at the story of the Kavanagh building and the Basilica del Santisimo Sacramento
Sometimes listening to the stories is one of the most unique things to do in Buenos Aires, and this is a good one: a revenge story between two prominent women. First, there is Mercedes Castellanos de Anchorena. Mercedes lived in Palacio San Martín with her three sons. Well, to do, she had the Basilica del Santisimo Sacramento built to be seen from her residence.
Another woman, Corina Kavanagh planned for her daughter to marry one of Mercedes' sons; however, Mercedes rejected the idea. To get revenge, Corina built the Kavanagh Building (the tallest building in South America at its completion) to block the palace's view of the Basilica.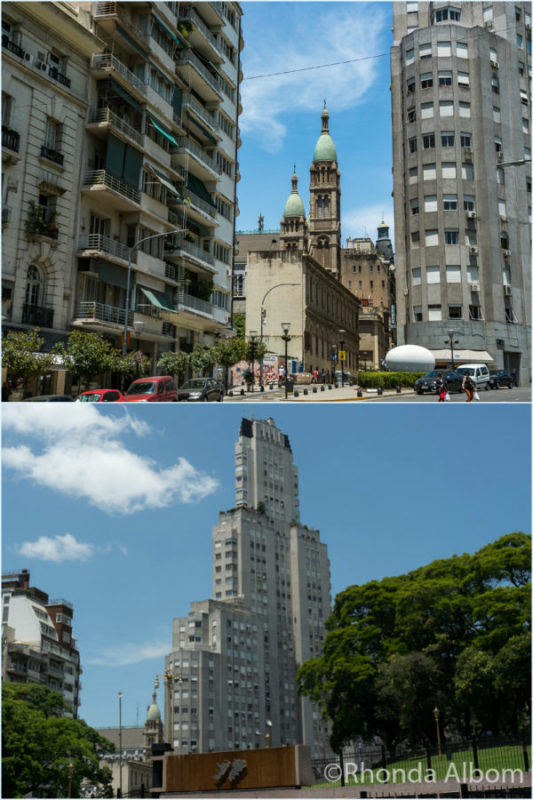 Take in mass at the Metropolitan Cathedral of Buenos Aires
Former home to the current Pope, the Catedral Metropolitana de Buenos Aires is the headquarter of the Catholic Church of Argentina. In a side room, there is the guarded mausoleum of General José of San Martín.
Take a walking tour of Buenos Aires
One of the best ways to discover the unique things to do in Buenos Aires is with a walking tour. We took several tours of the city. First, we toured with Buenos Aires Free Tours. Their popularity is also their downfall as there were over 50 people on our walking tour with only one guide. Not a good ratio.
However, we had an outstanding private tour of the Recoleta Cemetery and another fantastic small group tour of La Boca that was booked through Travel Buenos Aires (tourism board). As a fan of street art, we took a tour in order to find the best locations. While not the same one that we took, this street art tour is very highly rated.
Admiring artwork is one of the unique things to do in Buenos Aires
Eva Perón Portrait
There are two giant portraits of Eva Perón, one on each side of Argentina's social development ministry building. She is the beloved wife of former president Juan Perón.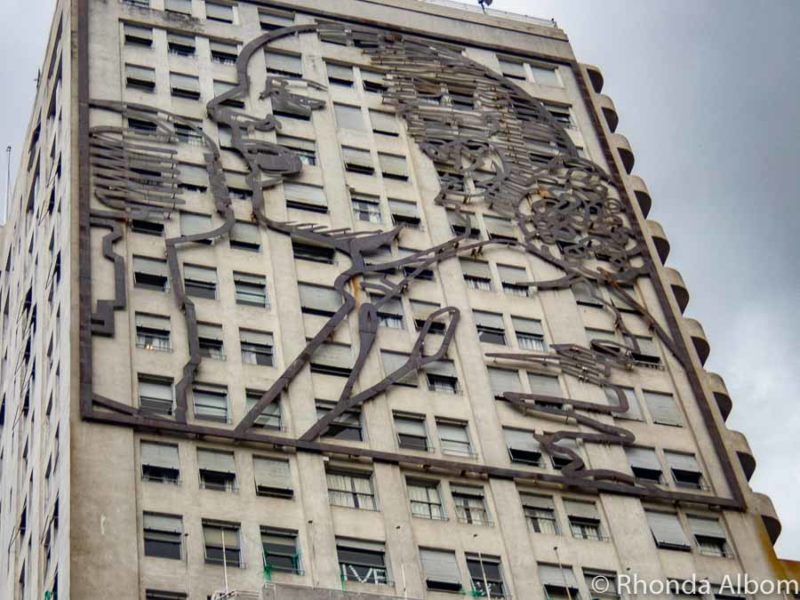 Comic Strip Walk (Paseo de la Historieta)
Life-sized statues of some of Argentina's favourite comics are on display. It's a short walk starting not too far from Durrego Square in San Telmo, and is one of the best things to do in Buenos Aires with kids. The tourism board provides a list of all the characters.
Four of my favourite artworks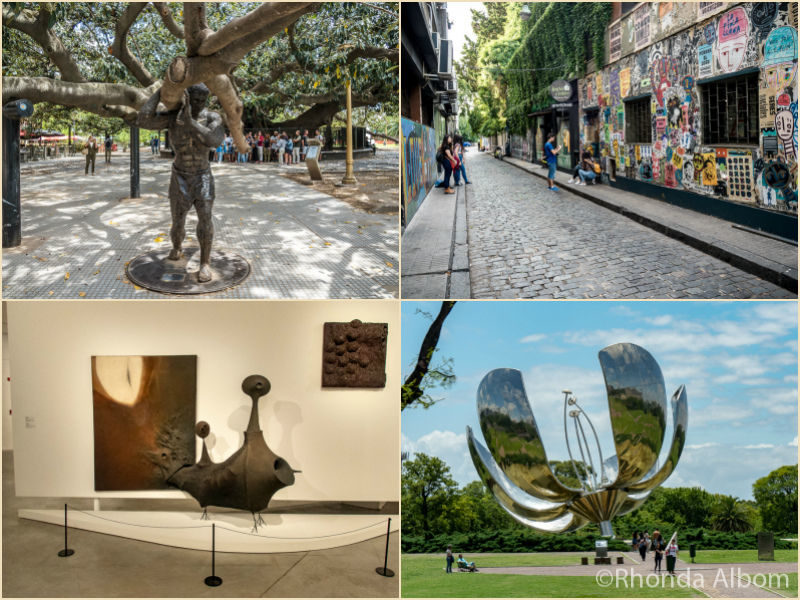 Atlas holding up a rubber tree: Who better than "Atlas of Recoleta" to hold up the longest tree in Buenos Aires? The gomero (rubber tree) was planted in 1781.
Palermo Soho street art: Best known for culinary pleasures, street art fans will want to walk down the colourful alleyways of Palermo Soho.
Buenos Aires Museum of Modern Art (MAMBA): Most modern art museums confuse me, but this one went a step further, leaving me dumbfounded. If you prefer the classics, then don't miss Belle Arts, one of the best museums in Buenos Aires.
Floralis Genérica: This giant flower sculpture (over 20 metres in height) opens every morning and closes in the evening.
More things to see in Buenos Aires
Obelisk (Obelisco)
The obelisk stands proudly on the spot where the first national flag was hoisted in the city. It commemorates 400 years of the first foundation of Buenos Aires.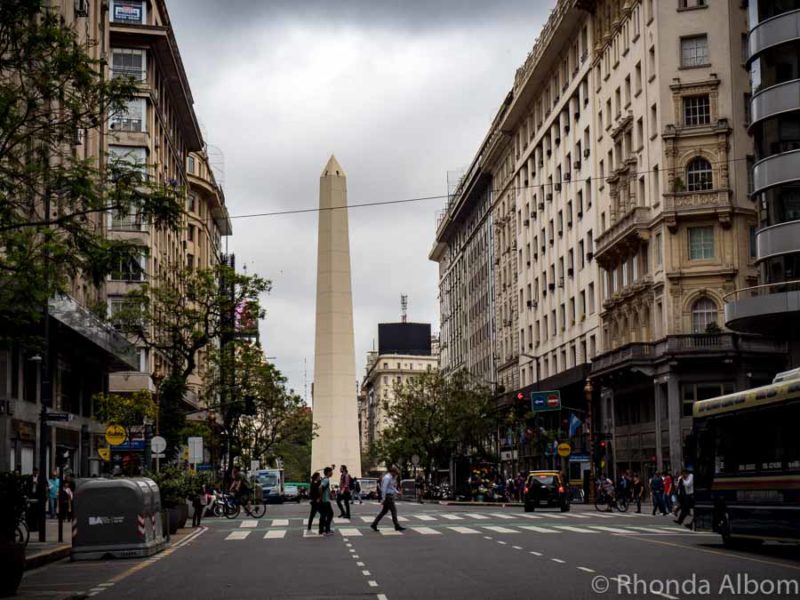 Pink House (Casa Rosada) on Plaza de Mayo
Casa Rosada, called the Pink House by locals, is the current presidential palace. When constructed in 1580, it was the first fort of Buenos Aires. Free guided tours are available in English on the weekends but require advance booking.
At Plaza de Mayo you will also find the Cabildo (original government building), the Metropolitan Cathedral (see above), and the City Hall. And, if you had visited prior to the May Revolution in 1810, you might have also seen a bullfight.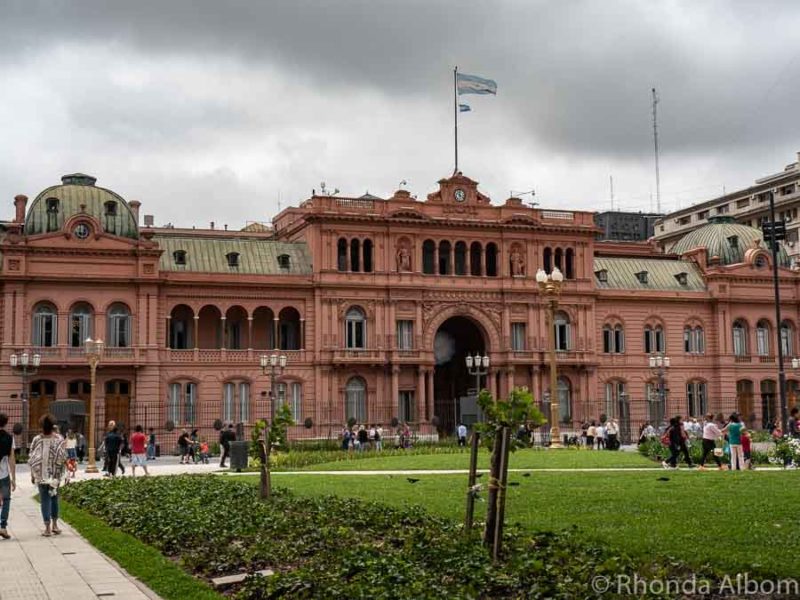 British Clock Tower (Torre Monumental)
The British Clock Tower is a gift from England to Argentina to celebrate the country's first 100 years as a Republic. Traditionally English, its nickname is "Big Ben of Argentina."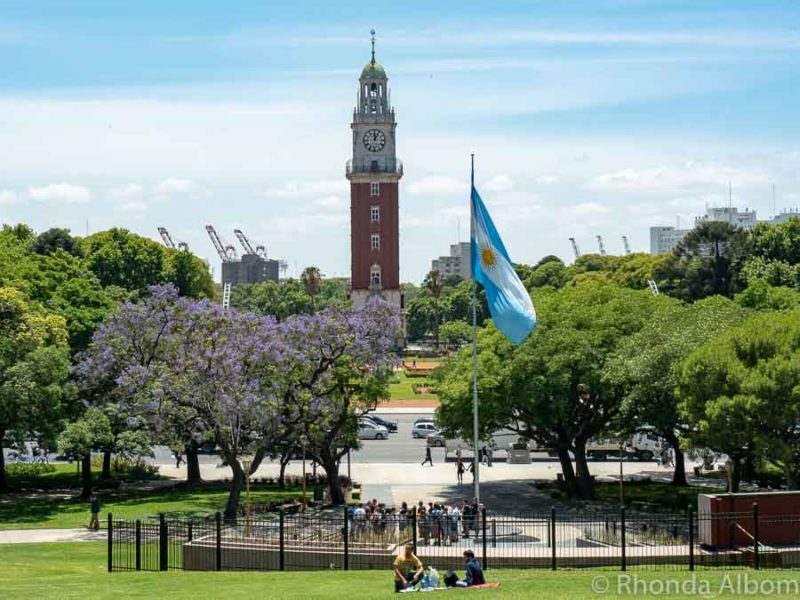 Freedom Temple (Templo Libertad)
Argentina has the 6th largest Jewish population in the world (2017 statistics). Freedom Temple, Israelite Congregation of Argentina, is the first Jewish Synagogue in Buenos Aires and seats nearly 1,000 people. Its mission (translated to English) is "We are the unity of individualities, built for everyone. We are history, memory, action, and vanguard. We are freedom."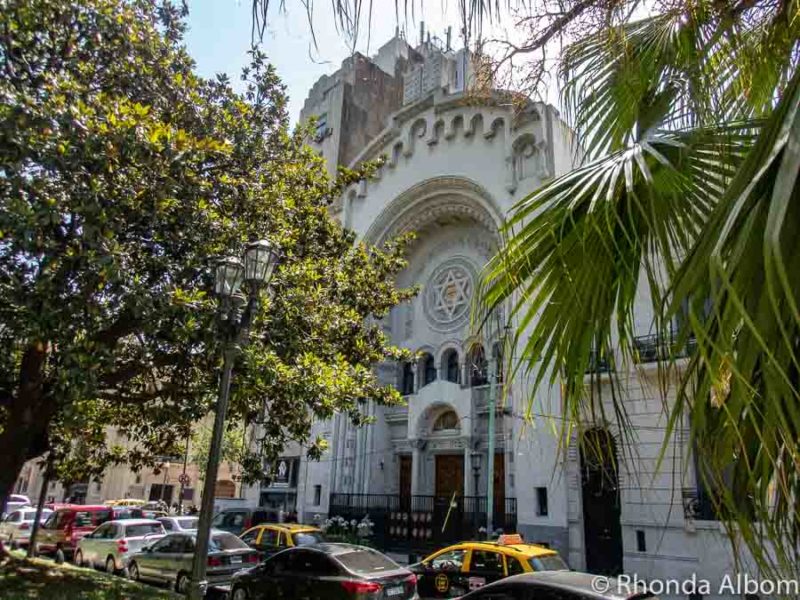 Where to Stay in Buenos Aires
We stayed at the Sileo Hotel in the Recoleta neighbourhood and liked it so much we booked it again for our second visit to the city, rather than trying somewhere new, as we had planned. seamlessly blending boutique with luxury it met all our needs.
We enjoyed the incredible view overlooking Recoleta Cemetery from our terrace suite balcony, the plush comfort of our bed, and the friendliness of the hotel staff. While I can't imagine staying anywhere else, there are plenty of other Buenos Aires hotels.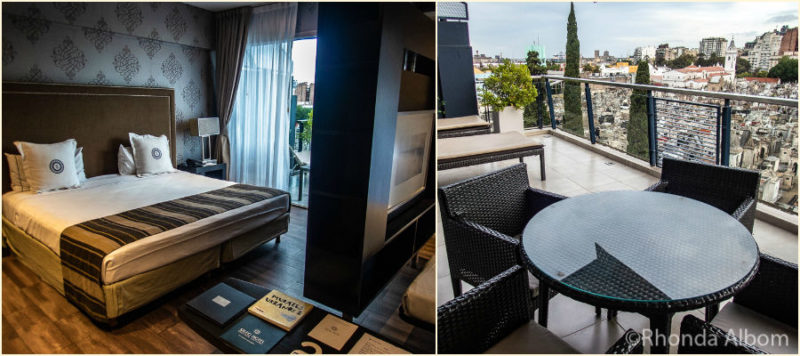 Unique Things to Do in Buenos Aires – Day Trips from the City
Montevideo Uruguay: The same architect designed both the Salvo Palace in Montevideo and the Barolo Palace in Buenos Aires. Interestingly, both buildings claim to have been the tallest in South America until the Kavanaugh building was built.
Colonia del Sacramento: If you have an extra day, take a ferry across the Río de la Plata to one of the oldest cities in Uruguay. We found it easy to explore the city on our own.
Estancia: Get out of the city and see how the Argentinean cowboys (gauchos) live and work with an estancia tour.
Practical Information on Buenos Aires
Click here to see our South American itinerary.
Save on your trip with these resources
These are our go-to companies when we travel. We believe this list to be the best in each category. You can't go wrong using them on your trip too.
Flights: we use Expedia for the best and cheapest flight options.
Accommodations: we use Booking.com (hotels), VRBO (self-contained), or Hostelworld (budget).
Cars (gas or electric): we use RentalCars to search for deals and dealer ratings.
Campervans or Motorhomes: we use Campstar where Albom Adventures readers get a 3% discount.
Motorcycles: we have heard good things about BikesBooking.
Private guides: we love the private guides at Tours by Locals.
Travel Insurance: while not required, we always opt for travel insurance and start at InsureMyTrip to compare coverage plans.
Check out our travel resources page for more companies that we use when you travel.
Save for later
If you enjoyed this article, please share it on social media and save it for later on Pinterest.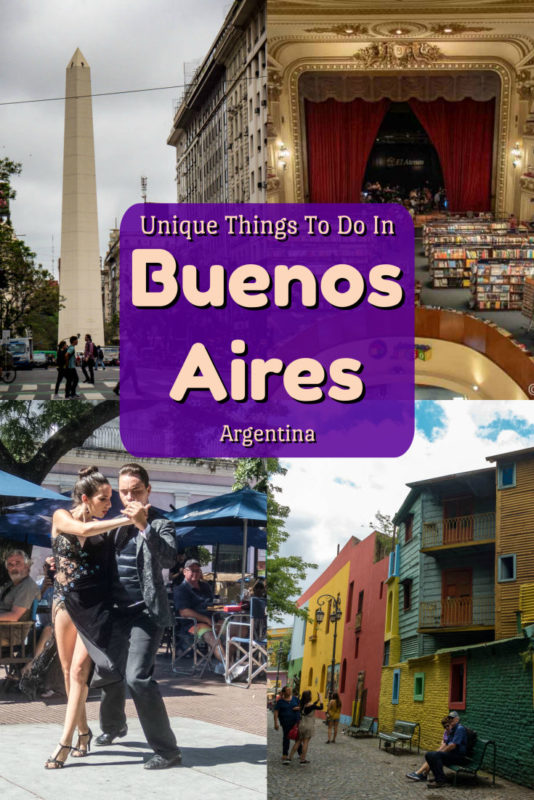 Which of these unique things to do in Buenos Aires caught your eye?
Disclaimer: While in Buenos Aires, we worked alongside Travel Buenos Aires, the government-sponsored tourism board. However, the opinions expressed here are strictly our own.