Cruising takes us to exciting and picturesque cruise ship ports around the world. Whether they feature nature's masterpieces or something manmade in vibrant colours, our favourite cruise destinations are each a photographer's paradise.
What we love about cruising is the variety in destinations, the one time unpack, the culinary delights, and the opportunity to make the journey part of the fun. On the flip side, we never have enough time to explore in a port city, we overeat, and the cruise ships in port are an eyesore in an often stunning area.
We've sailed with seven different lines, visited over 65 cruise port cities on six continents, and taken two repositioning cruises. The map below highlights our favourite scenic cruise destinations. More detail is provided for each below.
Our favourite cruise ship ports on a map
Be inspired …
Tips for getting the most out of cruise ship ports
Our time onshore has ranged from only five hours in Juneau (Alaska) and Aruba (Caribbean) to two days in Rio de Janeiro (Brazil). Regardless of how much time we have, the idea is to optimize it. The four main choices:
1. Shore excursions sponsored by the ship
Cruise excursions are easy. They are best for passengers who like everything organized for them. Each cruise itinerary offers a number of optional excursions for each port.

Advantages: simplicity, guaranteed not to miss the ship, and a refund if the port or tour cancels.
Disadvantages: often larger tour group size and higher costs.
2. Independent group tours
Independent tours are perfect for passengers who prefer a more personal experience, want to save money, and are willing to put forth a bit of effort to find the best tours. These local tours offer the same, similar, or additional options to the ship's excursions (sometimes the same guarantees) and often carry an endorsement by larger companies like Viator (a TripAdvisor company) or Get Your Guide.

Advantages: usually smaller groups and lower cost.
Disadvantages: need to arrange your own tour (often as easy as an online form) and the potential loss if the ship cancels a port.
3. Private tours
Private tours are for people who want full flexibility in any port. We love private tours and either book them in advance or negotiate and hire a driver/guide at the port. We seek local guides with a high level of knowledge of the things that interest us. Our current go-to company is Tours-by-Locals.
While private tours cost more, we have always found it worth the money.

Advantages: independence, flexibility, and freedom of choice.
Disadvantage: higher costs.
4. Do it yourself
Depending on what we want to do at a port, we often simply walk off the ship and go our own way, either on foot or using public transportation.

Advantages: flexibility, freedom, and low cost.
Disadvantages: lack of history and sometimes unexpected language difficulties.
Packing for your cruise
We are believers in packing light, even for a cruise, and having everything we need. Here are the secrets to packing light for a cruise in detail, or sign up for our news and we will send you our all-new Ultimate Cruise Packing List:
Booking your cruise
When we are looking for the best price, we always start with Cruise Direct. They offer great pricing, as well as last-minute cruise ship specials. Check Cruise Direct for current deals.
Whether you are a first-time cruiser or a regular sailor, don't miss these 25 tips for cruising.
Please share
If you enjoyed this list of colourful cruise ship ports, please share it on social media, including Pinterest.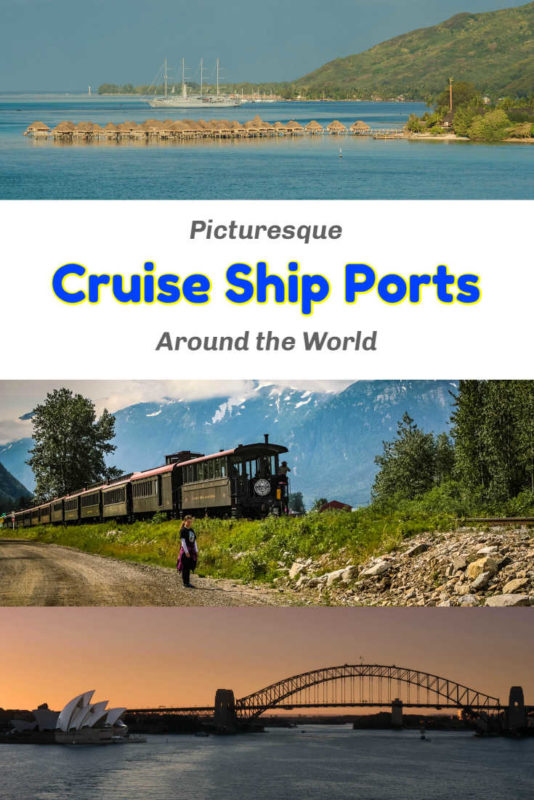 Which of these cruise ship ports will you visit?
Don't miss our recommended destinations for charter cruising or our favourite land destinations.