Docked in Sydney harbour with the famous Opera House as a backdrop, Royal Caribbean's cruise ship Radiance of the Seas sat waiting for a new load of passengers. Along with 2000 others, we stepped aboard, ready to begin an exciting adventure sailing over the top of Australia including a brief stop in Bali, Indonesia. Our cabin was pristine, but we didn't want to spend time there. We headed straight up to deck 11 aft, an open-air spot in the back of the ship where we could watch as we sailed out of Sydney harbour as the sun set behind the Harbour Bridge.
It took less than an hour from throwing the final line until we were out of Sydney Harbour, but it was pretty magical. See if you agree:
If you have been following along on our Australia adventure you know we have already been to Melbourne and then took two days to drive the Great Ocean Road. After that, we turned inland, and after the cruise will return to writing our adventures including a night in an old convent, a visit to a lunatic asylum for the criminally insane, hikes through the Grampians, a tour of the Syndey Opera House, plus a few other Sydney sights.
Our next cruise port: Brisbane Australia
A few facts on Sydney Harbour:
Sydney Harbour is the largest harbour in the world holding over 500 gigaliters of water.
Over 15 million passenger trips are taken on Sydney Harbour ferries each year.
The Sydney Harbour Bridge holds two world records. It is both the tallest steel arch bridge and the widest long-span bridge.
There over 20 swimmable beaches in the Sydney Harbor.
Have you sailed in Sydney Harbour?
If you enjoyed sailing out of Sydney Harbour with us, please share this post on social media, including Pinterest: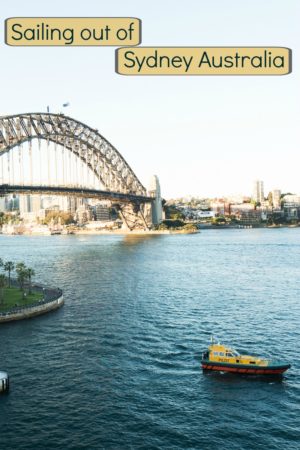 Disclaimer: In addition to VIP treatment onboard the Radiance of the Seas we were provided with many complimentary extras. The opinions expressed here are strictly my own.
Here's the secret to packing light:
Download our free packing light checklist when you sign up for our newsletter.