It seems almost a lifetime ago. We were about to enjoy a Sydney Harbour sunset as we sailed away on a Royal Caribbean cruise.
First, we needed to take it all in, to stand in wonderment and enjoy what is so often considered the world's most beautiful harbour.
As we watched, Sydney Harbour was abuzz with activity. The cruise ship we were set to embark on was docked and there was a flurry of ferries, commercial boats, day sailing tours, and recreational yachts out on the water. We were captivated by both the famous harbour bridge and internationally recognized opera house.
Note: Based on world conditions, we advise checking official channels including cancellation policies prior to booking. Also, with often reduced capacity, booking ahead becomes more important.
Cruising out of Sydney
On that particular day, Royal Caribbean's Radiance of the Seas sat in wait for a new load of passengers, which was to include us. Cruising was still a popular and safe way to travel.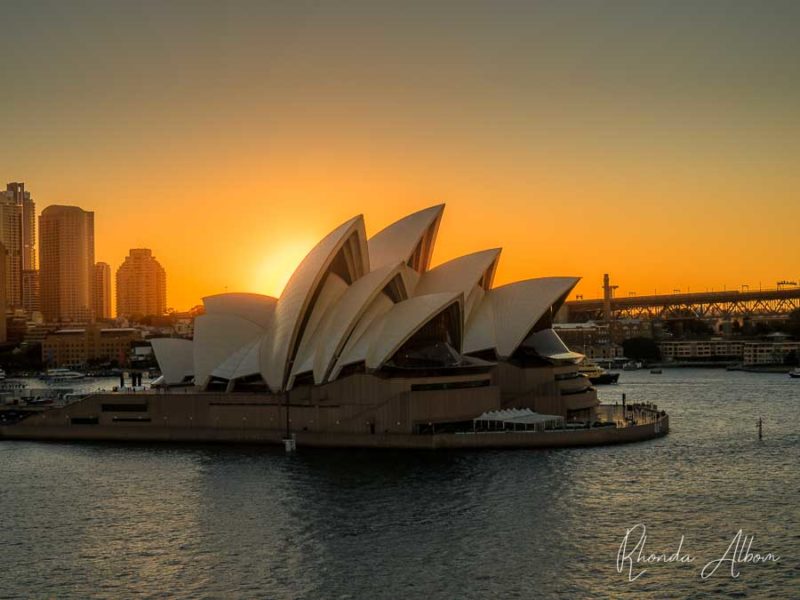 Alongside 2000 others, we stepped aboard, ready to begin an exciting adventure sailing over the top of Australia including a brief stop in Bali, Indonesia. Our cabin was pristine, but we didn't want to spend time there. We headed straight up to deck 11 aft, an open-air spot in the back of the ship where we could watch as we sailed out of Sydney Harbour as the sun set behind the Harbour Bridge.
Some links on this page can save you up to 70%. We earn from qualifying purchases through partnerships or affiliate programmes.
Leaving the harbour
The dock lines that hold the cruise ship in place are massive. It was interesting to watch as the dockworker pulled the lines off a bollard that was nearly half his own height. As he threw the final stern line into the sea, releasing the Radiance of the Seas from the dock, we were off on our first cruise with Royal Caribbean.
Next, the pilot boat guided us out of Sydney Harbour at sunset, a visual treat I will never forget. We began by backing away from the dock towards the Harbour Bridge. We could see Luna Park under the bridge (There is also a Luna Park in Melbourne.)
It took less than an hour from throwing the final line until we were out of Sydney Harbour, but it was pretty magical.
Photo tour of Sydney Harbour at sunset
The sun set behind the bridge as we left, casting an orange glow to the warm night sky. As we rounded the iconic opera house, the light changed with every angle. The colours of the sky were as spectacular as one would expect of a Sydney Harbour sunset.
Best of all, we were up high on deck 11, well above sea level looking down at all the beauty and taking it all in. Even as the opera house and bridge faded from view, the scene was spectacular.
How can I enjoy a Sydney Harbour sunset on a smaller boat?
It's not just cruise ships that get to enjoy a Sydney Harbour sunset. In fact, all you have to do is go to the water's edge and you can enjoy it for free. However, if you want to see it from the water, here are three options.
Take the Ferry
If you are looking for the most economical way to get out on the water and enjoy the sunset, that would be a ferry. Plan well and you can take the ferry over to Manly during the day, enjoy a fabulous afternoon at the beach or a cafe, and cruise back from Manly to Circular Quay at sunset. Time it right and you are in for a treat. Click here for route and times.
Dinner and sunset from a tall ship
More than just a vintage 1850's style tall ship, this adventure includes dinner and sunset. If that's not enough, those who want can hoist the sails or steer the ship. This two-hour journey features a three-course dinner that includes vegetarian and gluten-free options. Click here to check for discounts on the day you want to sail.
Sunset catamaran cruise
Short on time? This one-hour cruise may be exactly what you need to get out on the water and enjoy the sunset. You can even bring your own alcoholic beverages on board. Click here to check availability or book.
A few facts on Sydney Harbour
Sydney Harbour is the largest harbour in the world, holding over 500 gigalitres of water.
Over 15 million passenger trips are taken on Sydney Harbour ferries each year.
The Sydney Harbour Bridge holds two world records. It is both the tallest steel arch bridge and the widest long-span bridge.
There are over 20 swimmable beaches in Sydney Harbor.
See more of our Sydney images and discover why we think it is one of the most beautiful cruise ports in the world, or head out on a day trip from Sydney.
Our next cruise port was Brisbane Australia.
Best deals and discounts for Australia travel
We earn from qualifying purchases through partnerships or affiliate programmes.
Find more money-saving resources and T&Cs on some of the above, check our Travel Resources page.
Save for later
If you enjoyed this article, please share it on social media and save it for later on Pinterest.
Have you seen a Sydney Harbour sunset?
Disclaimer: In addition to VIP treatment onboard the Radiance of the Seas, we were provided with many complimentary extras. The opinions expressed here are strictly my own.