Gnomesville is one of those places you read about in fantasy books and know that they can't possibly be real. Only in this case, Gnomesville is real. Located in Ferguson Valley, Gnomesville WA may not even be the most bizarre spot in Western Australia, but that's a story for another day.
As the name implies, this is a city of gnomes. Try to imagine over 10,000 gnomes, busy and active, all living on one roundabout's bend.
Even your wildest imagination will fail. Gnomesville Australia goes beyond it. With magical creatures spread out and condensed as far as the eye can see, we were notably impressed.
And, while it might sound it, it's not random. No, each of these gnomes has a spot, a home, a place, a clan.
Trending on Albom Adventures
Gnomes are everywhere!
So many gnomes. At last estimate, they have topped 10,000 in residence.
It's one to see to believe, so here you go . . .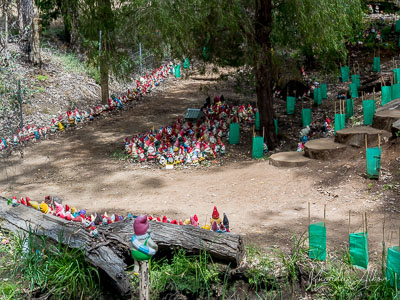 What are gnomes?
Gnomes in folklore are earth spirits in the form of little men who guard mines and hidden earthly treasures.

Today, gnomes are magical garden ornaments by day that come to life at night. They generally bring good luck, protection, and nighttime garden help; although, occasionally we read of evil gnomes. A traditional garden gnome is portrayed as a bearded man wearing a pointy hat.
Cheeky, creepy, or playful – which is your favourite gnome?
The variety at Gnomesville is almost overwhelming. Every type of gnome you can imagine, from adorable to creepy. My favourites? Well, that was difficult to choose.
However, a few stood out, or should I say jumped out in front of my camera, practically begging me to include them here. Therefore, here they are, I call them cheeky, creepy, and playful. Can you tell which is which?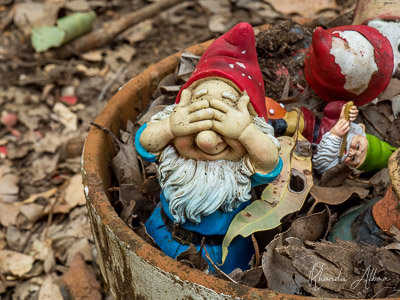 Who started Gnomesville?
This is the question on lots of peoples' minds, yet there doesn't appear to be an answer. One day, the first gnome appeared, but from where?
Like all mysteries, there are plenty of theories. Here are a few of them.
The most popular theory is that it was started by someone with a single gnome, and the person simply didn't take credit for it.
According to The West Australian, many believe it was started by a local named Kathleen Rees.
Others believe the gnomes just appeared; after all, they are magical creatures.
Tips for visiting Gnomesville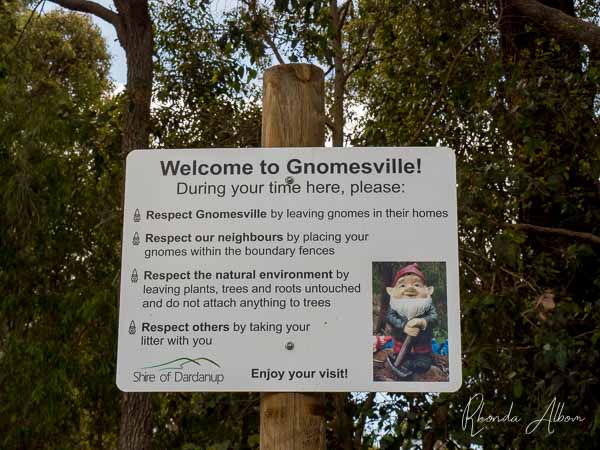 Bring a camera
Allocate about an hour, or more if you are into the details.
Stay on the trails and don't damage the plants.
Don't take home any gnomes; this is bad luck and not very nice.
Take your litter with you when you leave.
Add a gnome if you have one, but keep it within the boundary fence and be sure to include a sign that indicates where it is from, and any other information you might have. You can pick up a gnome at the Ferguson Valley visitors centre, or bring your own from Amazon.
Gnomesville's official website, "There have been occasions when gnomes have been stolen from homes, to set them free in the community. This is not the acceptable way for a gnome to join the community and only legally owned gnomes are welcome."
Where is Gnomesville WA?
Located in Ferguson Valley about 200 km south of Perth in Western Australia, Gnomesville is geographically much smaller than one would think. That is until you think about what it actually is, then it suddenly seems much larger than one would expect.
Gnomesville is one of those places that is both hard to miss and easy to drive by if you are not paying attention.
More specifically, you will find Gnomesville on the Eastern Junction Roundabout of Wellington Mill Road and Ferguson Road in Wellington Mill, Western Australia. It's about a 30-minute drive from Bunbury or a bit over two hours drive from Perth.
Our GPS knew exactly where to go when we typed in 'Gnomesville'. If yours doesn't, or if you are using Google maps on your phone, try entering any of these options:
LOT 4059 Wellington Mill Road, Wellington Mill
74 Japonica View, Dardanup
GPS coordinates: 33º27'54.5″S 115º54'37.0″E
Getting to Gnomesville
Sorry, but if you want to go on your own, you will need a car for this one. We had a good look and can't find any busses. Well, one bus, but it was already there.
However, Gnomesville can be included as a stop on a Ferguson Valley tour.
Join a tour of the Ferguson Valley
Best known as a wine region, Gnomesville is one of the more unusual things to see in the Ferguson Valley, and is not visited by every tour. The full-day private tour (up to three people) of the Ferguson Vally that looks great to us starts and ends at the Mandurah train station.
It includes a 30-minute visit to Gnomesville along with stops for morning tea or coffee in a secret garden, two wine tastings, a microbrew tasting, and lunch.
Read reviews and check tour availability
Save on your Australia trip with these resources
These are our go-to companies when we travel. We believe this list to be the best in each category. You can't go wrong using them on your trip too.
Flights: we use Expedia for the best and cheapest flight options.
Accommodations: we use Booking.com (hotels), VRBO (self-contained), or Hostelworld (budget).
Cars (gas or electric): we use RentalCars to search for deals and dealer ratings.
Campervans or Motorhomes: we use Campstar where Albom Adventures readers get a 3% discount
Motorcycles: we have heard good things about BikesBooking.
Activity discounts: we check Bookme.com for discounts of up to 70% on activities.
Private guides: we love the private guides at Tours by Locals.
Travel Insurance: while not required, we always opt for travel insurance and start at InsureMyTrip to compare coverage plans.
Check out our travel resources page for more companies that we use when you travel.
Save for later
If you enjoyed this article, please share it on social media and save it for later on Pinterest.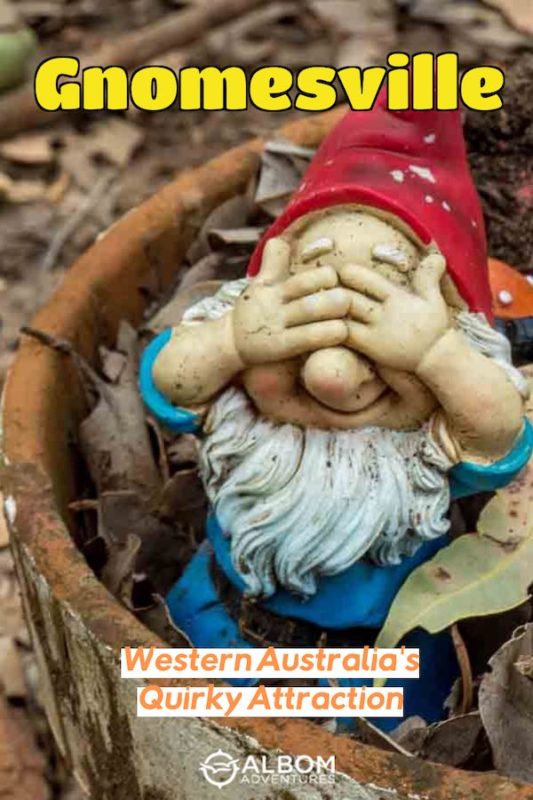 Will you visit Gnomesville WA?